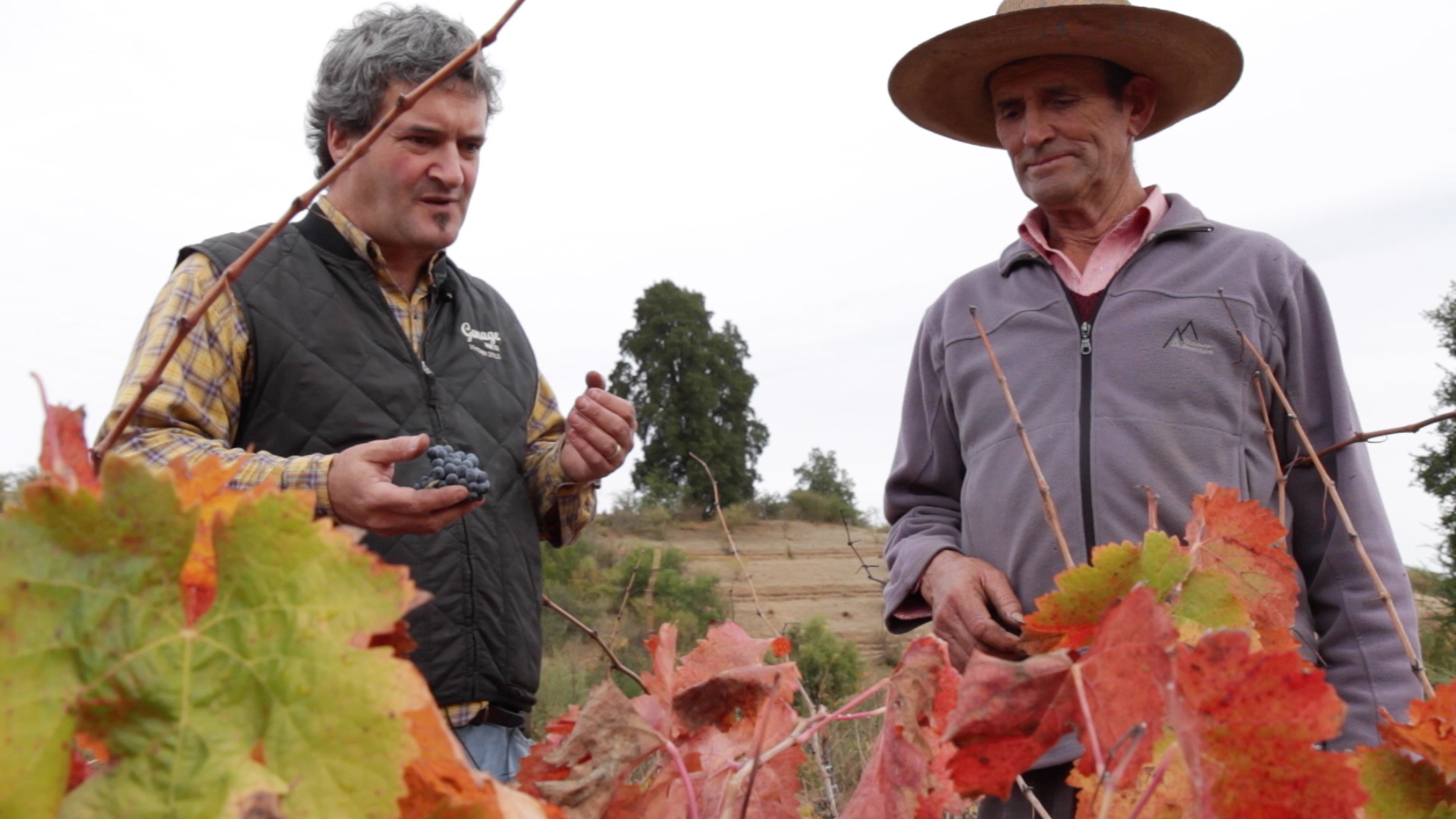 Derek Mossman Knapp stands out amongst his fellow Chilean winemakers. An exuberant Canadian who first came to Chile to ski, he has managed to insert himself into the heart of Chile's vibrant artisanal wine movement. Mossman Knapp is one of the founding members of MOVI, the Movement for Independent Vintners, an organization of small artisanal producers who have managed to garner international attention for Chile's emerging boutique wine industry. He started the Garage Wine Company as a hobby in 2001 in collaboration with his wife Pilar Miranda and their friend, Dr. Alvaro Peña.
We talk to Mossman Knapp about the great potential of Chile's old vines and his journey to become a Chilean winemaker.
Christopher Barnes: So Derek you're from Canada. How does someone from Toronto end up in Maule making wine?
Derek Mossman Knapp: I came here to ski in a year when I was originally supposed to go to New Zealand but it didn't snow there. So I was out of a summer job if couldn't come to Chile instead, and it grew on me. I came back and it was my summer job during my years at university.
A lot of people have summer jobs but very few people stay and become part of the fabric of the country that they adopt or that adopts them. What was it about Chile that sort of pulled your heart in and you know, made you take root?
I think wine is a good piece of it. I also met a winemaker and married a Chilean. That was what probably closed the deal.
Love is always a good reason, right?
Absolutely.
And how did you get involved in the wine business?
We began with friends goofing around in the garage. And it was never intended to grow into something more than a few barrels to enjoy with family and friends. One thing lead to the next and it was always kind of over the next hill there's something more intriguing, there's another fruit, another this and it just got the best of us.
Derek, tell us about this vineyard in Maule.
This is Nivaldo's vineyard, near Sauzal. This is kind of the cooler extreme of Maule.
What sort of grapes are planted here?
Originally, this was a Pais vineyard with some old Carignan. We extended the Carignan and we put a little bit of Garnacha on the hill behind us here to have the first shade of the afternoon. We put a little bit of Mataró (Mourvedre) with a little more water in the bottom of the hill.
And how old are the vines?
This would literally be colonial root stock. There would be plants that are 150 to 200 or even more years old.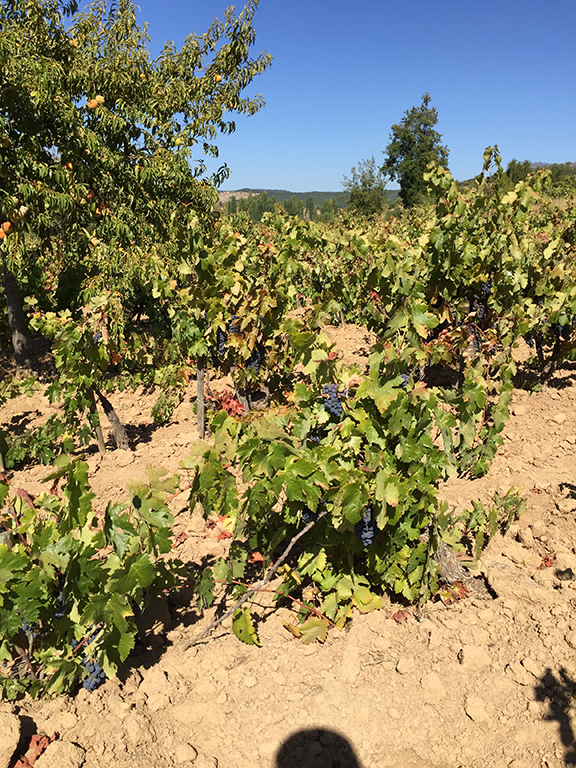 How does the age of the vines reflect in the taste of the wine that you make?
There's definitely a complexity factor in the age of the vines. But, these vines have been done with mugron, where you take one chute that's not pruned and create a new plant to have greater density. These vineyards have never been replanted, but they've always been continuously filled in and balanced out. So you'd have a balance of some plants 15 years old and some plants that would be 150 years old.
When did you decide to go from the garage and turn this into a real full-fledged business and be an entrepreneur and make wine, and sell wine, and market wine, and all the things that go with running a business?
Every time we were frustrated that this was just starting to put a dent in family finances, thinking that we can't keep doing this anymore, something out of the blue would happen, that was like a sign that we have to take this to the next level. What got us out of the garage and starting to export was when we met other people like us and formed MOVI.
Tell us about MOVI.
MOVI initially was like a buying group where if you made 5000 or 6000 bottles of wine the bottle makers didn't know how to deliver to you because you didn't have a forklift. The capsule makers didn't know how to do an order for less than 15,000 or 20,000. The corks were even more complicated. So we came together in hopes that they would answer an email, give us a quote, and want to do business with us.
And, when did you start MOVI?
We started MOVI six or seven years ago now. The years have flown by. And after we formed and realized there was a camaraderie and there were things to be learned from eachother, we were invited to take the wines to taste them in a London wine fair. And the world liked our wines.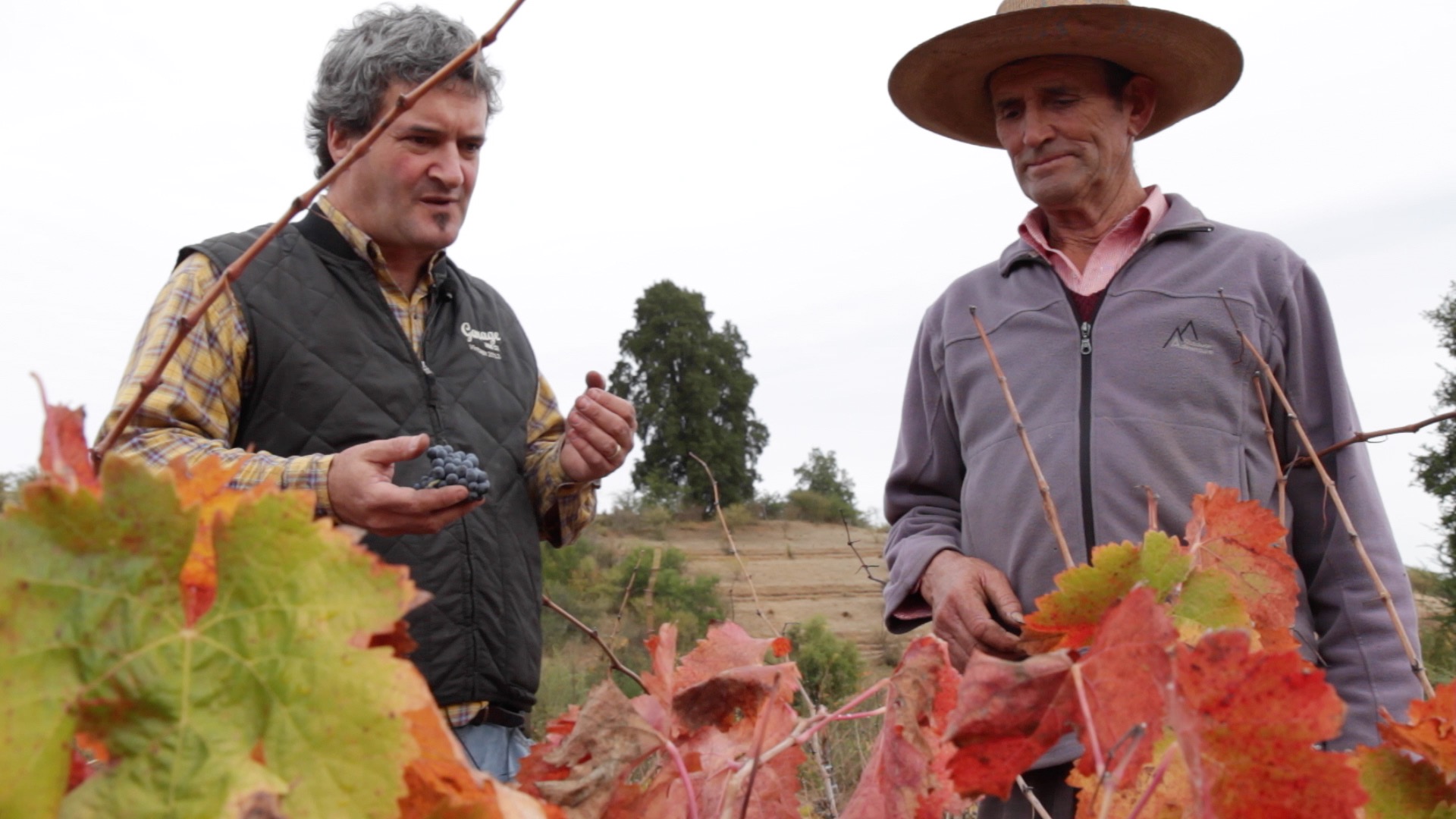 Derek Mossman Knapp with grower Nivaldo Morales
Talk a little bit about the types of winemakers that make up of MOVI.
In MOVI there's a wide selection. There are a few outsiders, there's a Canadian, a Swiss lawyer, an Italian Count from Tuscany, but mostly they are family projects, kind of very personal projects with a great deal of volition of winemakers who either still work in a big company and have a forward-thinking boss, or who definitively left said big company and want to have an entrepreneurial experience on their own.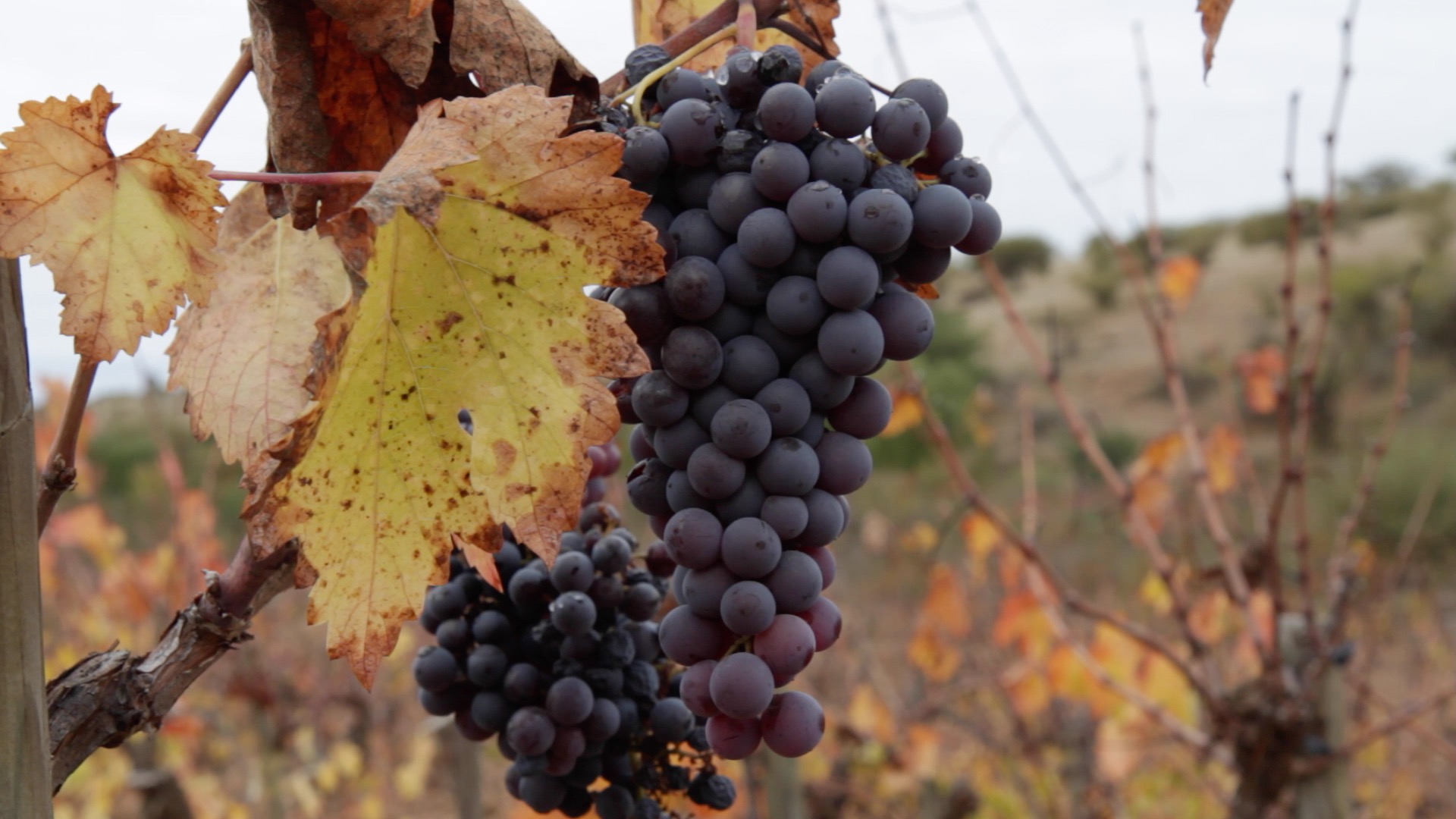 What types of wines are the MOVI winemakers making?
You could divide MOVI into three flights. You have relatively new things that have been planted in the last 15 years which would be a lot of Syrah, Pinot Noir, and Sauvignon Blanc probably close to the coast of whatever valley it's in. We also have some of the classics, but rethought or reloaded, which would be Aconcagua and Maipo but now made with a personal twist. And we say in the Maule that old is the new new, which would be old vine varieties that probably haven't been appreciated in or associated with Chile in many years, such as Carignan, Torontel, and Tempranillo.
Is there a shared philosophy of winemaking behind these winemakers?
It would be very hard to typify a MOVI wine. They're very different. I think there is a certain element of going back to the roots. I would say it's anti-technological, but it's definitely moving towards letting the earth expresses itself by not getting in the way. The work is done in the vineyard and the rest is done by hand.
What are the sort of sizes of the winemaking that goes on in terms of small and large and average?
Garage today makes a little more than 3000 cases and we'd probably be considered mid-size. We have some smaller MOVI winemakers that make about 1000 cases. And the largest MOVI's are making 10,000, and one is even approaching 20,000. But, it's really not a size issue, it's how personally involved the owner is with the making of the wine.
Internationally a lot of people know Chile for these very sort of large companies like Concha Y Toro, that produce good quality wine at a very, very low price point. How does MOVI get the word out about the interesting things that its doing here?
What people tell me is that they're happy to taste and I get the sense almost as if Chile has kind of a debt with the world. They ask me literally, where have they been hiding you? The developed markets, the wine markets of the world love a good David and Goliath story. They like things that are very personal. They've had a lot of commodities - food, cars, shirts, shoes - in their life to last more than a lifetime. When things get back to basics and back to the old ways and are more personal is when volitional people zone right in.
Derek what does MOVI mean? What is the acronym MOVI?
MOVI is the Movimiento de Vinateros Independientes. The Movement of Independent Vintners sounds much more Monty Python in Spanish than it does in English. It's a little tongue in cheek humor with movement from Chile's political history and viñatero, which is a landed family who besides its large construction holdings obviously also has a vineyard.
Which is sort of funny, because everyone is very small and family-oriented.
Absolutely.
Derek, you started the Garage Wine Company. Is that sort of like Steve Jobs starting out in his garage? I mean are you going to be Constellation one day?
No. I'll never be Constellation one day. I celebrate the fact that we began in the garage. I don't see an association with garagistes of St. Émilion who made over-done wines in my way of thinking, my liking of wines. I think it's a tremendous testament in many businesses to have to roll out that car to have some working space in the garage. To get some things done this afternoon. We physically began in the garage and once the name was coined there was no going back from it. A magazine article came out and that's what they called it; it was too late to change it later.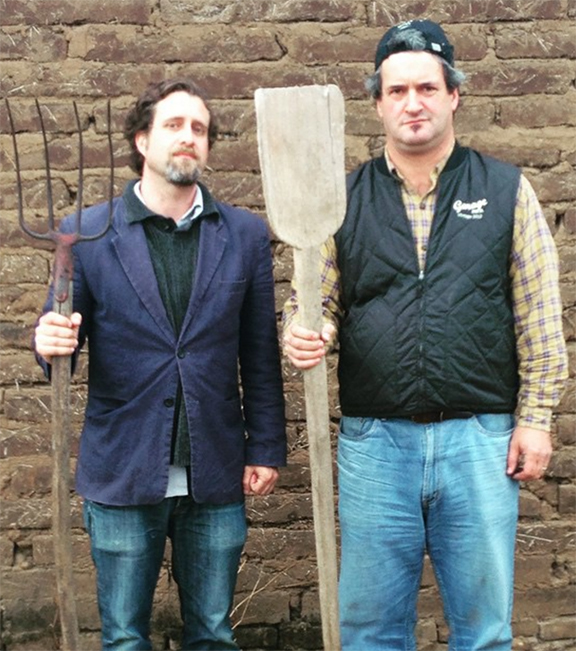 And when did you start the Garage Wine Company?
2001 was when we began tinkering in the garage. In 2006 we started thinking more about how we get exports going, et cetera. And the last three or four years we've grown to a little more than 3,000 cases in 14 countries.
Derek your approach is very artisanal. How do you find these old vines that you are using to make your wines?
To me, the experience after the earthquake was when we had the opportunity to help some people through kind of our own, how do you say, bootstrapping program. It was like putting a backpack back on, except I was in an old red truck and it was thinking that just over the next hill there's something that's just kick-ass that no one is paying attention to. And somewhere there is someone who can benefit from it because we can take their grapes that today are making jug wine and being paid a trifle for, we can turn it into fine wine for export and pay them a solid price that they know they'll always have.
Fantastic. And tell me about the different varietals you make at the Garage Wine Company.
From the very beginning we have been making a Cabernet Sauvignon blend from the Maipo and we make a Cabernet Franc pure varietal from the Maipo, and then in Maule we make wines in seven sites. And the varieties we included would be Garnacha, Tempranillo, Mataró, Pais, Carignan.
On your label each wine has a lot number on it. How does that work?
From day one or lot one we have always put a lot number on it. And it complicated some of the importers because that would change and we said no, no this isn't a marketing concept. Every lot we make will have a number. Some people still remember all the way back to number five. I remember it was Cabernet but I can't really place the tasting notes in my head. We're now at lot 51 and we're bottling next week.
And do different lots go to different countries? I mean, how different are the taste profiles of the different lots you produce?
In the Maule wines there are definitely properties that because they have more herbs and spices in the soil in between the plants they come out with a funkier tone, and there are markets that like that more than other wines. I think it's very important that if Chile has been seen as being how do you say, marching to almost a military march, I think we have to learn some syncopation. I think we need to insert some jazz; I think we have to break up the rhythm, break up the step and do some things that are unexpected and open minds to what Chile should be doing.
And how has the Garage Wine Company evolved since you started?
We've changed things, but we are the three original partners - me, my wife Pilar, and Dr. Alvaro Pena from the University of Chile. And I think what has not evolved or what has not changed is this intrigue of experimentation. We began making wine in 500-kilo plastic bins and we could separate things to compare and contrast and we continue to do that to this day. Eight, nine barrels or 18 barrels and we never mix them before we bottle. So you have a whole series of permutations of how it was treated, how it was done, what barrel it was in, what battonage it had. In the end only two or three days before it is bottled do you ever combine them. I think that creates a complexity and I hope we never change. I hope that curiosity never goes away.
And Derek, how do you see some of the challenges facing the Chilean wine industry at the moment?
I think the biggest challenge in the Chilean wine industry today is comfort. People are in a zone and they're comfortable and they have to get out of the comfort zone. In the end, we have this baseline of products that people know to be tried and true at a certain price point. And then we have these, I'm not sure they're egotistical or what, they are project or icon wines and I don't think it's sustainable to have these too. I think it's between 20 and 35 dollars where Chile can just rock the house. And that's where MOVI has done well and I think the world wants more of those wines. I think where Chile has to start concentrating more is in the middle. Its not a question of how much you can charge for the wine, it's getting people to try new things and to think of Mediterranean varieties and to think of wines from the north and to think of things radically close to the coast. I think Chile can do all of that.
And a lot of people talk about Chile standing behind one grape, be it Carménère or Cabernet Sauvignon, in the same way that Argentina is very much associated with Malbec. Do you feel that Chile needs a grape to stand behind or do you see that Chile has to be about diversity?
Years ago a Canadian prime minister spoke of the cultural mosaic, I think mosaic is the term for Chile's wine country. Diversity is just another word for indecision. Chile is this tremendous mosaic of terroir and I think we have to learn to separate and become comfortable. Let's do a vintage report or an analysis or a wine tasting of these and let's separate those.
And in terms of the viticulture in the vineyards that you source your grapes, is there something unique you do there?
I think it's getting back to old ways of letting people work with horses as they are used to doing, but combining that with information or a lens that science can provide to help guide us a little more. If wines reduce in the cellar, let's think about what the change in compost is for next year instead of compensating chemically. Let's think long term, but let's use the old methods but with some better preparation and some better knowledge of why this is happening.
And tell me a little more about Maule. What is the terroir like in this region?
Maule is very diverse, just like Chile. Where we are here is the beginning of of the coastal range so granitic soils, more crystals in the soil, and different rock structure. Because of the mountains and slower cooling, there's bedrock beneath the soils that roots can get into. And I think that changes the flavor in the wines.
Read more about MOVI
Check out our features on:
Louis Antoine Luyt, Chilean Pais pioneer
Chilean wine pioneer Aurelio Montes
In the deep south of Chile, Chardonnay specialist Enzo Pandolfi
New Zealand DJ/winemaker Grant Phelps making Pinot Noir in the Casablanca Valley
Cesar Opazo in La Reserva de Caliboro in Maule, Chile
Winemaker Renan Cancino also in Maule