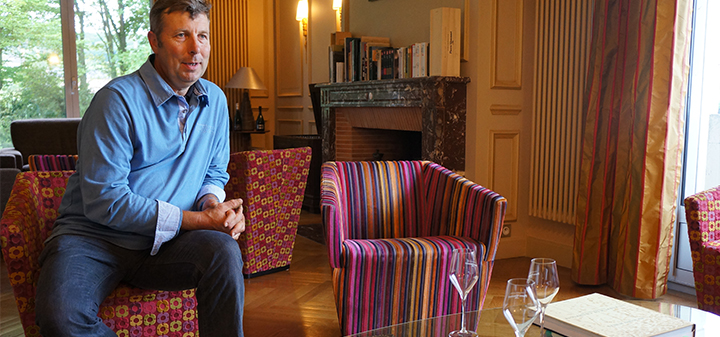 "Gimmonet is not trendy," explained Didier Gimonnet, a third-generation vigneron in Champagne. "It's unfashionable."

During a recent visit to Gimonnet's estate, the two of us were chatting about the growing popularity of Champagne's "new wave" producers. While those who are "moving in the direction of single expressions" -- single-vineyard wines from a single vintage -- are garnering lots of praise from writers and sommeliers, Gimonnet believes such wines are "always less complex, less interesting, and less capable of aging."

Fighting words. But if any winemaker has the credentials to make such an argument, it's Didier Gimonnet.

The Gimonnets have been growing grapes in Champagne since 1750 and making wine since 1935, when Didier's grandfather, Pierre, began bottling estate Champagne in Cuis, a village in the heart of the Côte des Blancs. Today, Didier and his brother, Olivier, farm 64 acres of vineyards, mostly split between the grand cru villages of Cramant and Chouilly and the premier cru village of Cuis. Almost all their grapes are Chardonnay, with their oldest fruit coming off vines planted in 1911. Their average vines are 40 years old.

Meeting a winemaker at his home is always memorable. But spending time with Didier was truly remarkable, thanks largely to the fact that we met in the room where he remembers crawling on the floor as a toddler. From where we chatted, one can see almost all his family's plantings in Cuis. From that room, Didier was able to watch his grandfather and father tend to the vines each day.

Gimonnet was one of the first producers in the portfolio of Terry Thiese, the rabble-rousing wine importer who introduced America to grower Champagne.

Since the dawn of global wine consumption, large producers like Moet & Chandon, Louis Roederer, and Veuve Clicquot have dominated the Champagne market. These companies purchase their grapes from thousands of growers across the region and blend their wines to deliver a consistent product each year.

In 1997, Thiese began importing "farmer fizz," or Champagne produced by the farmers who grow the grapes. His timing was perfect, as Americans were becoming interested in the source of their food.

Growers in Thiese's portfolio quickly became popular, with producers like Gimonnet, Pierre Peters, Chartogne-Taillet, and Vilmart & Cie landing in top restaurants and retailers across the country. Consumers appreciated the fact that these wines had personality -- and couldn't be found at the local corner store. Plus, growers offered a good value, as they didn't have the marketing expenses or bureaucratic bloat of large Champagne houses.

Indeed, while growers accounted for just 0.62 percent of America's Champagne market in 1997, they now account for nearly 5 percent of it. That percentage continues to rise.

In many ways, Gimonnet was the perfect gateway grower for American consumers. Inspired by the traditions of Champagne, Didier has always been obsessed with blending. So in his search for balance, he looks to Cuis for freshness and Cramant and Chouilly for richness. He has never made a single-vineyard wine -- and promises he never will.

"Most people think grand cru is better than premier cru," he said. "[But] the best wines are a blend of the best terroirs, regardless of classification."

Didier also eschews oak, as he believes it overpowers Chardonnay's delicacy. The resulting wines are elegant, always marked by pure fruit and fresh acid.

"For me, the consumer must salivate," he explained. "You can't be tired to enjoy a wine."

American oenophiles have had nearly two decades to wrap their heads around grower Champagne. So while they'll always love benchmark growers like Gimonnet, many are now turning their attention towards winemakers who approach Champagne as if it's Burgundy. Gimonnet believes these producers are on the wrong track, as they're ignoring some of Champagne's important traditions.

I disagree. The wines from those pursuing a "single expression" -- folks like Olivier Collin, Cédric Bouchard, Jérôme Prévost, and Frédéric Savart -- are some of the most exciting in the world, in large part because they're so distinctive.

Fortunately, one can never have too much Champagne. So in my cellar, there's plenty of room for both the old guard and the new wave.

David White is the founder and editor of Terroirist.com, which was named "Best Overall Wine Blog" at the 2013 Wine Blog Awards. His columns are housed at Grape Collective.