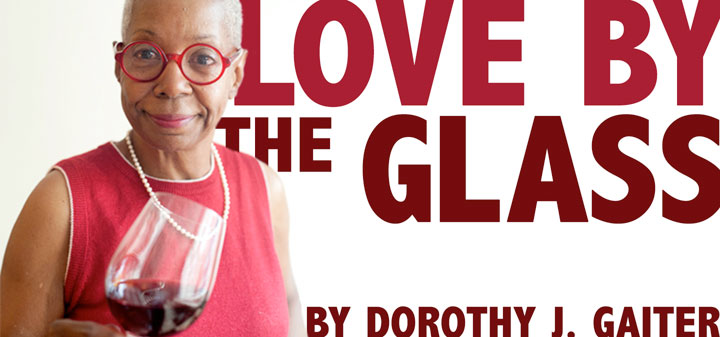 There are a lot of references to Cabernet Sauvignon being the "king" of red wine grapes and Pinot Noir as being the "queen." I can see that. In fact, I'm pretty sure that, in more than 40 years of drinking and learning about wine, I've probably used that imagery, too. Still, it gives me pause when I read those gender references. Descriptions of wines are so subjective. What do others mean when they say that?
I had one of those moments of pause recently when I began researching the 2011 Robin K. Cabernet Sauvignon, Dry Creek Valley, made by longtime California winemaker William Knuttel. John had picked it up from an outstanding wine shop in Hudson, N.Y., and we thoroughly enjoyed it. Our notes say, "This tastes like an agricultural product, in the best way. It's real, not showy. It's not sweet, it's not over-oaked. It's just tasty, honest, good fruit. An elegantly made wine. Plums, blackberries and rich earth. It could have cost $40, but it was less than half that."
Robin is Knuttel's wife. She's a cosmetic dermatologist. Friends introduced them when he was getting a masters at UC-Davis. Daughter Kate is an artist and son Sebastian is a math whiz who plays the cello. Knuttel is on the board of the Berkeley Symphony. On his Facebook page, I found this: "William Knuttel produces masculine blended red wines under his personal label, and lighter, more feminine wines under the label Robin K." And on the website of William Knuttel Winery ("Wines of Intensity and Finesse") there's this: "Robin K. wines are crafted to be more feminine, easy drinking wines for everyday consumption."
When I called him, Knuttel was traveling in the Calchaqui Valley of Argentina, where he makes one of two Malbecs (the other is from California). His California lineup also includes Chardonnay and Pinot Noir, his favorite grape, some of them single-vineyard.
'"When I describe the Robin K wines as 'feminine,' what I mean is that I am trying to make them so that they are elegant and well balanced upon release, as opposed to some of the brawnier characters and bigger structure you might find in my William Knuttel wines," he told me. "That's not to say the wines don't age well, however!"'
He has been making wine in Napa and Sonoma for more than 35 years, specializing in sought-after wines that nod to Burgundy and Bordeaux. Throughout his bio are descriptions like "high-end" and "ultra-premium." Knuttel was the founding winemaker at Saintsbury in Carneros, and made wine for Chalk Hill Winery & Vineyards and Dry Creek Vineyards, where he was executive winemaker. In addition to his namesake winery and that of his wife, he is also co-owner and winemaker at Zinfandel specialist Ottimino Winery near Occidental, California. Teira Wines, in the Dry Creek Valley area of Sonoma County, is a collaborative effort between him and Dan and Alexis Woods Donahoe.
All in all, he told me, he's not all that far from where he started as a chemical engineer. "It's the same in winemaking as it is in other industrial processes: making a raw material into a finished product," he told me. " But also winemaking gave me a chance to access my artistic side and that's why I love it!"
Knuttel created the Robin K. line in 2003 to be "sub-appellation Sonoma County wines that feature a blend of two to three vineyards for Chardonnay, Pinot Noir and Cabernet Sauvignon," according to one bio. And sure enough, one of the big differences between the Robin K. Cabernet and that of his William Knuttel (the 2010 is the new release) is the Robin K. hails from several vineyards in Dry Creek Valley in Sonoma County while his namesake Cabernet is made from pricier fruit from Rutherford in Napa Valley, where Cabernet Sauvignon is the unquestioned ruler. The 2010 William Knuttel Cabernet will mature in six to eight years, the winery says. Both wines were made from hand-picked, purchased grapes. Of the sustainably farmed Robin K., Knuttel says, 2011 was cool, producing low yields and "not without problems. But guess what? That's when us winemakers earn our keep!"
True to his traditional winemaking philosophy, Knuttel makes the Robin K. Cabernet Sauvignon using five classic Bordeaux varieties: Cabernet Sauvignon, of course, Merlot, Petit Verdot, Cabernet Franc and "a small amount of Malbec to fully round out the wine's mouthfeel." The wine is unfined, so that everything the grapes have is in the bottle, a property that I associate with power. Powerful and feminine, I like that!
After talking about this for a while, John said to me, "You're feminine, but I wouldn't consider you easy-drinking." I was in a good mood, so I decided to take that as a compliment.
Dorothy J. Gaiter conceived and wrote The Wall Street Journal's wine column, "Tastings," from 1998 to 2010 with her husband, John Brecher. She has been tasting and studying wine since 1973. She has had a distinguished career in journalism as a reporter, editor, columnist, and editorial writer at The Miami Herald and The New York Times, as well as at The Journal.