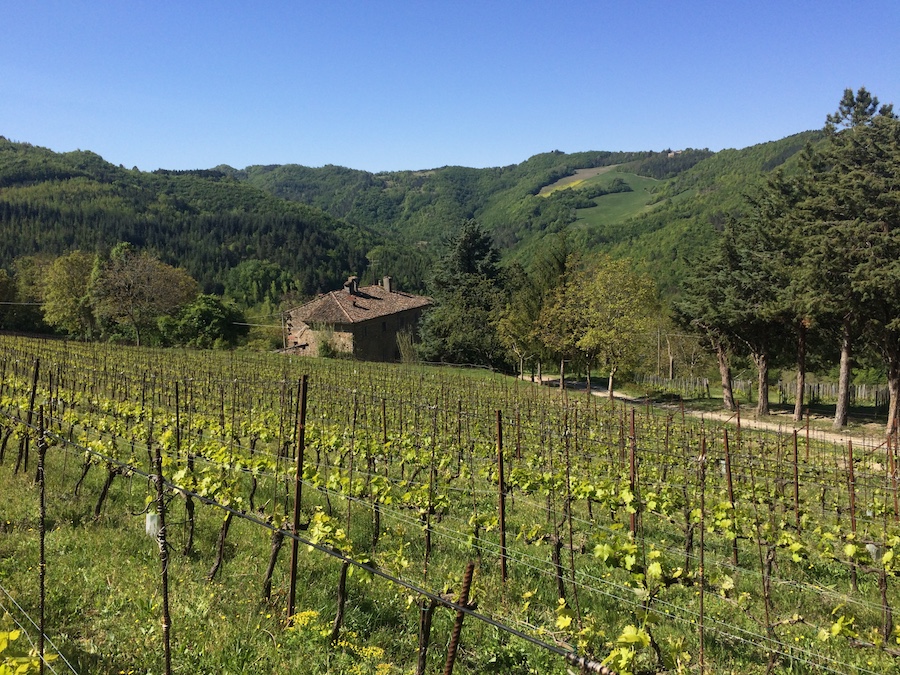 Villa Papiano, a 15th century villa, is nestled in the south side of Mount Chioda at 1,800 feet above sea level, near the village of Mondigliana in Emilia-Romagna, Italy. Francesco Bordini acquired the estate in 2001 and started the Papiano project assisted by his sister, Maria-Rosa, brother Giampaolo, and father, the pioneering agronomist Remigio Bordini. Papiano has 25 acres of steep terraced vineyards cultivating Sangiovese Grosso, Merlot, Centisimino (Grenache), Balsamena (Alicante), Sauvignon Blanc and Albana. The soil in the vineyard is mainly sandstone with a thin layer of brown or grey marl. Organic farming is practiced in the vineyard and Villa Papiano has been certified by the Institute Suolo e Salute in Europe, in the United States (NOP) and Canada (COR). About 45,000 bottles are produced annually by the estate.
Francesco Bordini, the winemaker and farmer of Villa Papiano, studied agricultural science and technology in college and received a PhD in agricultural engineering with a specialization in mechanization of wine-growing and oenological plants. As an agronomist, Francesco Bordini is always enthusiastic while talking about soil. He is the first person to have mapped the diversity of the soil types and sub-zones of Romagna. Bordini strongly believes in organic and sustainable agricultural methods. These methods not only apply to the vineyard but also in the cellars. With his specialty in viticulture and oenology, Francesco Bordini has led Papiano to become one of the emerging estates in Romagna and earned awards in "Tre Bicchier" for 2014 and 2015.
Grape Collective talks to Francesco Bordini about the viticulture and viniculture in Emilia-Romagna.
Joyce Lin: Francesco, would you please tell us a little bit about yourself and your background in winemaking.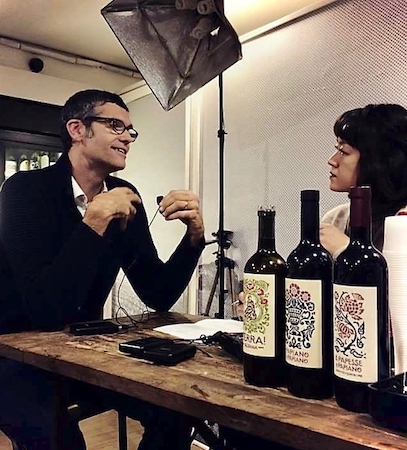 Francesco Bordini: Yes, so I am first of all an agronomist. And for me that is very important, because to produce a good wine it is very important to produce great grapes. And so it is necessary to understand the agriculture and the viticulture too. So I studied agriculture in college, then got my PhD, then onto the winemaking. My father is also a great influence to me. He is a well-known agronomist. He has studied the grape Sangiovese, and he helped a lot of vineyards to plant Sangiovese in Tuscany, Umbria, and Emilia-Romagna.
(Photo, left: Joyce Lin interviews Francesco Bordini)
Where exactly is Villa Papiano located and what's unique about Papiano?
So, Villa Papiano is in Modigliana. Modigliana is a very ancient town in the Apennines, the mountains dividing Emilia-Romagna from Tuscany. Before talking about Modigliana, for me it is important to talk a little about Emilia-Romagna, because Emilia-Romagna in general is famous for food products. A lot of Italian food products are made in Emilia-Romagna such as prosciutto, Parmigiano-Reggiano and so on.
There are two different grapes cultivated in the hills of Emilia-Romagna. In the west, Emilia, this is where most Lambrusco is cultivated. Sangiovese is mostly found in Romagna, to the east. Sangiovese is planted from the valley floor to the hills. Modigliana is on the top of the hill at 1,600 feet above sea level and considered a high-altitude wine-producing subregion.
The story of Papiano is very particular. Papiano was one of Lorenzo de' Medici's cellars. A very beautiful home, but for me, the most beautiful thing is the soil. That's a critical factor for producing everything.
When did you start making your own wine at Villa Papiano?
So, we bought the estate in 2001 because Papiano is a historical estate where old grape vines were growing in the vineyards. Before we took over the estate, the cellar was closed for a long time but the grapes were sold to other wineries in the region. After we acquired the estate, we'd like to take these beautiful grapes grown in the vineyard and make our own wine.
What is so special about the grapes in Modigliana?
Yes, all the grapes in Modigliana are very rich in acidity and very salty and fresh, and they are suitable for the long aging.
So Francesco, please tell us a little bit about the terroir, the soil, and the climate in Modigliana.
Asking an agronomist to talk about the soil is a big pleasure. For me, everything starts in the vineyard and it is all about soils. So the Apennine Mountains in Emilia-Romagna are mainly made of sandstone and marl.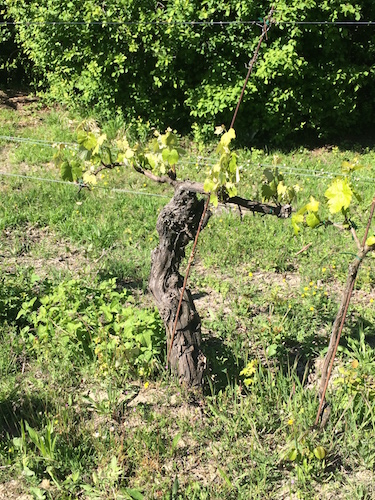 Modigliana, particularly, contains nothing but pure sandstone. So in Papiano, our soil is completely sandy soil and the soil is very poor. There are a lot of nutrients in clay but not in the sand. In my opinion, sandy soil is the best soil for producing wine, especially Sangiovese. Modigliana has the sandstone and the altitude. The perfect combination for growing Sangiovese.
(Photo, right: Centesimino old vine at Papiano)
The weather in Emilia-Romagna in general is a little bit colder and fresher than in Tuscany. Modigliana is far from the sea, and is very cold in winter and dry during the summer. Therefore, the effect of the sea is very small. Because of the weather, the grapes ripen late and maintain a lot of acidity. The acidity is very important to us. We look for high acidity in order to keep the wine balanced. Because of that, the vines start to grow very late in the spring if compared with other regions. The autumn is very long. So the weather is very interesting for all the late-ripening varieties like Sangiovese, especially for Sangiovese di Romagna.
What is your philosophy of winemaking?
Papiano is an organic agriculture and we make organic wine too. In the cellar, our work is simple; we try to collect the best grapes and we make long maceration on the skin with the native yeast and we let the wine age. We only add a very little amount of sulfite in the wine.
What we try to achieve is to maintain the freshness in the wine but reduce the possibility of the oxygen contacting with wine so we prefer the concrete or the big barrel to age our wine.
Why do you prefer concrete vat than barrel? Any specific reason?
Well, I have tried the big barrel, the concrete, the stainless steel. Concrete is just like stainless steel vat; it has the capacity to reduce the oxygen in the wine and it also maintains the temperature and wellness of the wine. So, in general we prefer concrete than big barrel.
So has the process of winemaking changed over time or has it stayed the same?
When we started in 2001, I was very related to the winemaking that I learned in school. After I started working with the Sangiovese in Modigliana, I found the grape is very interesting. I started to reduce all the input in the cellar and for that I realized it's essential to have good grapes. So a lot of things have changed. In the past seven winters, we have only added a little sulfite in the wine and this is great news for us. We use small barrel to age the Sangiovese since 2009, and this is another critical change for us.
Take Papesse, a young Sangiovese we produce for example. We only use stainless steel and concrete vats and we put the must on its lees for seven months. The process is complicated because the lees are very rich in bacteria. If you want to maintain a low level of sulfite adding to the wine, you have to be sure that the quality of the grape skin and the acidity of the wine are at their best.
Can you talk about the grapes you work with and the wine you make?
So, the most important grape in Emilia-Romagna is Sangiovese. There are 98 different clones of Sangiovese in Italy. In Emilia-Romagna, we have more or less 30 types of clones.
The clone we use for Papiano is very similar to Brunello di Montalcino. It has big berries and thin skin and our grape is even bigger than those of Montalcino. In the past, the cultivated clones in Emilia-Romagna are designed to make mass production and that is the story of our Sangiovese; very rich in terms of flavor but fresh with good acidity.
(Photo, left: Papiano vineyards)
There is Sangiovese in Tuscany, too. What are the differences between Sangiovese in Emilia-Romagna and in Tuscany?
Thank you for the question. First of all, Romagna is a very long region. It runs 50 miles from Bologna to Rimini (from the center of the region to the sea). In general the vineyards are located somewhere between 600 feet to 1,600 feet above sea level. In addition, the weather changes a lot, especially close to the sea. In the coastal area, the vines are cultivated at a lower altitude and the soil is richer in clay and in this case, you can find very structured Sangiovese. It is best to consume these wines when they are young. You can find beautiful Sangiovese Superiore especially in Emilia-Romagna. Superiore for us means young Sangiovese. Not stupid wine, but beautiful young Sangiovese. Sangiovese grown in the mountains obtains a lower level of tannin but with a lot of acidity and for that reason, wine is suitable for the long aging on the skin. So you can find very beautiful reserves for example in Predappio or in Modigliana.
In Tuscany, in general, the soil has more stones and poor fertility, so the Sangiovese in Tuscany has less fruitiness, but the tannin is higher. It also depends on the zone. Take Lamole in Chianti Classico for example, the altitude and soil are similar to Modigliana. The soil contains clay and limestone in Radda located in Chianti Classico and it is similar to Predappio.
What are other grapes do you work with?
The second most important grape in Emilia-Romagna is Albana. Albana is a native ancient white grape; high acidity with thick skin and richer in tannin but sweet tannin.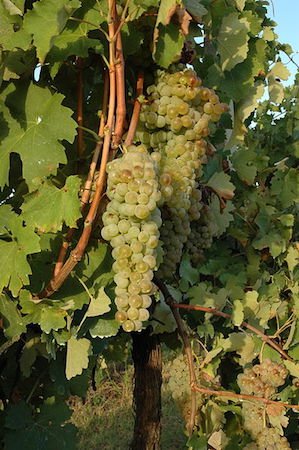 From what we do in Papiano, we put Albana for longer maceration with the skin to increase the structure but also to balance the acidity. In my opinion, Albana is a fantastic grape to work with. In Emilia-Romagna, Albana is suitable for aging. There are two historical towns in Emilia-Romagna, Predappio and Bertinoro, where you can find 100-year-old Albana and they drink beautifully. Unfortunately, in the past few years, more and more producers attempt to make late harvest Albana because of the racy acidity in the grape. From my point of view, I believe the best way to showcase Albana is a completely dry wine with long maceration on its skin. On the other hand, Albana can be made Passito style and it is absolutely beautiful.
(Photo, right: Albana grapes on the vine)
Besides Sangiovese and Albana, Centesimino is worth talking about. Centesimino, a native grape grown in the region, is similar to Grenache, Alicante, Cannonau, Tocai Rosso. Rich in flavor, especially the candy fruit flavor with thick skin and more tannin than Sangiovese. It is an interesting grape to work with. In my opinion, Centesimino tastes better when it is blended with Sangiovese, but a lot of producers make 100% Centesimino.
From a marketing point of view, what is your approach to promoting Sangiovese made in Emilia-Romagna to compete with well-known region such as Brunello di Montalcino and Nobile di Montepulciano?
It is absolutely very complicated. For us, it is very important to find a talent scout to give us the opportunity to explain our wine to our audiences. I believe if you taste the best wine from Emilia-Romagna, you will think the quality of our wine is very high. But for us, it is necessary to explain, explain, and explain. I hope in the future, everything will be better. Now, there is a new generation of wine producers in Emilia-Romagna, who start to travel around the world and start to produce better quality wine. In my opinion, if we work together as a group and produce a similar style of wine, in the next 10 years, our wine will definitely be on the map.
That sounds very promising and I hope in the future there are more people acknowledging wine from Emilia-Romagna.
I hope. If the global warming continues, Emilia-Romagna is colder than Tuscany, and we definitely have an advantage with that.
So is there anything else you wanted to talk about that I didn't cover?
So the last thing is that Villa Papiano is a family project; a dream of Bordini. Papiano is a beautiful place with beautiful soil and we produce beautiful wine. To us, this is what we do and we are very proud of it.