Before starting my wine study program at the International Culinary Center, I would only buy wine under $20. My theory was that as a novice wine drinker, if I didn't know anything about wine and was unable to differentiate a good wine from one that is just okay, then why should I spend more than $20 on a bottle? During my course of study, the most crucial thing for me was exploring the vast array of varietals and the different New World and Old World styles. I could not afford to buy wine over $20 on a regular basis so I would stick to my original wine buying principal: stay within budget.
Upon completion of my wine classes, I still keep this theory going and think it is applicable to everyone, whether a seasoned wine connoisseur or a neophyte just venturing into the world of wine. A good wine is a good wine no matter if it costs a fortune or only 10 bucks. Save those pricey bottles for special occasions and check out these delicious wallet-friendly selections that won't break the bank.
2014 Aurelien Chatagnier Les Mortars Syrah, Rhône, France
Average Price $19.99

Located in the northern part of Saint Joseph in France's Northern Rhône region, Domaine Aurelien Chatagnier was established in 2002 by Aurelien Chatagnier when he was in his early 20s. He began by renting just over one hectare of vines, then steadily increased in size to what the estate is today. Although Mr. Chatagnier doesn't come from a winemaking family, he developed a passion for the craft at a fairly young age. He first worked with vines for Domaine Jamet while he was just a teenager and then spent several years with Francois Villard, who eventually encouraged him to go solo. Mr. Chatagnier focuses on winemaking with minimal human intervention in an effort to let the wine shine on its own. Earning a reputation as an up-and-coming winemaker to watch, Aurelien Chatagnier has been called "one of the best young winemakers in the region" by Josh Adler of the Paris Wine Company.
The estate is characterized by steep vineyards featuring soil dominated by granite. Grapes are cultivated using organic practices and are hand-harvested, 100% destemmed and fermented using native yeast. The 2014 Aurelien Chatagnier Les Mortars is 100% Syrah and sees malolactic fermentation as well as six month elevage in five- to six-year-old barrels. There is limited extraction and bottling without fining agents added or filtration.
The wine is a wonderful yet classic example of an elegant Syrah from the Northern Rhône. It is marked by delicate dried rose petal and subtle earl grey tea on the nose, balanced red fruit on the palate, and a noticeable but not overpowering oak note. It shows medium plus acidity, moderate plus minerality, and medium body with just a touch of grippy tannin present. Refreshing with a velvety texture, it is both alluring and intriguing. A bottle might not be enough for a table of four so make sure you have at least two bottles on hand for a dinner party.
2014 Agro de Bazan Granbazán Etiqueta Verde Albariño, Rías Baixas, Spain
Average Price $17.99
Started in 1981, Granbazán winery has a clear objective: to take Rías Baixas wine to the top ranks by producing some of the best white wine in the world. Located in Tremoedo in the Rías Baixas DO region of Galicia, the winery was created by practicing scientific plantation and using cutting edge technology to achieve its goals. With a strong investment, the Granbazán winery pulled a team of technological-oenologists together and started the development of the cold maceration process, making two types of wine using this process and making the first Albariño wine matured in French oak barrels.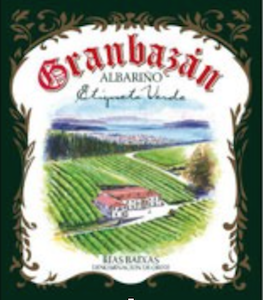 The Agro de Bazan Granbazán Etiqueta Verde Albariño is produced using 100% Albariño grapes that are harvested by hand, destemmed and cooled below 10ºC/50ºF. Gently macerated for eight hours, it then undergoes temperature controlled fermentation in stainless steel tanks. Minimum four months lees contact before bottling.
Pale gold with a greenish hue, the Albariño is characerized by a sensational white floral aroma on the nose, with notes of green apple, lemon rind and tropical fruits like pineapple and melon. On the palate the wine is refreshing and crisp with racy acidity followed by sea spray minerality. It has a long finish with a slight bitterness of quinine at the end. It is a great summer wine, perfect on its own or served as an aperitif, but it can be paired with foods like salad or shellfish with garlic butter.
Availabe at Flatiron Wines.
2012 Muhr-Van der Niepoort "Samt & Seide" Blaufränkisch, Carnuntum, Austria
Average Price $22.99

Dori Muhr and Dirk van der Niepoort co-own Murh-Van der Niepoort in Carnuntum, Austria. The vineyard is located in the cooler, south-facing, western foothills of the region with 13 hectares in total. With limestone-rich soil, old-vine Blaufränkisch dominates the vineyard, however Syrah, Merlot, Riesling and Grüner Veltliner are cultivated as well. The philosophy of winemaking in Murh-Van der Niepoort emphasizes a focus on handwork and letting the unique terroir express itself through the sophistication and finesse of the juice.
The "Samt & Seide" Blaufränkisch is produced using 100% Blaufränkisch grapes that are gently macerated without use of any mechanical tools. There is no extra sulphur or cultured yeast added and the wine is aged in wooden barrels for two years before releasing.
The 2014 vintage is deep ruby in color; juicy and fresh with a complex flavor profile both on the nose and palate. Red and black fruits such as cherry and blackberry dominate with a hint of spiciness and old cigar box. The wine shows pert acidity with prominent minerality and a velvety, silky texture with soft, ripened tannin. This is a perfect example of how elegant Blaufränkisch can be. Enjoy it with smoked gouda, blackened tuna, or veal with black pepper and mushroom sauce.
Available at Union Square Wine & Spirits.