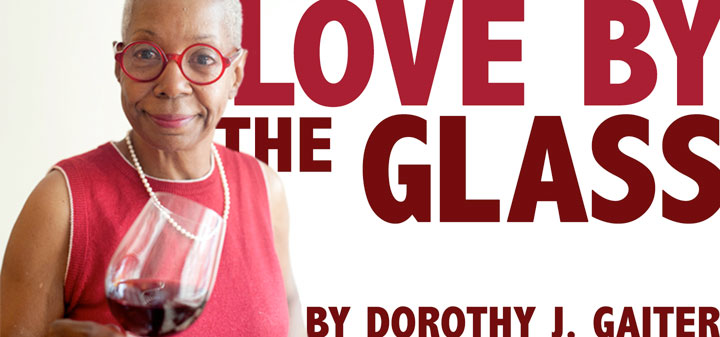 I'm almost tempted to stop looking at the calendar because it bears little resemblance to the real-feel temperatures outside. But we had a wine the other night that felt like sunshine and spring. It was a 2013 Weingut Prager Grüner Veltliner Hinter der Burg Weissenkirchen Federspiel from the Wachau region of Austria and it was just what I needed.
Some people think of Grüner Veltliner as a summer wine, but I consider it an-anytime-of-year white wine, and pretty darn close to an any-type-of-food-pairing wine. Right now, it's the perfect transition wine and Prager is a name we've come to trust. In fact, its Grüner Veltliner reminded me of my mother's ham, which she prepared for Easter if she wasn't making her famous leg of lamb. She'd score the top of the ham and stick cloves into the perfect triangles her sharp knife would make. Before it was done, she'd add rounds of pineapple and spiced peaches to the pan. Grüner Veltliner's intense minerality, grapefruit-like flavors and acidity, plus black pepper spiciness with the salty-sweetness of the ham, is a heaven-sent match.
Now, the name of that wine is intimidating, although to be honest, the Weissenkirchen Federspiel part was on the back label. And get this: According to the Winebow Group, the wine's importer, '"The name 'Hinter der Burg,' which has not been changed since the 13th century, means "behind the old castle Weissenkirchen."' Duh! Everybody knows that!
Grüner Veltliner is the signature white grape of Austria, with close to one-third of the country's vineyards planted to it, and with good reason. It's hard to go wrong when you pick one up. (The grape's name is pronounced something like GROO-ner felt-LEE-ner. If you go to the winesfromaustria.com site, click on "News and Media" and then click on "wine rap," you can hear someone pronounce it.)
The Wachau Valley is wine central in Austria, located along the famous Danube River. It's on the UNESCO List of World Heritage Sites because of its "architectural and agricultural history."

Part of its more recent history involves Franz Prager, a winemaker from a long line of them, who in 1983 cofounded Vinea Wachau Nobilis Districtus, an organization whose strict rules are intended to protect the "quality and culture" of the region's wines. Franz Prager's daughter Ilse married Anton "Toni" Bodenstein (left), a biologist, geologist and historian from Vienna who has become one of Austria's most respected and best-known winemakers. He's especially renown as an authority on the Wachau's microclimates and varied terroirs, and the properties of genetically diverse vines.
One of Vinea Wachau's rules is that all members' wines be from white grapes, so Prager is 60% Riesling and 40% Grüner Veltliner. Among Prager's single-vineyard wines is a Riesling from Wachstum Bodenstein, a high-altitude vineyard.
Wachau wines also have their own three classifications, which reflect natural alcohol content and generally track with prices. The lightest, simplest wine is called Steinfeder (maximum 11.5% alcohol); next is Federspiel for wines between 11.5 and 12.5%, and third, Smaragd, which must have a minimum 12.5% alcohol.
I've never tried to make my mother's ham. But I thought about it after I'd put a pork tenderloin in the oven the other day, as John and I sat watching the sun set, sipping the Prager Grüner. The wine, which only saw stainless steel, had vibrant acidity and a minerality that echoed the Wachau's granite and slate-rich, rocky soil. The best thing, the thing that we kept saying, was that it tasted like grapes. Honest, delicious fruit. It was hard to save some to have with dinner.
Dorothy J. Gaiter conceived and wrote The Wall Street Journal's wine column, "Tastings," from 1998 to 2010 with her husband, John Brecher. She has been tasting and studying wine since 1973. She has had a distinguished career in journalism as a reporter, editor, columnist, and editorial writer at The Miami Herald and The New York Times, as well as at The Journal.