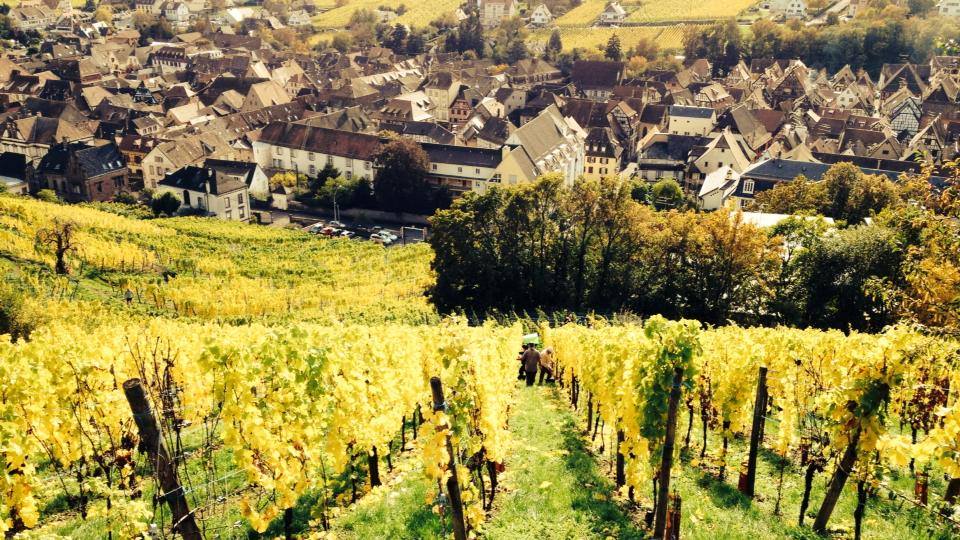 It was serendipitous to be in New York and be able to accept an invitation to lunch with Jean Trimbach and a group of wine industry folks. As we began the meal, Trimbach, representing the 12th generation of his family's eponymous winery in Alsace, announced that harvest had commenced. (September 15th, to be exact.) Trimbach noted it was his brother's 35th harvest and the first for his son. About the latter's debut in the vineyards, Trimbach teased, "He was a bit scared….If he wasn't it would be wrong." (Remind me of one of my favorite mantras, "Nothing worth doing is easy.")
Trimbach owns 25 hectares of vineyards in Alsace (20% of which are Grand Cru) and purchases fruit from an additional 40 hectares of land. They export an astounding 90% of their wine, which keeps Trimbach very busy on the road.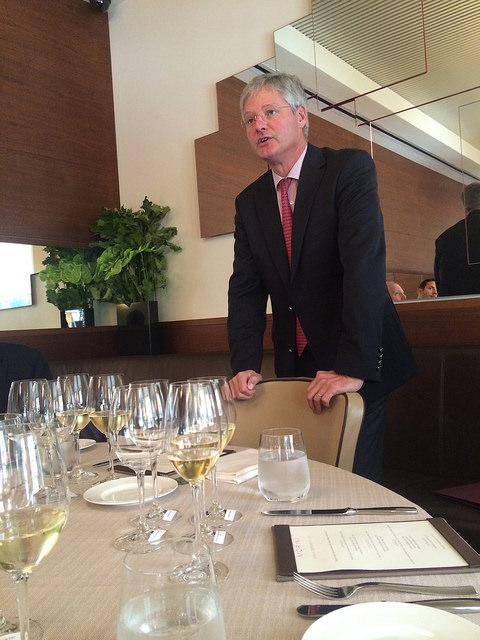 We began with a duo of white wines, the Riesling Reserve 2011, which Trimbach noted could age 15-plus years in magnum. (This guy knows how to get me to upgrade to large format.) Our second glass was filled with a Pinot Gris, which normally I don't find that exciting but the Reserve Personelle 2008 was a fantastic wine. Regarding this vintage, Trimbach had this to say: "One of the finest, most pure Reserve Pinot Gris we've produced recently." Seemingly anticipating my unremarkable experiences with this grape, Trimbach described the wine as a "Pinot Gris produced into a Riesling frame." It certainly had the kind of complexity and excitement you'd expect from that latter grape and proved to be a stereotype-buster.
Moving on to the main event, two Rieslings from 2007 were poured: the Cuvee Frédéric Emile and the Clos Ste. Hune. (Note that Trimbach singled out the 2007, 2008, and 2010 as exceptional recent vintages.) The former is named after Trimbach's great, great grandfather. The Cuvee Frédéric Emile 2007, Trimbach pointed out, was the driest version of that wine ever produced. About the first vintage of Cuvee Frédéric Emile, 1967, Trimbach advised, "If you can find it, buy it, drink it, enjoy it."
The Clos Ste. Hune has a longer history, debuting with the 1919 vintage. Both wines spend years in bottle before release, which can't be an easy decision from a financial standpoint but is certainly worth it from a Riesling lover's perspective. Trimbach wants you to treat these wines like a top Cabernet or Merlot, so put them in your cellar. But if you are going to enjoy these Rieslings young (and enjoy them we did), always decant them.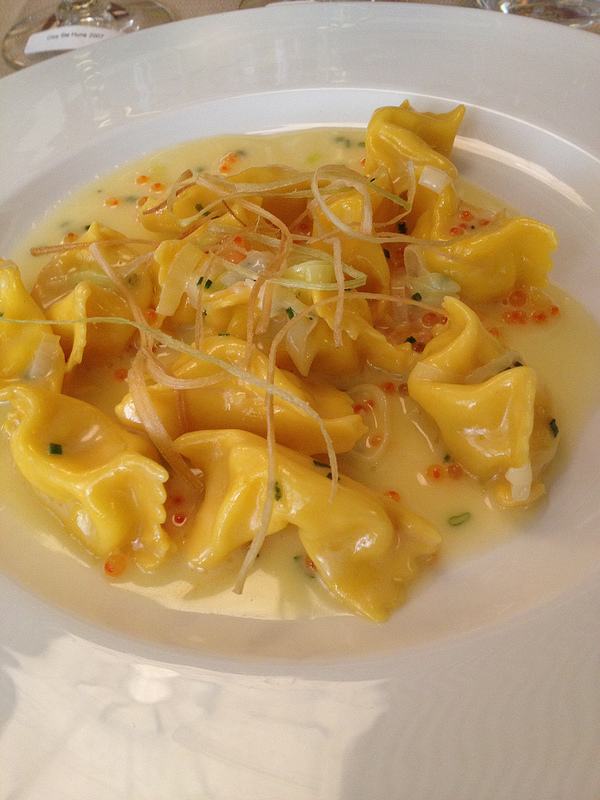 Both of these wines were a powerhouse pairing with the pictured pasta dish at Ristorante Morini: baccalà ravioli with trout roe, Meyer lemon, and baby leeks.
We finished up with a Gewurztraminer Vendage Tardive (VT) 2011, which rekindled my far-too-dormant love of sweet wines. Though it drank so light and lovely I could practically enjoy it like a dry wine. (By the way, the elegance and finesse of the 2011 Gewurztraminer VT reminded Trimbach of the 1997.) Only about 40% of the grapes from this late harvest wine were affected by noble rot, so it's a lighter-hued VT. And if you ever wonder why the VT and the rarer Selection de Grains Nobles (SGN) wines from Trimbach are so exemplary, Jean's brother Pierre Trimbach has been president of the VT/SGN committee since 1999.
Before we even had our first drop of wine, Trimbach remarked on the host city for this lunch. "There is only one New York in the world as we all know," he stated. After tasting this singular lineup of white wines--dry, complex, sweet, some youthful, some just starting to grow into adolescence--I couldn't help but think there is only one Alsace and only one Trimbach Estate in the world.