All this talk of BBQ with Mary Cressler of Vindulge during our SpeakEasy interview with her got me curious and hungry. So I asked Mary to share some encouraging words directed towards those intimidated by the grill and/or smoker. And she was nice enough to let us reprint her recipe for Smoked Beef Brisket Nachos with Brisket Chili.
Don't feel like cooking? If you're in Portland, Oregon, Mary has ten spots for eating and drinking you must visit.

People find wine intimidating as well as smoking their own meats. For the BBQ-phobic, what are a couple tips to give people confidence and get them on the road to slow-cooked success?

First, you don't need to buy an expensive smoker to make great slow cooked foods. Take ribs. Instead of a smoker, you can slow cook in the oven and finish on a grill. You may not get the smoke infusion but you still get the tender flavor that the slow cooking offers. On a gas or charcoal grill you can use wood chips wrapped in foil and with some holes in it to infuse some smoked flavor.

Also, be patient. Pitmasters honed their craft over years, and everyone started somewhere. For the novice BBQ'er it's about practice and patience, and I would say start with one meat (like ribs) and master it. Focus on ribs until you are happy with them, and then move on to something else. We still are trying to perfect brisket after six years of BBQ.

Finally, understand technique. This is why we started the "BBQ Corner" series on the blog. To help novices learn the basic fundamentals (like direct vs. indirect heat cooking). Understanding technique will lead you on the road to success.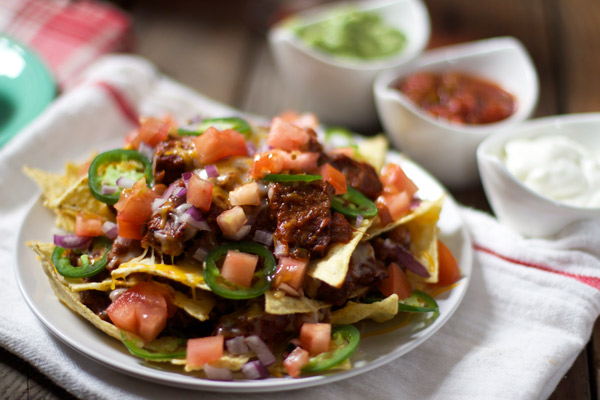 Smoked Beef Brisket Nachos with Brisket Chili

The perfect use for leftover smoked beef brisket. Create a rich chili out of leftover brisket and use that chili to make indulgent, spicy, cheesy, nachos.
Recipe courtesy Mary Cressler of Vindulge. Head to her site to find out what wine she pairs with this dish.

Ingredients

To make the improv chili:
1 small red onion, diced
3 cups leftover smoked beef brisket, roughly chopped into small cubes
1 medium jalapeño, ribs and seeds removed, finely minced
1 cup beer (we used a mild IPA)
¼ cup coffee (whatever may be leftover in your pot from your morning brew)
1 (15 oz) can tomato sauce
2 tablespoons tomato paste
2 small chipotle peppers in adobo from a can, finely diced (use just 1 if you're sensitive to heat. These can be very spicy)
1 (15 oz) can pinto beans, drained
1 tablespoon canned diced green chili
1 tablespoon chili seasoning
1 tablespoon cumin
½ teaspoon cayenne pepper
½ teaspoon smoked paprika
1 teaspoon salt
For the Nachos, including optional nacho toppings:
Thick corn chips (they need to be sturdy enough to handle the weight of the toppings)
1 medium tomato, juices removed, diced
¼ cup finely chopped onion (more or less depending on how much onion you like)
1 thinly sliced jalapeño
Shredded smoked cheddar cheese, or mixed cheddar blend (more or less depending on how cheesy you like your nachos)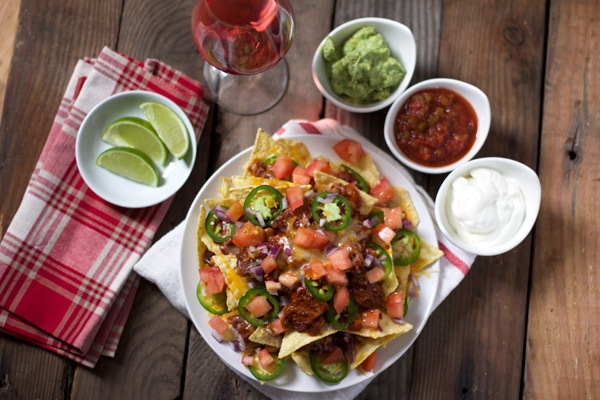 Instructions
For the chili:
In a large saucepan, over medium heat, pour approximately 1-tablespoon olive oil and add your onions. Cook about 3-4 minutes, and then add the chopped leftover brisket and the jalapeño. Cook 1-2 minutes until warmed up.

Add the beer and let it come to a simmer (about 1-2 minutes to let the alcohol reduce).

Then add the coffee, tomato sauce, tomato paste, pinto beans, green chilies, and all the spices, and mix well.

Bring to a simmer for a few minutes and then reduce to low heat, for about 20-30 minutes, until the chili thickens, the flavors are well combined and you're happy with the flavor. Adjust seasonings to your preference. This is all about finding a richness and flavor you like!
To Make The Nachos:
Take your plate and create one layer with corn tortilla chips. Remember, make sure they are thick chips so they hold the weight of the chil

Layer the chips with the chili and a layer of shredded cheese.

Create another layer.

If you are using an oven-safe platter you can place in the oven under broil. Broil until the cheese is melted (this won't take long, just a couple minutes).

Alternatively you can microwave the plate in 30 second increments until the cheese is melted well. The risk with microwave is the chips can get soggy easily!

When the cheese is nice and melted, remove from oven or microwave and top with your favorite toppings (sliced jalapeño, tomatoes, diced onion, cilantro) and have your favorite dips to serve along side: salsa, guacamole, and sour cream. The guac and sour cream also help tame the heat from the chili.

Notes

** Depending on how many nachos you plan to make, the chili will yield leftovers. Nothing wrong with that! Just use how much chili you are comfortable with on your nachos.