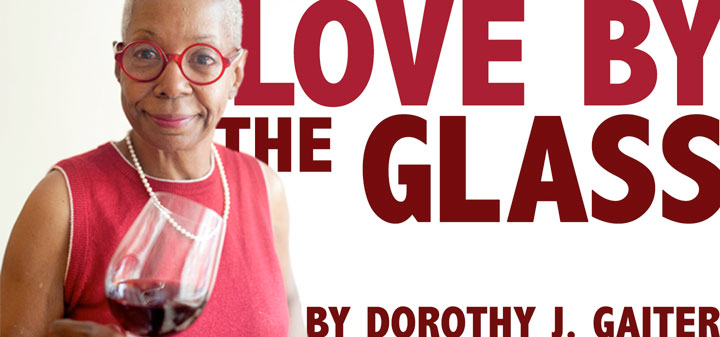 Jerry Eisterhold is listening and observing.
At his Vox Vineyards in Platte County, Missouri, near Kansas City, he's listening to the rare American heritage grapes he's growing in his laboratory vineyard, hoping he'll hear from them and see that the varieties he has studied for more than 20 years and planted are thriving and suitable for fine wine. Vox opened in 2014 to sell Eisterhold's vinous experiments, so you can weigh in with your musings as well. The labels read TerraVox, the Voice of the Land.
Of the ones I purchased, a 2013 Lenoir knocked my socks off and the 2014 Heritage White Lot A made them roll up and down, but more on those later.
Inside a house near the vineyards is another listening and observation post. Eisterhold Associates' studio occupies half of the house while Eisterhold, 64, and his wife, Kate Garland, live in the other half. Eisterhold Associates Inc. designs innovative, interpretive and interactive -- you-are-there -- exhibitions in museums and other cultural and civic institutions. For these, he and his colleagues cull stories from events of the past and dreams of the future and present them in ways that the public can experience them.
Their work is found, among other places, in the National Civil Rights Museum in Memphis; Boys Town in Boys Town, Neb.; the Rosa Parks Museum in Montgomery, Ala.; the Harry S. Truman Presidential Library and Museum in Independence, Mo.; The Sixth Floor Museum in Dallas, which explores the life, assassination and legacy of President Kennedy. They have also done projects for Disney's EPCOT and Universal Studios in Orlando. (eisterhold.com).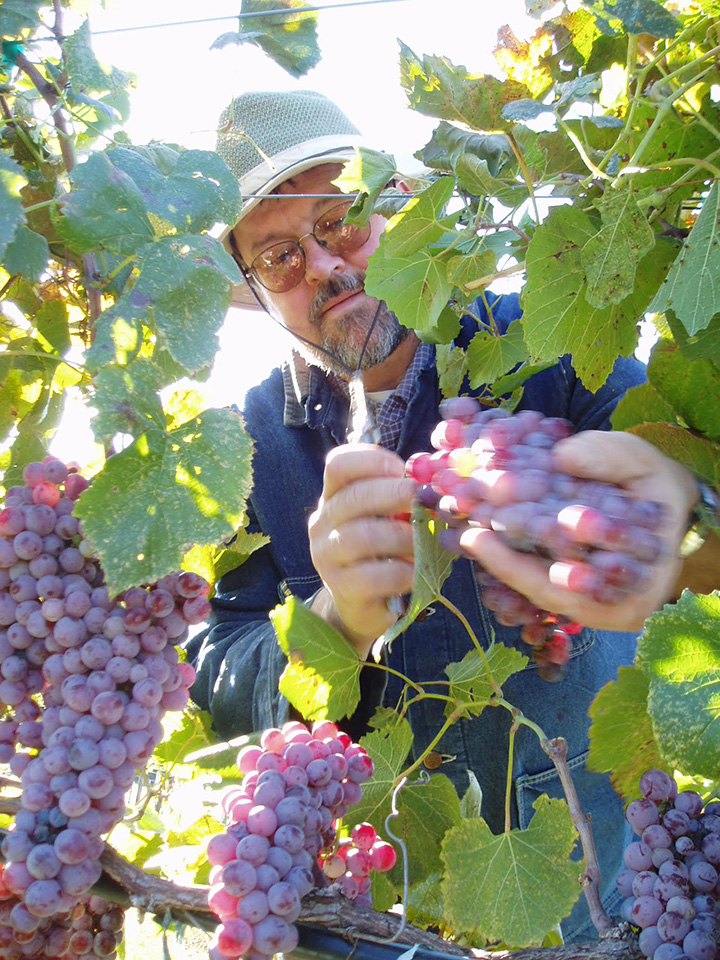 (Photo: Gerard Eisterhold)
Vox Vineyards and EAI are daunting transformational undertakings, and Eisterhold, whose first name is Gerard, has won awards for both. I thought of Eisterhold recently when Warren Winiarski, whose 1973 Stag's Leap Wine Cellars S.L.V. Cabernet Sauvignon won top place at the Judgment of Paris tasting, told me that that win made him more responsible to his grapes. "I had to be more alert. I had to be more perceptive to what the fruit was saying and every year it's a little different," Winiarski said.
Talented winemakers let the grape tell its story, not theirs.
"We don't know what's typical for them. There are a million different variables," Eisterhold told me, discussing the challenges of making fine wine with native grapes. "There's not much established history on how they should grow and taste. We're working with them to bring out their voice. They have a conversation to share."
The wine story that Eisterhold is telling is partly the story of viticulturist and horticulturist Thomas Volney "T.V." Munson, who wrote the seminal text "Foundations of American Grape Culture" in 1909 and died in 1913, before Prohibition stalled the country's wine industry beginning in 1920. It's also partly the story of Leif Erikson, the Icelandic explorer who saw wild vines growing in America, thought wine, and dubbed the place Vinland. Munson documented and collected wild grapes that were native to America, and having identified thousands of specimens, he bred 300 he thought could thrive in the terroir of the Midwest and Southwest and make distinctive American wines. Some he propagated for the properties of their rootstock or suitability to eat as fruit. He wasn't interested in ancient vitis vinifera, which produces the European classics like Chardonnay, Cabernet Sauvignon and Riesling.
Oh, and in the course of his research with grafting, Munson saved the French wine industry by developing and sending to France Texas rootstocks that were resistant to phylloxera, which was devastating French vineyards. For Munson's assistance, the French government named him Chevalier du Mérite Agricole, which is second in importance only to its Legion of Honour.
Eisterhold, who grew up in Missouri around wineries and who made fruit wine as a kid, explored 65 types that Munson had studied, some with names like Albania, America, Cloeta, Lenoir and Wetumka. He purchased some cuttings from nurseries and collectors – yes, rare-grape collectors exist -- in California, Oregon, upstate New York and from Munson's vineyard in Denison, Texas, where Grayson College continues Munson's research. Eisterhold told me he has donated to the community college's scholarship program.
Just as Munson's first attempt failed in Nebraska, Eisterhold planted some native grapes that didn't thrive in the yard of a Kansas City house he lived in. So he tried a second location and then a third attempting, as Munson had after he moved to Texas, to match terroir with grape type. Finally, Eisterhold and his wife, a senior conservator at the Nelson-Atkins Museum of Art in Kansas City, hired a plane to get a better view of possible vineyard-worthy acreage.
What they found in 1996 is now Vox Vineyards, 86 acres, six planted to grapes. Their first harvest in 2000 "yielded a single bottle of mixed parentage that I will never open. Because I'm sure it's horrible, and a better concept than a reality," he wrote me. He's up to 1,200 cases now.
With the help of consultants, including one who has made wine in India, Eisterhold's goal is to whittle the grape varieties to work with from 65 to a more manageable dozen or so. Missouri, he says, has more diverse varieties of native grapes than any other state. "Given that in Missouri you have the glaciated areas, the woodlands, the Ozarks, the Mississippi deltas and the rivers, all of these ecozones come together to give this genetic diversity," he said. "Out of this diversity, we try to draw out the unique qualities of the grapes."
Eisterhold knows agriculture as well as graphic design. His family was poor but he won agriculture scholarships to the University of Missouri, where he gained attention for being a soil expert. He told me he found the agriculture field "restrictive" and so changed his major to science and then to art and the humanities "because I thought you were supposed to go to school to learn what you didn't know." Smitten, he then transferred to the Kansas City Art Institute, "second to Yale in terms of rigor," he said, and earned a degree in graphic design. After that, he became an exhibit designer at the Kansas City Museum. All the while, he kept thinking about wine. With the growing success of EAI, founded in 1979, he was able to acquire quite a collection of wine, some of which he sold at auction to raise money for the winery. John and I met him three years ago when wine lovers Bill Plante, the veteran CBS News correspondent, and his wife Robin Smith, a documentary filmmaker, invited their old friend Jerry to our Open That Bottle Night celebration in Washington, D.C. He was working on the Ralph Nader exhibit then and was funny and smart, a Teddy bear of a guy.
Occasionally, Eisterhold invites people in to taste with him and his consultants as they try to figure out what is working and what is not.
"Munson was a kind of philosopher," Eisterhold told me. "It wasn't sufficient to have an idea in your head. You had to do something with it and that usually involved iteration with the thing you're working on, similar to the design process.
"With grapes, you have a crop and you make a wine and you go back and forth with that grape over a number of years because you're not sure of the typicity, the annual variations. It might take a dozen years to get a handle on that," he told me.
Eisterhold knows he's fighting an uphill battle because when a lot of people think of wines from domestic grapes, they think of foxy flavors and aromas, some not very pleasant. "Too much Labrusca," he told me. (That's the genus name for the Concord grape.) "The Welch's grape juice thing, prolific. They've done more to give American wine a bad name."
So how were his wines? I'll start with the 2012 Norton Proprietor's Reserve, $45, because it was the most familiar to me. Norton is Missouri's state grape and I've had several. Our notes say, "A really well-made wine. Reminds us of Rhône, a Saint-Joseph. If we were having a tasting of Saint-Joseph, we would not say, 'Wait a minute. This doesn't belong.' Yummy."
The 2014 Hidalgo, $30, reminded us a bit of a very good young Chardonnay, with its tart tropical fruit oiliness and touch of spice.
Eisterhold threw in a 2013 half-bottle of Munson RePort dessert wine, $40, as a gift. He made only one barrel of it and it has "mostly Cloeta, some (about 1/5) Lomanto, and a wee bit (1 gallon) of Herbemont," he wrote me in an email. It tasted very much like a young Port and at 19 per cent alcohol, it was remarkably light, not too sweet, and satisfying after dinner.
Now to the bell-ringers. The 2014 Heritage White Lot A, $30, had a laser-beam focus with Star fruit and kumquat-like citrus tastes. It reminded us of very good Vinho Verde. Eisterhold said that its grape type is called Albania but he's having trouble getting that on a label, America, too because federal officials insists that those are only country names. Both the Heritage and Hidalgo were fabulous with the fatty Salmon I cooked.
The 2013 Lenoir, $30, was utterly new me. The grape is sometimes called Black Spanish, and it is a dark, brawny, life-affirming, dry wine with a zippy acidity and a pinch of salt that I didn't see coming. Our notes say, "Smells like Port. It has hints of chocolate and a weight and viscosity of Port. John says he'd guess it was an expensive Touriga Nacional, the great grape of Portugal, grown in a special place. It's certainly deserving of a place next to good Bordeaux. It's big but that's the grape, not the winemaker, we'd guess."
Although I've said these wines reminded me of this or that, the one thing they all had in common was high acidity, a trait that I later read others have found in Munson varieties. Vox's labels say "Hand-Made" and to drink them is to be mindful that they are the product of people, attempting to do something different.
"We're after an audience interested in the adventure," Eisterhold said.
After we'd talked a while, I asked, So why are you doing this, continuing Munson's quest?
"Because if I didn't, it wouldn't get done," he replied. "It gives me the illusion of doing something important."
Then he talked about the late Nobel Prize winning economist Gary S. Becker. "He reduced everything in the world to an economic number—house work, leisure time, all of that stuff," Eisterhold said. "There was an economic equation for everything except love.
"That passion is something that can't be equated to economics. There should be some escape from calculating everything else, a release from that with something that will respond to as much energy as I can put into it. It's a physical and emotional release. And it's a glorious day to be outside in the weather. Plus we might discover something. We're taking something agricultural and making something transcendent from it. Zen-like."
Listening. Observing.
Dorothy J. Gaiter conceived and wrote The Wall Street Journal's wine column, "Tastings," from 1998 to 2010 with her husband, John Brecher. She has been tasting and studying wine since 1973. She has had a distinguished career in journalism as a reporter, editor, columnist and editorial writer at The Miami Herald and The New York Times as well as at The Journal.