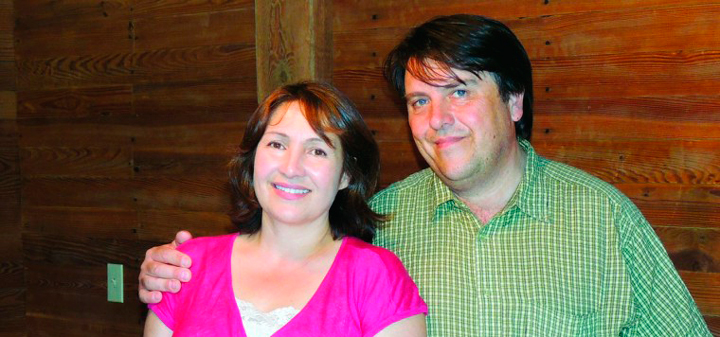 Morten Hallgren was originally from Denmark, though he was raised in the Provence region of the South of France. The Hallgren family owned and operated Domaine de Castel Roubine, a 270-acre estate with 170 acres of vineyards. But even then, he spent his first harvest in Bordeaux — at Chateau Cos d'Estournel, in the Medóc region — having received an advanced degree in both enology and viticulture at the Ecole Nationale Supérieure d'Agronomie in Montpellier, one of the world's top winemaking schools.
After working for a French negociant on a project in West Texas — yes, West Texas — he moved on to the Biltmore Estate in North Carolina. Ever the wanderlust, he and his wife Lisa then moved to the Finger Lakes. Willy Frank recruited him and offered him a job as chief winemaker for Dr. Konstantin Frank's Vinifera Wine Cellars. He would stay there for six years.
But in 2000, he was on the move yet again, though the distance was sizably less. The Hallgrens decided to purchase a 17-acre parcel of land on a glacier-carved hillside on the eastern slopes of Keuka lake. And they would call the operation Ravines.
Ravines has quickly become one of most dynamic winemakers in the region, elevating the level and expected quality of Finger Lakes wine, alongside fellow "new" New Yorkers in Anthony Road, Silver Thread, and Bloomer Creek. Don't go thinking that these wines are tucked away in the Northeast. You can find wines from these estates on wine lists at top restaurants around the country.
Anyway, we caught up with Morten and Lisa Hallgren about their long, roundabout journey to the Finger Lakes and their aspirations to be a contributing force in elevating the wines of the region.
Christopher Barnes: How did you end up in the Finger Lakes? I think that's an interesting story.
Morton Hallgren: Sure. We certainly look the long road to the Finger Lakes. Lisa is from San Antonio, Texas originally, my hometown is Copenhagen, Denmark and we both gained a lot of our winemaking experience in Provence in the South of France and then we came here through West Texas and North Carolina. I guess that would be the long route. We've now been in the area, in the Finger Lake, for 15 years.
Perhaps you can expand on how you started in Denmark and then went to Provence and then ended up in the Finger Lakes.
MH: Sure. I'm the oldest of four kids and I remember at age 15 I was making a trip down to the South of France. I thought it was a vacation and it looked like my parents were looking for a vacation home. Then we started looking at larger and larger vineyards and we didn't hear much about it.
We went back to Denmark and then all of a sudden at the dinner table one night my parents just popped this question, "How would you like to move to the South of France and make wine?" The four of us just looked at him thinking they were bluffing because after all we didn't speak any French and didn't know anything about making wines so we all just said yes, yes, thinking that was necessarily going to happen.
Two months later we were in the South of France and it was just a phenomenal experience. This was an old estate going back to the Temple of Knights. It used to be part of the Temple of Knights holding in the 1300s, then it had gone through various changes. The house we lived in there was built on top of an old Roman ruin and Roman roads were going down in the middle of the vineyard. It was just a magnificent sight.
Lisa Hallgren: There was a count living there.
MH: Yeah, the previous owner.
Is that why you learned how to make wine?
MH: Yes. I came to the US to study physics and astrophysics for eight years. Together with Lisa I had to go back to the South of France and go to winemaking school in Montpellier in the South of France and of course I kept on working at the family winery in Provence. Then I took a job with a French company in West Texas.
Why the Finger Lakes? It's a long way from Provence and a long way from Denmark.
MH: It really is. I had five different offers when I left North Carolina. Of the five, the Finger Lakes just seemed to be the one offering the greatest potential, and by that I mean two different things: the actual quality potential of the wine and also a region where we could have the greatest impact. Had I gone to the West Coast I would have been another winemaker and couldn't have had quite the impact that I think we have had up here contributing to really help push this whole wine region forward. It's just more intriguing and way more interesting and definitely more challenging.
Tell us about when you came to the Finger Lakes. What was it like? What did you find when you came here?
MH: I actually ended up visiting the Finger Lakes in February for the job interview, which is not the most favorable time to come to the Finger Lakes. It was a particularly cold year and it was literally a frozen landscape. Luckily, by that time Lisa and I had already lived together in different cool environments and she was prepared, as a Texan, to move here and being from Denmark the cold weather didn't bother me too much, but I did find the region even colder than Denmark.
What we had to get used to here is re-thinking everything in terms of what I knew about grape growing and winemaking. It is an extreme cool climate within North America. With very challenging conditions but also great potential, you really have to start paying attention to this very continental climate to the length of the growing season and also re-think the whole way to make wine because it's very different from what I was doing in more Mediterranean climates in France or even in North Carolina for that matter. Just to re-think the whole idea of balance, re-think the idea of rightness and re-calibrate to the Finger Lakes.
One of the experiences that I've had certainly with Finger Lakes wines, not with yours but with some others, is this bell peppery, underripe taste to them. Why do the wines get that way and how do you avoid it?
MH: It basically starts in the vineyard. We can only make a wine as good as the grapes we have to work with. If you're going to be a grape grower and a winemaker in the Finger Lakes region, you have to be willing and ready to live with risks. By that I mean having good relations whether it's with your vineyard manager in your own vineyard or with independent growers.
You have to build a level of trust and communication so that when you ask a grower to say you can't take grapes out until November 10th and 15th, they don't roll their eyes and call in for their picking crew. You just have to have really good nerves and you have to be able to go to the very end of the growing season in certain years. Not every year but some years because that's the price you pay for working in a cool climate. You need the entire season to really ripen the grapes and that does create some challenges but they can be overcome.
Lisa, what makes the Finger Lakes a great region for wine?
LH: People think that we don't have a nice climate here for growing grapes but we do. It's a combination of the cool climate where we are able to attain this beautiful acidity in all our wines and it's something that for the most part is lacking in American wines, great acidity. When it gets to your taste buds it makes your food taste better. We're able to make these great food wines here.
Also, the soils. We have these glacial carved lakes with this glacial till all around the lakes and so we have these beautiful acidic shale stone and limestone soils that really give us this great distinct minerality in all of our wines. I think Ravines' style, our house style, has more of these delicate aromatics. We don't try to get a big extraction so we just want that beautiful, natural minerality and delicate aromatics to come out in the wines.
You've come from Texas originally, right? How is it living in the Finger Lakes versus Texas? That must be a big of change for you.
LH: It is. It was a big change but it's such an amazing area. One of the things that Ravines afforded me to do is travel all over New York State delivering wines, selling our wines with three kids in the back of the car. I've gone all over New York State and each place is just as beautiful as the next.
Here in the Finger Lakes I think we're so lucky to be able to live in such a beautiful region. Now I go all over the country selling our wine and it's so exciting for me to be able to talk about our region because there's so much happening. There's so many wineries opening up and more and more people all over the country are excited about what we're doing here in the Finger Lakes.
You told us a little bit about the marketing of the wine. It's very impressive, the list of top restaurants in New York where you can find Ravines. How did you do that? How did you get yourself into all of these great restaurants?
LH: Just by going out and taking the wines on the road and showing them. At first people would be a little bit hesitant like, "What? Wines from the Finger Lakes? I don't really want to taste those." Then inevitably the reaction is, "Wow, you can do this in the Finger Lakes? You can make a Pinot like this in the Finger Lakes? You can do a Riesling?" We get the same reaction in San Francisco and Chicago. It's just a matter of taking them out and showing them to people.
Interested in the Finger Lakes? Be sure to watch other videos of winemakers from the region:
Kym Engle of Bloomer Creek
Shannon Brock of Silver Thread
John Martini of Anthony Road
Fred Frank and Meaghan Frank of the pioneering Dr. Konstantin Frank
Bob Madill of Sheldrake Point
Read our feature on the Finger Lakesby Amy Zavatto. Read Eric Asimov's New York Timescolumn on the Finger Lakes.