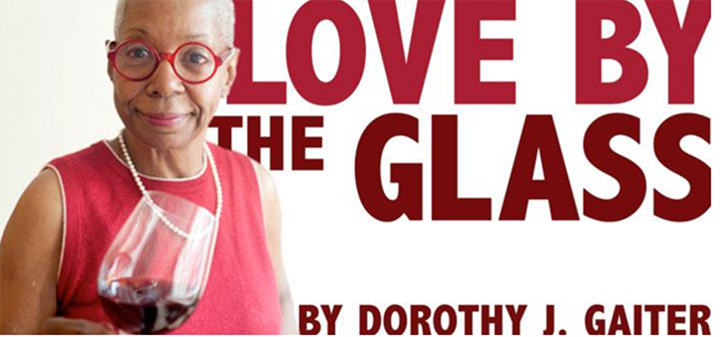 John and I invented Open That Bottle Night to provide an impetus for people to enjoy a wine they had been keeping for a special occasion that never arrived. Weddings, births, anniversaries, all manner of special milestones had come but those corks remained intact. We knew this happened because readers told us about bottles like that and we have many ourselves.
While we urge people to open them as often as possible, and we try to do that because no one is promised tomorrow, there are still some bottles that we just haven't brought ourselves to open. Some are rather young, but special to us, still. The point is to open these gems with someone you care about and celebrate the memories that are in that bottle. Make them the occasion. Recognizing that sometimes it takes a village to do something difficult, we set a date, the last Saturday in February, for this global celebration of friendship, love and wine. This year, it's Feb. 24.
Anthony Gismondi (gismondionwine.com, twitter @The Spitter), who writes about wine for the Vancouver Sun, had a nudge on Jan. 13 while vacationing in Hawaii that he could not ignore. The nudge, a message that flashed on his IWatch, read: BALLISTIC MISSILE THREAT INBOUND TO HAWAII. SEEK IMMEDIATE SHELTER. THIS IS NOT A DRILL.
"I always imagined myself heading for the wine cellar to grab those special bottles but in fact it never crossed my mind in those 38 minutes and, now that I have a second chance, I'm going to change my strategy and start drinking those special bottles soon," he emailed me. I had reached out to him after reading his column about his experience as a way to introduce readers to Open That Bottle Night.
"I've been looking at my cellar and all the old wines I have that need drinking and wondering what am I waiting for. My tastes have changed over the last thirty-five years but I still feel a strong attachment to the wines I originally bought (lots of Bordeaux)," he wrote me. "I had no idea they would end up in the back of a cellar forgotten more than neglected. I keep telling myself these are different wines than the single bottles my neighbour is clutching but of course they are not.
"I made a vow to start drinking the oldest wines in my cellar late last year and while some were past their prime, others surprised," he continued. "Each started long conversations about the where, the when and the what, of those exciting early days of buying, travelling and learning about wine at a rapid rate."
When we last communicated, he had winnowed his candidates to three wines. The first: 1918 Emilio Lustau (Almacenista Pilar Aranda y Latorre) Jerez Sherry Oloroso Anada Palomino Fino. "It will remind me of a delightful evening with a young export manager who played the Spanish guitar in the centre of the giant bodega lit only by candlelight, while we tasted dozens of old wines."
Of the second possibility, he wrote: "The first time I ever heard of a Colheita-style port I was visiting the old house of Barros in Oporto. At the time they had the largest selection of vintage Colheita port in the world. I left with a bottle of 1957 Barros Porto Colheita that now needs drinking."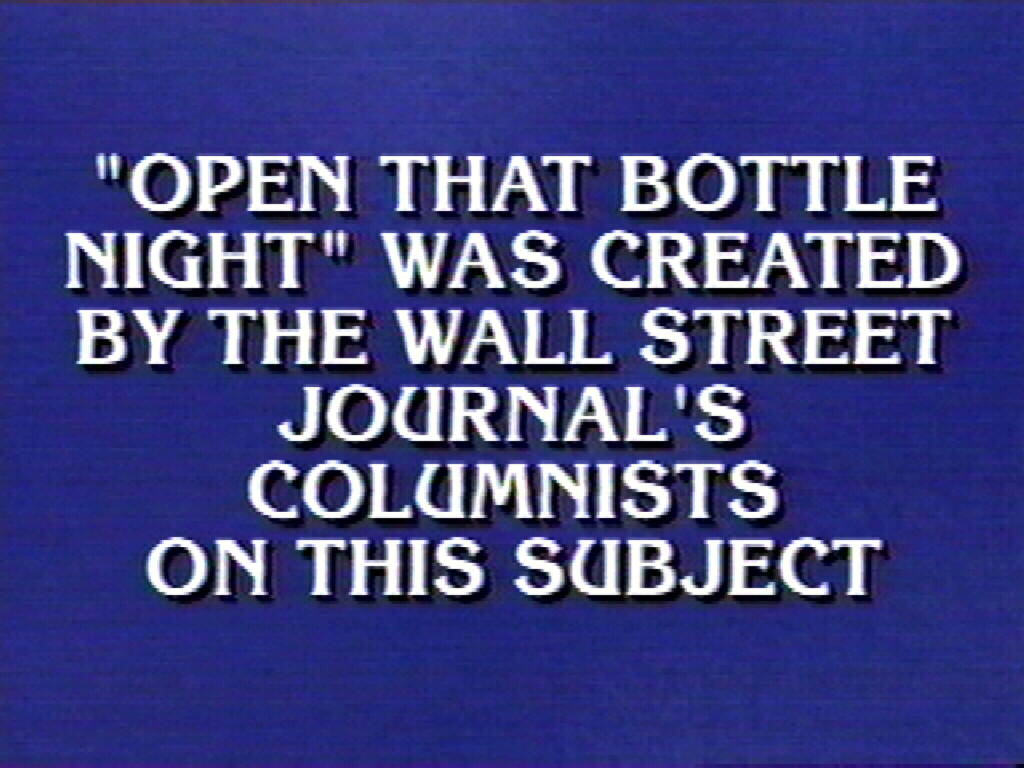 (In 2005, Open That Bottle Night it was a $200 question on Jeopardy!)
And, "Finally, my wine mentor, Albert Givton, passed away this year in Vancouver but I still have a bottle of 1959 Moulin Touchais Anjou Blanc that he gave me to expand my horizons way back when. It's the kind of wine that restores your faith in your cellar. I just love the idea of OTBN because even if opening that wine may be the end of that bottle's journey it is only the beginning of a long night of stories."
Here is Gismondi's lovely remembrance of Givton.
Julia Coney, a wine, travel and lifestyle writer, had a life-changing trip to South Africa years ago and brought back a liquid momento to her home in the Washington, D.C. area. "I first fell in love with Cape Winelands and South Africa after visiting in 2010 for the World Cup. It spoke to my soul. I knew I needed to return and decided to do a longer stay in the area to experience their wines and hospitality," she wrote to me.
"The wine I'm opening up is a 2013 Delaire Graff Estate Cabernet Sauvignon Reserve. It's hard to find the reserve in the U.S. and I've been holding on to this bottle waiting for the right occasion to open it which hasn't come in the five years I've had it," she wrote to me. "I could age it more, but instead I'm going to enjoy the dark fruit, velvet texture, and spice while I celebrate life and my travel memories of South Africa."
I ran into Polly Hammond, co-founder and director of 5forests.com, a New Zealand-based wine industry marketing company, because we share a desire to increase diversity in the wine world, as does Coney. Polly's husband, Keith, co-founder and director of communications for 5forests, is a self-described wine hoarder. So I wondered what they might open for what will turn out to be their first OTBN.
Keith's father, who died last year, worked for many years for Southern Glazer's Wine and Spirits, the largest wine and spirits distributor in the United States, so Keith grew up with wine in his home.
"Coming from a family where wine was a business but wasn't coveted it took me a while to get into wine with a passion," Keith emailed me after I contacted them. He had lived in Spain while he was in the Air Force and fell in love with that country. "It is still my most favourite place on the earth and where I want to focus in my wine career. It's so deep in my bones that I resolved to walk the 800 km of the Camino de Santiago on my 50th birthday," he wrote.
His first choice for OTBN, he wrote, is "a 1996 Lopez de Heredia Tondonia Gran Reserva red. I had wanted to try LdH for years after having overseas friends rave about it but sadly it was unavailable in New Zealand. I finally had my chance in a stunning wine shop (Vila Viniteca) when I was on a trip in Barcelona. I was browsing the shelves and was pretty overwhelmed by the selection when I looked down and there was this half bottle of LdH Tondonia Reserva 2001. I bought it, took it next door to the Vila Viniteca deli and drank it. That wine opened up after 30 minutes into something absolutely sublime and only cost me 11 Euros. This wine encapsulates everything I love about Spain; rustic, charming, and it winds its way deep into your soul."
The Hammonds's back-up wine is a 1987 Ruffino Tenuta Il Greppone Mazzi Brunello Di Montalcino. "This wine was from my first auction purchase. I had no idea what I was doing but had so many wine friends talking about Brunello I had to buy one," he wrote me. "But with its age I've not wanted to just pop it open, nor have I had the 'right' opportunity with the right friends where I'll 'sufficiently' be able to appreciate it. This makes it right in the spirit of OTBN. I would hate to think it was a great bottle that I've left too long!"
Sukari Bowman, who hosts The Color of Wine podcast and who with her brother Shomari, a chef, has the website http://www.loveandvines.com/ is pulling together friends to celebrate OTBN at The Purple Corkscrew Wine Store and Tasting Room in Atlanta. They'll be "bringing our bottles, ordering food and sharing our stories around the wines we bring. We have really created a community and are looking forward to sharing with each other," she wrote me. Among her guests will be Sarita Cheaves, who writes a wine blog, and is also the host of a podcast called The Swirl Suite, and Tivon Johnson, who has a wine blog.
Bowman plans to bring a 2012 Mouton Noir Oregogne Pinot Noir, Willamette Valley, Oregon, made by André Hueston Mack of Maison Noir Winery, and a bottle of Collon Champagne. She interviewed Mack, former head sommelier at Manhattan's Per Se restaurant, last year, and me a few weeks ago. Here is the link to the podcast.
"I am opening the Pinot because this bottle reminds me that I can accomplish whatever I put my mind to and to always follow my dreams," Bowman wrote me. "André, who is also my wine crush, signed the bottle for me, so I will treasure the bottle always, and will enjoy the wine now! I am opening the Champagne to celebrate LIFE, plain and simple!"
Michael Stewart of Seattle is a long-time OTBN celebrant. He wrote me that he's having difficulty choosing which wine to open so he'll probably open two Cabernet Sauvignons, one from Sonoma and the other from Columbia Valley, Washington.
"The first is a 'typical OTBN' laid-down-too-long-ago 1987 Gundlach-Bundschu Reserve that has been sleeping peacefully unmolested on a bottom rack, and may have succumbed to eternal slumber. Finding out would be the point, right? '" he wrote me. "The second is a 2011 Quilceda Creek Columbia Valley that I'm sure the Golitzin family would say is still too young to venture out into the world, but OTBN isn't only about the oldest wine that one can find!"
That's true. We're eying a young-ish wine ourselves. Some people use OTBN as a reason to finally buy a wine they've been curious about for some time.
Philip Anderson, founder of Anderson Social Media Solutions, which grows businesses' social media presence, and Shelley Webb, whom he describes as "the love of my life," are long-time OTBN participants. They live in Coeur D'Alene, Idaho, and are throwing a party. Here's their game plan:
"We'll be opening a magnum of J. Lohr Chardonnay (it's turned into one of our very favorite house whites. Always delivers. Great price point.) as people arrive.
"For our selection for the 'main event,' we're pondering, in order:
D2 from DeLille Cellars (my all-time favorite red blend). Shelley and I have special memories of this wine and we also want to share our memorable past experiences with our guests." When Anderson lived in Seattle, he used to order this Bordeaux blend by the glass at The Metropolitan Grill and ordered it so often that "it became a favorite of mine and I could recognize the flavor profile over any blend if I was forced to taste blind."
Option 2 is a 2014 Duckhorn Napa Valley Merlot. "This is Shelley's all-time favorite Merlot and their 2014 [Three Palms Vineyard] was the top dog in last year's Wine Spectator top 100 list. We just so happen to have a bottle of the '13 in our (meek, less than 60 bottles) cellar! With that said, I just so happened to have found a bottle of the '14 on sale. I would like to surprise her with this but I'm just not sure as of yet."
Third choice would be Grgich Hills Estate 2006 Napa Valley Cabernet Sauvignon. "We have no history of this particular wine. Zero. None," he wrote. But it has an interesting tale. To celebrate the 20 years he has known Shelley, a social media manager and strategist, http://thesocialwebb.co/, Anderson bought "a 1997 Barolo that ran $120, as a way of saying, "Thank you for ALL the experiences the last 20 years," he wrote, adding that it was the second most expensive wine he'd ever bought. (He paid more than $200 for the 2002 Cristal.)
"I had arranged to prepare a dinner for us and asked her, since I always pick out the wine, to go downstairs and pick out a wine. I gave her only one instruction and that was to grab the oldest vintage she could find. She said, flabbergasted, 'You want me to look at each and every bottle and find the oldest vintage?' I said, OK, how about you pick the oldest vintage from the top shelf? She agreed. It was only 12 bottles, after all!
"I had already placed that bottle on the top shelf with the others. She came up with tears, gave me a huge hug and thanked me and it was set to be a very special and unbelievable night...until we tasted the wine. It was WAY over the hill or corked or cooked or something wasn't right. So, I returned it the next day and came back with the Grgich Hills Cabernet. THIS one may not have the history but it certainly has a story!" Anderson wrote.
"If people are still wanting more wine," he wrote, he has a magnum of Chateau Ste. Michelle's 2015 Cabernet Sauvignon with the same label they used when they started 50 years ago, in honor of their 50 year anniversary. We'll open that up to finish off the night."
And what a night it will be.
The hard part is choosing the wine. If it's old and may have sediment, you'll want to stand it up a couple days before Saturday the 24th so the sediment will settle in the bottom of the bottle. Because it's an old bottle, you'll need a prong opener. You have time to practice using one. Have a back-up wine handy in case your first choice is irretrievably bad (and even then, don't rush to throw it out. You'd be surprised how some old wines can pull themselves together by the next day).
Talk about the wine, why it's special to you, and savor a little of it without food. Give it a minute alone, give it its due. And last, enjoy the wine for what it is, not what it might someday be or might once have been.
Dorothy J. Gaiter conceived and wrote The Wall Street Journal's wine column, "Tastings," from 1998 to 2010 with her husband, John Brecher. She has been tasting and studying wine since 1973. She has had a distinguished career in journalism as a reporter, editor, columnist and editorial writer at The Miami Herald and The New York Times as well as at The Journal. Dottie and John are well-known from their many television appearances, especially on Martha Stewart's show, and as the creators of the annual "Open That Bottle Night" celebration of wine and friendship. The first bottle they shared was André Cold Duck.
Read more of Dorothy J. Gaiter on Grape Collective.