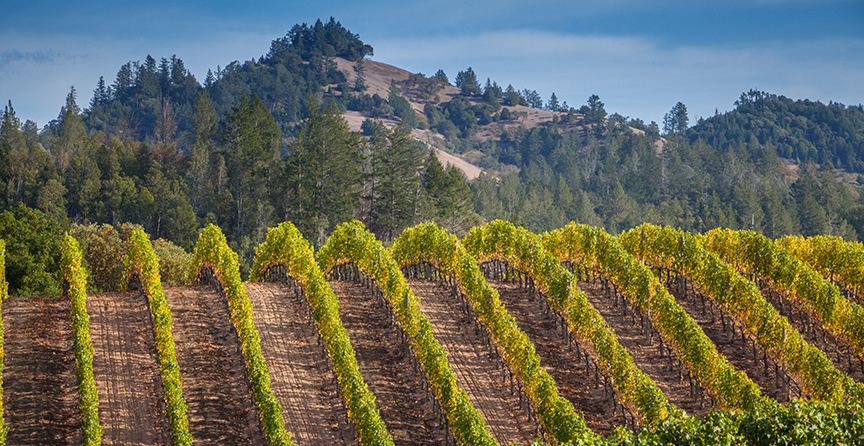 It was an afternoon of some of the best things in life, a cheerful blend of family, colleagues, great wines, fabulous food and memories, all amplifying one Englishman's achievement of an important milestone in his California dream.
Sir Peter Michael, 78, our host, who was seated to my left, nodded toward the glass of his 2007 Les Pavots, Estate Cabernet Blend, Knights Valley, and said, "For me, if I could only produce that, I would have been very, very, pleased."
The single-vineyard wine, 70% Cabernet Sauvignon, 17% Cabernet Franc, 10% Merlot and 3% Petit Verdot grown in rocky, volcanic and minerally soil at an elevation of about 1,400 feet, was indeed spectacular. Les Pavots is the flagship wine of Peter Michael Winery, the only winery located in Knights Valley, in Sonoma County near Calistoga. It's perched on the western slopes of Mount St. Helena with vineyards that climb to 2,000 feet above sea level. Its estate vineyards there benefit from the morning sun and cooling breezes off the Pacific that help slow ripening and concentrate flavors.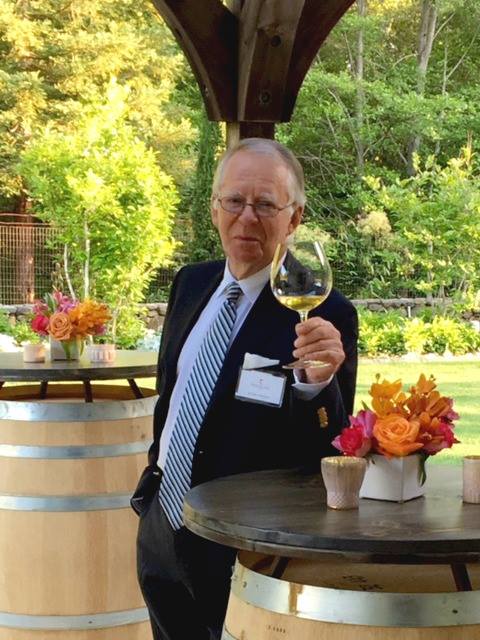 "One sip could last me for years," I told him, as its tight, powerful, blue-black intense fruit fanned out toward my fingertips. Les Pavots is French for "the poppies." Sir Peter's wife of 54 years, Lady Michael, also known as Maggie, named the vineyard after the California poppies that grow on the mountain. Their image also is on the winery's labels.
There are 15 wines in the winery's 20,000-case annual production (wine-searcher.com). I'm especially thrilled that a year after the winery's first release, it made the 1988 Mon Plaisir "My Pleasure" Chardonnay that John and I had in 1990 on a rare night out back then. That evening was a gift from John's parents, who had flown up from Jacksonville, Fla., to help us handle a newborn, a toddler and a fresh move to Manhattan from Miami.
John's parents, the best in-laws anyone could ask for, are gone now and their little charges that night are 27 and 26, but memories are among life's copious gifts, too, and so many of ours surround wine. Only 800 cases were made of the 1988. John Fischer, a young sommelier at what was then the Hudson River Café, had listened when we said that we loved trying new things. We kept the label and have it still.
Sir Peter, his elder son, Paul Michael, 51, and Paul's wife, Emily, gathered with winemaker Nicholas Morlet, fifth generation of a Champagne-growing family and whose older brother Luc was once Peter Michael Winery's winemaker; vineyard manager, Javier Aviña; and a few journalists last week to mark the milestone: Wine Spectator last November had named the winery's 2012 Au Paradis Cabernet Sauvignon its 2015 Wine of the Year, and the winery was being feted later that night at the Wine Spectator's Wine Experience. The afternoon gathering to which I was invited, at Daniel Boulud's restaurant, Daniel, was a grand tasting of multiple vintages of the winery's full portfolio. Tasted with a scrumptious feast were 16 wines including six Chardonnays, four Pinot Noirs, two Cabernet blends, one white Bordeaux blend and the 2011, 2012 and 2013 vintages of Au Paradis Estate Cabernet Sauvignon. What little fruit is not estate grown is grown to the family's specifications.
Of the Les Pavots, "The idea I had when I started was to create a Bordeaux blend which I could put on the table alongside the great wines of Bordeaux which resided in my cellar and that's how I put it to Helen Turley," Sir Peter told the afternoon gathering of his charge to the winery's first winemaker. "If we can't, don't let's bother She was quite equanimical about it, and said 'yes we can' and off we went."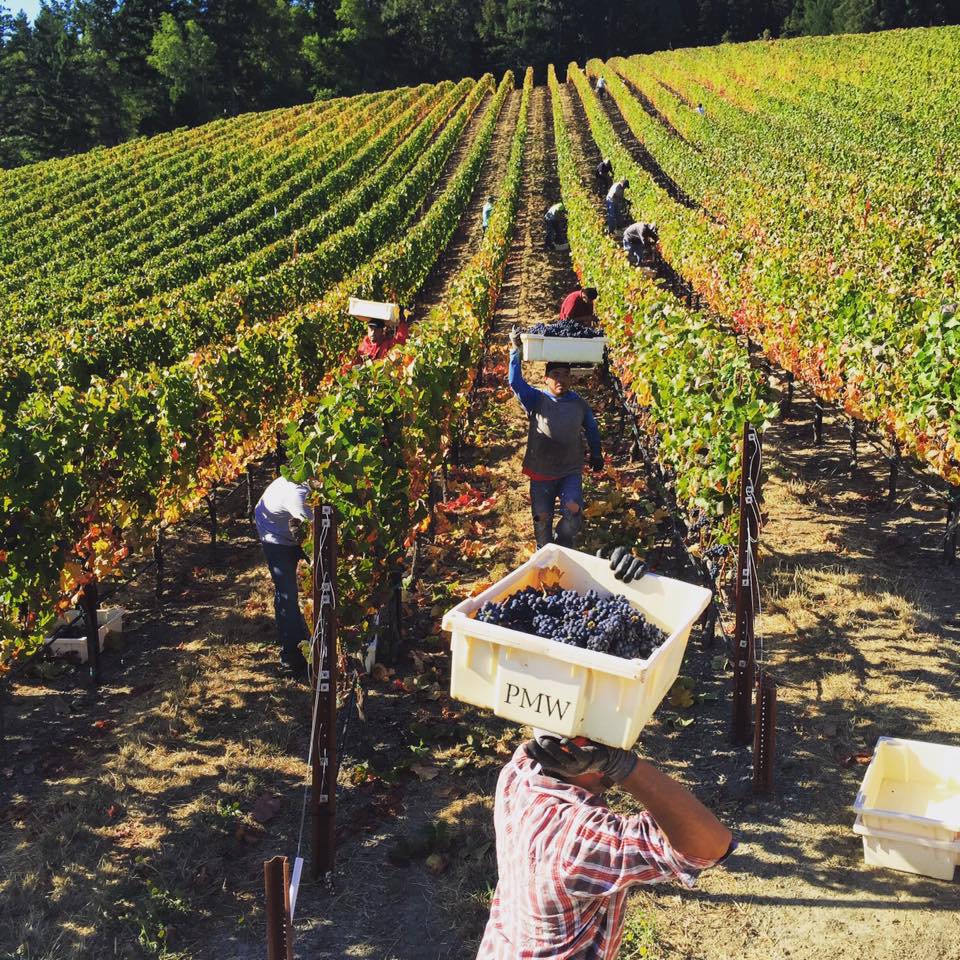 "It's a wine which I've gotten to the stage that I drink it with everything, actually," he continued. "I love it. It's our flagship wine. I'm inordinately proud of it that we can make it here."
Making it "here" was the point, in California, not in France, where his father, Albert Leonard "Mick" Michael, a stamp collector who became the chairman of Stanley Gibbons, an international philatelic (stamp) company, had moved his son and wife. Mick loved his claret, and Sir Peter remembers his father driving him to chateaux to pick up cases of Burgundy and Bordeaux. Family members, then as now, are "conspicuous consumers" of wine, Sir Peter said.
"Here" also means mostly Sonoma County, where the original estate vineyards are. It wasn't until 2009 that Sir Peter purchased 40 acres in Napa's Oakville district near Dalla Valle and Screaming Eagle for the Au Paradis that rocked Wine Spectator. The wine is typically two-thirds Cabernet Sauvignon, with varying amounts of Cabernet Franc and Merlot. Robert Parker also has been a huge fan of the winery, giving the 2010 Peter Michael Ma Danseuse Pinot Noir and the 2010 Peter Michael Clos du Ciel Pinot Noir 100 points. He has given scores of at least 98 points to 14 Peter Michael wines since the 1995 vintage, according to Wine-Searcher. In 1998, the family purchased the 400-acre Seaview property located on the Sonoma Coast and from there it produces fragrant, elegant Pinot Noir, including one called Ma Danseuse, "My Dancer," a deep wine of finesse, violets, and some spice.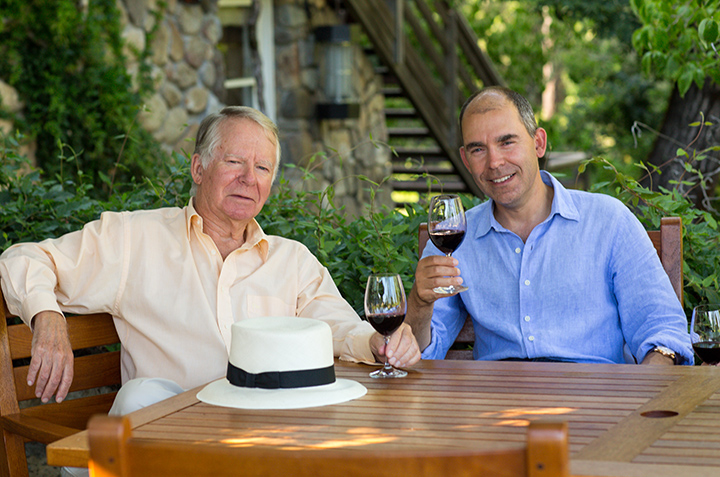 (Photo Sir Peter and Paul Michael)
A little more history about Sir Peter. He was born in Croydon, a large commercial town in south London. He earned degrees in electronic engineering and became a super wealthy high-tech entrepreneur after founding Micro Consultants' Group and UEI plc, which merged with a group of companies including Quantel, the digital special effects company for television and film production. Quantel made Paintbox, a graphic-arts tool. According to Wikipedia, the public first became aware of one of Quantel's products when "it was first introduced in TV coverage of the 1976 Montreal Olympics to generate a picture-in-picture inset of the Olympics' flaming torch while the rest of the picture featured the runner entering the stadium." Sir Peter is also credited with turning around the technology company Cray UK. Along the way, he helped found Classic FM, the United Kingdom's first national commercial radio station. Sculpture and other arts also interest him. Pointing to the vintage pin I wore, a gift from my sister-in-law Judith, he talked about gold jewelry-making with some authority.
Queen Elizabeth knighted Sir Paul in 1989 "in recognition of the prosperity spawned by his work," the winery's website states. According to a fine feature about Sir Peter by W. Blake Gray in Wine-Searcher.com in 2014, Paul related that the "knighthood really stemmed from his father's work on the UK's National Coal Board during a year-long worker's strike starting in 1984. With the board's help, Margaret Thatcher essentially broke the miners' union, a key – and polarizing – point in her reign as prime minister. Ian MacGregor, chairman of the coal board, was knighted in 1986."
The Wine-Searcher piece also stated that Sir Peter's "big payoff came when the electronics group UEI was sold to Carlton Communications for 526 million British pounds in 1989 ($1.22 billion at 1986's average exchange rate)." To which I say, good for him. Innovation should be rewarded. The Michael family is involved in two foundations. The Peter Michael Foundation supports research into prostate cancer, cancer screening, and treatments. It also supports the Pelican Cancer Foundation, which has a similar focus on prostate cancer and other cancers. Peter Kay, the spokesman for the winery, wrote me that no one in the family suffers from prostate cancer but that "Sir Peter is at an age where he most certainly would have had a number of friends and acquaintances affected."
The family owns several other businesses, including The Vineyard, a restaurant and luxury Relais & Chateaux hotel in Newbury, England that Paul and Emily oversee. It has an award-winning wine list that's chock full of California wines. The hotel imports wines from 30 family-owned wineries in California, Sir Peter said, adding, "It was a sensible thing to get California on the map. These are wines you wouldn't ordinarily get your hands on in the UK." But among his other businesses, his winery, Sir Peter said, "is the only business that carries my family's name."
Sir Peter told me that his father moved the family to France after then-Prime Minister Harold Wilson's tax policies made doing business in England not to his dad's liking. Plus, his father had always wanted to own a vineyard in France. (That never happened.) I've read about two sources of the inspiration for Sir Peter's plunge into winemaking. The less interesting has him first latching onto the idea of a family retreat in the sunny mecca that is California, the opposite of gray, rainy London, while visiting San Francisco on business in the 1970s.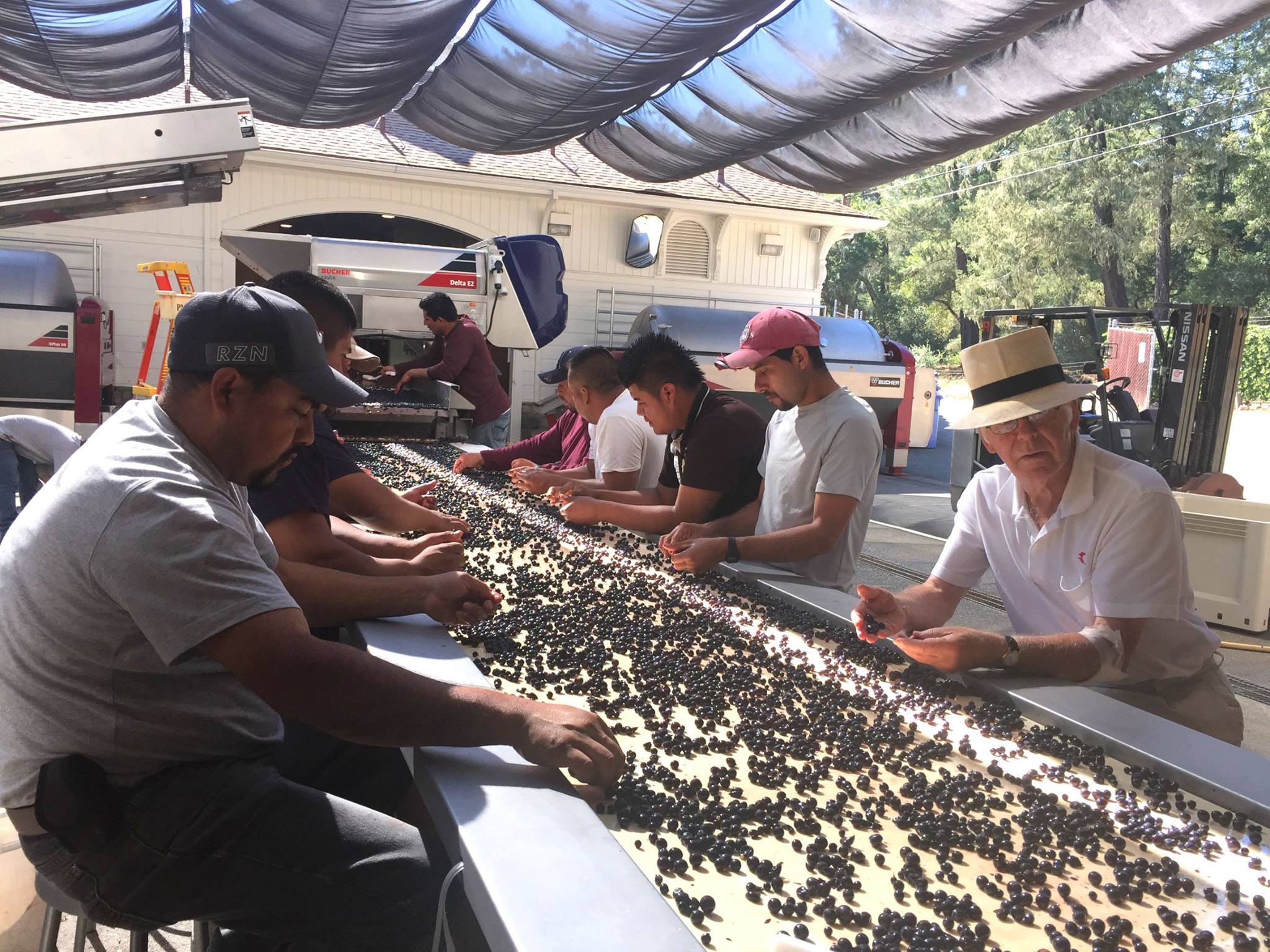 Sir Peter Michael at the sorting table
The more colorful tale, which he blushes a little about, which leads me to believe there is some truth to it, and which general manager Tom Eakin chimed in about, features Peggy Lee. Apparently Sir Peter was a fan of the singer and went to watch her perform at the Fairmont Hotel in San Francisco. While enjoying the show, he ordered a bottle of Chateau Montelena Chardonnay, which impressed him. This was around the time of the Judgment of Paris, he interjected, when French judges scored the Montelena above the white Burgundies they tasted blind and Stag's Leap Cabernet Sauvignon better than the red Bordeaux. Sir Peter began to dream about a winery, according to this version.
Over several years, he checked out 40 properties, including some in Napa. In 1982 when he saw Sugarloaf Ranch, built in the late 1880s, it was love at first sight. He bought it that very day, 630-acres for under $1 million. Although there had been three wineries in Knights Valley, none survived Prohibition and phylloxera and there was opposition to his planned development. Today, he is more enchanted than ever with Nature's gifts around him, grateful to share the wild with its bounty. At the time, people said he was crazy and had wildly overpaid, he said. "It looks like a bloody good bargain now," he boasted, with a chuckle, eyes bright.
Paul recalled his father driving the family to the property and telling them that they would be returning in the Spring to plant vines. Paul was 17 at the time, and his English accent served him well with girls around the pool where they were staying, he said. But return they did and began planting 10 acres. "When I ask my kids who wants to run the company, all three raise their hands," Paul says proudly.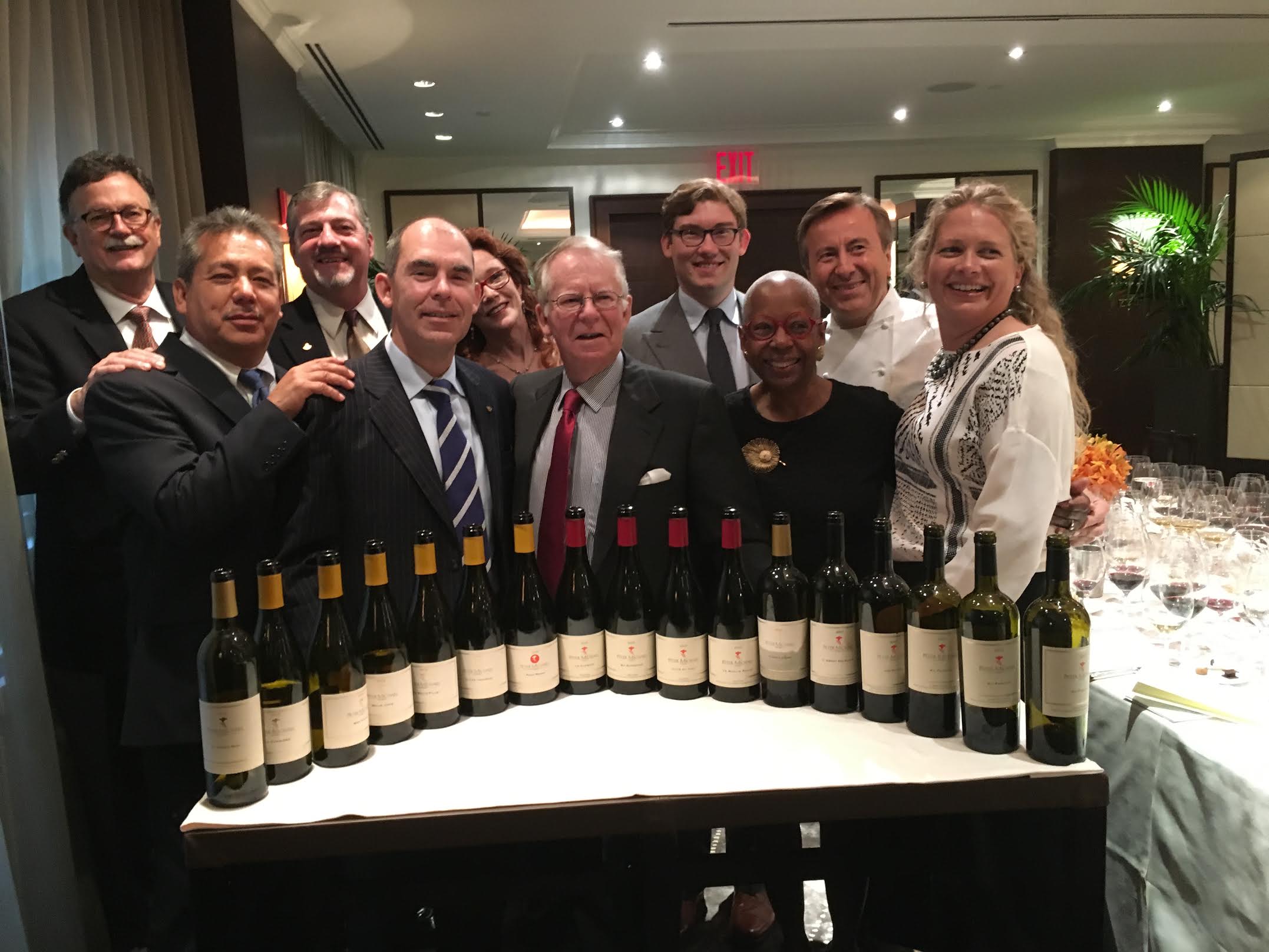 Sir Peter and Paul Michael with Dorothy J. Gaiter at Daniel Boulud's restaurant, Daniel
Indeed, Sir Peter's plan is to have 100 by 100. That's 100 percent family ownership for at least 100 years, he explained. "We've got a great start," he added, noting that Paul and Emily have taken over more of the decision-making about the direction of the winery.
Paul, 51, attended the École Hôtelière de Lausanne in Switzerland, often regarded as the best hospitality management school in the world. Because of him, the school now has a Peter Michael tasting room that features wines from California. There's also a Peter Michael tasting room at Sonoma State University's wine business school. Emily has a background in advertising and event planning and earned a diploma from Le Cordon Bleu. She has also produced events and run music festivals for the late Princess Diana's charities and helped fund programs for AIDS sufferers and terminally ill children.
Sir Peter and Lady Michael's younger son, David, 49, lives in Berlin and is not involved in the family businesses. Lady Michael has overseen a huge agri-business and also aided the resurgence of a rare breed of cattle. He met her when he was 18 and she refused to go out with him unless he took lessons in ballroom dancing, an art in which she excelled. He eventually won a bronze medal in ballroom competition. That's some love affair!
Sir Peter, Paul and Emily functioned at the lunch like a finely calibrated watch, each with a defined and determined role, with specific bits of the family's story to relate, yet playful at the same time. The story of how Au Paradis "In Heaven" came to be named was Emily's to relate. She and the kids had camped out on top of the mountain the night before they had to come up with the name for a new vineyard, and upon waking, Mylo, the youngest, had looked out and seen fog, clouds below them and asked if they had awoken in heaven. His older siblings are Elliot and Anna.
About those French names. Karen MacNeil, author of one of my favorite wine books, the Wine Bible, very gingerly asked Sir Peter about the French names of the vineyards.
"In the last maybe 15 years it's very common to talk to California vintners and hear them say that while France was their inspiration, they feel very proud that California has arrived," MacNeil started. "They're not trying to make the same wines, etc, etc. So when you began to name all of these great vineyards with French names, did it seem in some slight way that you maybe were not honoring California? That you still were wanting to name great California vineyards after something French?"
"Not at all. Clearly we are Europeans," Sir Peter said, "and as such we wanted to combine the best of the wonders that California could produce in terms of the terroir and weather with ancient techniques from France. So we're kind of mid-Atlantic but of course plenty, of people did say that."
The vineyard names have meaning and some are personal like Ma Belle-Fille, "My daughter-in-law," which produces a rich, grounded Chardonnay. Sir Peter named it after Emily, who married Paul the year it was planted. "You get brownie points as a father-in-law," Emily said. "I think I might keep you."
The last wines of the afternoon were the Au Paradis and as we tasted them, Paul looked across the table at Jim Laube from the Wine Spectator and said, "James, thank you very much for your recognition of the wine this past year."
"That was easy," Laube said to laughs. "The wines are spectacular. I don't know how you consider one to be the flagship over the other, any of the wines," Laube continued, adding with a wicked, "That's your problem."
"That's a nice problem to have and you contributed to in a very nice way," Paul responded.
Then it was the winemaker's turn to talk about the three vintages of Au Paradis and the vineyard. Instead, Sir Peter, acting on seniority, suggested that Laube talk about the wines instead, something he was going to do later that night.
"The two wines are a perfect demonstration of what's different and what's similar about Cabernet in different areas," Laube began, referring to the Au Paradis all from Oakville, and the Les Pavots Cabernet blend from Knights Valley. "I don't think you can ever decide what's better and that's not the point. It's what they reflect. But to me Au Paradis is quintessential Napa Valley. It's very complete, it's full, it's round, it's intense. I like the expression 'iron fist in a velvet glove.'
"It has determination, it has drive," he concluded.
That certainly could be said for the man who founded the winery.
Dorothy J. Gaiter conceived and wrote The Wall Street Journal's wine column, "Tastings," from 1998 to 2010 with her husband, John Brecher. She has been tasting and studying wine since 1973. She has had a distinguished career in journalism as a reporter, editor, columnist and editorial writer at The Miami Herald and The New York Times as well as at The Journal.
As of publication the 2013 Peter Michael "Au Paradis" Oakville Cabernet Sauvignonis available at Varmaxin New York for $299.
Peter Michael Les Pavots Napa Cabernet Sauvignon 1999 is available at Chelsea Wine Vault for $129.99.