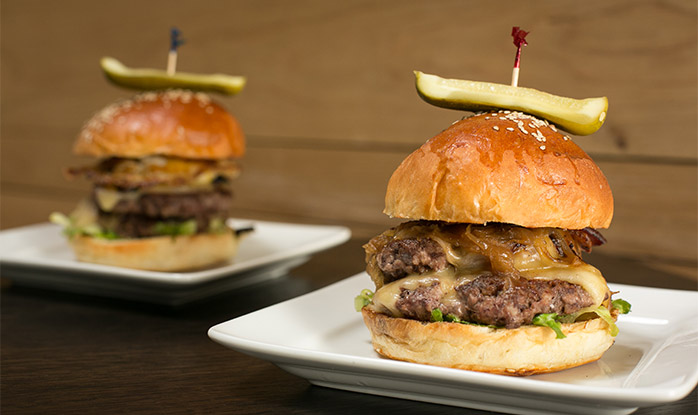 If you need any more convincing that the farm-to-table movement has taken hold from coast to coast, look no further then the aptly named Local, the ski season's trendiest spot in Jackson Hole, Wyoming.
It wasn't so long ago that food at altitude simply needed to be plentiful, filling, and cheap. But today's skiers are a different lot, used to better and more modern takes on even the most classic of the comfort classics. Nowadays a greasy overcooked burger on a white-bread bun accompanied by a pitcher of wan and tasteless beer just won't cut it.
And if the skiers these days are foodies, you should meet the chefs. The two here are Will Bradof and Paul Wireman, who started their culinary takeover of Jackson Hole in 2005 with the opening of Trio: An American Bistro. That spot was such a success that a second place was soon in the works, and about two years ago the pair launched Local, right on the resort's historic town square. It's a warm, stylish space with the requisite wood floors and a friendly and welcoming "Cheers" vibe.
But what impresses most about Local is the list of nearby food, produce, and baking purveyors who help make this spot the lunch and dinner destination that it is. And when the chefs can't source locally, food cognoscenti will notice other familiar quality names on the menu like La Quercia (ham), Humboldt Fog (goat cheese), and Snake River Farms (American Wagyu).
But there is Wyoming beef here, too, terrific in an appetizer carpaccio, as well as elk (served as coffee-rubbed medallions or in spicy homemade sausage), a robust Montana buffalo strip steak, even Maine diver sea scallops and a very respectable chicken Marsala. The Idaho trout comes with a clever smoked trout chowder that's gilded with leeks, potato, and lardons of bacon. And yes, there is a big fat burger, but it's made with dry-aged beef, the mayo is done in house, and in a gut-busting flourish after a day on the slopes, you can top it with foie gras if you like. Why not? You've earned it.
The chefs readily acknowledge (and thank) the Jackson Hole Town Council for unanimously approving the last available full-bar license for Local. Naturally there's a fun cocktail program, more than a dozen wines by the glass, and a good selection of half bottles, always a nice surprise. But one does occasionally need some chilled suds, so expect to find a number of beers on tap; microbrews from the Lander Brewing Company are Wyoming stalwarts; Odell and Wildlife come out of Idaho. There's Wyoming Whiskey and—wait for it—a selection of reds and whites from the Jackson Hole Winery. While winemaker Anthony Schroth sources the grapes from Napa and Sonoma, the wines are produced and cellared well above 6,000 feet, giving yet another new meaning to Rocky Mountain High.
The chefs' flagship, Trio, is open for dinner only, and the food is a similar intriguing blend of the sophisticated and the hearty. (Take, for instance, the squid ink-infused gnocchi with snap peas, brown butter and lemon; or the Pizza Verde with roasted artichokes, green Spanish olives, pesto, and mozzarella that I just have to try someday.)
So to sample the gamut of the talent here, come to Local for lunch, then opt for an evening at Trio. It seems the only place that Bradof and Wireman don't have you covered is on the actual ski runs. But if these two ever get their hands on a few St. Bernards—watch out.
55 North Cache, Jackson WY; 307-201-1717; localjh.com