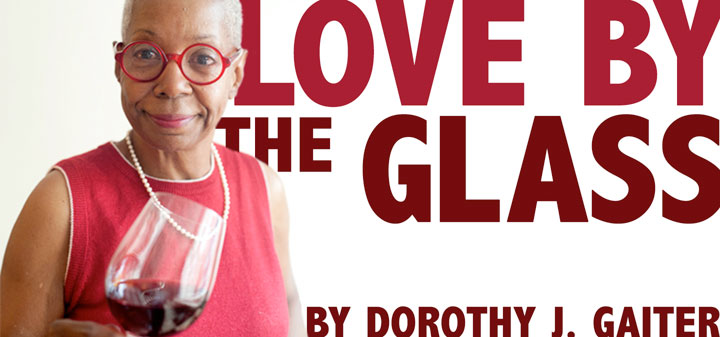 Open That Bottle Night 2015, the Grape Collective edition, was a tremendous success on Feb. 28. It was a celebration of family, anniversaries, tokens of gratitude and friendship, and bold forays into new experiences.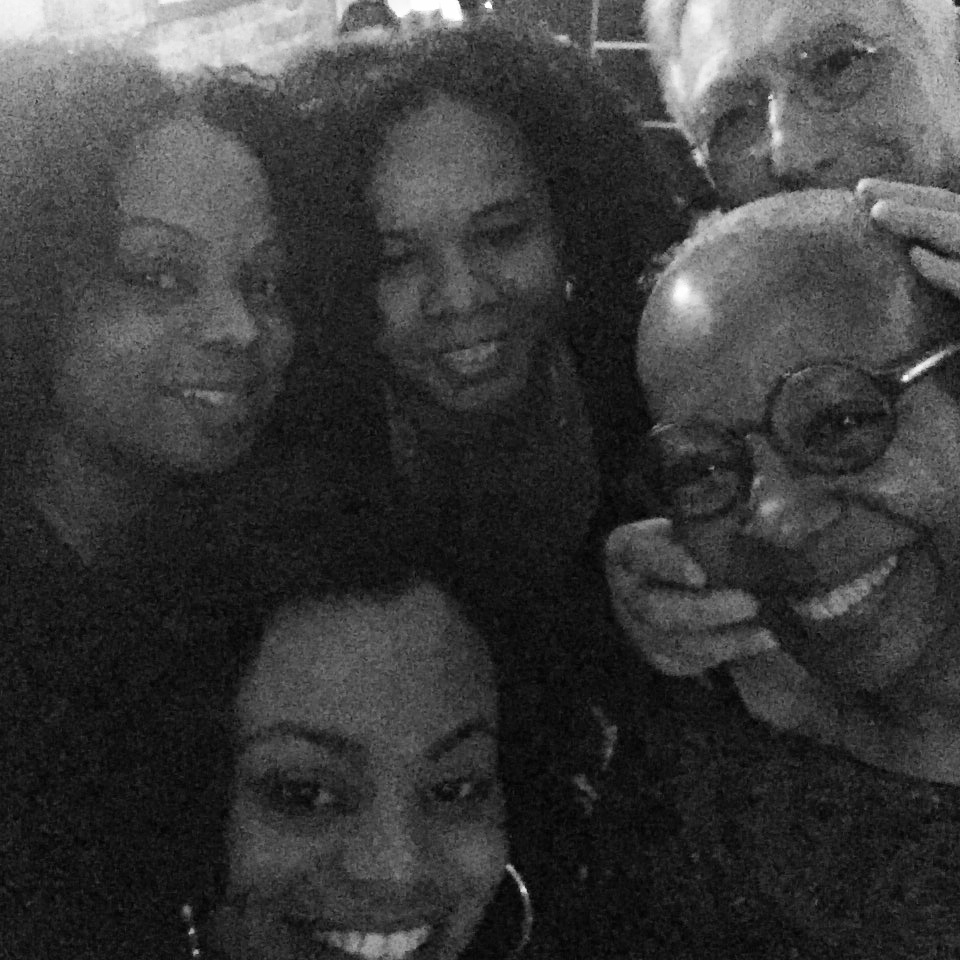 (photo: from bottom Camille Fulcher, Ericka Goodman, Lyneka Little in the middle, John Brecher, Dorothy Gaiter)
There were wines from family-owned wineries like our 1997 Pugliese Vineyards Sangiovese from Long Island. And wines that had special resonance because of their names, like the 2003 Hewitt Cabernet Sauvignon that Tara Dowd gave to her husband, Mike Hewitt, because it not only bore his name, but was from the year they met.
Lyneka Little, one of our former assistants when John and I wrote Tastings, The Wall Street Journal's wine column, brought a bottle of 2004 Ontañón, a Rioja made by siblings Raquel, Rubén and María Pérez Cuevas. In white ink were the 40 names of guests at an OTBN celebration in 2012 whom she had asked to sign the bottle. Lyneka has been a stalwart ambassador for OTBN and has a friend in Mumbai and another in Philadelphia who threw OTBN parties this year. Every year we look forward to getting videos of Lyneka's amazing OTBN parties. She hosted what she called "an impromptu OTBN" in Paris a few months ago. "I gathered some friends with their wines at the Eiffel Tower to share some stories," she told me while sitting at a table with Ericka Goodman, her former roommate, and Ericka's friend, Camille Fulcher.
We filled the friendly, little BYOB neighborhood place A Café for this year's celebration. I even had to tell a few people who contacted me that the intimate restaurant was sold out. Al, who took diners' orders and brought the food and kept bottles of water filled on everyone's table, moved at warp speed—thank you, Leonard Nimoy—but never seemed rushed.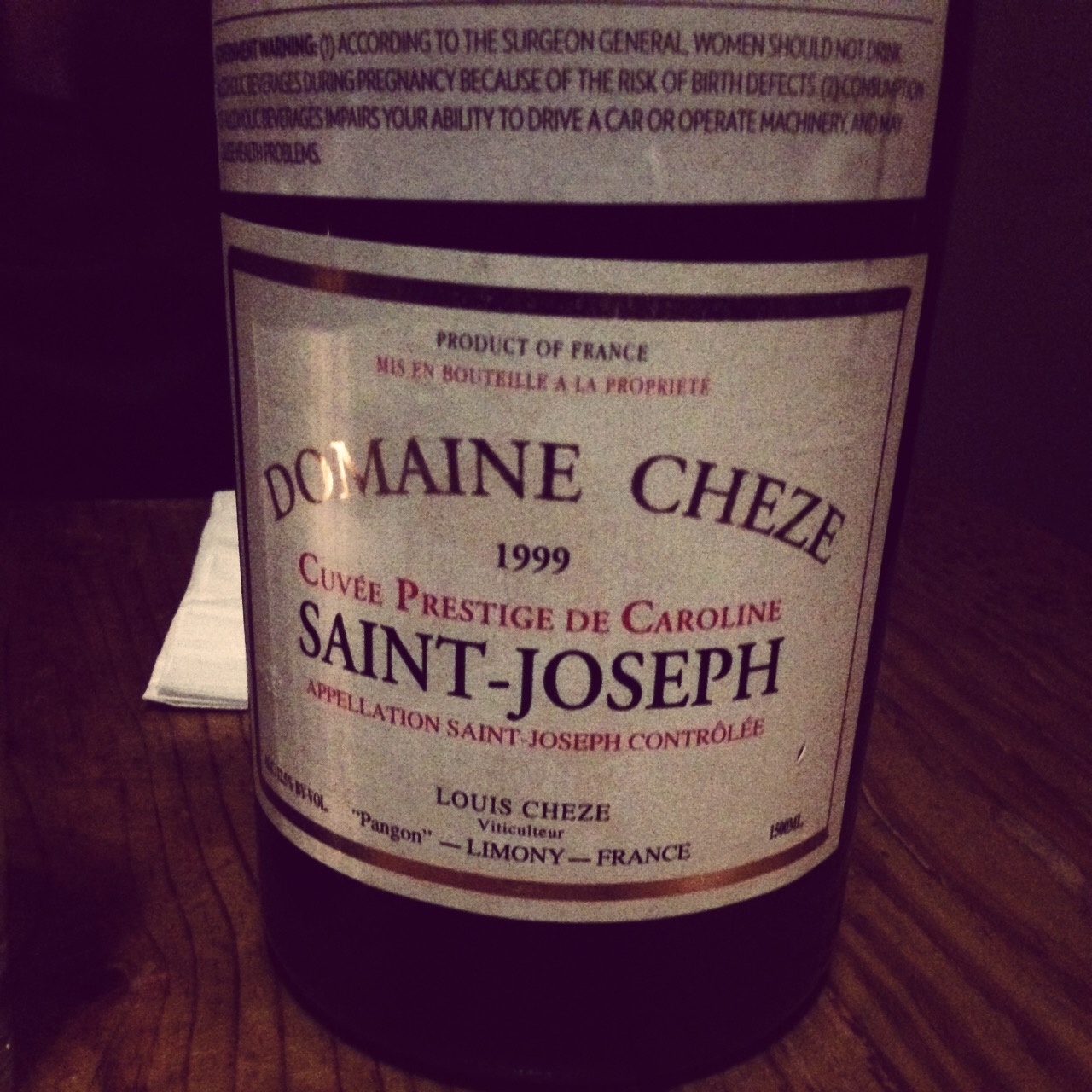 Christopher Barnes, the Grape Collective's publisher and creator, and his girlfriend, Nancy Hay, brought a magnum of 1999 Domaine Chèze Saint-Joseph, a cru Syrah, made by Louis Chèze on the west bank of the Northern Rhône Valley, between Côte-Rôtie and Hermitage. Christopher had bought the wine years ago at an auction and he was generous sharing it, which we all thoroughly appreciated. Christopher's guests, Terence and Laura Hanrahan, were also generous with their 2004 Beaux Frères Pinot Noir. Beaux Frères is owned by Robert Parker Jr., yep, that Robert Parker; Parker's brother-in-law, Michael G. Etzel, who found the land for the winery in the Northern Willamette Valley, Oregon; and Robert Roy, a wine-loving financial investor.
Susan Ennis, executive vice president for program planning and strategy for HBO, and her husband, Owen Lewis, brought a 2005 Finca Sandoval, a famous wine estate owned by Victor de la Serna, a former Deputy Editor of El Mundo, one of Spain's best national newspapers, and a graduate of the school of journalism at Columbia University, a few blocks north of A Café. The wine, made in Manchuela, Spain, is 76% Syrah, 13% Mourvèdre, and 11% Bobal, a local grape. Susan and Owen's friends, Linda, a flutist, and John brought a 2013 Reuilly from the Loire Valley.
Sitting at a table opposite us were Doug Croll, a certified specialist of wine, and his wife, Kelly, who brought two wines from Castello di Borghese, the Long Island winery that used to be Hargrave, the region's first. Doug said their choices Saturday were "in honor of the Borgheses," who died within days of each other last year. Ann Marie Borghese died of cancer and her husband, Marco, died a few days later in a car accident. The Crolls had worked a harvest at the winery, "wine camp," and had been paid, Doug said, with a mixed case. The wines they brought, a 2006 Meritage and a 2007 Reserve Cabernet Sauvignon, were the last bottles from that case.
Now for some serendipitous family stuff on our end. When John and I entered A Café, some of our cousins were already there, seated at tables across from each other but not talking. Then it occurred to us that they had never met! How's that for OTBN bringing folks together; it's not just about finally opening those bottles that are too special to open. And, yes, you should be doing this every chance you get, not just once a year.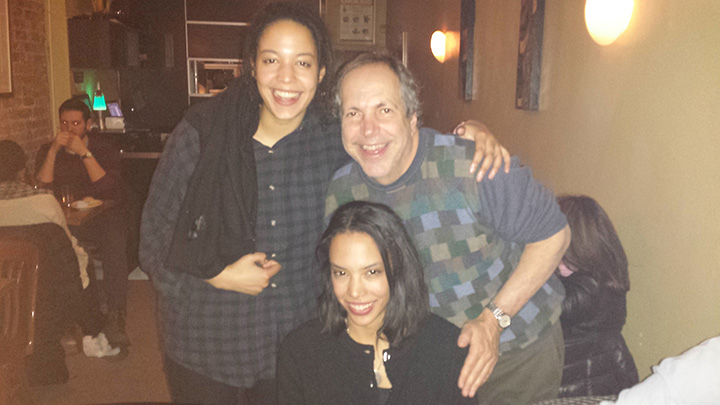 (Photo:Zoe Brecher on the left, Derrick Rubin and then Media Brecher at the bottom)
Anyway, on one side of the room were Stephanie and Michael Sloane, long-time Manhattan residents. Stephanie, a playwright, art dealer, and jewelry maker, is a daughter of John's father's only sibling, Leroy Brecher. They brought a 2006 Chablis that a friend gave to Stephanie for a significant birthday. "A big-number birthday," Mike told me, teasing Stephanie. "It wasn't that big," she protested." I admit, I did offer to hold him still for her.
Across from them were Derrick and Roberta Rubin of Roslyn, New York. Derrick, a lawyer, is the youngest son of John's mother's only sibling, Marion Rubin. They brought a La Scolca "Black Label" Gavi dei Gavi, that Roberta's 87-year-old father, Marvin, introduced her to decades ago. "He'd always say, 'This is a great bottle of wine. This is a wine you should like,"' she recalled. And they have always enjoyed it, and especially this one from 2011. According to importer Frederick Wildman & Sons, La Scolca, founded in 1919, "is the first producer of quality Gavi and ranks among the most historic white wine producers in Italy." The Rubins' friends, Peter and Cindy Wagner, brought a 2009 Meroi Sauvignon Colli Orientali del Friuli from Friuli-Venezia Giulia, Italy. Peter said it had been described as "sunshine in a bottle" and when they first tasted it, that image stuck and they were enchanted.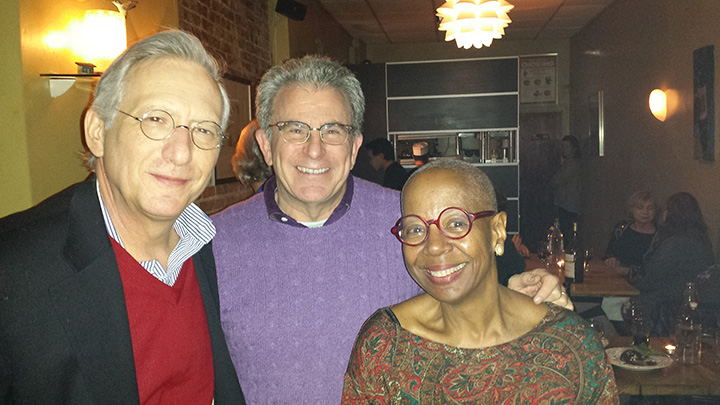 (Photo: John Brecher, Peter Wagner and Dorothy Gaiter)
Now stick with me here. Turns out that when Derrick was little, his father, Village Justice Albert A. Rubin, had performed the marriage ceremony for Stephanie's sister Jackie! And neither Derrick nor Stephanie had ever met our daughters, Media and Zoë, who were there with their partners. So phones were produced and many pictures taken to mark the occasion.
To our wines. Ralph Pugliese Sr. would have been proud. Our special wine, the 1997 Sangiovese from his family-owned Pugliese Vineyards on Long Island was amazing. It had plum-like fruit, dusty with age, and a winning earthiness that reminded us so much of the hills of Italy. We were amazed at how well it had held up. Ralph, who died in 2011, had told us that he planted Sangiovese after lightening had struck some of his Merlot vines, taking it as a sign that he should cultivate some grape types from his native Italy. Pugliese is still the only winery on Long Island to make a Sangiovese, his family said.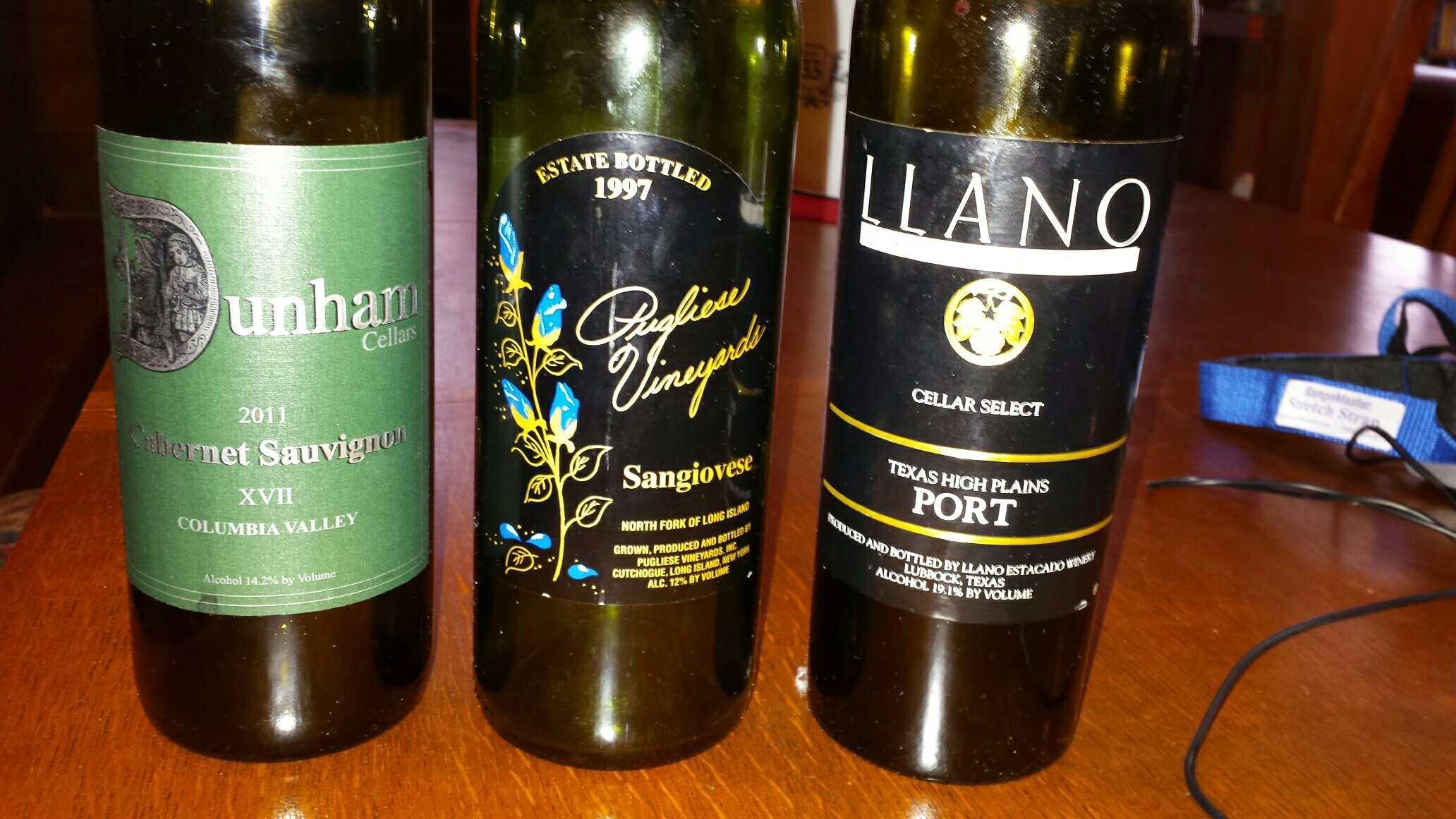 I shared the Sangiovese with several diners. It's not every day one gets to taste a wine like that and it deserved notice and appreciation, which it got. Our aperitivo, a Turley White Zinfandel, disappeared as if evaporated. This was the third bottle of that California wine that we've had and with a little more age than the others, it was even tastier. Of the dry reds, Zoë preferred the 2011 Dunham Cellars Cabernet Sauvignon, which had been given to me a week earlier by the Walla Walla, Washington, winery's winemaker, Daniel Wampfler. It had a youthful vibrancy and depth that were undeniably yummy.
Our last bottle was a Llano Estacado Port from Lubbock, Texas. We couldn't remember how we'd gotten it, but it was a joy to share. I went from table to table pouring sips of it so that everyone could taste a little of it and linger with the sweetness of the night.
Dorothy J. Gaiter conceived and wrote The Wall Street Journal's wine column, "Tastings," from 1998 to 2010 with her husband, John Brecher. She has been tasting and studying wine since 1973. She has had a distinguished career in journalism as a reporter, editor, columnist, and editorial writer at The Miami Herald and The New York Times, as well as at The Journal.