If a wine region is ranked by how long it has been making wine, San Diego should be considered one of America's top regions. Yet San Diego today is known for its near perfect weather and more recently beer. So it came as a surprise to me when reading San Francisco Chronicle's wine critic Jon Bonné's New California Wine, a book celebrating progressive California winemaking, that two of the recommended winemakers were based in San Diego County.
As I learned more about the winemaking in San Diego, I was perhaps even more surprised to learn that in the 1820's, San Diego was the wine capital of California. According to Richard L. Carrico's 2011 essay, History of the Wineries and Wines of San Diego County, missionaries of Alta California first made wine from locally grown grapes in San Diego County in 1782. As far along as 1910, Cucamonga in the North of San Diego was producing wine that according to Carrico was considered by many in the period to be the finest wines in Southern California. So what happened then? As in many wine regions in the U.S., Prohibition led to the decline of the San Diego wine industry when vines were ripped out and fruit and nut trees were planted in their stead. From a high of 30 wineries just before Prohibition, and 20 in the years just after repeal, by 1964 San Diego County could only boast of two, barely known local wineries.
(Rancho Santa Margarita Vineyard in 1883)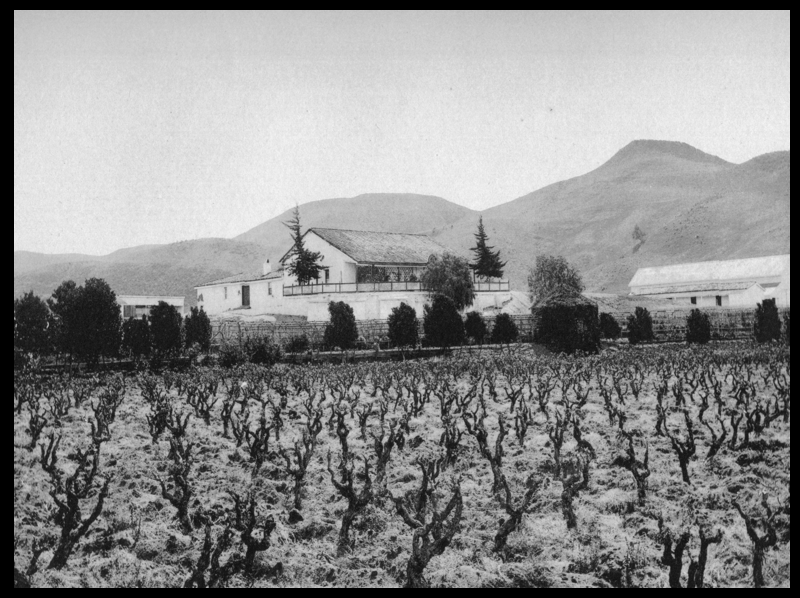 It is an interesting question as to why some regions rebounded and thrived while others such as San Diego never recovered. San Diego has several strikes against it as a wine region. Price of land, lack of rain, the lack of a brand and perhaps also the tall shadow of beer.
In recent years, San Diego has been a major hub for the craft beer explosion in the US and is known as the "Craft Beer Capital of America." There are over 100 breweries, microbreweries, and brewpubs.
Aaron Epstein, the founder of Le Metro Wine, a progressive wine club he started after moving to San Diego in 2012, feels the food and wine culture in San Diego is "exploding." Epstein sees the success of the craft beer space as a double edged sword. "San Diego is its own most difficult market, because in San Diego the one thing that truly stands out is beer. There are incredible risks being taken with the beer culture here, and the winemaking is slowly starting to catch up."
While the the number of urban wineries has grown to over a dozen since 2000, Epstein acknowledges that for San Diego to put itself on the wine map, there needs to be more winemakers making quality wine. Most of the urban winery start-ups in the region are trucking in fruit from other areas, namely Central or Northern California - which is sort of like being a baseball fan living in Baltimore and supporting the Red Sox. And Temecula, technically in Riverside County to the northeast of San Diego and has 1,300 acres under vine in commercial vineyards, is better known as an event space for weddings than as a serious wine producing area.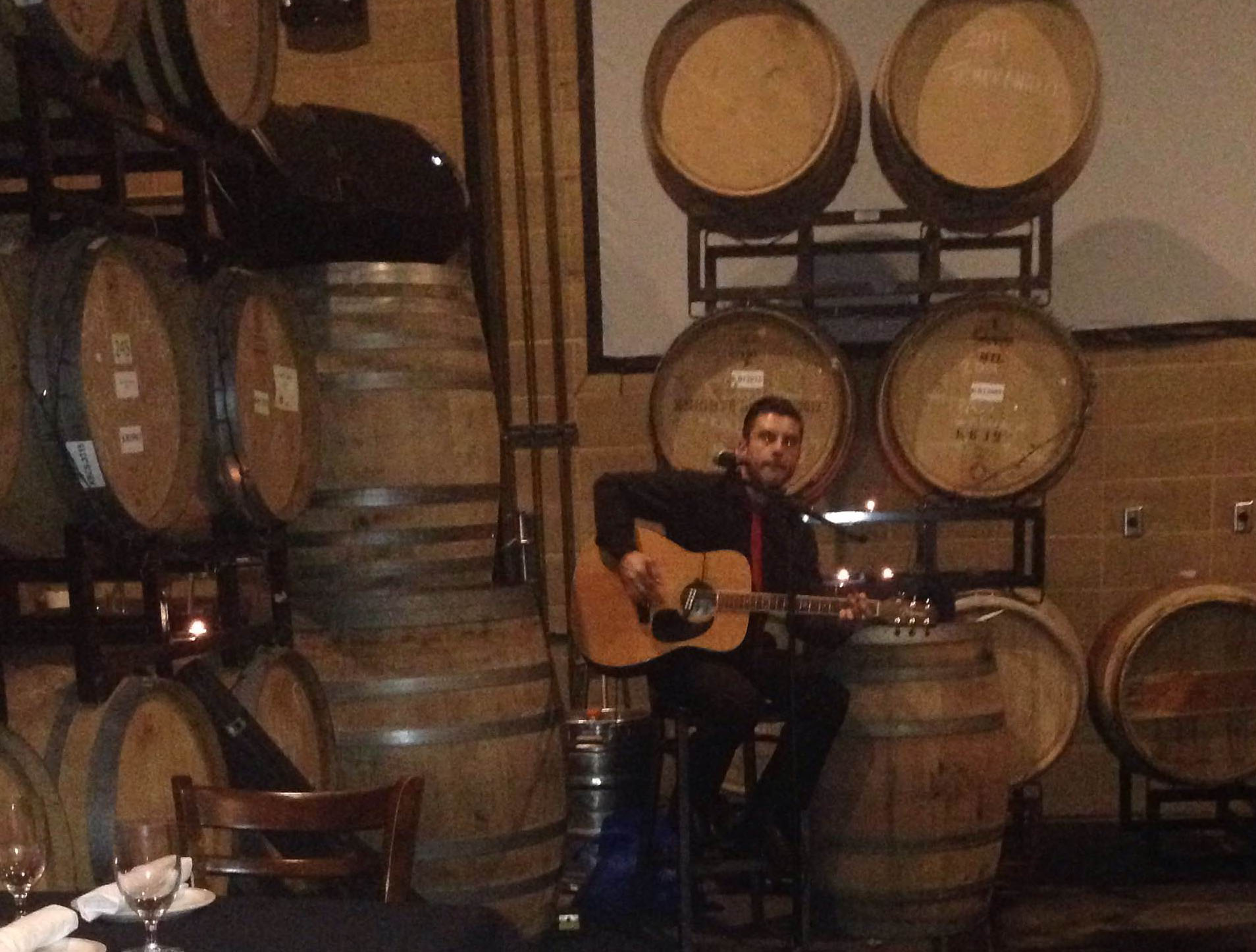 (Solterra Winery & Kitchen in Encinitas)
Another barrier is that the top San Diego restaurants have yet to fully embrace the San Diego wine movement. Juniper and Ivy is the hot San Diego restaurant that defines itself through an adventurous menu and wine list. When we visited Juniper and Ivy, we were impressed with the food and wine list (we tried a delicious Joseph Swan 100% Carignan Cote du Rosa), but found it odd that there was only one San Diego wine on the list, a Vesper Vineyards rosé. When asked her opinion of San Diego wine, Wine Director Tami Wong answered that the urban winemakers in San Diego are "very earnest" and "making progress." In a recent feature in the San Diego Reader on urban wineries they interview Cate Hughes, Wine Director of Cucina Urbana and Cucina Enoteca, who features over 200 globally sourced wines on her lists. Her opinion was more damning than Wong's, "San Diego wines are categorically considered to be inferior."
Despite all the challenges there is serious wine being made in San Diego. A few dedicated winemakers are swimming against the current, taking chances and maybe starting the process of putting San Diego back in the national wine conversation.
Both Hughes and Wong pick out Vesper Vineyards as the best of the San Diego producers. Chris Broomell and his wife Alysha Stehly have been making wine in San Diego under the Vesper label since 2008. San Francisco Chronicle wine critic Jon Bonné wrote of them, they "are making wines that need no geographic explanation." Their 2011 Alcalá Highland Hills Vineyard Ramona Valley White, made the San Francisco Chronicle's list of Top 100 wines of 2013.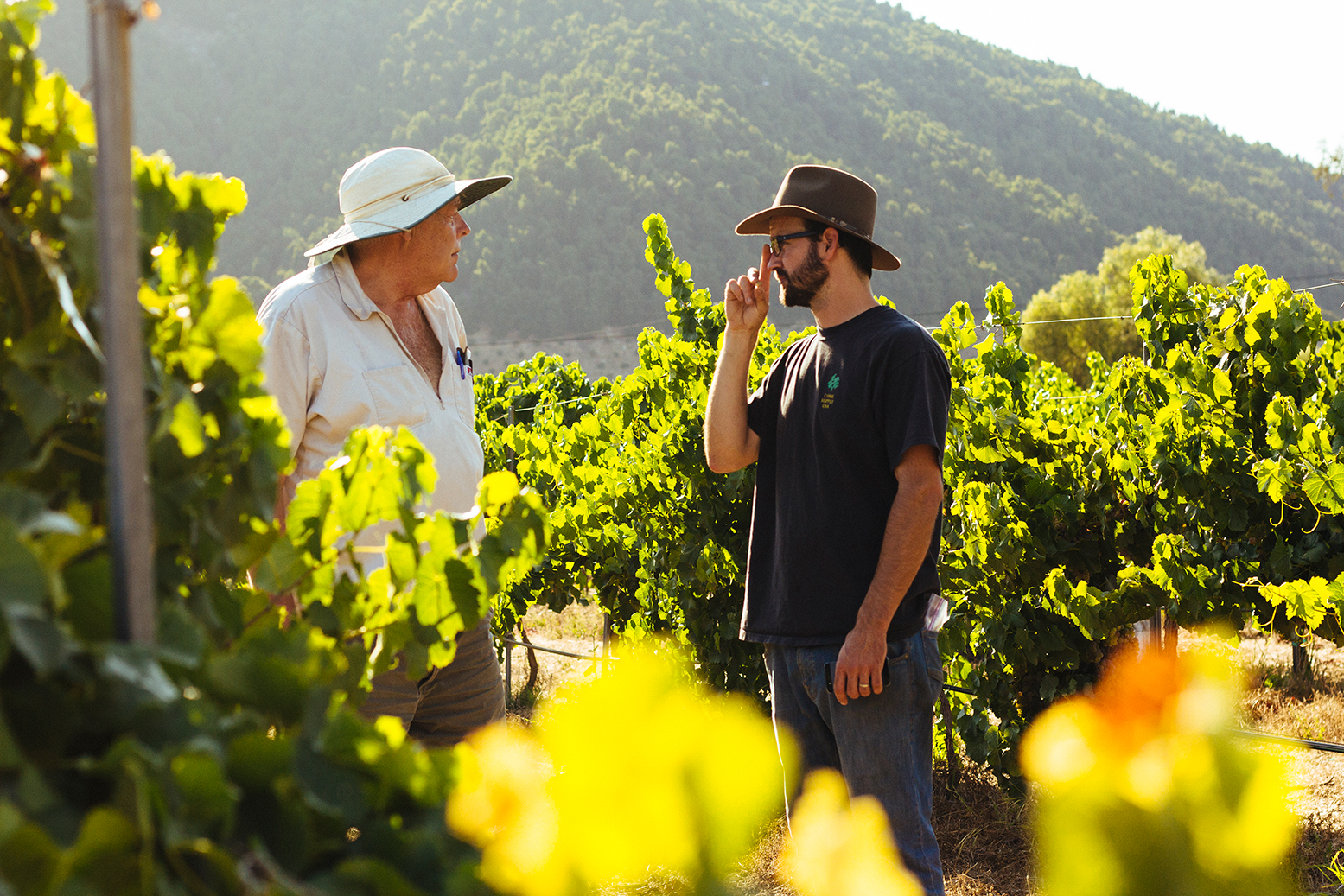 (Don Armstrong of McCormick Ranch with Chris Broomell)
Broomell and Stehly both come from families who make wine in San Diego. When we spoke to Broomell, he said he got his inspiration for starting Vesper was while he was making wine for his family in San Diego using estate grown grapes and he became aware of impressive vineyard sites in San Diego County that had the potential to make great terroir driven wines. Vesper was created to give life to that terroir. Broomell and Stehly specialize in Southern Rhone varietals. The wines are light and crisp, easy drinking but interesting. There is a very compelling ambition about Vesper. An understanding that San Diego winemaking needs to speak to being of San Diego, but also engage in a thoughtful level of experimentation. Broomell and Stehly are serious winemakers whose wines have the potential to bring San Diego into the national wine conversation.
Los Pilares is the other San Diego winery that has received attention from San Francisco Chronicle wine writer Jon Bonné. "This label from Michael Christian and his partners hails from none other than San Diego - proof, along with Vesper Vineyards, of an unlikely spot providing a potentially brilliant approximation of arid Mediterranean-style terrain."
Perhaps even more so than Vesper, challenging conventional winemaking is at the forefront of their philosophy. Los Pilares started when co-founders Coleman Cooney and Michael Christian decided to grow grapes on Cooney's property and make wine in Christian's garage. Cooney describes the dynamic as like a rock band, "Michael comes up with crazy ideas, Eric (Van Drunen - the winemaker in the group) puts up with them." The Pilares team have developed an anti-establishment tone to their winemaking. Of their red blend made with Carignan and Grenache, Cooney said, it is made without using sulfites, commercial yeast and without adding acid. "It's a chameleon" one of our distributors wouldn't take it, saying "This is too crazy. This is too much." Cooney says, "Our wines are naturally produced and that's just because we haven't got caught yet. Nothing bad has happened. So why not continue to make the wine that way."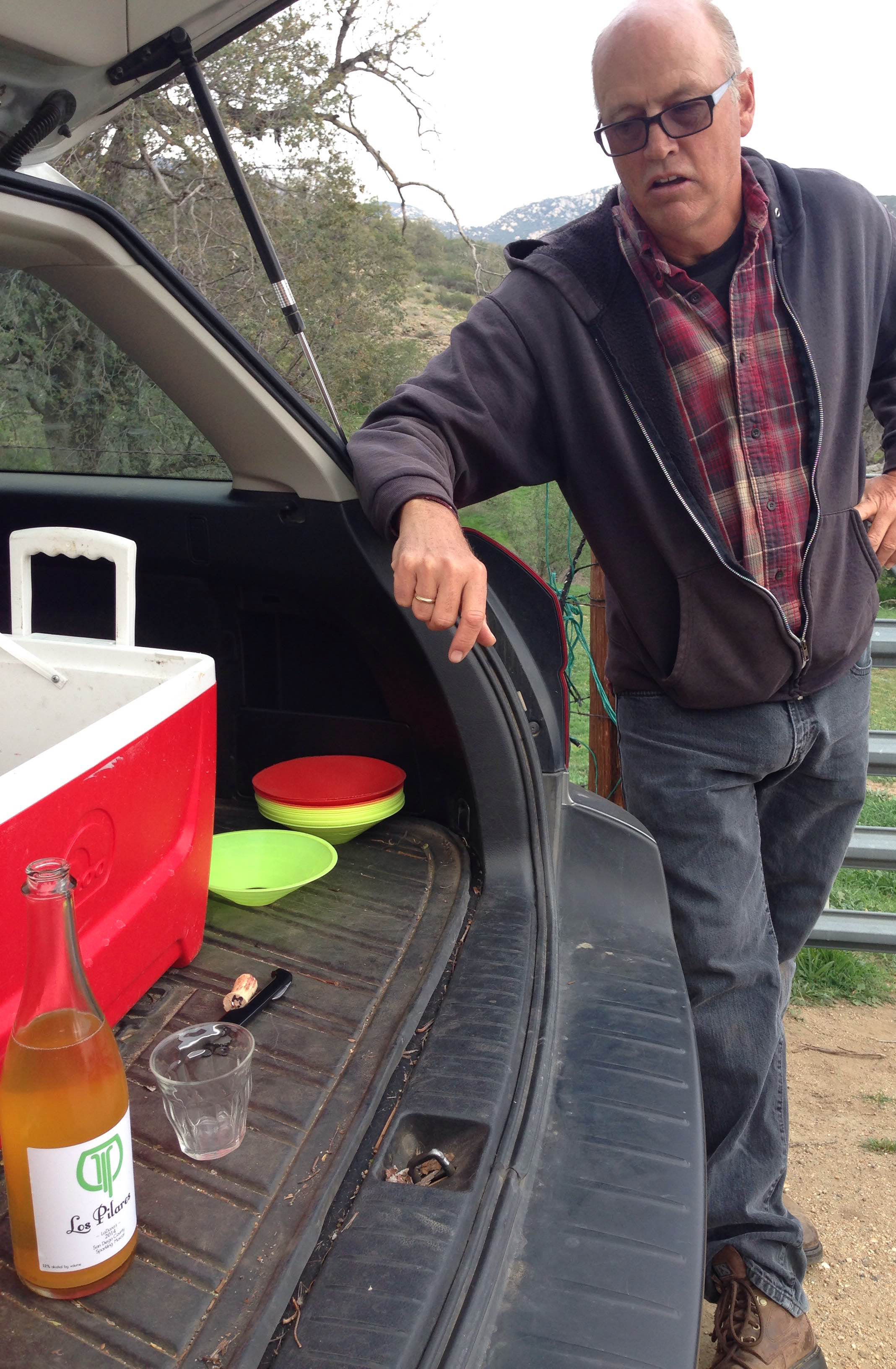 (Coleman Cooney in the hills east of San Diego with Sparkling Muscat)
We met with Coleman Cooney, when he was scouting a site where the Pilares team is planning on purchasing and planting vines in the future. The property we visited was about an hour east of San Diego, mountainous and remote from the trappings of civilization. Cooney said the team is committed to finding a location with a high elevation, with organic matter in ground, and where they can dry farm their grapes. "The critical things are like this ground you're on right now has cot, runoff, and soils, and organic matter, and there's been cattle here and lots of deer. There's enough organic matter in the ground to hold the water. So if this is planted and gets the 25 to 30 inches of rain that are possible here, that are likely here on average over 100 years, then this soil can hold it." While he admits the project is probably not one that economically will provide a return, he sees it as a legacy project that they can leave behind to their kids.
Cooney described the Pilares winemaking as radically pre-industrial, focused on minimal inputs - removing anything that gets in the way of tasting the vineyard. Coleman calls San Diego "the only Mediterranean climate in the US." The Pilares team is focused on challenging the conventions of traditional winemaking - they can break the mold because in San Diego there is no mold to break. One wine in particular that represents this non-traditional approach is a pét-nat, (short for pétillant naturel, an age-old method of creating a sparkling wine using low-tech winemaking) made from Muscat (a grape planted during San Diego's pre-Prohibition grape boom). It is an unusual combination that was spawned during one of their regular winemaking brainstorming sessions. The Chronicle's Bonné included the 2013 Sparkling Muscat in his list of top 100 wines of 2014. "It has a slightly cloudy aspect, like a great saison beer, with lees suspended in the bottle adding just the right weight to florid Muscat, nectarine and watermelon flavors." The Pilares team are also contemplating planting Mission, the original grape planted by the original Jesuit settlers.
San Diego winemaking brings up the interesting question of how an emerging wine region can put its stake in the ground. What does the terroir contribute to the quality of the wines and how does it mix with winemaking ambition, marketing savvy and maybe luck? Does a region like San Diego have the potential to make world class wines or is it always going to be home to a few enthusiasts who at best can make interesting wine?
There is an interview where importer Neal Rosenthal talks about terroir. He says that he lives in the Hudson Valley but that the Hudson Valley should grow apples, not grapes. When we mentioned that quote to Mark Snyder of Red Hook Winery, which makes wine only from New York State grapes, his response was to note that, 100 years ago people thought Napa wasn't a good region to grow grapes and make wine and it is too early to determine the potential of the Hudson Valley wine region.
If the grading scale is how San Diego measures up against France, it's looking at a D+, but if everyone tried to be the closest shadow of France, wouldn't life be boring? The beauty of wine is difference, discovery and passion. A small group of San Diego winemakers are trying to develop a wine culture. There is a compelling energy about their thinking, and somehow that passion finds its way into the wines.