We've all heard the saying that opposites attract. Personally, I don't believe it. Maybe with superficial stuff. But with core issues, the stuff that we're made of and that makes us tick, we gravitate to people like us.
This is the story of a couple who are in synch about so very many things but when she sees white, he sees red -- wine, that is.
I met Christine Bruce a few months ago when she was pouring the wines that she and her husband, John Hilliard, make. Their certified sustainable Hilliard Bruce Vineyards is located near the western boundary of the Sta. Rita Hills appellation in Santa Barbara County. She told me she loved white Burgundies and was striving to make a similar wine: minerally, restrained and elegant. Her husband, she said with an assured smile, didn't much like Chardonnay, so she knew that if she wanted their young enterprise to have one, she'd have to make it.
Hilliard, she told me, loves red Burgundies, so he makes Pinot Noirs with names like Earth, Sun, Sky and Moon. Those names express the couple's deep, shared dedication to healthy farming practices and also correspond to when the grapes are picked. Earth is the earliest picked and Moon the latest. Of the Pinot Noir lineup, which includes a Rosé of Pinot Noir, Hilliard makes only Sky every year. The others are bottled only when he's happy with the fruit. His Moon, a massive, inky, baying-at-the-Moon wine, is his rarest.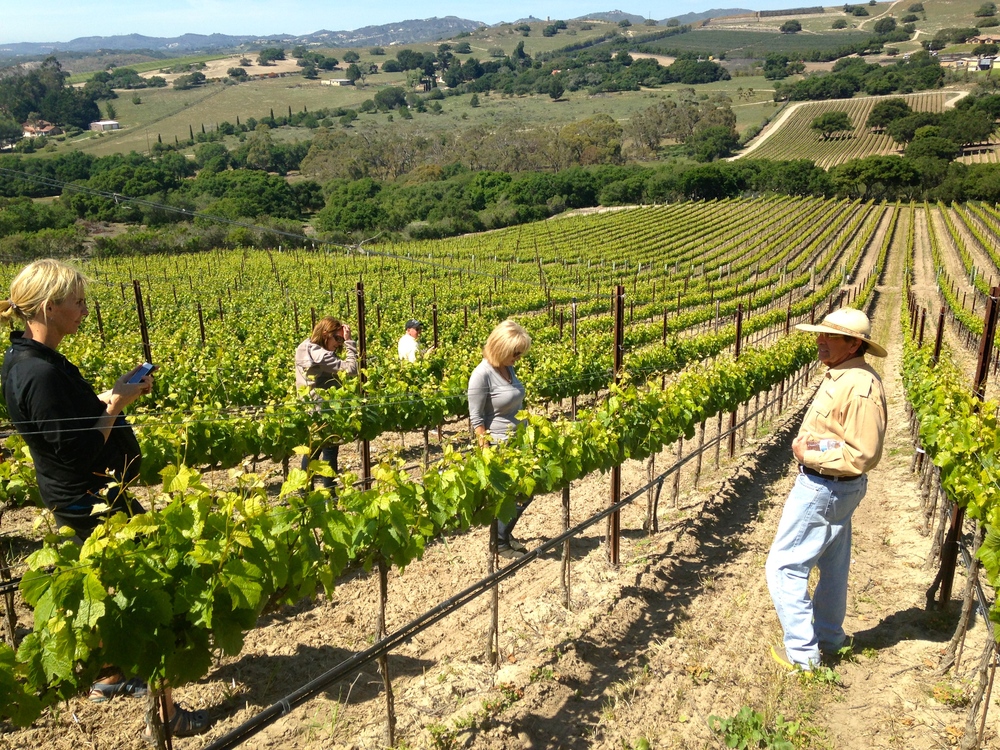 The nose alone of lemon and toast on Bruce's Chardonnay convinced me that she'd nailed it. And then the taste: flinty, judiciously oaked, and nicely acidic, with a finish a mile long. She smiled modestly while I raved and wished, privately, that John had been there to share the experience.
If Bruce, 57, could do that with Chardonnay, what could Hilliard, 62, do with Pinot Noir? The two Pinots that she poured were intense, concentrated, multi-layered wines. I admit I had a difficult time getting my head around them right after the bell-ringing Chardonnay. Still, all of the wines shared a common DNA in that they were beautifully crafted expressions of excellent fruit. I wondered what it would be like to drink an entire bottle of each, how they'd change through the night with food.
Weeks later, John and I tried the 2010 Moon and the 2011 Sky side by side. And still later, I gave him a bottle of the 2011 Chardonnay for Christmas. All three were outstanding. Bruce made 475 cases of that amazing Chardonnay, which was sold by the glass at Thomas Keller's Per Se restaurant in Manhattan. Hilliard made 420 cases or 19 barrels of the unfined and unfiltered Sky and eight barrels of the 2010 deep and brooding Moon.
"A Meursault nose. It has minerals and sunshine in it," I wrote, referring to the Chardonnays from the village of Meursault in the Côte de Beaune region of Burgundy. "Nice tartness and long finish. Unlike too many California Chardonnays, it doesn't finish with oak and cream. It finishes tart. If she's shooting for a high-end Meursault, she's succeeded. It's a standout wine. An amazing achievement to have that little surprise at the ending. Aggressive and restrained." John added, "I would have been proud to have made this wine. It's fabulous."
The Sky evolved the most during the night. At first we found it "too acidic and alcoholic, almost like eau de vie." Though it was only 13.5% alcohol and the Chardonnay was 14.3%, it seemed too alcoholic, which probably meant that it was an issue of balance. In time, though, it evened out and became, our notes said, "a very different wine." So perhaps it should have been decanted. We wrote that it was "tightly wound, with nice spice even after being open for more than an hour. For a time, the Moon was more impressive but this one pulled ahead off and on."
Of the Moon, we wrote, "it has fiery highlights. Black cherry, rosemary, purple flowers, lavender. Huge." It had the weight, white pepper, and intense blackberry tastes that reminded us a little of a wonderful Syrah."
Of both Pinot Noirs we wrote: "Interesting. Pure and earthy, too. Not Burgundy but really American in their boldness and sleekness. Not velvety like Barry White. They have an edge. Powerful. We think of Burgundies as feminine but not these. They are masculine but elegant. Just delicious." John summed them up this way: "These just make the weekend. We can drink these and leave," he said looking out a window of our country cabin. "I can see us putting these down for at least a decade."
A few days ago, after doing some reading about them, I contacted them to ask about their story. Turns out they've known each other since they were teenagers in Houston but found each other again after they'd become professionally successful adults. "Christine was the girl next door during our summer vacations. We were neighbors. But five years difference in age makes teenagers into different species. We knew each other but didn't think of each other," Hilliard told me. "Then, by chance, we were introduced to each other while shopping with friends in a grocery store. For me it was powerfully love at first sight." That was in 1994 and in three months, they were engaged.
Bruce had gone to Boston College and then Berklee College of Music, where she studied classical and jazz piano. She'd played professionally for many years. I should have guessed from the way she looked, with her blonde hair pulled back and her attire and impeccable posture, that she's an equestrian, like our award-winning niece Sarah in Jupiter, Fla., and our Phi Beta Kappa niece Gloria in Tallahassee. Bruce breeds Arabian horses and "has several national champion mares," Hilliard said. "She has sold horses to the Middle East, South America and Europe." Ilona Thompson of the blog PalateXposure, wrote, "Christine can birth a horse with one hand and make ethereal, sublime Chardonnay with another."
In fact, it was on a visit from Houston to Santa Barbara for a horse event that they fell in love with the area. Both had a love of growing things that began when they were kids and together they became certified Master Gardeners.
Hilliard's family is in the shipping industry, and his passion before wine was painting. "My great, great, great grandfather owned Victoria Dock and operated his own barges out of London," Hilliard said. Victoria Dock, according to Wikipedia, is now known as Royal Victoria Dock, "the largest of three docks in the Royal Docks of east London, and now part of the redeveloped Docklands." John Hilliard worked at his grandfather's marine insurance brokerage and he's credited with overseeing the expansion of the family's business, Southwest Shipyard, from one shipyard to four. He told me that the business repairs, cleans and builds tank barges, push boats and ferries.
So Hilliard and Bruce have money. And having survived a kidney transplant—his first failed after chemotherapy for melanoma—he's doing things just the way he wants to.
In 2002 they purchased a 101-acre ranch 11 miles from the Pacific Ocean and planted 21 acres to Pinot Noir and Chardonnay, by many accounts the most precise vineyard planting and care that money can buy. Each row of vines planted in the sandy silt soil is equipped with its own water meter system so each gets water only when it needs it. They have their own reservoir and just recently completed a state-of-the art gravity-flow winery, which is solar powered and has an underground barrel room, and demonstration kitchen. They make between 2,000 and 3,200 cases of Pinot Noir and between 400 and 650 cases of Chardonnay, he told me. "Rosé provides comic relief from the demands of Pinot Noir and Chardonnay winemaking," he said.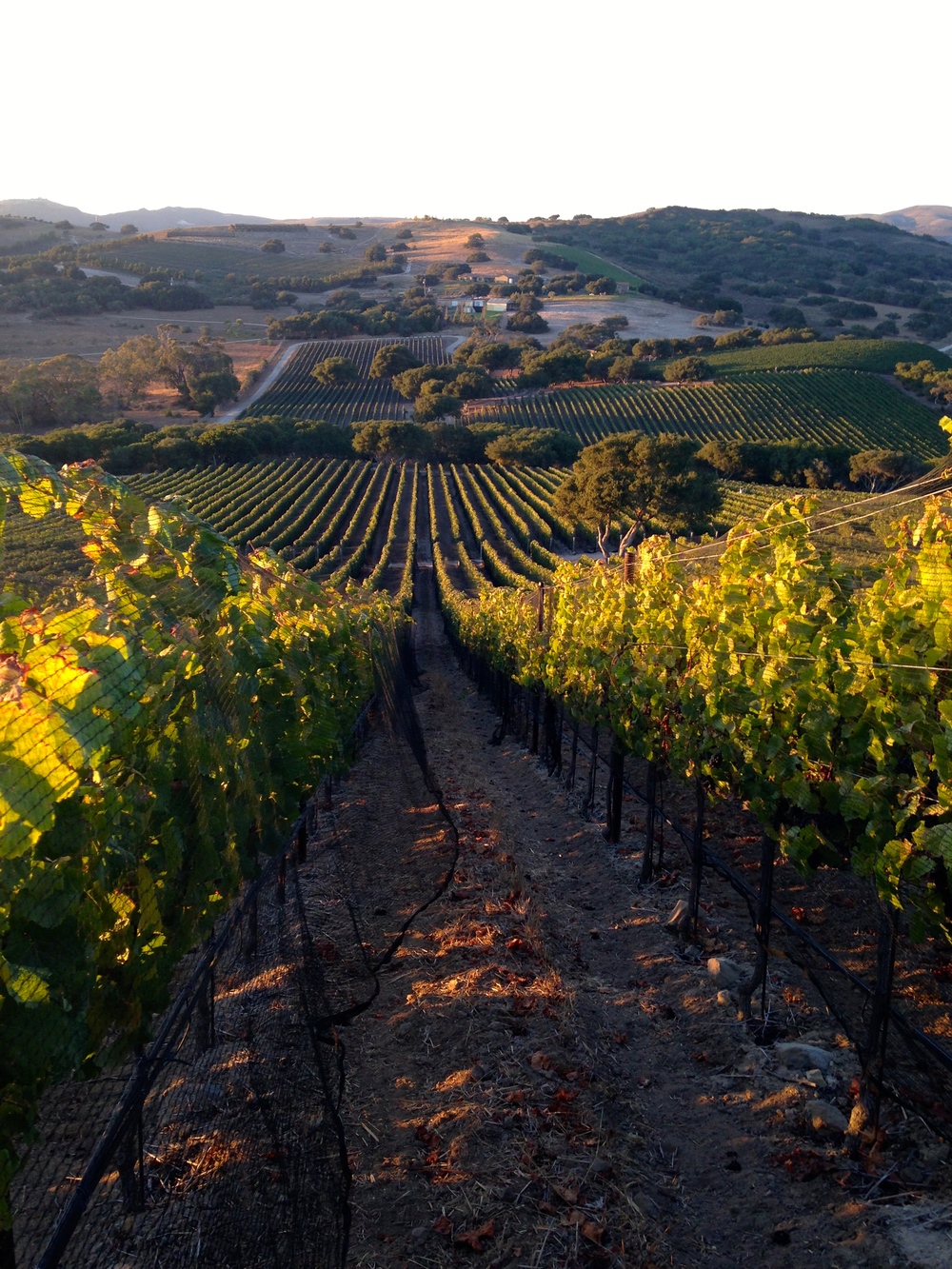 Bruce has planted hundreds of varieties of roses, several varieties of vegetables. They also have apple, mulberry, palm and avocado trees. The 20 Arabian horses provide manure. The couple has two full-time vineyard workers and two full-time landscapers.
Their first vintage was 2007 and so tiny that they drank it themselves and gave it away to friends. For the first vintages, they relied on help from expert winemakers in the area. They began making the wines themselves in 2011.
And what does Hilliard really think about Chardonnay?
"Christine has taught me to relax and start with Champagne," he said. "Why am I in such a rush?" Then she tells him, "Then enjoy a white Burgundy before breaking out the red stuff." His taste in Chardonnay is specific. "Chardonnay with stones, full of flint and puck, that's my seafood assistant!" he says.
So why the love affair with Burgundy?
"The most magical wine we ever tasted was a Chambolle Musigny Les Amoureuses when we were in the wine cellars of Frederic Mugnier a couple of years ago. In his dark cellar crammed with barrels, Fred was pulling samples from bung holes and squirting them into our glasses. When he poured the les Amoureuses we were overcome by the intensity of the wine and the romance of tasting wines with a great French winemaker in his cellar."
That does sound magical, and apparently the romance with wine and each other is still flowering. Hilliard said, "We've been married for 20 years, but it seems like I am still standing in the grocery aisle every time I see Christine."
Dorothy J. Gaiter conceived and wrote The Wall Street Journal's wine column, "Tastings," from 1998 to 2010 with her husband, John Brecher. She has been tasting and studying wine since 1973. She has had a distinguished career in journalism as a reporter, editor, columnist and editorial writer at The Miami Herald and The New York Times as well as at The Journal.