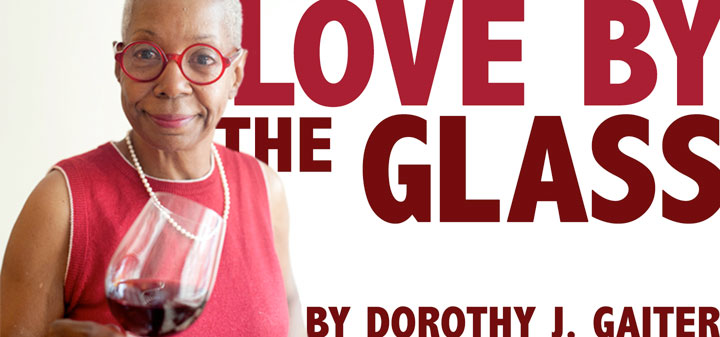 Cecil DeLoach, one of our favorite winemakers, once asked us, rhetorically, "Why do all wines have to be serious?" Why indeed? Granted, he posed that question when I'd called him about the White Zinfandel made by his eponymous winery in the Russian River Valley of Sonoma County. For years, we thought his White Zinfandel was the nation's best, the equivalent of a good rosé in a sea of pink yuckiness. (DeLoach sold the company's brand and original winery to Boisset Family Wines, the huge French company, in 2003. His family now owns Hook & Ladder Winery in the same region of California, the name a nod to his days as a San Francisco firefighter. )
But seriously, folks, isn't there a place at your table for a wine that's yummy and priced like some frivolity of a beverage?
My answer is yes. In fact, my answer is the 2013 Pine Ridge Vineyards Chenin Blanc+Viognier, a fresh, fruity, lip-smacking, crisp yet juicy wine that you'll want to buy in quantity to see you through the blistering hot days of summer. In no way simple, it's a wine that can be enjoyed on a number of levels. Right now, my brain is flashing images of Goldie Hawn, an extremely smart woman who played ditzy blondes to perfection. The ditzy part here is the price.
Pine Ridge was founded in 1978 by the late Gary Andrus, who wanted to make wines from Bordeaux varieties like Cabernet Sauvignon, Cabernet Franc, Malbec and Petit Verdot in the Stags Leap District of Napa Valley. Later, he added other varieties. We started visiting the winery, which is on the famed Silverado Trail, long before we ever wrote about wine. In 2002, Andrus sold Pine Ridge and Archery Summit Winery in Dayton, Oregon, to what is now Crimson Wine Group, which owns other luxury brand wineries.
The Chenin Blanc+Viognier represents an evolution. From 1980 to 1996, Pine Ridge made a straight Chenin Blanc, a spokeswoman told me. The current wine, 80% Chenin Blanc and 20% Viognier, was first made in 1996 with less Viognier, a Rhône Valley variety. Viognier, the only grape allowed in the famous, pricey wines of Condrieu AOC in the northern Rhône, lends the wine lush aromatics and some weight. Think melons, peaches, pears and fragrant minerals. Chenin Blanc is a high-acid variety, and it contributes the zingy, lime-zest, green apple notes, as well as a honeyed richness.
We sipped the wine for a long time on our deck, and found that we enjoyed it most when it was pretty cold, a temperature that focused the Viognier. "This is honest fruit," our notes say. "It's just real, ripe, nicely acidic fruit." While we loved it alone, we'd have it with salads or light seafood, too.
Pine Ridge makes 130,000 cases of it. That's a really serious number.
Dorothy J. Gaiter conceived and wrote The Wall Street Journal's wine column, "Tastings," from 1998 to 2010 with her husband, John Brecher. She has been tasting and studying wine since 1973. She has had a distinguished career in journalism as a reporter, editor, columnist, and editorial writer at The Miami Herald and The New York Times, as well as at The Journal.