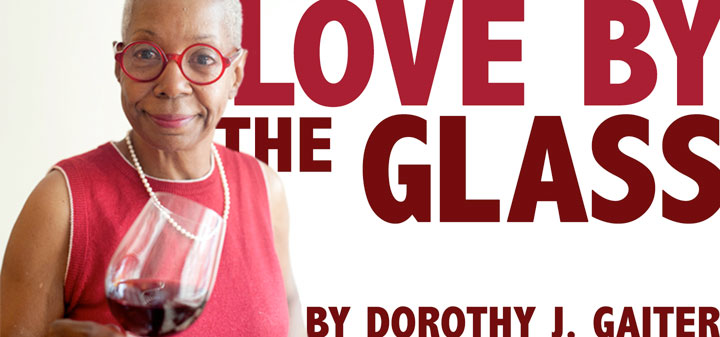 People become friends for a number of reasons, often having to do with things they share. It could be the type of work they do, their outlook on life or, say, a mutual distaste for the Cubs.
John and I met Bill Plante, the veteran CBS News White House correspondent, and his wife Robin Smith, a documentary filmmaker, back in 1999. A colleague of ours had told us that Bill, a fixture in CBS News' Washington bureau since 1976, was the go-to guy for all things wine-related for the press corps. Bill was the person other reporters wanted to join for dinner at the end of the day. We immediately hit it off with Bill and Robin. They're good people, sweet and fun. They're knowledgeable about wine without being showy, and, like John and me—last week we celebrated the 41st anniversary of the day we met—they're seriously smitten with each other.
So in February, on Open That Bottle Night, when Bill raved about a Chardonnay called Gemina from a Napa Valley winery called Massican, we sat up and took notice. Bill and Robin had the wine in May 2013 in Yountville, Calif., at Bouchon, Thomas Keller's French bistro.
John immediately tracked down and purchased two bottles of Gemina and one of Massican's vermouth, all from 2012. We had to taste them.
Dan Petroski, 40, Massican's owner and winemaker, makes only three wines, all white, making five-year-old Massican an anomaly in Cabernet Sauvignon-centered Napa. That its style is Italianate, specifically made like the whites of Friuli, in the northeast, makes it even more special. The portfolio consists of Annia, named for Petroski's mother, a blend of Tocai Friulano, Ribolla Gialla and Chardonnay; Gemina, 100% Chardonnay; and a 100% Sauvignon Blanc called simply "Sauvignon" that Petroski jokingly refers to as "the ostracized child."
As Bill Plante had said, the Gemina was piercingly pure. Its fruit comes from the fabled Hyde Vineyard in the cool-climate Carneros region of Napa Valley, which also provides grapes for the Chardonnays of Kistler Vineyards and DuMOL Winery, Petroski told me Saturday by telephone. Hyde Vineyard "to me is the pinnacle of all California Chardonnay in its weight and richness," he says. "With Carneros's long, cool growing season, you don't get super ripeness or acid depletion. The grapes maintain their richness and acid profile." Getting a contract to buy Hyde's grapes in 2011 "was a blessing," he adds.
Our notes say, "This is a California Chardonnay that you could have with a piece of sole and how many can you say that of? Crisp, with great acidity and minerality. It has some of the usual Chardonnay markers of citrus and it's clean, bright. It's pretty darn amazing." It's on Bouchon's wine list at $90. The vermouth, Il Vermouth di Friulano, is made from the Tocai Friulano grape. Petroski loves martinis and so do we, on those rare occasion that we're not having wine.
Winemakers and winery owners are so interesting and Petroski, whose grandfather grew up near Monte Massico in Campania in southern Italy hence the winery's name, is no exception. He is from Brooklyn and has a bachelor's degree from Columbia, where he played football and studied art history, ancient Roman history, and ancient Greek history. (John also has a bachelor's from Columbia and studied, well, English.) Following graduation, he worked for nine years at Sports Illustrated in editorial and on the business side of Time magazine, acquiring experience, he explains, in the use of words and how those words were marketed. Back then, among his friends, he was the go-to guy for wine, just like Bill Plante.
For a time he was "more a reader than a drinker," and among the things he read was our column in The Wall Street Journal. In 2005, our paths almost crossed. After earning a master's degree in business from New York University and leaving Time Inc., "I had to make the choice in the next step of my career and it was a tough one," he wrote in an email. He was offered a job on the advertising side of Weekend Journal, where our column ran, "but I chose to go live in Sicily instead. While I was there, I had a year-long stint as an 'intern' with Valle dell' Acate winery." He fell in love with the white wines of Friuli in northeastern Italy and with the country's culture and the lifestyle of its people.
Returning to New York in 2006, he tried to get hired by an importer or distributor, to gain experience in how wine is sold. When he struck out, a friend invited him to Napa with a promise to introduce him to winemakers. Andy Smith, the winemaker and a partner at DuMOL in the Russian River Valley of Sonoma, and then-winemaker at Cabernet Sauvignon specialist Larkmead Vineyards in Calistoga, hired him as a harvest intern. "I was so eager to learn that I worked six days at DuMOL and one day a week at Larkmead," Petroski said. Midway through the harvest, Smith hired him to manage the cellar at Larkmead, the first of a number of positions he's held there. (We remember vividly the very first DuMOL we ever had, at dinner in Sonoma, but that's a whole 'nother story.)
By 2009, he said, he was "getting that pang of nostalgia for Sicily." Remembering the white wines that he loved, he decided to make his own from purchased fruit while still working at Larkmead, which named him its winemaker in 2012, a job he still holds. Massican is his side project.
Petroski originally intended to make just one wine at Massican, a white blend. However, after getting his hands on a ton of this and a ton of that, he decided that the fruit was so special that he could make more than one wine. The Gemina evolved from an original blend of Viognier, Ribolla Gialla and Chardonnay. When the Viognier was sunburned in 2010, he dropped that grape and the Gemina became more Chardonnay-focused, with some Ribolla Gialla. With the popularity of the Annia growing, he said, he decided the next year to put all of the Ribolla Gialla into that wine while working with farmers to plant more of it. Fortunately, he signed his first contract in 2011 with Hyde for its Chardonnay, sealing Gemina's fate as 100% Chardonnay.
"The juice and ensuing wine was so vibrant and lovely and wonderful. There was no reason to blend it away," Petroski told me. "It's a vineyard and a wine that can stand on its own. So over three vintages, there were three different wines."
Massican is small, at 1,200 cases, up from 500 in its first year. So it's nimble enough to pivot when Petroski feels the urge to tinker. In its current form, his Gemina is a winner so I hope he leaves it as it is. I have a feeling he might. He released his wines at the end of April and by June 1, he told me, 90% of them had been spoken for, committed to restaurants, retailers and mailing list clients. That's powerful affirmation. Oh, and by the way, I have no idea how Bill Plante feels about the Cubs. Friends don't have to share everything.
Dorothy J. Gaiter conceived and wrote The Wall Street Journal's wine column, "Tastings," from 1998 to 2010 with her husband, John Brecher. She has been tasting and studying wine since 1973. She has had a distinguished career in journalism as a reporter, editor, columnist, and editorial writer at The Miami Herald and The New York Times, as well as at The Journal.