Recently Eric Asimov in the New York Times published an essay titled "Bad Wines Are Bad, Period." It isn't hard to argue that wines souped up with sugar and chemicals lack integrity and are bad. A more complicated argument is the modern wine critic's reaction to "International Wines." Since the release of the movie Mondovino, "International Style" has become a dirty word almost on par with "Industrial Wine." And yet unlike industrial wine, "International Wine" offers up a more complicated forum for debate. In the case of the international style and industrial wine, technology is at the very least a co-defendant at the trial of "bad wine."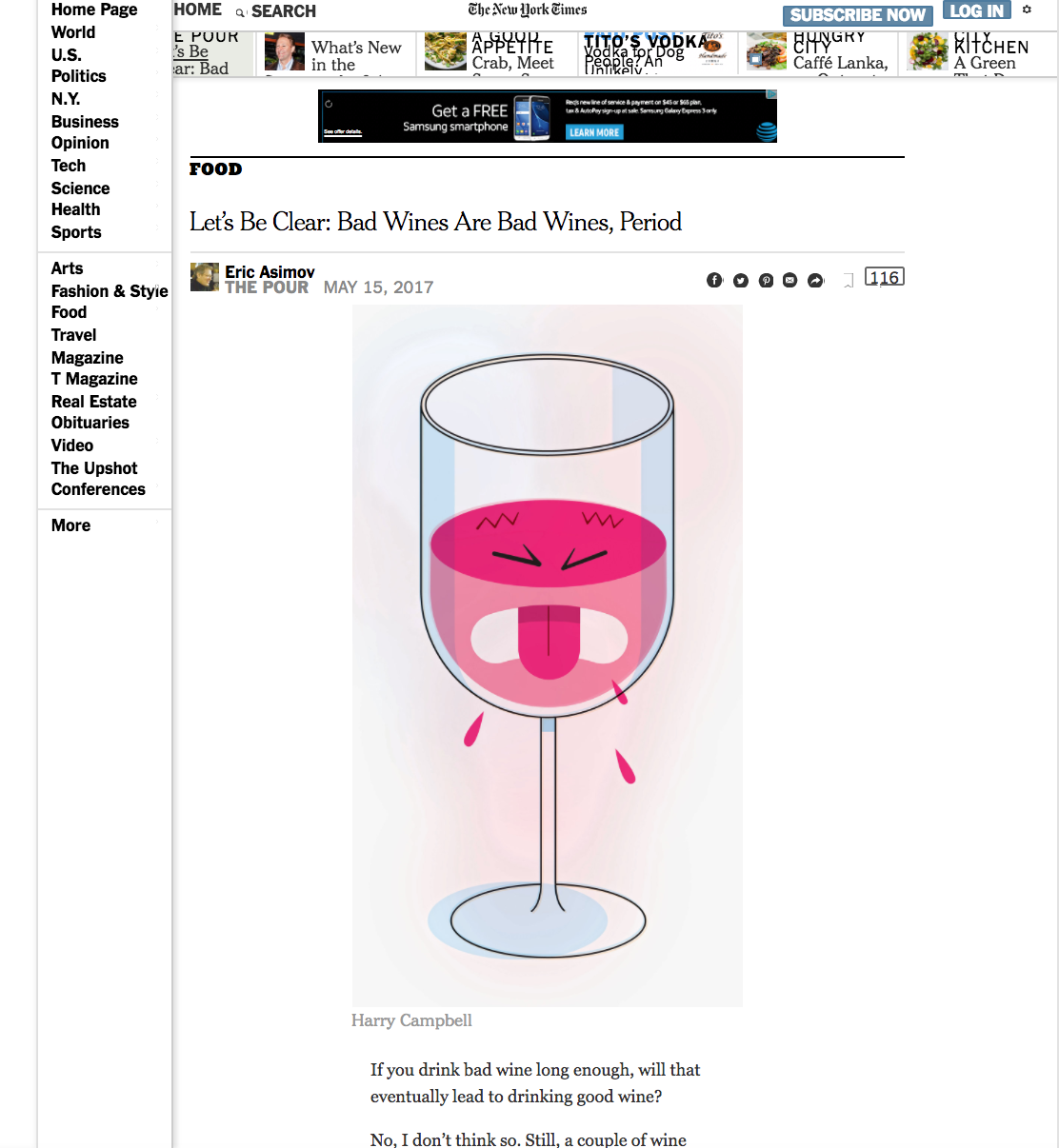 Typically when people talk about wine, particularly "the international style" wines, they are referring to a big, broad, oaky and fruit-forward style. These wines are, as the name suggests, made the world over and have helped many formerly obscure regions like Chile, Argentina and New Zealand to become the viticultural powerhouses they are today. These are wines of effort often made with the heavy hand of modern technology (and in some cases, but not all, can be painted with Asimov's industrial "bad" brush). Recently however, there is a "new international style" emerging. It is still rooted in the use of new technology but in this case the technology is used to help the winemaker get closer to the uniqueness of their individual terroir. The technology helps to make wine more transparent.
While using much of the same modern technology, these "new international style" wines achieve a clarity that is almost a total opposite of the style of the traditional "international wine." How is it that wines of such contrasting stylistic focus can be described with the same term?
Randall Grahm, winemaker at Bonny Doon and known by many as a wine philosopher, has strong opinions about the "new international style" wine. Having a career spanning over three decades, Grahm was the primary force in introducing Americans to the beauty of Rhone varietals. He also has a back catalog that ranges from quality everyday drinkers like Big House Red to detailed and contemplative single vineyard bottlings. "It's quite simplistic to think about the 'modern' style as referring to wines that are simply cleaner and made using more up-to-date technology." He began, "I would argue (and indeed I have) that generally the way most grapes are grown at least in California, work against the expression of terroir. Growing sites are not really selected for their geological uniqueness, nor are they generally farmed (drip irrigation, higher yields) in ways that enhance soil expression."
Randall Grahm talks to Dorothy J. Gaiter of Grape Collective - read the full interview
"For me, the most interesting aspects of technology are the ones that might enable us to either amplify terroir, or work against the intrusion of discordant flavors," Grahm says. We discussed regions of the world that used modern technology to reveal hidden aspects of the land that weren't present before, or were often actually obscured by older traditional techniques. One such region is Tenerife in the Canary Islands. Recently many of its winemakers, such as Agustín Ferráis of Bodegas Tajinaste, have shelved more traditional winemaking for contemporary technology and the use of modern techniques such as carbonic maceration, which is a method used to ferment grapes without crushing or even the use of yeast. Compared to the centuries-old techniques used beforehand, fermenting grapes in this way has revealed subtleties in flavor and texture in burly overly tannic native grapes like Listán Negro that could not be achieved with the old methods. In this way, modern technology is used not to make a uniform product, but to more delicately express the potential of the land and the wine. While the technique was originally invented for this purpose, it became popular for its use in Beaujolais Nouveau for creating that friendly light red wine released every November, a forerunner to the wave of fruit-forward international style wines.
As the discussion went on, it became clear that technology wasn't the sole arbiter of a wine's style, but rather how the technology is used. "As they say in method acting, 'What's my motivation?'" and moving on to a specific example, "You have some people who are using 'eggs,' amphorae, etc., simply because they are the newest, coolest thing, and they have more money than they know what to do with. Others, like Elisabetta Foradori are using these technologies with a more sincere purpose - to make the most original, authentic wine they can." Foradori creates her wines on a family estate in Trentino with a strong focus on reviving the legacy of the region by working in the vineyards and with the vines. She uses a wholly natural biodynamic approach incorporating techniques from the entire history of winemaking, from modern vineyard techniques to clay amphorae from the beginning of viticulture. On the other end of the spectrum are the oft used clay and concrete vessels found in many pristine unoaked Chardonnays. With similar tools, completely different products are made; Foradori's living expressions of the history of winemaking, and Chardonnay for drinkers turned off by the internationally spread oak enveloped Napa style. In this, we see two philosophies of winemaking using the same tool for wildly different results.
Traditionally international wines carry with them a level of consistency that does away with differences between vintages, making a product that tastes the same, year in and year out. "Theoretically, the tossing of the over-ripes and under-ripes might enhance 'quality,' whatever that is, but there is also the possibility that by making the wine too perfect," Grahm says of this, "you may end up with a 'Stepford wine.' In other words, perhaps some level of 'defect' may in fact be needed to make the most interesting wine you can." The "new international style" of wines embraces vintage and climate variation in a way that is very different in this regard. It aligns more with the great terroir-driven wines of the Old World that classically embrace differences in climate.
Grahm feels that the core principle for the winemaker as a creative influence is to allow the wine to represent a place. "For me, as I've mentioned, the salient dichotomy is vins d'effort, the strong stylistic "touch" of the winemaker and the obscuration of terroir, vs. the lighter, gentler touch (still takes plenty of effort) where the winemaker's explicit aim is the revealing of terroir or the unique characteristics of the vineyard." "New international style" with its focus on technology is a valid new approach to the goal of developing wines with the potential to achieve greatness, but it's title is a misnomer. There is nothing new about it, but rather we are seeing winemakers use these technologies for a return to a more humble kind of viticulture in service of what makes wine so captivating. It is wine's ability to so beautifully capture a place within a soothing elixir, to transcend the physical into a sensation that welcomes you utterly into its expression of time and place. This is the beauty of vin de terroir, and it is returning on an international scale.
Sam Radford is an artist, freelance writer and Certified Specialist of Wine. He resides in Cleveland Ohio writing for various global publications and unsuccessfully growing grape vines in his spare time.