Our SpeakEasy series of blogger interviews takes us to San Diego, where Bill Eyer resides. I don't know at what Southern California intersection I'll find Bill, but I do know I can meet him (virtually) on the Cuvée Corner, his wine blog. We talk about wines from Lodi Zinfandel to Oregon Pinot Noir. Also, we find time to discuss quoting the great minds of history, like E.B. White and Van Halen.
You recently went on a trip to Lodi to explore the wineries and wine country there. What were some surprising discoveries you made? And what can people expect when they visit there that's different from better-known wine regions like Napa Valley?
What I found in Lodi and what many other vinosapiens (a made-up word, I take credit for coining) like myself will find there, perception walks up to meet reality. I'm constantly surprised by the things I believe to be true, about a particular wine region, like Lodi. This is especially true, when it turns out to be completely different than my expectations. On this journey into the 'renewed' Lodi Wine Scene, my expectations about what I would find there were turned on its head more than once. Of the five other wine writers who had traveled with me, I was the only one who had been to the area before, and this time around I was happily surprised by what I found.
There a few things you find here you rarely see anywhere else in such abundance, one is myriad self-rooted vines stretching for miles across the vine-scape and two, mulitudes of old-vine Zinfandel sporting the century tag. And last, but certainly not least, those seeking restraint, moderation, structure, and acid in a bottle of Zinfandel, [it] is much more easily found than one would or could expect.
Moment of honesty: it was with a bit of hesitation, that I agreed to go on this trip in the first place. Especially knowing I had to put my preconceived ideas about the region on the back burner and approach the visit with an open mind and a open tasting note book.
Frankly, I've become bit a more jaded (but, I think in a good way) about wine, then I ever imagined I would be, and I didn't see this coming at all. But I'm seeing my tastes, appreciation and fascination in wine evolving toward the old world (France, Spain and Italy) more and more. Hedonism is fine once in a while, but in wine, restraint is far more valued commodity for me personally. I simply like to think of it as palate progression, you may want to think of it as evolution. But whatever you may like to call it, I find the whole process pretty exciting.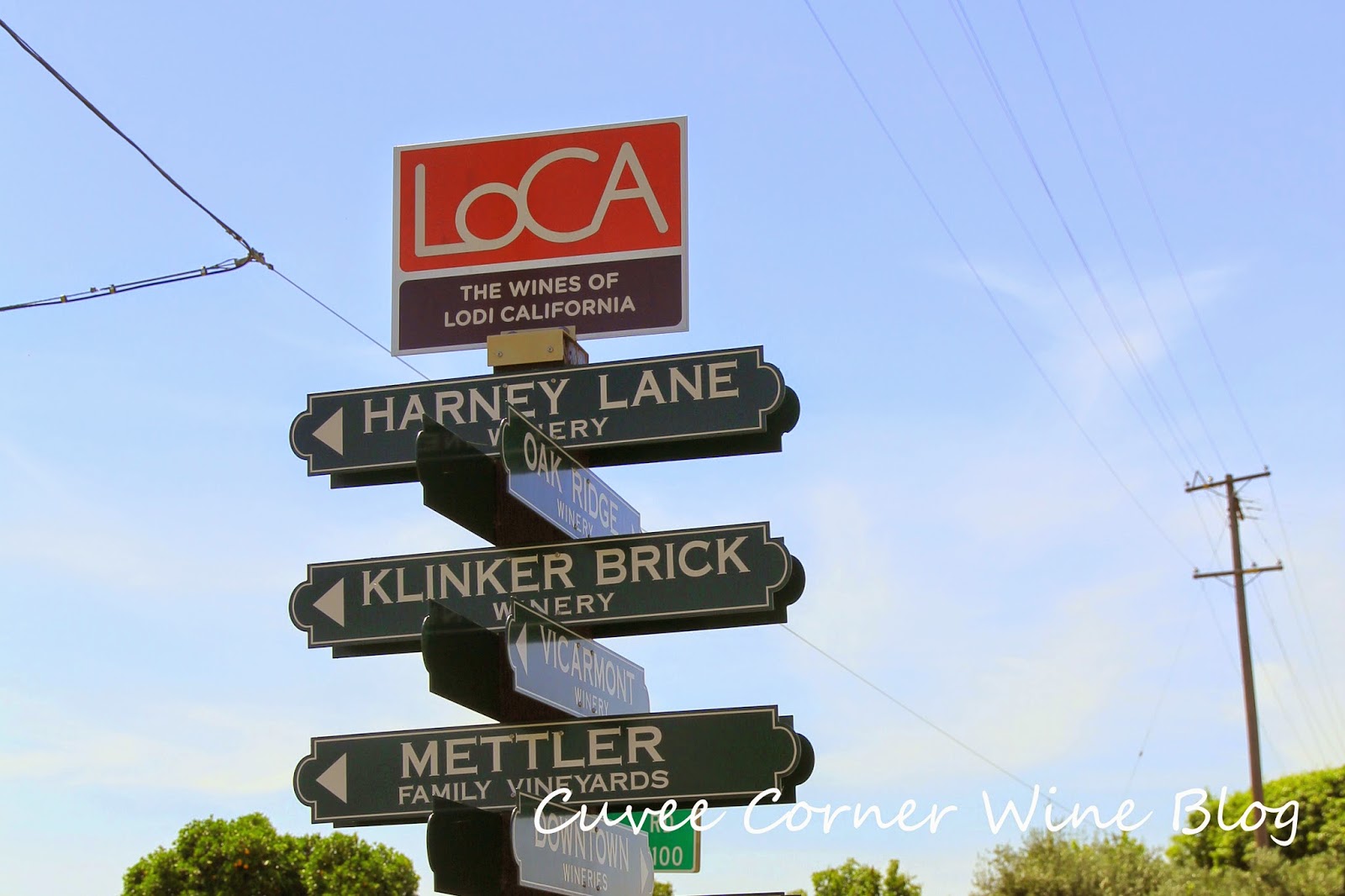 As a finalist for a 2014 Wine Blog Award in the Best Wine Reviews category, can you tell me your approach to reviews? What do you try to convey to your readers beyond a score? And has your approach to reviewing changed over the years?
First and foremost, I have to let your readers know, that it is no longer just I writing for the blog. I've asked a very talented wine reviewer and friend into the Cuvée Corner fray as it were, his name is Andy McCallion. He started contributing to the blog last year and has been a made a full and equal partner.
Now that said, regarding my approach to wine reviews, I think it's pretty simple really. One, how does the wine perform before it's tasted with food. Second, its inherent ability to pair easily with many types of food or is it just a cocktail wine made for hedonistic pleasures only. Third, how well the wine performs after the dining experience component is complete, your feet are up, the TV is on...does the wine keep speaking to you or has it gone to sleep or just fizzled out? Fourth, if the wine is too tannic to consume the same evening it's uncorked, does a day or two with only the cork removed improve the wines overall approachability.
The last thing I consider is cost, I don't review any wines which cost more than $100; it's my contention you never have to spend that kind of coin to find fantastic juice....I'm not a trophy hunter, I review wines which give a lot of bang for the buck, but I stop at recommending or reviewing commodity wines. The simplistic one hit, one note wonders of the wine world.
The one thing I know that is different in my style and approach to wine reviews is that I quit attempting to take myself serious, after all, the blog is a hobby for the most part and not a serious journalistic endeavor. I also have had advertisers in the past, but I will no longer allow any advertising of any kind; I need the integrity of the blog to shine through the clouds that a conflicts of interest can create.
The Wine Blog Awards, as always, are announced during the Wine Bloggers Conference. Can you talk about your experience attending past conferences? What have been the highlights for you as far as sessions as well as getting out into the wine country of the host site?
The biggest take away for me from past conferences is the many networking opportunities I've had over the years. You never know who you will meet and what it could mean for you down the road personally and professionall--and that goes both ways. So many of my opportunities as a wine blogger have come as direct result of attending the conferences each year, learning from my peers and connecting with other like minded folks who become more than just contacts, they become friends.
For anyone going to their first WBC, my advice to they would be to attend every workshop they can manage to fit into their schedule and if they can splurge on a pre/post excursion they should take that opportunity. Final thought, for all the newbies, please for gawd's sake, learn to spit before you arrive. Trust me, no one wants to see you blowing purple cookies all over the place.
[GET BILL'S TEN PICKS FOR EATING AND DRINKING IN SAN DIEGO]
Many of your posts are introduced with a quotation. Sometimes from E.B. White, sometimes from Van Halen. How do you come to choose a quote to compliment a post and do you have a particular favorite?
I collect quotes all the time, and I collect them from a myriad of sources and add them to a word document I keep handy. Because I know, at some point in the future, I'll be using a particular quote as a springboard to lead into the review. How I go about picking them is funny, like the Van Halen you referenced in the question: I hear the song, or read the quote and it just speaks to me. Those words in the quote, remind of the wine or place I visited or the people I met....I use the quote, because I know it will speak volumes more than the words I write, which come after I introduce it. Like the quote below, one which I have not introduced yet, but I will sometime in the future to describe a few of the wines which I've recently encountered.
You may or may not notice but from this point forward I will be using the word 'sublime' in almost every sentence. ~ Colin Cowherd
What about your time in Oregon wine country earlier this year, specifically in the McMinnville AVA, impressed you?
The Mac AVA as some in the region like to call it, is pretty amazing really. They just have a handful of producers who call that region home. The wines there are pretty different and distinctive from the rest of the Willamette Valley. In general the "Mac" style of Oregon Pinot Noir there, has a denser appearance, and much darker in the glass, than the more delicate, lighter styles found elsewhere. After an impressive AVA tasting hosted by Youngberg Hill, where I believe I tasted everything the AVA had to offer, my overall impression is outstanding. I was duly impressed, with the overall complexity, finish, freshness and abundant acidity.
You'll find the Mac AVA is located due west of historic downtown McMinnville, home to top-notch restaurants, charming boutique wineries and urban wine tasting rooms, featuring wines from all over the Willamette Valley. R. Stuart is one of those wineries located in the heart of downtown McMinnville, a tasting room and small bites experiece that no vinosapien should miss, featuring wines from all over the Willamette Valley. A great jumping off spot, where you could easily spend a week in this down to earth town of thirty five thousand folks, and barely scratch the surface.