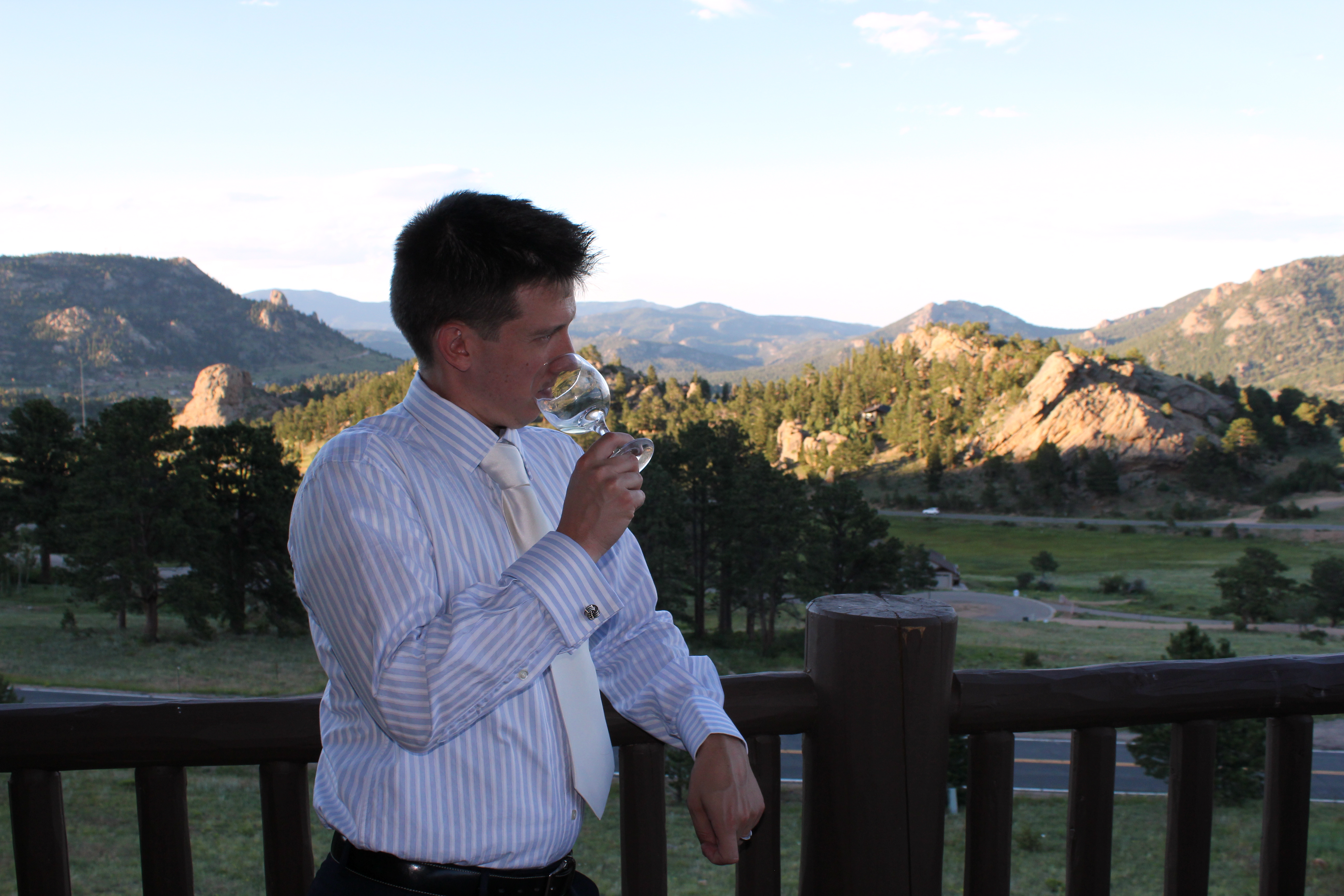 Do you have a coastal bias when it comes to wine? Then come with me and explore what's happening in Colorado. Our SpeakEasy series of blogger interviews travels to Littleton, just outside of Denver, to chat with Kyle Schlachter of Colorado Wine Press. Get a taste of the wine regions, some love for hybrids, the best pairing for risotto with chard and poached egg, and the surprising history a Napa legend in Colorado.
I've never had a wine from Colorado. Where are the grape growing region(s) and is there a vibrant scene of tasting rooms at wineries?
Colorado is home to about 115 wineries (including meaderies and cideries) and just under 1,000 acres of vines. The industry is spread all over the state, but the grape growing is really concentrated in the two AVAs. The Grand Valley AVA is home to 80-90% of the vineyard production. The Grand Valley straddles the Colorado River on the western slope of the Rocky Mountains and spans from Palisade to Grand Junction, not far from the Utah border. There are about two dozen wineries with tasting rooms along the meandering farm roads. The Grand Valley is probably more known for its Palisade peaches than wine, so the tasting rooms aren't too crowded. A few wineries have a small staff, but often times the owner/winemaker is the one behind the counter. It is also a great place to tour via bicycle.
From the Grand Valley, about an hour's drive towards Aspen is the West Elks AVA. The West Elks is the highest elevation wine region in the U.S. and is home to some of the highest vineyards north of the equator. A dozen wineries and about 100 acres of vines overlook the North Fork of the Gunnison River between the towns of Hotchkiss and Paonia from 5500' up to 7000' above sea level. The tasting rooms here tend to be seasonal or by appointment only.
There are a handful of wineries and vineyards down in the Four Corners area near Cortez, CO, but it isn't quite a wine destination, yet. Despite the less-than-convenient location, the Four Corners area might have the greatest potential for growth in the state. There is a lot of land (not in competition with peach production) and a bit more water. Cold and water are two of Colorado's most limiting factors for vineyard suitability.
The Front Range (roughly from Boulder to Colorado Springs) is actually home to more than half of the wineries in the state. You won't find much in the way of vineyards, but concentration of consumers has attracted many wineries, and more recently cideries and meaderies, to set up shop in an urban setting. A few wineries have clustered themselves near each other to create wine destinations. A group of wineries in Boulder have partnered to form Boulder Wine Studios and in Denver there is Colorado Winery Row. Infinite Monkey Theorem recently moved to the River North (RiNo) district near Coors Field and is within walking distance from Stem Ciders, dozens of restaurants and some of Colorado's best breweries. The RiNo area is probably Denver's most up-and-coming neighborhood for food and drinks right now.
Where is the industry at right now and what wines/wineries/grapes should I put on my radar?
The Colorado wine industry is still growing and trying to find an identity. I'd say CO is in an adolescent growing phase. Some wineries have it figured out, but some wineries are still struggling to learn how to make and sell wine. The identity of Colorado wine is still evolving. Many wineries make 15 different types of wine, whereas a few focus on a specific style. There is no one go-to variety; which may or may not be a good thing. I think further exploration is needed and maybe what Colorado does best isn't even planted here yet. But as we stand now, cabernet franc, petit verdot and syrah (or blends thereof) tend to produce the best reds in my opinion. I've also tasted some Riesling and Gewurztraminer (especially from the West Elks AVA or the Four Corners area) that are quite impressive. Last year, I brought a case of Colorado wine to Napa to share with a group of vintners with a Colorado connection and a petit verdot blend from Ruby Trust Cellars and a Gewurztraminer from Stone Cottage Cellars really opened some eyes and dropped a few jaws.
My experience with Colorado booze is from when I started to drink craft beer in the 1990s. Is there something that Colorado wine could learn from beer?
Colorado wine producers could learn a lot from the beer producers. Innovation and marketing are two things that the breweries do extremely well.
When commenting on Colorado wines after judging the 2104 Governor's Cup, Writer Linda Murphy, who was a judge for this competition, stated, "I'd like to see more Colorado winemakers try hybrid varieties that have been bred to withstand cold temperatures and ripen in short growing seasons." What's your take on hybrids?
I think hybrids are going to have to play a role in the industry's future. 2014 is the fourth year in five that we've lost a significant portion of the grape crop due to cold damage. Extreme winter cold and late spring frosts give growers massive headaches. Without a reliable harvest, wineries are not going to be able to stay in business. Some buy fruit from California or Washington during these difficult years. It is becoming difficult for wineries without vineyards to produce Colorado grown wines. Hybrids offer an opportunity to expand suitable acreage as well as a more consistent harvest. I am not advocating for reliable vineyards be replaced with hybrids, but if a grower has lost a more cold-tolerant vinifera cultivar, it might be time to consider a hybrid.
I know that wineries can complain about not being able to sell lesser-known varieties, but wineries in the Midwest have created sustainable industries with hybrids. It all comes down to knowing how to make wine using these grapes and how to market them. Using a fanciful name instead of varietal labeling would probably be quite helpful. If I had a winery, I would use hybrids to blend, in small percentages, and as a way to break into the under $10 per bottle market that almost no Colorado winery is capturing. Hybrids, with their high acidity, would be perfect for sparkling wine. It is only a matter of time until someone invests in hybrids specifically for bubbly. Speaking of that, any interested investors can contact me...
[THE TIPPLER TEN: KYLE'S RECOMMENDATIONS FOR EATING AND DRINKING IN DENVER.]
You have chickens in your backyard. What is your favorite egg dish and wine to match?
You know, I never really have given it that much thought. I usually have an egg for breakfast and I tend to not drink that early in the day, but if you're drinking wine with breakfast you can't beat sauvignon blanc or bubbly. Every once in a while I'll make a savory quiche. But a poached egg on top of some sort of rice dish is probably our most often egg-themed dinner. Sometimes our son asks for yellow sauce, and that's how we know he wants a poached egg. The most memorable pairing would probably have to be a risotto with chard and a poached egg on top paired with Forlorn Hope's Sogni della Speccia Sangiovese. Tortilla española and tempranillo is also one of our go-to egg/wine pairings.
When I think of Warren Winiarski, I think of Napa. But I did not realize his Colorado connection until I read your post. Can you talk about his recent visit to Colorado, and his impressions of the wines? And what was it like spending time with such a wine legend?
Most people don't know that Warren actually made wine in Colorado. Getting to know Warren has been quite a memorable experience. I met Warren in Napa at the opening of Tim Mondavi's Continuum winery. I mentioned to him that I had heard he made wine in Colorado back in the 1960s. Tim didn't believe that could be true, but Warren was quite shocked that I knew that bit of trivia. I wasn't expecting anything to really come of our brief conversation, but a few weeks later he called me out of the blue and wanted to discuss Colorado wine. He wanted to visit Colorado to see how the industry had grown in the past 45 years. We talked a few times and decided that having him judge at the Governor's Cup competition would be the best way for him to taste a wide range of wines.
He was very impressed with the quality of the wines. He had never tasted a wine from Colorado because when he was making wine here he was using grapes sourced from California. There weren't even any commercial vineyards in Colorado in the 1960s. He was instrumental in helping reestablishing the wine industry here. So, his time judging really marked his first experience with Colorado wines. At one point during the sweepstakes round, he stood to announce that he thought the Boulder Creek Winery Sauvignon Blanc was the best wine at the competition. After the event, he examined his notes and told me that he wanted to also give special commendation to Boulder Creek's Tempranillo and Bookcliff Vineyard's Malbec. Funny thing about those Boulder Creek wines, both of them were the first releases of those varieties from the winery. Sadly, Boulder Creek is closing in 2015.
On the way to the airport, Warren, Linda Murphy, and I stopped by the building where Ivancie Cellars was located. It was very moving to see Warren gaze upon the building where he made wine before starting Stag's Leap Wine Cellars. I felt like I was walking back in wine history with one of the all-time great winemakers. He really seemed excited when he talked about his time in Colorado and what he tasted in the wines at the competition.
Warren and I have talked several times since his visit and he is eager to come back again. I think having him involved in the Colorado wine industry would be extremely beneficial for all the current (and future) winemakers. I can definitely say that having the experience of just spending a few hours chatting with him was inspiring. As arrogant as is sounds, I feel like Warren and I are kindred spirits. We both grew up in the Midwest, were bitten by the wine bug in college, pursued careers in academia, taught at universities, didn't finish PhD programs because we wanted to spend more time with family, and here we were sitting in a hotel lobby philosophizing about wine. It's not every day one gets to debate the definition of terroir with the person who put America on the wine map. Of course, I could only dream of accomplishing half of what Warren has.