Our SpeakEasy series of interviews with the personalities behind the best of wine online (and in person) continues with Whitney Adams, the Los Angeles-based creator of the Saveur award-winning blog, Brunellos Have More Fun. And she can find you a great bottle with ease whether you're having Chinese takeout or taking someone out on a first date. Whitney also enjoys everything from rum punch daiquiris in the open air to sitting down with Mount Etna red wines. Plus, she has style tips that compliment sommeliers and those in the non-wine life as well.

You work with wine in both retail and restaurant worlds. What challenges and rewards does selling wine in a shop offer that are unique to the environment?
The thing I love most about retail are our neighborhood regulars and the ability to have a conversation about the wines they have purchased in the past, what they liked, what they didn't, really get to know their palate. Building a relationship, knowing exactly what wines they would enjoy or which wines you can expose them to that will push their boundaries a bit. There are certainly regulars in a restaurant setting, but there's something different about buying a bottle and taking it home. Sharing it with someone, exploring it on your own, having an experience away from where the bottle was acquired. This can also be the thing that is frustrating in retail. What if someone never comes back? Did they hate the wine? Did they move? Sometimes, you'll never know and you have to be OK with that.
BRUNELLOS HAVE MORE FUN: WEST HOLLYWOOD from Claire Thomas on Vimeo.
I love the short videos you have done pairing wine with not just food but also neighborhoods and moments in life. What did you want to accomplish with those videos and will we see more of them in the future?
I loved collaborating on those videos with director Claire Thomas! She's a good friend and so very talented. A few years ago, I wanted to expand my blog content to include videos and hoped to do something original, to continue to talk about wine in a new way. Claire was the first and only person I approached. She had a great idea to film visual tasting notes, to see what I was tasting. We started filming more straightforward food and wine pairings (pizza night, fish tacos, Chinese take-out) and then got a bit more abstract, pairing wine to things like breakups, first dates, and rap music. Those are my favorite. I love thinking about wine as a companion to an event, a moment. Pairing wine to a feeling. We would both love to do more, but I think it's just been a matter of busy schedules and timing. Never say never.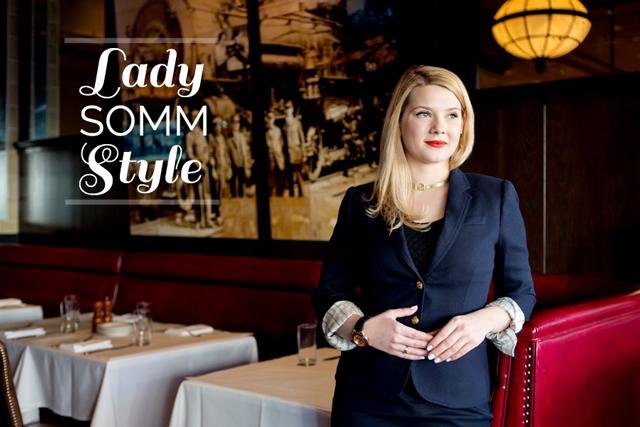 Another unique feature on your blog is Lady Somm Style. What are some of the most interesting fashion tips you learned from these interviews as far as what you can wear on the floor that's stylish but won't be a hinderance when it comes to pouring wine and navigating a crowded dining room? Any tips of your own? Do's and don'ts of Lady Somm Style?
My favorite series on the blog! I love getting to know my fellow lady sommeliers around the country and hearing about how they got into the biz, what motivates them, their passions, and of course their style. Every person I feature has a slightly different approach or fashion sense, some would never think of wearing heels on the floor for several hours and some would never go without. So, it's really about personal choice and comfort.
Fashion tips I've learned or could give? I'd say to always bring a bit of yourself to the party, within reason and the vibe of your workplace. A bold necklace, a special earring, bright colors, a skirt or dress (with pockets!), vintage, menswear, whatever. Do you. That's what customers will find engaging and authentic.
[Photo of Colleen Hein via Kristin Teig Photography.]

You travelled to Italy to work a harvest. Where did you work at and how did it alter your passion for wine? Any stories you can share that speak to the amount of unglamorous duties that harvest work entails?
I worked the 2009 harvest at De Conciliis in Prignano Cilento (southern Campania). I stayed on for two months after, traveling the whole country. That trip was a complete game changer for me. It was relatively early on in my wine journey and I learned so, so much. As for harvest work, almost all of it is unglamorous. I lived in old t-shirts, faded shorts, and work boots. Not cute. The thing that surprised me the most about harvest is the crazy amount of cleaning and just moving things around one has to do. You definitely get to know your way around a water hose. Also, when you spend a few hours at a time on the sorting table, you realize that grapes aren't the only ingredient in wine : \

You write a column for Punch called "That Wine Lyfe". I'm going to turn the tables on you and ask what are the last five bottles you drank.
Let's see. I just got back from a week in New Orleans, so there were plenty of beverages consumed, not all coming from a wine bottle. But, I did enjoy some delicious wine- 2011 JJ Prum Bernkasteler Badstube Kabinett Riesling at La Petit Grocery, and 2013 Ameztoi Rubentis Rosado and 2012 Tenuta delle Terre Nere Etna Rosso at Bacchanal. Rounding that list out to five would be: many a Negroni and several styrofoam cups of rum punch daiquiris.

Finally, who inspired you to start blogging and who inspires you to keep doing so?
My bestie Joy (Joy the Baker) was the first person I knew that blogged consistently and then eventually for a living. She helped me out in the beginning 5 years ago to set up my blog, when I didn't even have a Twitter account or know what in the hell Wordpress was. Jeremy Parzen (Do Bianchi) was also someone I kept my eye on and learned from when I first started out. I loved how much he loved Italian wine and that he wrote about whatever he wanted to write about, even if it wasn't about wine. Now, I find myself reading a lot of food, lifestyle, photography, and design blogs. Those inspire me the most stylistically.
And looking for the best spots for wine and food in LA? We've got Whitney's picks.