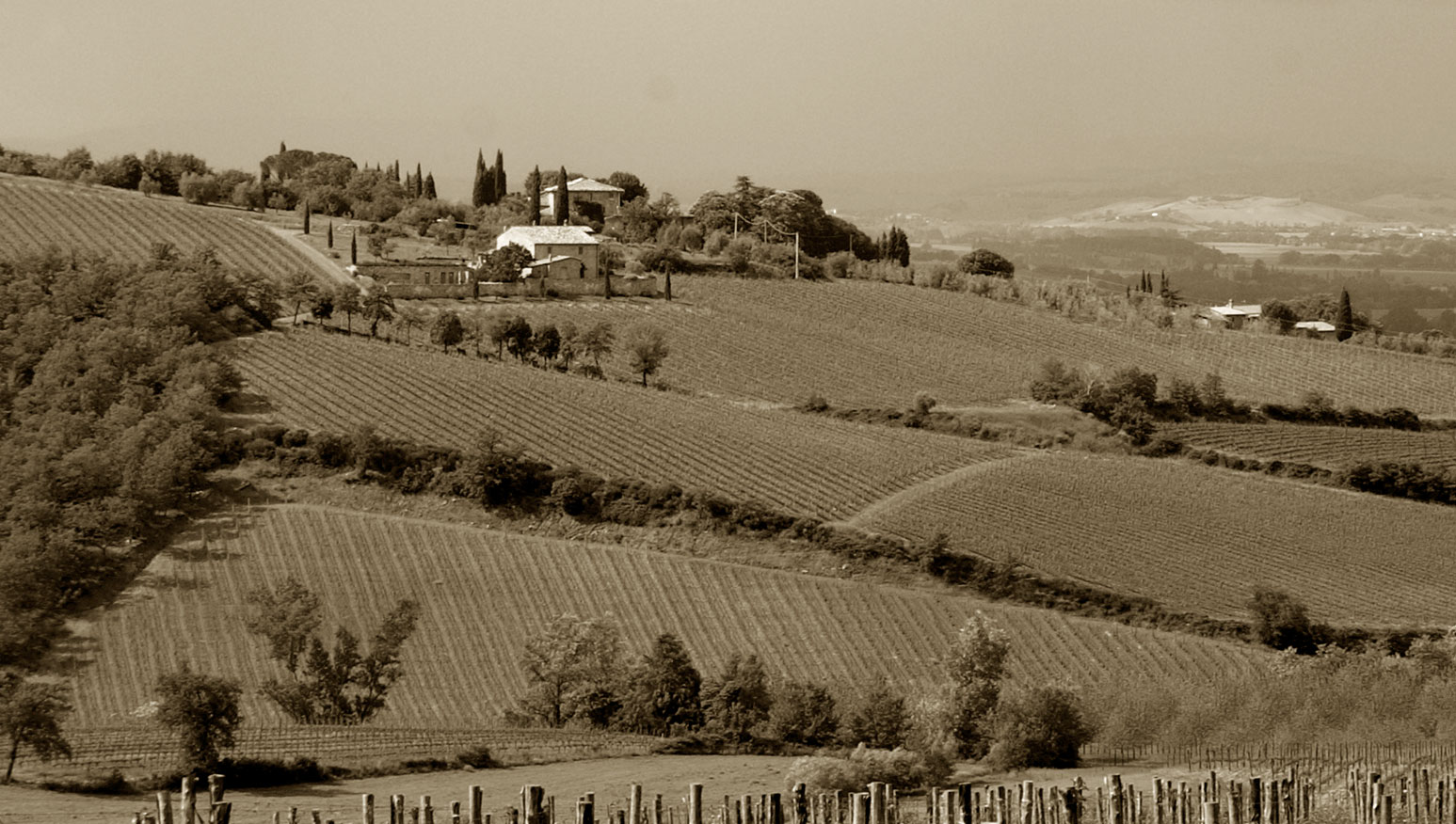 Brunello di Montalcino may be one of Italy's flagship historic wines, but old doesn't necessarily mean old-fashioned. More and more producers are embracing organic or biodynamic growing practices; nearly 10 percent of all Brunello vines are now "green."
Grown around the hilltop Tuscan town of Montalcino, the wine is made from 100 percent Sangiovese Grosso, a grape the locals call 'Brunello', hence the name. Brunello designed for earlier drinking is called Rosso di Montalcino. The wines are prized for their savory, medium-bodied character with softer tannins—characteristics that are fading as the area gets warmer. Thus the rush to organic and Biodynamic: wines produced with these methods seem, in general, to retain these fresh, nuanced qualities more readily than conventional methods.
A brilliant example of this are the wines of Pian dell'Orino. Owner Jan Erbach farms his 15 acres (6 hectares) of biodynamic Brunello vines less by the text books he read when getting his wine doctorate but more according to which friendly insects and wild flowers his vines are attracting. Pian dell'Orino's Brunellos show breathtakingly clear crushed redcurrant flavours and really complex tannins built for medium to long-term drinking.
Brunellos from Niccolò Magnelli's organic Le Chiuse (pictured above) come from Sangiovese's preferred soils: cool clays which warm up slowly in spring and allow the grapes to ripen slowly. Le Chiuse's Rossos and Brunellos are characterised by firm but generous flavours of blueberry, dark plum, menthol and sage flower.
Some of the softest, brightest most easily drinkable Brunellos come from the Loacker family's organic 45acre (18-hectare) Corte Pavone estate. They bought the estate in 1996 and used homeopathic teas to bring what were wasteland soils back to health. As the soils softened, so did the wines.
Francesco Cinzano shows organics works even on a big scale. His Col d'Orcia estate has a massive 350 acres (142 hectares) of vines making this bigger than all the other organic Brunello producers combined, and Brunello's fifth biggest wine overall. However Cinzano has left almost as much of his land as wild habitat, meadows, or oak forest for biodiversity. Col d'Orcia's wines show bright flavours and reassuringly smooth textures for early to mid-term drinking.