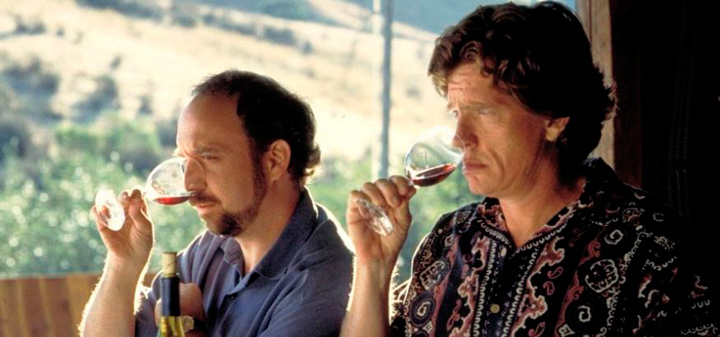 Wine is intoxicating. Literally, yes. But also figuratively. It has the uncanny knack of coloring in the lines, from handsy couples in love to never-say-never divorcees to salty old men looking for a place to rest their heads. It's been an archetypical character and occasional scene-stealer in books, movies, and television, has been the passionate voice and perhaps motivation to oh-so-many songs, and a commercial catalyst for celebrity. From Game of Thrones' healthy or deadly obsession — that depends on which camp you're in — with wine to music chart toppers ("Red, Red, Wine" by Neil Diamond, "Champagne Supernova" by Oasis), there is a pervasive presence of the boozy grape in the conversation of pop culture. We are all drunk on wine.
It all began, really, in Homer's timeless and tireless epics, the Iliad and the Odyssey. Homer wrote about "a wine-dark sea," and ever since there has been an outpouring of references, and critics have mused meaning. The 1920s and '30s gave way to a flood of wine: we all know what happens in A Moveable Feast when the Lost Generation gets their hands on a bottle or five. Ernest Hemingway and his contemporaries F. Scott Fitzgerald and Gertrude Stein were never timid about their love of the drink. Fitzgerald's The Beautiful and the Damned — and any of his books or short stories — reflected on this:
"Wine gave a sort of gallantry to their own failure."
And even children's author Roald Dahl offered a scathing review of wine snobbery in his for-adults short story "Taste":
"He organized dinners where sumptuous dishes and rare wines were served. He refused to smoke for fear of harming his palate, and when discussing a wine, he had a curious, rather droll habit of referring to it as though it were a living being. 'A prudent wine,' he would say, 'rather diffident and evasive, but quite prudent.' Or, 'a good-humored wine, benevolent and cheerful—slightly obscene, perhaps, but nonetheless good humored.'"
More than references or accompaniments, in these works and others, wine becomes a key theme and even character. There is Maigret and the Wine Merchant by Georges Simenon, set in Paris, following the fallout of a wine merchant's murder after he is killed leaving a bordello. In mystery A Long Finish by Michael Dibdin, a detective investigages another muder, this one in Northern Italy. The Debt to Pleasure by John Lanchester employs a serial killer whos other obsession is wine. And the popular Sideways featuring Paul Giamatti, Thomas Haden Church, and most importantly Napa Valley, which was originally written as an ultimately unsuccessful book manuscript by Rex Pickett. The movie would eventually be made and while embraced by the wine community to much critical acclaim, it was its own criticisms of Merlot that possibly had the most direct impact on wine. A critical opinion of the Merlot grape by protagonist and writer Miles transcended the screen and greatly affected the US wine market.
[TIPSY TUNES: THE 10 WINE SONGS YOU NEED TO BE LISTENING TO RIGHT NOW]

Sideways was not the only movie to have a widereaching impact, either. Many movies involve wine in significant manners that weigh heavily in the narrative's progression. This is, perhaps, expected — wine resonates, affects, and speaks in a way that mere words or establishing shots and close-ups cannot, from the process of winemaking and the history of the land to the personalities involved. It's a substory and point of interest, however much it is layered into the monologue. And there is a diversity to wine that offers a variety of color for a variety of movies. Bottle Shock provided an entertaining take on the famed Paris Wine Tasting of 1976. In this movie, event organizer and wine snob Steven Spurrier travels through California in search of quality U.S. wine. The actual real-life event effectively introduced American wines as worthy of the international and then-supposed more refined palates. A Good Year and French Kiss return to wine's venerable roots across the Atlantic ocean, one focusing on Provence as a backdrop, the other, Paris. In Casablanca, Rick Blaine drinks only Champagne and brandy at his gin joint, the eponymous Rick's. And Michael Corleone drank Bardolino at his son's communion party in The Godfather: Part II. James Bond, a bottle of Chateau Angelus Saint-Emilion in Casino Royale. And for Hannibal? No less than a bottle of Clos Sainte Hune Alsace Riesling.
And it isn't only fictional narratives that have represented wine in cinema. Mondovino arrived in 2004 and is a documentary about the tensions between commercialism and traditionalism. Narrator Jonathan Nossiter claims that standardizing the taste of wine takes away from traditional terroir-based, small production wine made by peasants, effectively arguing against the role of supposed wine experts, specifically wine critic Robert M. Parker and winemaker Michel Rolland. More recently, there is Somm and Red Obsession. The 2012 documentary Somm saw a handful of wine experts strive for the ability to call themselves Master Sommeliers, a process that is arduous and isolating. But the movie itself appealed to a broad range of wine enthusiasts, intrigued by the story. The 2013 documentary Red Obsession sheds light on China's ascension to wine superpower. In slight contrast, there is Corked, a 2009 mockumentary of California's hallowed coast.
Whether fictional, documentary, or even mockumentary, there is an obvious interest, and people are capitalizing. These days, the boozy grapes' reach extends out of the frame and off the page, into the wine aisle at your local liquor shop. An association to a high-end wine has a way of extending one's branding to a respectable height that transcends "celebrity." However, it isn't always about high-end wine. As wine does what it can to have greater mass appeal, unlikely brands are having a go at winemaking. How? By partnering with Celebrity Cellars. Barbara Streisand, the Rolling Stones, and Madonna all endorse bottles through the company. There are those who go even further, investing in vineyards. Francis Ford Coppola has been making wine since 1975, and has been an integral part of Napa Valley's growth as a region of respect. His daughter, director Sofia Coppola, also makes wine. Quaterback Joe Montana is involved with Beringer, and Jack Niklaus, Greg Norman, and Annika Sorenstam are among a plethora of golfers who have a label. French actor Gerard Depardieu has done so in Europe, Northern Africa, and South America. Brad Pitt, Dan Aykroyd, and Sting crush grapes. Downton Abbey and Fifty Shades of Grey are produced by Wines That Rock founder Ron Roy. (Wine That Rocks has a very successful "Forty Licks" Merlot, in honor of the Rolling Stones.) Duck Dynasty and Star Trek also have wines.
In turn, celebrities have influenced existing brands as well. Jay-Z with his boycott of Cristal and subsequent endorsement of Ace of Spades. Marilyn Monroe was a well-known and documented lover of Champagne, and whatever she was drinking, her adoring public was attempting to drink as well.
Quite frankly, we're all drunk on wine. And that's a good thing. Wine is a good thing. From movies and books to music and celebrity, the boozy grapes are ever-present in pop culture. Here's lifting a glass to hoping they continue to be.