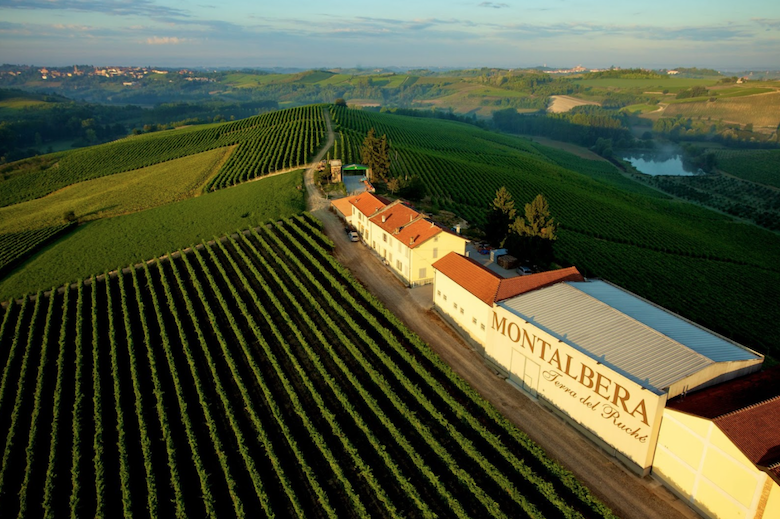 Ruchè (pronounced /ru kei/ roo-kay in English), is a lesser-known, dark-skinned red wine grape primarily grown in Piedmont, Italy. The origin of the Ruchè grape is still uncertain. One theory claims that Ruchè is indigenous to the town of Asti. Some say it has Burgundian roots. Ruchè has been grown in the area for more than one hundred years but it was not until the late 20th century that Ruchè wine has been marketed and consumed outside of Italy.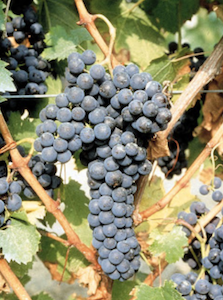 When Ruchè grapes reach their ripeness, the sugar content in the grapes is very high therefore Ruchè wine is usually high in alcohol at around 15% to 16 % ABV. In addition, when fermented naturally, Ruchè wine is somewhat sweet. Due to lack of knowledge, resources or interest, local winemakers tend to make sweet Ruchè in small production and drink it on special occasions.
In 1964, a local pastor named Giacomo Cauda with a passion for trying to improve the region's economy discovered that by using selected yeasts, sweet Ruchè wine can be vinified to a balanced, dry red with medium body characterized by floral aromas on the nose, good acidity and some structure. After dry Ruchè wine had been produced, it became a new red wine that paired very well with the local cuisine of Piedmont. More recently, a few young producers have returned to the region, bringing with them their knowledge of modern oenology and an eagerness to use what they have learned elsewhere to make Ruchè a better and more approachable wine.
Wine Region: Ruchè di Castagnole Monferrato
There are seven communes in the Province of Asti producing Ruchè: Castagnole Monferrato, Grana, Montemagno, Portacomaro, Refrancore, Scurzolengo and Viarigi. Only 125 acres (50 hectares) of Ruchè grapes are planted in these towns, therefore the production is limited. Ruchè di Castagnole Monferrato was awarded DOG distinction in 1987 and achieved DOCG status in 2010. Labeling Ruchè di Castagnole Monferrato, the wine has to be at least 90% of Ruchè plus maximum 10% combined of Barbera and Brachetto according to the wine law.
Ruchè wine is characterized by its distinguished floral aromas with rose, violet or geranium and red berry and plum fruit notes. It is light to medium body with elevated acidity and tannin. Locals often enjoy Ruchè as an aperitif but drink it with meals as well. For food pairings, try some regional dishes such as tartrà Piemontese, an egg tart cooked with onion and truffles, a classic antipasti to start. Stuffed fried zucchini blossom is another great dish. For secondi, tonno di coniglio, the marinated rabbit tuna-in-a-can-style, probably isn't easy to find in the States but a great regional meal you must try if spotted on a restaurant menu. Piedmont is known for having some of the best rice in Europe and fantastic mushroom dishes. Mushroom risotto is a must-have to pair with Ruchè. Another great choice would be chicken cacciatore.
Producer Profile: The Montalbera Winery
The Montalbera Winery, located in the township of Grana, Castagnole Monferrato and Montemagno in Piedmont, was founded in mid-1980 by the Morando family. Originally from Langhe, the founder Enrico Riccardo Morando had 15 hectares planted with Moscato d'Asti when he started the business. Since then, the Morando family has continued to expand their property by planting native grapevines, mostly Ruchè along with Barbera d'Asti, Moscato, and Grignolino. The Morando family is passionate about bringing the indigenous grapes of the region back to life and they have dedicated themselves to growing native varieties for generations. Because of that, Montalbera is considered one of the great wineries of Piedmont. In addition, what differentiates the Montalbera Winery from other producers in Piedmont is the landholdings sit on the hillsides of Monferrato and Langhe, giving the vines different sun exposures as well as a unique microclimate. The soils at the winery vary from clay to limestone.
Motalbera's winemaking philosophy is to consider the fruit as the center of the wine and the key element to making a great wine. Each wine is treated in different ways according to the specific attributes of the grapes, their ripeness and in which vineyards they are grown. The vinification style is modified in order to bring out the ideal personality of each variety.
Vineyards in Castagnole Monferrato, Monferrato, Piedmont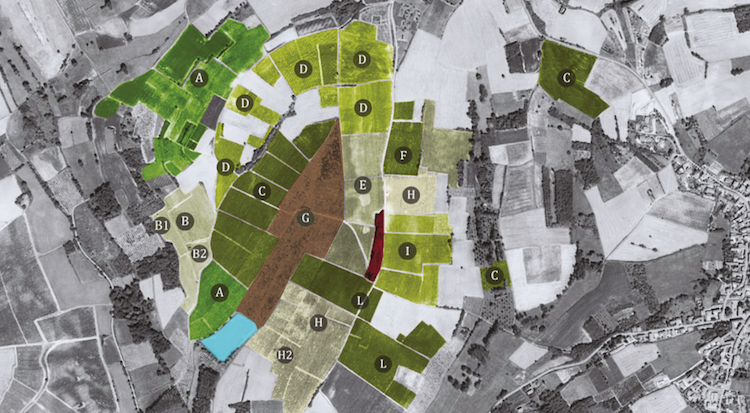 A – CALYPSOS Vino bianco
B – SOLO ACCIAIO Barbera d'Asti DOCG
B1 – LA BRIOSA Barbera del Monferrato DOC
B1-B2 – CUVÉE BLANCHE Spumante extra-dry
C – LA TRADIZIONE Ruchè di Castagnole Monferrato DOCG
D – LACCENTO Ruchè di Castagnole Monferrato DOCG
D – LACCENTO Passito di Ruchè
D – GRAPPA DI RUCHÈ
E – LIMPRONTA Ruchè di Castagnole Monferrato DOCG
F – GRIGNÈ Grignolino d'Asti DOC
H – LEQUILIBRIO Barbera d'Asti DOCG
H2 – NUDA Barbera d'Asti DOCG Superiore
I – VEGAN Ruchè di Castagnole Monferrato DOCG
L – CUVÉE ROSÉ Spumante Brut
Six entire hills are covered by grapevines and 82 hectares are Ruchè, which make up 60% of this appellation. Other varieties planted in the vineyards are Barbera d'Asti, Grignolino and Viognier. These vines are from seven to 30 years old, trained in low Guyot trellises, and all agricultural work is done manually.
Vineyards in Castiglione Tinella, Langhe, Piedmont
A1 – SAN CARLO Moscato d'Asti DOCG
B3 – CUVÉE BLANCHE Spumante extra-dry
The Morando family started their business here in Castiglione Tinella, in the heart of Langhe. Fifteen hectares in total are planted with Moscato d'Asti. Rosso, Bianco, and Spumante wine are produced in the Montalbera Winery but Ruchè is their primary focus.
2015 Motalbera, Ruchè de Castagole Monferrato, 'La Tradizione,' Piedmont, Italy
This is a 100% Ruchè from Castagole Monferrato in Piedmont. Macerated for 10 to 12 days and matured in stainless steel tanks then bottled to settle down for at least three months before releasing. On the nose, it shows beautiful rose petal and violet floral aromas along with red and dark berry and plum fruit notes. It carries good acidity with elevated tannin and a touch of licorice, displaying harmony and warmth on the palate. Very pleasant to drink by itself but also good with semi-soft cheese or hard cheese. Tomato-based pizza, pasta or earthy mushroom risotto would also work wonderfully with this wine. What are you waiting for?