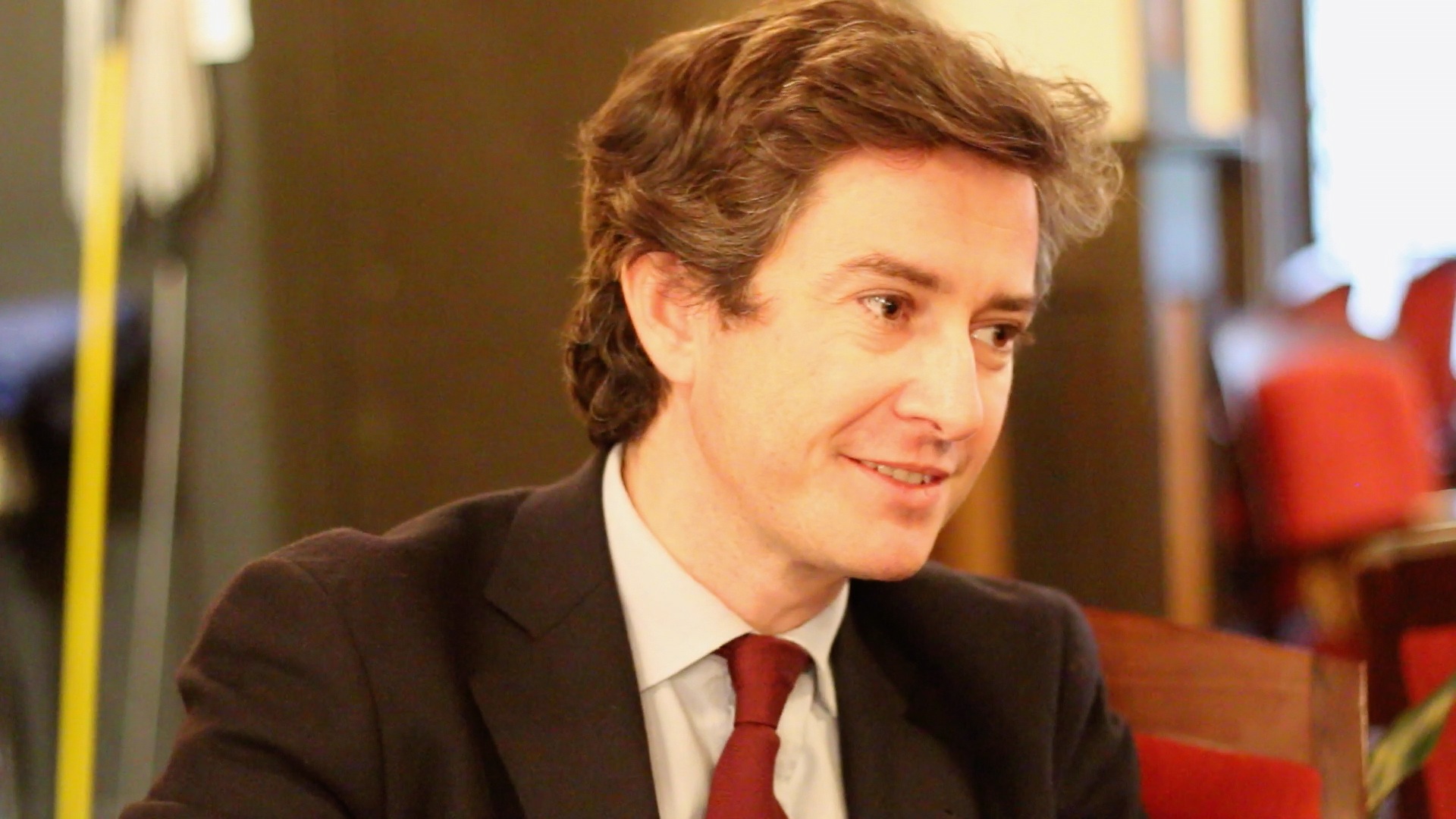 Dorothy J. Gaiter interviews Victor Urrutia, CEO of Rioja winery CVNE at Le Colonial restaurant in New York City. Urrutia is the 5th generation winemaker at CVNE. Last year his wine, the 2004 Imperial was awarded the top ranking on the Wine Spectator's Top 100 Wines of 2013, and is the first Spanish winery to achieve that honor.
Dorothy Gaiter: Now, last year, 2013, was the 25th year of Wine Spectator making its 100 Best Wines in the World List, and for the very first time a wine from Spain was at the very top of that list and it was Victor's wine. He and his sister are the fifth generation in their family to make wines there. How did that feel?
Victor Urrutia: It was fantastic. It was one of these things that you don't expect but suddenly you get a ... I was actually on a plane. I got off the plane. It was a Friday evening, Friday night after a long week, and I switched on my telephone and all these messages started popping up on it. "What's going on?"
Did you do a dance?
I was in shock. I didn't know, "What's going on? What's going on?" It was fantastic. It's one of these moments that you really have to savor. It was great, and it was unexpected because they've never given it to a Spanish winery before. Out of all the Spanish wineries, of which there's many and there's very good ones, just to be the one was just great.
It must be a wonderful vindication or validation for what you and your sister are doing.
It is, absolutely, and it's one of these things that it's sort of cast in stone for the future. It's not just what we're doing. We're not doing much at all. We're looking after what was done by our forefathers. That's really how I see my role. They decided how to make Imperial 100 years ago, and we're kind of doing it in the same style, so to speak.
So there's tradition and there's ...
It's traditional and, well by definition we're traditional because we've been around for a long time and we do things as they were done in the past. Even if we decided to be modern, I don't think we could. We are traditional, but technology and modernity, they let us do things better, and we have to embrace that. I refuse to adapt to a new technology or a new technique merely on the grounds that it's new. But if it allows us to make better wine then we go for it.
Your winery was the first to put wine in bottles, right?
Yes. We started doing that a long time ago, and that was a good thing, and there's many techniques that we have developed that would be seen or perceived as very new and they allowed us to make good wine. In the end, the wine that we make is traditional in the sense that it has to age well and it's meant to be delicate and elegant and balanced. That's how I perceive good tradition. There's bad traditions as well. For us, tradition means these things and these are the things that we strive for. Sometimes you can use technology to achieve that. It doesn't have to go against what you're doing.
Well it's wonderful. It's wonderful, and the one wine that was at the top of the list was a 2004.
2004, yes.
And that's your flagship wine, sort of?
Well, Imperial, yeah, I guess it is. It's the one closest to our heart because it's really the most traditional wine that we make. It vindicates the work that was done by my forefathers.
What makes it the most traditional?
It spends a long time in the barrel, three years plus, which is strange. You don't see that too often, but it's how we do it. We don't know how to do it otherwise. It's traditional in the sense that it comes from a certain part of Rioja which has, Rioja Alta region, which is very high. The fruit takes a long time to mature. It's very cool. It has a lot of acidity as well. Sometimes it's a wine that when drunk young, you could think it's a bit lean and a bit austere, but with time it's a beautiful wine. Again, it's a ... I wouldn't say it's an acquired taste, but it's not something that is just immediately accessible, which I think is a good thing. Sometimes some wines that are super flattering and super accessible when young, they can be sort of not very complex and not have much depth, and they can run out quite quickly. I think it's good that.
Like some people.
Like some people. Exactly. I think it's good that you have to always sort of make an effort to get to know it better, but a wine that rewards in contemplation. I think that's a good way of looking at it.
On your property one of your wineries was designed by Gustav Eiffel.
It's one of these things. The long standing joke, "How do you make a small fortune in wine? You start with a big one." I think in our case, at the beginning we were well off. We did okay. The beginning is 1879. My grandmother's grandfather and his brother, who funny enough, were married to two sisters, which I think is a very sensible way of doing things. It makes sure that things.
Just tie up all those loose ends.
Yeah. Exactly. They started the winery, and they were successful. I think they decided, "We need, now that we can, why don't we embrace technology," which it was at the time. Eiffel was revolutionary in his use of metal. "Why don't we use him to build a winery that allows us to move the barrels more frequently and better," which was the technical rationale behind the Eiffel Cellar. The good thing is, he built a building which I think is amazing and it's still there and we still use it. It's still functioning. I think they wanted to, they had the sense of, "Let's do something that will last centuries."
And it has lasted.
That's important. It's one of the things that we're very proud of to show to people, the Eiffel Cellars. Please, I encourage anybody that's listening to come and see us in Rioja Alta. The cellar is there and it's there to be viewed. In fact, we'd let it, I wouldn't say run down, but it sort of slipped the collective mind, and we'd sort of forgotten that we had this Eiffel Cellar there. We rehabilitated it, very carefully.
That must have taken a lot of time and money.
It did, but you know, it was worth it. We had to do it. But it's just, we'd forgotten about it, and this is typical of, typical of us, that we sort of don't make the effort to communicate things and don't make the effort to be in front of the people that are drinking and buying our wines. We didn't come to the U.S. in the past.
Really?
It's just ... we were just lazy. Why bother?
This is a large market, though, isn't it? Or was England ...?
We could sell everything that we produced back home, so they said, "Well, why bother?" Which is short-sighted and lazy but it's how we did things. They didn't care about selling wine too much, which is the reason, again, that we have a lot of library wines from the past that typically most people don't have.
That's great, though.
It's good. It's fantastic. It's an amazing legacy to be able to share with people, but they didn't really care about this too much. They cared about making the best wine that they could, and actually communicating that to people, that wasn't really, they didn't see that as a priority.
You do it very eloquently. There's this wonderful quote that I found in your literature, "Great wines from historic vintages sleep in bottles for decades." I love that.
Well you know, I read something from, I think it was Martin Amis, the writer. They asked him, "What do you like to read and what's good and what isn't?" And he said, "Listen. There's only one test, and that is longevity. Time is the only thing that counts." I like that, because in the end, there's fashions and there's fads, but the true test of anything, whether that's art or literature or indeed, wine, is time. If you pass the test of time, then you're probably in good shape. You can apply that to politicians, to whoever you want. History and time, that puts you in your place.
Tell me about the cemetery.
Cemetery is how we refer to where we keep the library wines. The name is the name. It's called the cemetery, but I really don't like the name. First thing is that it sounds a bit negative but also because it implies that there's death there.
Wines go there to die, right?
But it's not true because the wine is not dead. They're very much alive. I think they call it a cemetery because it's sort of niches that look like a cemetery, that's where we place the wines. But we have wines going all the way back to the 19th century. The oldest ones, I think, we have a few bottles from 1880. Those are the oldest ones that we have, and fortunately for us, because we were so, we weren't commercially astute, to put it mildly. We were just, I guess, just lazy. Wines that weren't sold were just left there, and we didn't make a huge effort to sell many of them. So we have these wines there from the past.
When somebody asks me now, this Imperial 2004, what is it going to be like in 30 years' time? I say, "Well, let's find out." And we open a bottle of Imperial 1970, 19 whatever, and see how it is. Clearly, we can't do this all the time because we haven't got that many wines, but these wines very much reflect that the winery's been in the same family for a long time, which we're very proud of, and I can go to the cemetery and take out a bottle of wine made by my grandfather and we can share it, and the wine is fantastic, hopefully. It's a great experience.
It's a great resource and a great way to connect with all the people.
But not that many people can do that, because most wineries that have been around for so long, at some point they've changed ownership, as you would expect.
That's true.
They go through troubled times or on the contrary, they're very successful and they want to sell it and make a lot of money. I think we were never too successful so we never had that temptation, fortunately.
But for five generations.
We're still there.
You know, I just hope our country can have wine making stay in families for that long.
Your wine was served at the royal wedding? (The 2004 wedding of Prince Felipe, heir apparent to the Spanish throne.)
We're very happy about that.
How did that happen?
It's another one of these flukes. They did a blind tasting, I think, of wines, and we were chosen. It was a '94 Imperial, again. It's always Imperial, for some reason. Ninety four, and we got a call from the King's Household, as it's referred to, saying, "We've chosen your wine and we'd like to buy it from you." We even sold it, amazingly.
Dorothy Gaiter: They paid you for it, too?
They paid us for it, paid top dollar, which was good. That was a super exciting time. They told us, "You're not allowed to advertise this." We said, "Fine. We won't advertise it." We don't do any advertising anyway, so that was okay. But it was good. You know why it was good, also? Because if you look at our wines, you will see our crest is the Spanish flag. It's our symbol. We're not aristocrats. We don't have a title to show off. Our symbol, our logo, our crest is the Spanish flag. It has been since the 19th century.
We were allowed to use it by the royal family back in the day, and I like it a lot, because I see ourselves as ambassadors from Spain. If I may, I like to say that Imperial is the wind from Spain. That's how I see it. We're flag bearers for Spain. Spain has terrible things, but we also have some good things, and I want people to focus on the good things and I want people to know about them. So the fact that we were chosen for the royal wedding is, we represent Spain. That's how I like to see us.
Also read Dorothy J. Gaiter's column on CVNE.