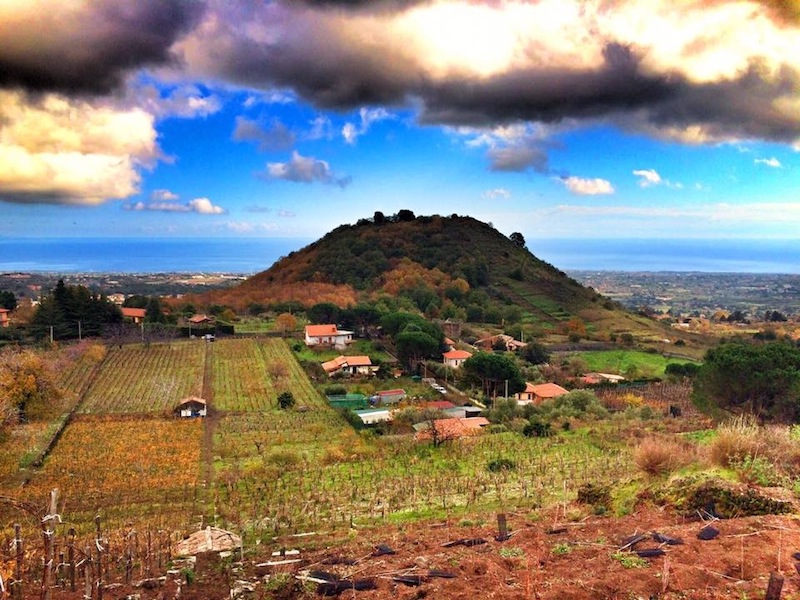 What is that feeling? That feeling that gives you a rush, fills you up with energy, and makes you reevaluate your position in the world. No, it's not espresso--it's something much more potent!
Vini Biondi says it's beauty. Beauty? How can a prissy flower make me feel better about rent that's too expensive, a long, crowded commute, shitty weather, streets that smell of dog piss, or loud neighbors practicing Zumba?
Taste Vini Biondi and you'll know how influential the power of beauty can be.
First some context. High-quality wine has been in Biondi's family since the 17th century, proven early on by his grandfather, Cirino, who won awards in Italy and abroad: Casalmonferato 1913, Paris 1914, Lyons 1914, Cuneo 1914, and Milano 1914. At that point, Biondi wine was already known for its quality throughout Europe and the United States. Enchanted by Etna wine culture, Ciro grew up crushing grapes with his feet and loving every minute spent in the vineyard just outside his childhood home. Who wouldn't, among volcanic craters of albarello-type vines with an immaculate view of coastal Catania?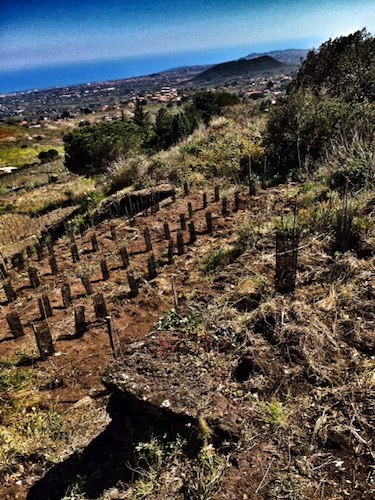 Stifled by economic woes of the post-World War II market, and devastated by the death of Grandfather Cirino in 1960, the Biondi family ceased estate bottling and started making bulk wine instead. The vineyard steadily lost face by not getting the attention it deserved, which did not sit well with Ciro, although he was occupied with university studies and a prospective future in architecture at the time. But slowly, the image of a once beautiful vineyard now abandoned creeped in and plagued Ciro's thoughts.
Incidentally, HBO's new series "The Young Pope" prompts a relevant biblical reference:
True knowledge is being struck by the arrow of Beauty that wounds man, moved by reality, "how it is Christ himself who is present and in an ineffable souls of men" (cf. ibid.).

Ciro had had enough. He couldn't bear to witness and also indirectly play a part in the disregard of his inner aspirations any longer. But sometimes in life, we need a push from someone else to regain our passions and sense of self. That "push" came in the form of love: Stef, Ciro's wife, an eloquent Brit with a soul for wine. Together, they decided to restore the pre-phylloxera vineyards and plant complementary vines in 1999.
The beauty of the vineyard is back and greater than ever before. Nowadays, the Biondis produce exquisite Cru wine from contrada Rozini and San Nicolo', focusing on native Etna varietals Nerello Mascalese, Nerello Cappuccio, Carricante, Catarratto, and Minella. Impressively, the Biondis are committed to truly expressing the terroir of Etna's eastern slope and showcasing its volcanic craters that go back 25,000 years with huge differences in soil composition. Craters on the east side of Etna offers some of the most complex whites in Italy (anywhere, really) and bring out elegant eucalyptus and floral characters in its reds.
Compliments to Ciro and Stef for achieving their mission: Biondi vines and wines are gorgeous. Their next task -- passing on sustainable production to their children and nephew.
The Wines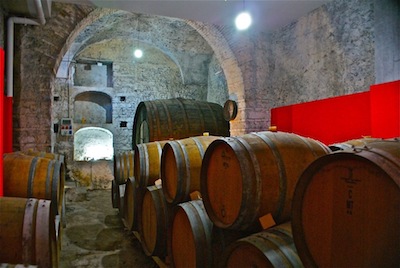 Etna Bianco Outis: With a blend of Carricante, Cataratto, and Miniella, this wine in an accessible introduction to whites on the eastern slope of Etna. Carricante's impressive lean and rich mineral qualities are moderated by 10% of Cataratto's and Miniella's exotic aromas.
Etna Rosso Outis: Nerello Mascalase and Nerello Cappuccio show up with bright freshness and a clean finish of a seasoned spice and Italian tar-i-ness. Great dark earthy goodness.
Chianta: Also a blend of Carricante, Cataratto, and Miniella, but this wine takes no prisoners! This vineyard in a thousands-of-year old crater that has been owned by the Biondis since the 1800s. Has be among the best Carricante blends on this planet.
Cisterna Fuori: Located in another ancient crater, Ciro and Stef got married in the epicenter of the vineyard in 2004. Pretty violet and rose aromas, complement lovely complexity in the glass.
San Nicolo': This vineyard used to be owned by the great aunt of Ciro and has since been redone to better reflect the beautiful 12,000-year-old soils. Incredibly rich minerals and balance by playful eucalyptus notes.
--
Grape Collective sent a series of questions to the Biondis via email: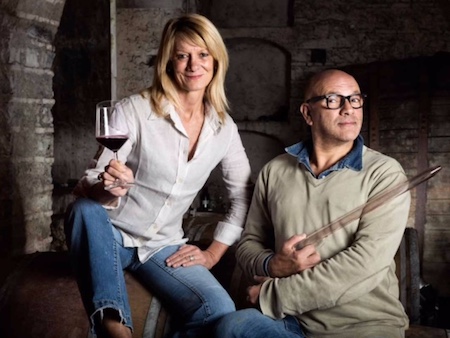 After years of stagnation, why did you decide to get into your family's tradition of winemaking?
Our objective at the beginning was to make a wine which was somewhat better than the one Ciro's father was producing at that time, in order to sell it for a little more and in turn use the income to keep the land in better shape. To witness all these beautiful abandoned vineyards was something that we couldn't bear.
What is Biondi's philosophy in winemaking?
What we are seeking to do is to put the "terroir" first, trying to 'interfere' as little as possible in the cellar and focusing on having the best fruit to harvest every year.
How has Stef's English background influenced the winery and its business?
Her approach to decision-making and bureaucracy is different in every way, being far more straightforward and simple from the Sicilian approach. However, sometimes it can make things more frustratingly complex for her, in other words we are more Byzantine, we need to talk and talk for days before making one single decision and of course one has to waste time by meeting in person as opposed to making a quick telephone call!
Please tell me about Mount Etna's terroir.
ETNA is a unique place where depending on the lava flows which have generated the soil of the vineyards, very different wines can be produced whilst using the same kind of grapes and vinification methods. Our vineyards are located on two different spent craters, San Nicolo is very old, 25,000 years, while Chianta and Cisterna Fuori lie on a couple of craters dated 125 B.C.
How is Mount Etna's southern region different from the northern part?
We don't exactly know, but the fact that on the north side there is less Nerello Cappuccio compared with the south, shows that the Nerello Mascalese there gives more structure, color and alcohol, whilst on the southeast side we need the Cappuccio to add at least more color. Furthermore, there is also more Carricante found on the south side.
What makes the culture on Mount Etna unique?
Mount ETNA!
Please tell me about your beautiful wines.
Wines for us are like children, they may be painful when young but they can make you proud after a few years in the bottle. San Nicolo (the older eruption) which is ungrafted and planted with the original root stock is very elegant, pretty, perfumed, bringing to mind Ciro's great aunt Angelina who owned the vineyard before Ciro's father inherited it. Its ''feminine" characteristics are often likened to a 'Pinot Noir' whilst Cisterna Fuori is slightly darker in color and has more structure, for those who prefer a wine that borders on a Bordeaux whilst still maintaining its elegance and acidity. Outis white and Outis red are a blend from all the vineyards. The Outis white is vinified in steel, whilst the Outis red, Cisterna Fuori and San Nicolo are fermented in innox, with about 10 days maceration then aged in secondhand barrique and tonneau barrels. The vineyard Chianta, which means 'just planted' in dialect ('chiantare' which is dialect for 'piantare') used to be a chestnut forest and was planted by Ciro's great grandfather. Our white Cru Chianta is made exclusively from the grapes from this vineyard and spends 24 hours on the skins at low temperatures (we have no temperature controlled vat, so bottles of frozen water are lowered into the juice, being changed at intervals for about 24 hours, in order to prevent the fermentation from starting). We then press, clarify and take it into the cellar into the town (Trecastagni) where it is put into barrique and tonnea where the fermentation begins. The Chianta spends about eight months in wood, whilst the Reds spend approx 14 months.
According to sources, you had a struggle with a business partner about five years ago. Could you please tell me about that and what you have learned from the experience?
The lesson we have learned is that producing wine is not a question of making money, it is not a "business" it is something more than that, it is your life.
What are the future plans for Biondi?
We aim to increase the production to a maximum of 30,000 bottles, having purchased another vineyard on san Nicolo and by restoring the remaining terraces at Cisterna Fuori, the future will lie in the hands of Manfredi our nephew, Alex our son, and Nora our daughter.