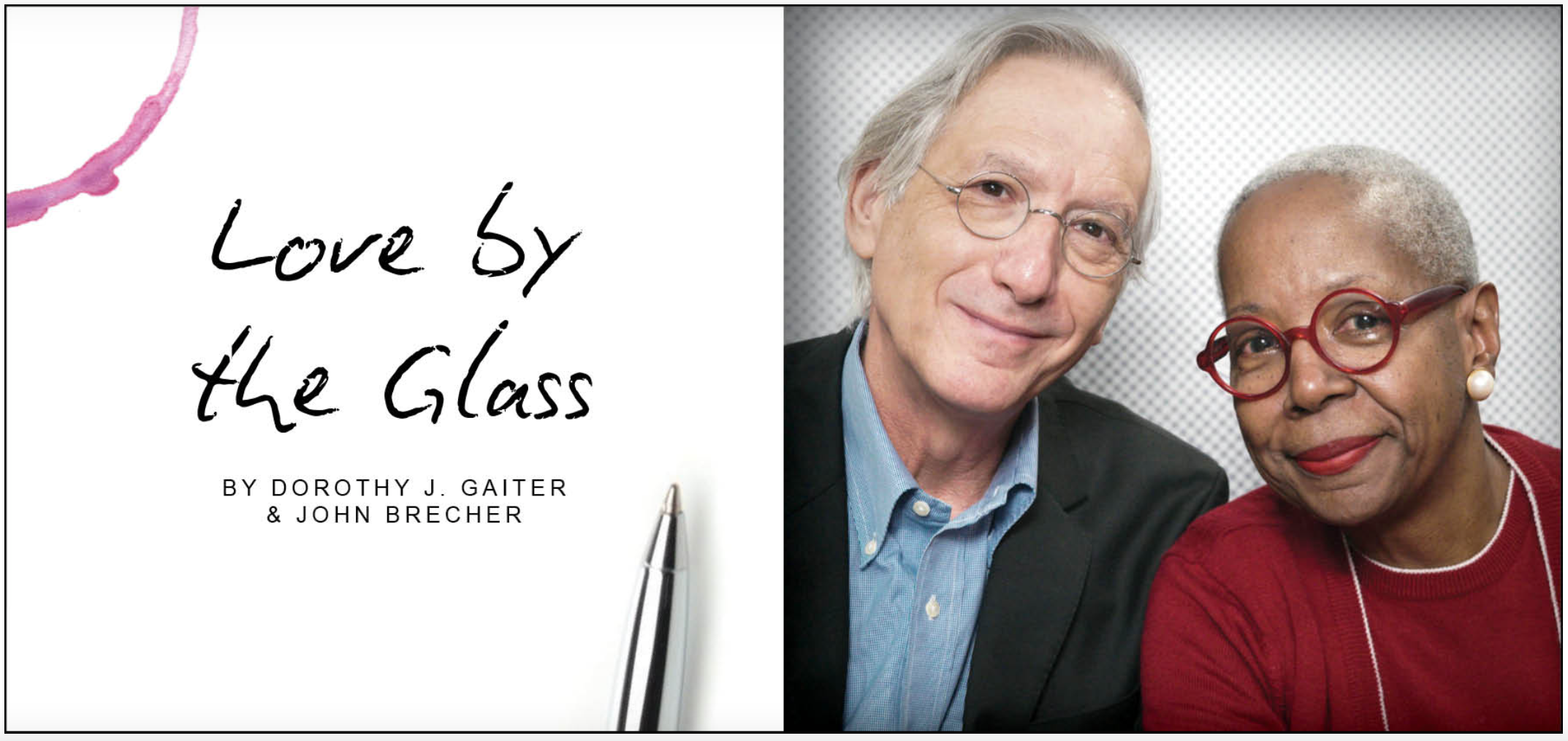 We almost didn't write this column. We were approaching a special wedding anniversary -- which ones aren't special? -- and we thought we'd return to Napa and Sonoma Wine Country to celebrate. We'd simply drive around to see the places that had sowed some of the seeds of who we've become, personally and professionally, since our first visit in 1975.
It would be time for ourselves. We'd drop into some wineries, of course, and take notes as we had done for 30 years before we became wine writers. There would be no elaborate plans. This inward focus grew after doctors helped Dottie fight off the latest bout of stuff that plagues her from time to time. And, no, these maladies are not named John.
We told only one person we were coming: Warren Winiarski, the founder of Stag's Leap Wine Cellars, whose 1973 Cabernet Sauvignon won the red-wine competition in the Judgment of Paris in 1976. Winiarski, 93, and his wife, Barbara, had been the last wine people we'd seen on our previous trip to Napa, in early March 2020, when Covid was closing the world. We were in Napa then to celebrate the donation of our papers to the Warren Winiarski Wine Writers' Collection at the University of California at Davis Library. Barbara Winiarski died this past October.
There also were a few others we hoped to see, to look into their faces again after the onset of the pandemic and wildfires and droughts. So after a couple days we called Cain Vineyard & Winery's tasting room in St. Helena and arranged to see winemaker, Chris Howell, and Katie Lazar, his wife and Cain's sales and marketing director. They had celebrated with us that March before the Glass Fire in September 2020 caused devastating destruction at Cain. Several beautiful earlier vintages had fortuitously been stored away from Spring Mountain. Tracey Skupny, who founded Lang & Reed winery with her husband, John, answered at their tasting room, adjacent to Cain's. In Sonoma, we saw Kerith Overstreet, the owner-winemaker of Brulium Wines, whose Instagram posts reveal an indefatigable spirit that should be shared. Brulium is in a custom crush facility in Windsor, Grand Cru, that houses other wineries that also have tastings there. We had planned to drive by Frick Winery in Geyserville to smile at the memory, maybe 20 years ago, of our daughters playing with Lucia, the Fricks' dog. But Bill Frick emerged from his tasting room so we parked the car and hugged him.
We hadn't realized how much seeing those people would help us exhale a bit.
We wrote last year that, because of changes made during the pandemic, tastings in Napa and Sonoma Wine Country would never be the same. We've visited many times since 1975. We honeymooned there in 1979 and visited with our daughters several times. We went once on a press trip, but otherwise we've traveled anonymously. We want our visits to be authentic and this was no different. Our intention really was to drive around and soak in our history – and celebrate our 43rd wedding anniversary. But seeing and experiencing what was new and different convinced us to write about this trip and how you might enjoy visiting now.
One thing that has not changed is that Wine Country is not diverse. Hispanics have been a major force there for years, of course, and it's clear even from a brief visit that their power and influence has grown. It's great to see. But we've never seen many Black people in Wine County, either as tourists or working at wineries, and this time was no different. This will have to change for the industry to grow and there are many efforts under way to help it move in that direction.
While Wine Country is something of a different world now, we are still going to try to answer 10 broad questions we've been asked in the past and think might still be common. First, we do need to say this: There are wineries and wine routes all over the USA now and they all are special. We would never claim to be experts on Napa and Sonoma, but here are some thoughts based on our recent trip and previous visits.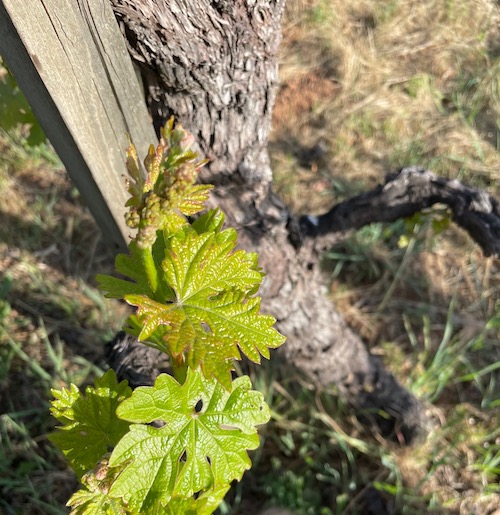 1) Just go. Seriously. If you have never been, you need to see it and if you haven't gone in a while, you need to go back. Napa envelopes you in mountains. Sonoma is more spread-out, and we love the undulating hills. We get why the vines are so happy, with the pool-friendly days and fireplace-worthy nights. Now is a good time because bud break happened and the leaves are new and green. Harvest, which is closer to fall, is a special time (and smells great). However, it's also a very busy time for wineries, which makes it less likely you can spend quality time with winemakers or members of the owner's family.
Fires devastated many areas of Napa and Sonoma in 2020. Wineries we've known for years burned down. Vineyards were lost. We saw many burned trees and, on some hills and mountains, we could still smell the smoke. This is heartbreaking.
2) Decide why you are going. Do you want to taste wines at a number of wineries or have a "tasting experience," as everyone puts it? This is a big first question. Many wineries now offer all sorts of experiences, at many prices and taking various amounts of time (websites will tell you prices and length). If that's what you want to do – it will probably include food – make plans and expect to do just one of those per day. We'd guess this would qualify as going deep as opposed to going broad. You might think you could do more than one, but our guess is that you will reconsider after the first and some places require payment up-front, so think seriously about this.
Most places now require a reservation, even for a simple tasting, and some wineries are open only a few days a week. But if you see an interesting place, call from outside and see if they can take you right then. Weekdays are likely to be less crowded.
3) But first, check the price! Thank heavens for cellphones. Tasting fees – not only for experiences, but for basic tastings – are all over the map. We found that out the hard way at the first place we went, where we just cluelessly dropped in. The least expensive option there was $50 each with a charcuterie spread served at a socially distanced pod of leather sofas. We declined the nibbles because enjoying them would take too much time. Quite a few wineries offer tastings for $20 to $30 per person, with at least one tasting fee waived with a purchase of a bottle. Some places charged up to $200. Heitz Cellar has a $1,000 per person "Vineyard to Bottle Experience."
4) Napa or Sonoma? And where in Sonoma? We'd say this has always been our most-asked question. We love the ease of Napa because everything is so close-by and it's filled with such classic names, like Robert Mondavi, the first winery we ever visited. Gillwoods in St. Helena is a must for breakfast. Sonoma is special because it's broader, with vineyards coexisting with cattle and horse ranches. At important intersections you'll see helpful signs listing clusters of nearby wineries. And, of course, Sonoma has its own great names. John actually ran by Ridge's Lytton Springs vineyards.
Sonoma is so large that it's best to decide where in Sonoma you want to be. The area around Sonoma Plaza is lively, with many tasting rooms and a vibrant scene. We have a soft spot for the Dry Creek region, which is relaxed but requires more driving. Sonoma Plaza has The Girl and the Fig (which is delicious) and Dry Creek has Big John's Market (which is wonderful for takeout).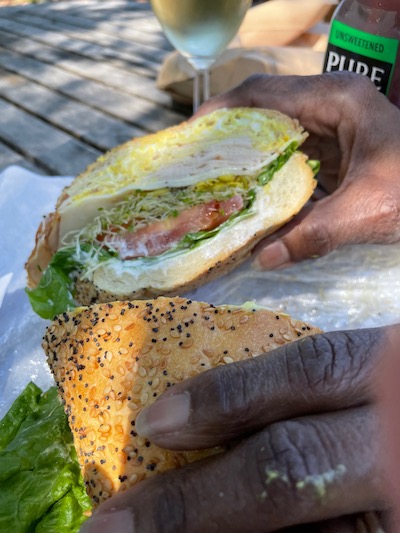 5) This doesn't have to be expensive. We'd guess some people are scared off because Wine County, and especially Napa, seem to be pricey. They have some world-class spas, after all. In the 1970s, we stayed at a creaky old place that actually had skeleton keys called the Sonoma Mission Inn. It's now the chic, expensive Fairmont Sonoma Mission Inn & Spa. But thanks to the Internet and Airbnb, you can keep costs way down. And while there are outstanding, fancy restaurants, we also found a number of excellent sandwich shops (is mayo and mustard on every sandwich, even for breakfast, a thing in California?) and reasonable neighborhood dinner spots. (That sandwich in the picture is from W F Giugni & Son Grocery Co. in St. Helena and it has the famous Giugni Juice on it.)
One sunny day, we got sandwiches in St. Helena and ate them on a bench on the edge of Lake Hennessey. We had a wine we'd bought at the winery (John just had a sip, along with A&W Root Beer, since he was driving back down the mountain). There was a boat with two fishermen, a few kayakers and us. No restaurant could have matched that.
Many restaurants have reasonable BYOB policies. Corkage is usually on a restaurant's website, but call if you don't see it. As always, you should take a bottle that's special in some way (maybe the best you tasted that day); it's a nice gesture to also get something from the restaurant's by-the-glass list; and tip generously if you BYOB.
6) Visit smaller wineries. We have nothing against large wineries, but your chances to meet a winemaker or family member are better at smaller places. We visited some that were new to us. In some cases we called from outside to see if we could come in; in others, we went in and said we didn't have a reservation and understood if they couldn't host us. But they did. That's how we met the owner-winemaker at Laura Michael Wines in Calistoga. Actually, we met winemaker Laura and her husband, Michael, who are in their second marriage to each other. (We then took their Pinot to Market restaurant, where we shared it with the table next to us, after having a glass of Salvestrin Sauvignon Blanc.) And as we were tasting the wines at Saini Vineyards in Healdsburg, Mike Saini, the fourth-generation grapegrower who oversees wine production, came in to cool off for a minute and then, glowing, pointed to his vineyards to explain what was what. They had no idea who we were, except people who were enthusiastic, and that was good enough. We would say, overall, that this kind of experience may be more common in Sonoma than Napa, which can be so busy with tourists.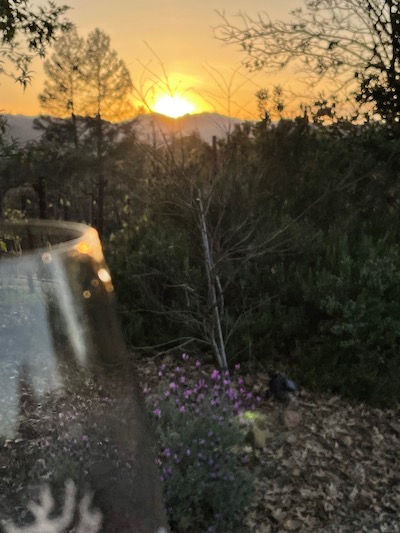 7) Focus on the unusual stuff – this is your moment! Our first night in Napa, after a long day of travel, we went to Goose & Gander, which was open late and, boom, it had Corazón Anderson Valley Gewürztraminer from the great Cathy Corison. Even more than the plane, this transported us to Wine Country because we knew we would rarely see it at home (and it was delicious, of course). The next night at Mustards Grill, we had a Falanghina, an ancient Italian white grape, from Clime Wines in El Dorado, an AVA in the Sierra Foothills, which was new to us.
8) Watch your consumption. Tourists who drink too much wine have always been a problem in Wine Country and, to be honest, we were surprised that at most wineries we visited, we had to request a spit bucket. At one place, we were teased about "being responsible." There should be a way to pour out a glass after a small taste, and you should never be embarrassed to do that. People who aren't used to trying multiple wines in a short time, especially during the daytime, can have too much alcohol before they know it. And even if they're not driving, people who have too much wine can be loud and disruptive and no one wants to be around that type of behavior.
It occurred to us that perhaps the lengthy, high-end experiences might unintentionally contribute to some people overindulging. If folks are paying real money for, say, six sizeable tastes in an experience with lots of time, they might be likely to drink all of what's poured. So be sure to eat before you taste and keep hydrated. Water is your friend.
9) Be careful with wine clubs. Pretty much every winery will try to sign you up. It might seem like a good idea at the time. But you really need to think about whether you want to commit to a long-term relationship and under these circumstances – lovely people, a little wine, great surroundings – it's hard to decline, but think long and hard before you say yes.
10) But that said, don't forget: These are mostly small-business people. Many are farmers. It's always tough to make a living as a winemaker – especially a winemaker who makes good, thoughtful wine – and the past two years have been hell for them, as well as for the businesses they work with, like restaurants. Your support matters. And, for heaven's sake, don't say you want a discount because you are "in the industry."
Our most important piece of advice would be: Don't over-plan. Just relax and drink in your surroundings – in this case, literally as well as figuratively. Happy travels.
Dorothy J. Gaiter and John Brecher conceived and wrote The Wall Street Journal's wine column, "Tastings," from 1998 to 2010. Dorothy and John have been tasting and studying wine since 1973. In 2020, the University of California at Davis added their papers to the Warren Winiarski Wine Writers Collection in its library, which also includes the work of Hugh Johnson and Jancis Robinson. Dottie has had a distinguished career in journalism as a reporter, editor, columnist and editorial writer at The Miami Herald, The New York Times, and at The Journal. John was Page One Editor of The Journal, City Editor of The Miami Herald and a senior editor at Bloomberg News. They are well-known from their books and many television appearances, especially on Martha Stewart's show, and as the creators of the annual, international "Open That Bottle Night" celebration of wine and friendship. The first bottle they shared was André Cold Duck. They have two daughters.
Banner by Piers Parlett