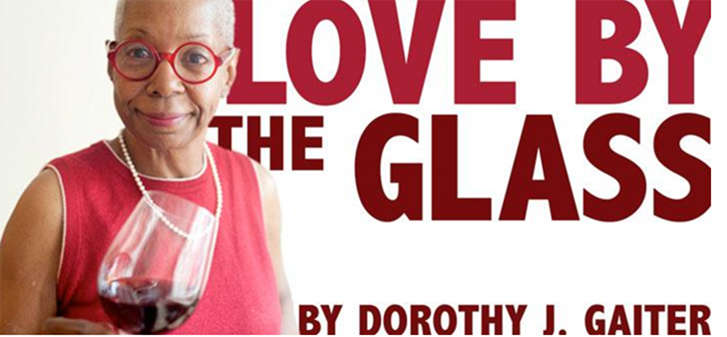 With fires sweeping across Northern California and its famous wine regions, we are in the throes of yet another disaster, the scope of which we won't know for perhaps weeks. As I write this, at least 29 people have died in Napa, Sonoma, Mendocino and Yuba counties. That number is expected to grow as several hundred more have been reported missing. Aided by fast-moving and shifting winds magnifying the chaos, the 22 fires have consumed about 4,000 homes, businesses and other structures, forcing the evacuation of more than 20,000 residents. Almost 200,000 acres have been charred, altogether an area larger than the city of Chicago. Entire neighborhoods in Santa Rosa, the county seat of Sonoma County, are ashes.
The plight of thousands who have survived, in some cases with only the clothes on their backs, cannot be overstated. Nor can the dedication of the firefighters and other first responders, official and neighborly. Although the fires began on Sunday, shifting winds, sometimes at 75 miles per hour, caused more mandatory evacuations of 2,000 people in the resort town of Calistoga in northern Napa and Geyserville in Sonoma County as recently as Wednesday, Oct. 11. The situation remains highly dangerous.
People who work and live in Sonoma, where most of the fires have broken out, and Napa are reeling, with electricity still out in many areas, communication spotty, the air thick and acrid and shelters swelling with people, more than 4,000 as of early Thursday, Oct. 12. Here on the East Coast, safe at the moment even from hurricanes, it's hard to take in this catastrophe.
"It's out of our hands," Jeff Smith of Hourglass Winery wrote me in an email on Wednesday. Smith, a Napa native, owns the 10,000-case estate winery with a vineyard in Calistoga on Dutch Henry Road and one in St. Helena on Lodi Lane, with his wife, Carolyn. "The two Hourglass vineyards are situated between three independent fire fronts from two to 10 miles apart. The situation is very fluid and completely dependent on weather conditions.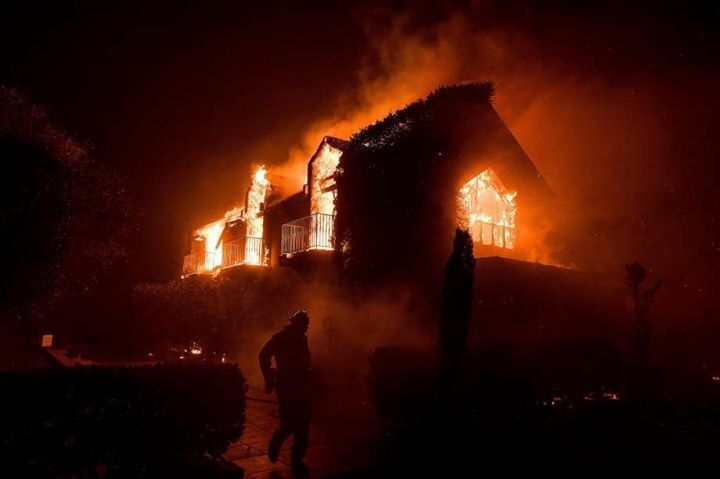 (Signorello Estate photo by Charlotte Milan, of C. Milan Communications)
"We evacuated my 92-year old mother's home [for the aged] in Calistoga Monday and moved 13 elderly residents to the house at Hourglass, where they are currently out of harm's way," Smith wrote.
How are you coping? I asked him.
"We are not really in coping mode as the situation remains out of control. Most everyone is focused on damage control, or evacuation," he wrote me. "As heroic as it might seem to hold your ground, my recommendation to friends is to heed the evacuation warnings. This is a very dangerous fire. With winds picking up, spot fires will become a dangerous and unpredictable element." In 1975, Smith's parents built the Wine Country Inn on Lodi Lane in St. Helena, where, a few years later, John and I spent part of our honeymoon. The Smiths sold it last year.
California is the fourth-largest wine producer in the world and every year, it produces around $15.2 billion in taxes, according to the Wine Institute, which promotes the industry. It is a significant source of income for a huge swath of people, from vineyard workers to sommeliers to people who work in wine stores selling wine to people like us who love wine.
Karen McNeil, author of The Wine Bible and chairman of the Rudd Center for Professional Wine Studies at the Culinary Institute of America at Greystone in St. Helena, wrote in her newsletter, WineSpeed: "We've decided to evacuate both because the air is so thick with gray smoke that it's almost impossible to breathe, and because we fear that Highway 29 south (the only route out) may soon be closed."
S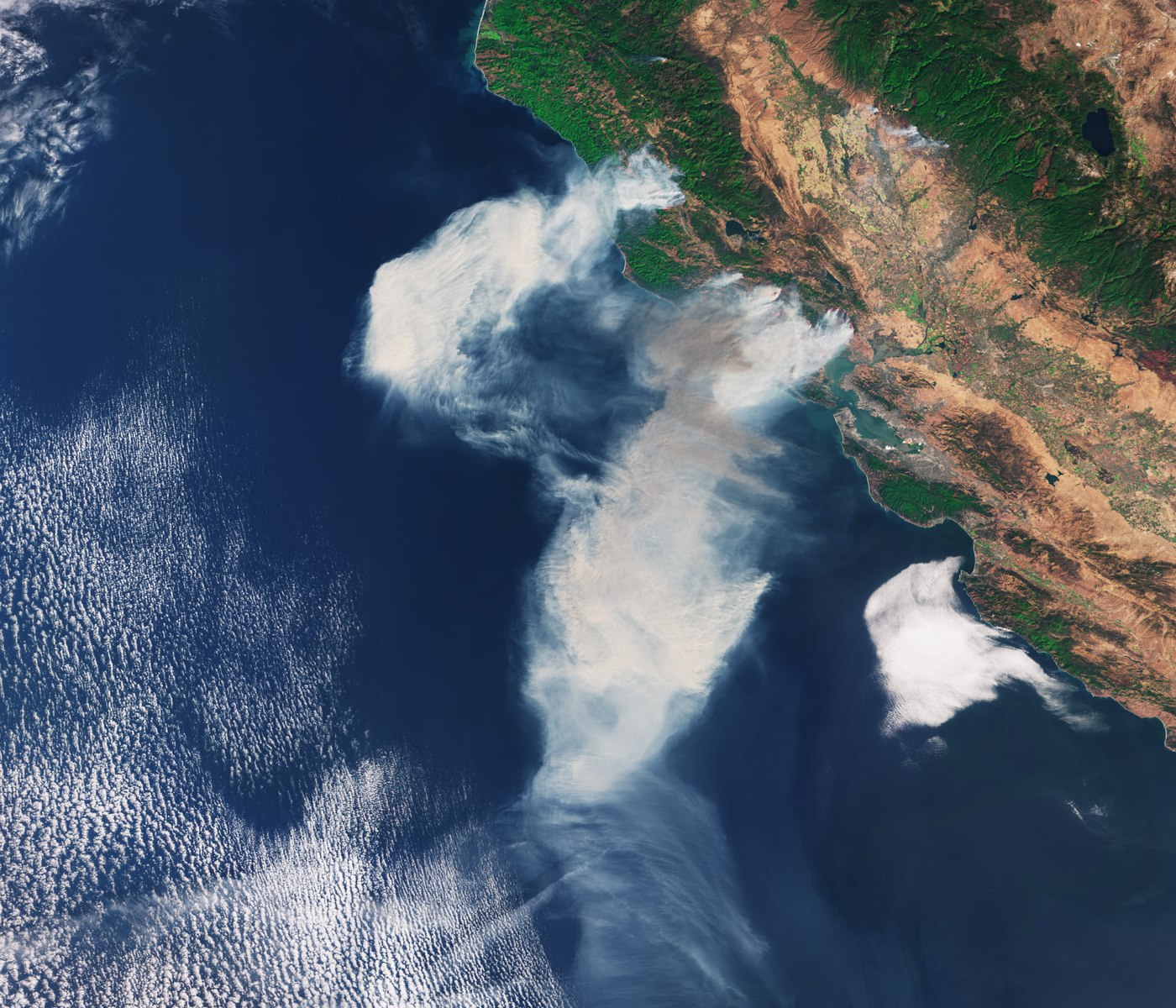 he also wrote, "This morning I saw the Chappellet family who report that they are now digging trenches around the winery to save it."
(The Copernicus Sentinel-3A satellite captured this image of smoke from wildfires in the US state of California on 9 October 2017. Wildfires broke out in parts of the state on 8 October 2017 around Napa Valley, and the smoke was spread by strong northeasterly winds.)
We had just heard from the Chappellet family last week, as they're planning to celebrate the 50th anniversary of the St. Helena winery.
Some of the destroyed and damaged structures are or were wineries and wine-country hotels, places where I have spent time with my family. Paradise Ridge Winery, in Santa Rosa in Sonoma's Russian River Valley, is gone. When the kids were young and we were desperate to entertain them while we tasted wine, we had dropped into Paradise Ridge to take in its outdoor sculpture gallery, with works that the kids could touch and climb on. It was founded in 1978 by Walter and Marijke Byck, who moved to Santa Rosa from Holland in 1965. A statement on the winery's homepage says that while the winery is "broken," the estate vineyard survived. "Our thoughts are with the many who have lost so much and we count our blessings that our family and team are safe. We are resilient and we will rebuild."
Also gone is White Rock Vineyards. In The Grape Collective's first months, founder and publisher Christopher Barnes interviewed Christopher Vandendriessche, winemaker and owner, with his brother, Michael, of White Rock Vineyards in Napa, at the base of the Stag's Leap mountain range. In 1977, Christopher's French father, Henri Vandendriessche, and his mother, Claire, from Napa Valley, purchased and restored a winery built in the 1870s and renamed it White Rock Vineyards. It was located west of Soda Canyon Road, which was hit hard.
Frey Vineyards, which billed itself as "America's first organic and Biodynamic winery, producing award-winning vegan, gluten free wines with no added sulfites since 1980," was a long-time favorite of ours. It is gone, too. When we wrote The Wall Street Journal's column, "Tastings," it frequently did well in our blind tastings. Frey, which was a third-generation family-owned and operated winery in Redwood Valley, Mendocino County, was founded by New York physicians Paul Sr. and Beba Frey. They had 12 children, who they raised on the farm where they grew grapes beginning in the 1960s. In 1980, the family founded the winery, which in 1996 they converted to biodynamic growing, certified Demeter. "Due to the fire emergency, we are suspending orders for now," reads a statement on its website, adding that they're all safe.
The Mercury News's latest list of wineries damaged or destroyed, as of Oct. 11.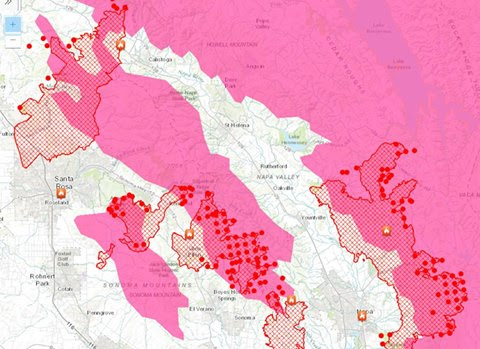 (Fire service image: The large pink areas simply mean areas under risk of fire in these conditions. The fire at the upper-left is the "Tubbs Fire", which actually started in lower Calistoga and destroyed so many homes in Santa Rosa.)
People I know have been hard to contact. Some of them and others who I only know by reputation have taken to Facebook to post that they are OK. I reached out to John Skupny, who founded Lang & Reed Winery in St. Helena in 1996 with his wife, Tracey. We're huge fans of their Cabernet Franc and Chenin Blanc. He posted this on Facebook:
"Wednesday AM - day three - things are still very volatile. Tracey, Megan and the kidz evacuated this morning, to clean air up at Jerzy & Rita's in Philo. I'm holding out for an evacuation notice (still making wine - all of our grapes are in as of last Thursday but the winery just got power so back to pump-overs). Reed is at Venge making wine with grapes still coming in. Kate & Bob are in a very safe place in Napa. Alex is in Tucson, at school. We all have full power for the time being. We have plenty of paper towels but good vibes are welcome!"
Jill Klein Matthiasson is co-owner and co-winemaker with her husband, Steve, of Matthiasson Wines in Napa. They craft sought-after wines from grapes they farm on seven vineyards in Napa and Sonoma and posted this Wednesday: "We are safe but the winds are shifting and tonight is going to be another bad night. We really appreciate the offers of support and help.
"The fires have been terrible for our economy in the Napa Valley and Sonoma County. Grapes still need to be harvested but the air quality is so bad that folks don't want the workers working outside. Grapes aren't being crushed. Many vineyard and winery workers have been evacuated and are living in shelters, so that means that they aren't getting paid," Klein Matthiasson wrote.
"This is our busiest season for tourism and everyone is cancelling trips, air quality is bad and our infrastructure is challenged so this is understandable. But hotels, restaurants, and wineries are losing tons of business."
Some well-known wineries were threatened by the fires but survived. I spoke to Megghen Driscol, communications leader for Terlato, who was on the ground, surveying the company's Chimney Rock Winery, in the Stag's Leap District on the Silverado Trail in Napa.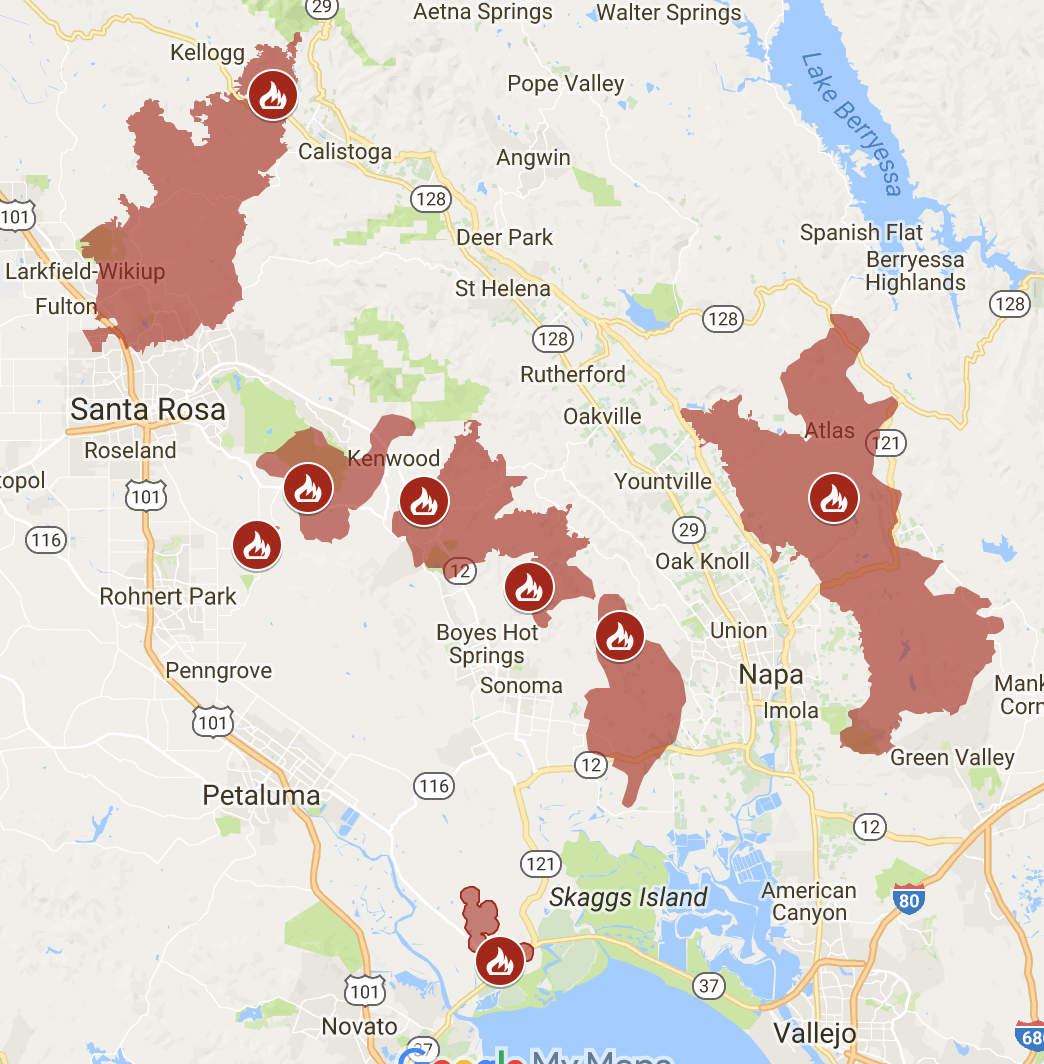 (Fire map via http://calfire.ca.gov/)
"I'm not proud to say this because we probably broke the law, but we were not allowed to drive down the Silverado Trail so we hiked four miles in to look at the winery," Driscol told me on Wednesday. "There were entire hillsides that were charred, but we didn't see one vineyard that had burned down. The fire came right up to the vineyard. It must have been the moisture in the ground and in the vines. But it stopped. It was the craziest thing I'd ever seen.
"I was really surprised that a lot of houses that were surrounded by vineyards, you'd see the whole hillside burned but the houses would be intact," Driscol continued. "And houses that didn't have vineyards surrounding them were completely burned down."
The crew at Chimney Rock was harvesting grapes near midnight on Sunday when they saw fire "coming over the hills," Driscol told me. "Our safe practice is to evacuate so that's what they did. They thought the fire would just be on the ridge but it came down to the valley floor."
Rutherford Hill Winery, in Napa, which Terlato also owns, lost power for a time. "During harvest when fermenting, to lose power, it's not ideal but we had generators. We are incredibly lucky, Discoll said."
Kimberly Noelle Charles, of Charles Communications, a marketing and development company, lives in San Francisco. Her firm has represented, among other types of businesses, wineries for 30 years. She was coming home Sunday night around midnight from a Depeche Mode concert in San Jose when she learned of the fire. "I smelled smoke and saw ashes blowing in front of my car," she told me Wednesday. "I thought at first that it was leaves that had become detached. But I checked my social feeds.
"I just stayed up through the night to monitor it. I emailed clients at 1 in the morning to be assured of their safety," Charles continued, "and most got back to me before 5 a.m."
Charles's agency established a GoFundMe campaign, to raise $50,000 to help those in need and is networking with others to get help to them.
Susan Kostrzewa, executive editor of Wine Enthusiast magazine, helped publicized the campaign, Charles said, and put her in contact with Costco. Annette Alvarez-Peters, who heads Costco's alcohol beverage division, donated $2,000 worth of food, Charles said. Target discounted goods that people need, like sleeping bags, cots, water, baby clothes and diapers. Charles's boyfriend is a musician who owns a moving company, Killian's Fine Furniture Delivery. His crew and one of its trucks delivered its first load of goods to the Mentor Me at the Cavanagh Recreation Center in Petaluma, which she said was sheltering 500 evacuees. So far, she's raised $18,000 "in goods and cash," she told me. "Thanksgiving is coming and many people who have lost homes will need groceries and other goods."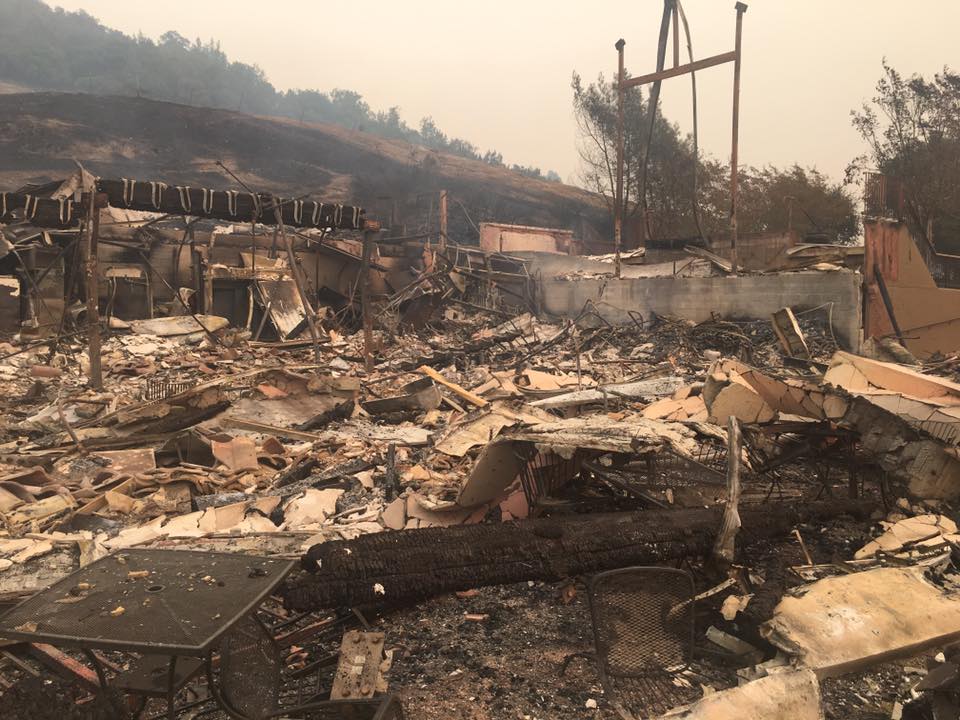 Paradise Ridge Winery via their Facebook page.
Charles and Joshua Greene, editor and publisher of Wine & Spirits magazine, put together a silent auction of wines at the magazine's Top 100 gala in San Francisco Tuesday night to benefit victims of the fires.
"Overall, we received commitments for $4,100 in donations to fire disaster relief. We will be following up with winning bidders and shepherding their donation commitments to relief groups," Greene wrote me in an email. Some of the wines were donated by JJ Buckley Fine Wines, an online store in Oakland, and from Charles's clients Gallica, Crocker & Starr, Parallel, Emeritus, and former client, Arista.
Charles also told me that Airbnb was seeking homes to house evacuees and connecting evacuees with free lodging through October 31.
Trade groups for winemakers and winegrowers in Napa and Sonoma report that by the time the fires began on Sunday, 90% of the grapes had been harvested. The Napa Valley Vintners association reports that what's left is almost entirely Cabernet Sauvignon and that its thick skin would serve it well right now. The Sonoma County Winegrowers president, Karissa Kruse, reported that, "In fact, some Chardonnay, likely the last to be picked in Sonoma County this year, was harvested [Wednesday] morning in the Russian River Valley." A majority of the grape growers and winemakers in each region are family-owned, according to those two trade groups.
To help fire victims, the Napa Valley Vintners has reactivated the Napa Valley Community Disaster Relief Fund, which it established in 2014 following an earthquake.
Klein Matthiasson also suggests that consumers help this way: "The other thing that would REALLY help all of us, if you're far away, is to BUY NAPA AND SONOMA wines at restaurants, wines shops, and through your favorite winery websites."
Smith, of Hourglass Winery, had this to say:
"Moving forward, you can't bring back what is lost. But you can contemplate why. It's impossible to be a farmer and not be clued in to climate change. Hurricanes, fires, it's all related. Is this a pivot moment for our current administration? I certainly hope so!"
Dorothy J. Gaiter conceived and wrote The Wall Street Journal's wine column, "Tastings," from 1998 to 2010 with her husband, John Brecher. She has been tasting and studying wine since 1973. She has had a distinguished career in journalism as a reporter, editor, columnist and editorial writer at The Miami Herald and The New York Times as well as at The Journal. Dottie and John are well-known from their many television appearances, especially on Martha Stewart's show, and as the creators of the annual "Open That Bottle Night" celebration of wine and friendship. The first bottle they shared was André Cold Duck.
Read more of Dorothy J. Gaiter on Grape Collective.