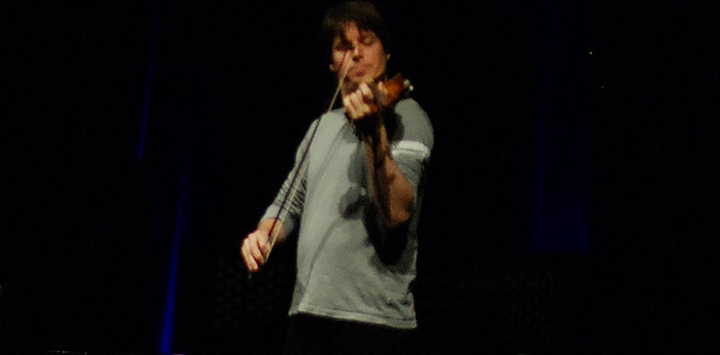 On January 12, 2007, one of the world's greatest violin players set up shop in the L'Enfant Plaza Metro station in Washington, D.C. Wearing jeans, a long-sleeved T-shirt, and a Washington Nationals baseball cap, 39-year-old Joshua Bell pulled out his instrument -- handcrafted by Antonio Stradivari in 1713 and purchased in 2003 for nearly $4 million -- and played six classical songs for rush-hour commuters.
The setting of Bell's 43-minute performance was unusual, to say the least. By the time he was 14, the violin prodigy was soloing for the Philadelphia Orchestra. At 17, he made his first appearance at Carnegie Hall. He has performed as a guest soloist for the New York Philharmonic three times and currently directs one of the world's most celebrated chamber orchestras.
More than 1,000 commuters came within earshot of Bell that morning and witnessed a world-class performance from a musical genius on one of the finest instruments ever crafted. Yet among the mass of hurried Metro riders, Bell went almost unnoticed.
What does any of this have to do with wine? Quite a bit.
Giant corporate producers dominate the wine market. In the United States, three brands -- E. & J. Gallo, the Wine Group, and Constellation -- produced 172.3 million cases of wine in 2012, accounting for roughly 50 percent of wine sales.
Yet most of the world's finest wines are produced by small, unassuming, and largely ignored grape growers. Unlike the big brands, these vignerons produce wines that reflect the regions and vineyards in which the grapes are grown. Their wines have a distinctiveness that can't be matched by mass-produced alternatives.
In other words, wine consumers are surrounded by Joshua-Bell level brilliance. Serious wine enthusiasts are finally paying attention.
To some extent, the relative anonymity of most wine producers is understandable. The United States is home to more than 8,000 wineries. Three in four produce fewer than 5,000 cases per year; only about 50 produce more than 500,000 cases.
Other wine-producing countries boast similar ratios; the back roads of Italy, France, and Spain are full of passionate vignerons who make miniscule amounts of compelling, soulful wine. And just as Bell can be readily ignored once separated from a "brand-name" institution like Carnegie Hall, it's easy to overlook the excellence of these small producers. They don't have the kind of status that comes with a recognizable brand name like, say, Veuve Clicquot, which produces more than 1 million cases of Champagne annually.
This lack of name recognition has enabled big producers to effectively monopolize the wine market, especially in the United States. But that's changing.
One man who helped launch this shift is Kermit Lynch, a writer and musician who started to recognize these growers more than three decades ago.
With a $5,000 loan from his girlfriend, he opened an eponymous wine shop in northern California in 1972. He soon became a distributor and importer as well, visiting Europe regularly to look for the wine equivalent of Stradivarius-wielding fiddlers in a Metro station. And he began educating consumers about the virtues of traditional wines -- artisanal projects, produced with minimal intervention, that express a sense of place.
Lynch inspired many imitators. These days, if you walk into any good wine retailer and watch how the geekiest consumers shop, you'll undoubtedly see people flipping bottles over to check the import label. These savvy shoppers know that in addition to Lynch, they can rely on importers like Neal Rosenthal, Louis/Dressner, Terry Theise, and Peter Weygandt to bring in good wine.
The tastes of these small importers are, without question, ascendant. Sommeliers and boutique retailers, too, are beginning to eschew what Lynch calls "pop" wines -- heavy, oak-soaked concoctions designed for mass appeal. At restaurants and on retail shelves across the country, consumers can now find interesting, small-production wines more easily than ever before. And America's booming wine tourism industry is proof that consumers appreciate wine beyond Sutter Home and Barefoot.
Consumers are finally recognizing that the subway-station musician they've long ignored may be a treasure waiting to be discovered.
David White is the founder and editor of Terroirist.com, which was named "Best Overall Wine Blog" at the 2013 Wine Blog Awards. His columns are housed at Grape Collective.