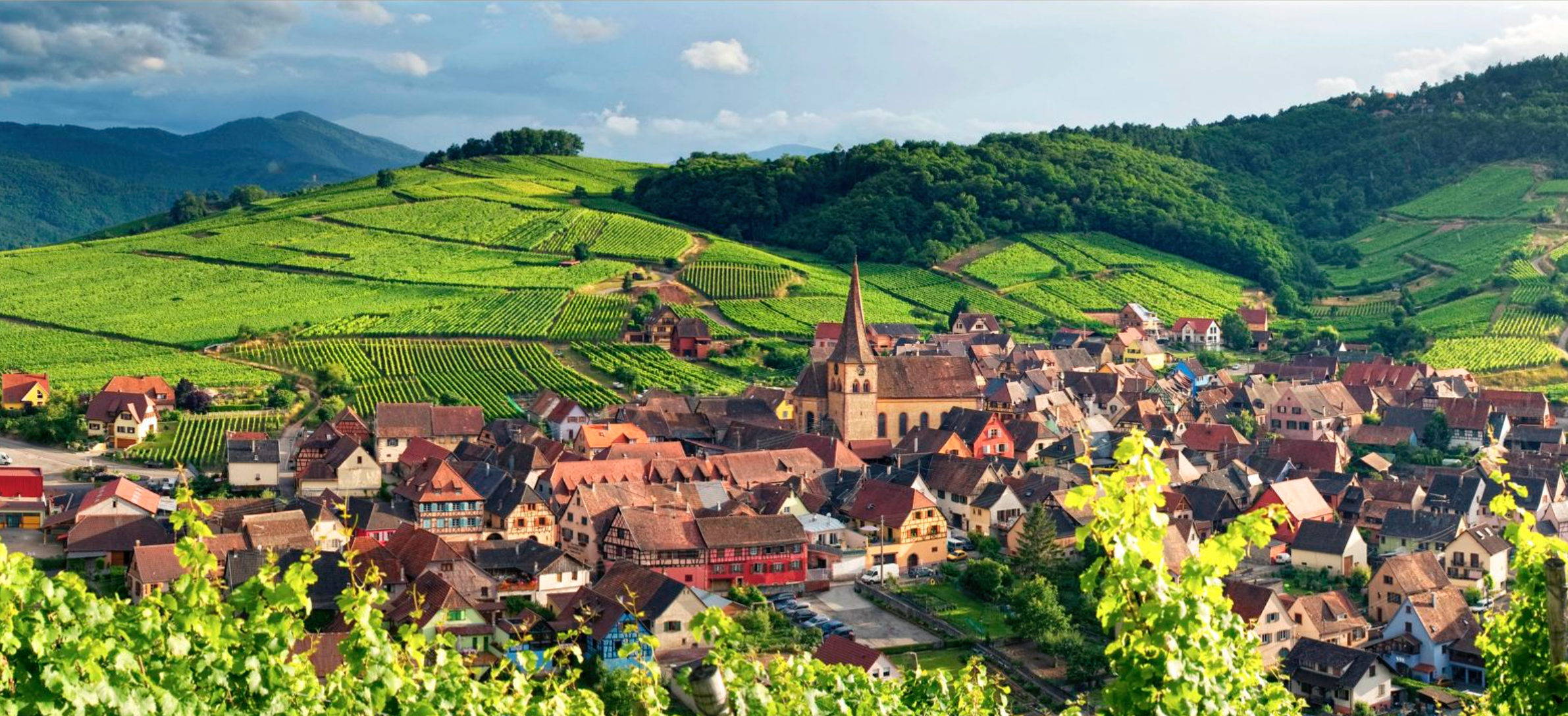 Alsace, a beautiful picturesque village as well as the fifth smallest AOC in France, is situated between the Vosges Mountains and the border of Germany and Switzerland, separated by the upper Rhine River. Alsace is not only famous for its scenery and cuisine, but also for its unique wine, primarily dry Riesling. Because of its distinctive location and history, Alsace's culture, architecture, language, food and wine are highly influenced by Germany, and Alsatian winemakers have even adapted the German practice of labeling wines by grape variety rather than a place name.
What sets Alsatian wine apart from other French wine is the extraordinary climate, terroir, and the four noble grapes which include Riesling, Pinot Gris, Muscat, and Gewürztraminer. Although white wine dominates the region's wine production, Pinot Noir is the only red grape variety authorized in the AOC, and a small amount of light red and rosé is also produced.
HISTORY
The Celts settled in Alsace and started to clean and cultivate the land before 1500 BC. The Romans had invaded and established Alsace as a center of viticulture by 58 BC. Alsace thrived during the 12th and 13th centuries under the Holy Roman Empire, however the following century saw a series of harsh winters, bad harvests, and the Black Death resulting in a decline in prosperity in the region. After the Thirty Year's War (1618-1648), Germany ceded most of Alsace to France under the Treaty of Versailles, although some towns remained independent. Afer the Franco-Prussian War (1870-1871), Alsace and northern Lorraine were annexed to the new German Empire in 1871, but following World War I Alsace was back under France's rule. In 1940 the region was again occupied by Germany, but was finally annexed to France once again after World War II.
Because of this back and forth between Germany and France over the years, German influence has remained evident on the language, culture, cuisine, and even the wine of Alsace.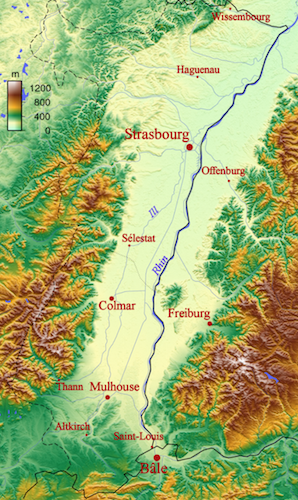 GEOGRAPHY & TERROIR
Alsace is separated by the Vosges Mountains to the west and the Rhine River to the east. The Vosges Mountains provide a "rain shadow" effect, blocking moisture and storms from the Atlantic, making Alsace one of the driest and sunniest regions in France. Most grape growing in Alsace occurs on a thin strip of land along the lower slopes and foothills of the Vosges, with prime vineyards enjoying southern or southeastern exposure to maximize sunlight. Due to its higher latitude, Alsace typically enjoys long hours of sunlight in summer months, and fruit ordinarilly ripens greater than those in the Loire or northern Burgundy. As a result, Alsatian wine usually contains ripe fruit flavors with racy acidity.
What makes Alsatian wine unique is not only the climate but also the soil in the region. The soil types and structure of Alsace vary from village to village. Limestone, schist, gravel, clay, granite, loess, chalk, and the unique local pink sandstone, grés de Vosges, can be found throughout the area. Such a wide variety of soils help bring out the finest characteristics of the vines, while the imprint of a distinctive terroir gives Alsatian wine its own unique individuality and complexity.
APPELLATION
Alsace, the smallest AOC in France, is divided into two departments, Haut-Rhin ("Upper Rhine") and Bas-Rhin ("Lower Rhine"). The region's premier wines generally originate in the Haut-Rhin, and over two-thirds of Alsace's Grand Cru vineyards are located in this department. There are three basic categories of wine from Alsace:
Appellation d'Origine Contrôlé (Alsace AOC): Different from the rest of France, Alsatian wines generally state the variety on the label. With the exception of Pinot Blanc, all Alsace AOC wine must contatin 100% of the grape printed on the label.
Appellation d'Origine Contrôlé of Alsace Grand Cru: Currently there are 51 Grand Crus in Alsace. Grand Cru AOC wines are single varietal wines made from the noble Alsatian grapes, with several exceptions. Hand-harvesting is mandatory for all Grand Cru wines. Minimum sugar levels at harvest are higher than those for Alsace AOC and yields are more restriced. The minimum alcohol required is 11% for Riesling and Muscat, and 12.5% for Pinot Gris and Gewürztraminer, although certain vineyards mandate higher amounts.
Appellation d'Origine Contrôlée of Cremant d´Alsace: Lightly sparkling wines produced in the traditional method of a second fermentation in the bottle, Crémants d'Alsace are the second most popular quality sparkling wines in France after champagne.
Vendanges Tardives and Sélections de Grains Nobles are two new designations created in 1984 for late-harvest wines. These two terms imply sweetness and may be printed on either Alsace AOC or Alsace Grand Cru AOC labels. There are several wine terms used primarily in Alsace, but also found elsewhere in France:
Vendanges Tardives (VT): Means late-harvest in French. The phrase refers to a style of dessert wine where the grapes are allowed to hang on the vine until they start to dehydrate. It may appear on Alsace AOC or Alsace Grand Cru wines.
Sélection de Grains Noble (SGN): An even sweeter category, for grapes that are affected by noble rot (botrytis). Generally hand picked in tries.
Gentil: A superior designation for blends, requiring a minimum of 50% noble grapes.
Edelzwicker (noble mixture): Usually indicates an inexpensive blended wine. Alsace AOC wines labeled Edelzwicker do not need to be vintage-dated.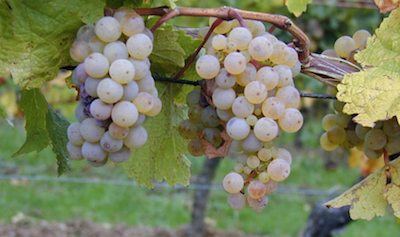 GRAPE VARIETIES & WINE
Riesling, Pinot Gris, Muscat and Gewürztraminer, considered the four noble grapes, occupy the premier vineyards in Alsace. Pinot Blanc (Klevner), Sylvaner, Chasselas (Gutedel), and Pinot Noir, the only red varietal, can also be found in the region.
Among the noble grapes of Alsace, Riesling (pictured above, right) is the most widely planted grape and Alsace's last noble grape to ripen. Alsatian Rieslings are characteristically dry, more powerful, and higher in alcohol than German Riesling. They are among the longest-lived dry whites in the world, due to a pronounced acidity and minerality.
Before 1945, Alsatian wine was usually sweet, similar to German wine styles. After World War II, Alsace began to change their winemaking practices from sweet to dry and this set its wine apart from Germany. Thereafter, German wines remained classically sweet, whereas Alsace producers fermented their wine dry to achieve a more powerful and food-friendly wine.
Riesling:
Delicate fruity aromas (mostly stone fruits with a touch of citrus) and floral notes (predominantly white flowers) characterize the nose. Mineral aromas like flint, gasoline and gunpowder are a trademark for Riesling. These highly distinctive aromas can be found in terroir-driven wines such as the Grands Crus and "lieux-dits" (small geographical areas bearing a traditional name).
The dry Riesling displays great vertical structure. It is fresh with delicate yet displays opulent fruit. The racy acidity complements the richness of the wine. It is a wine that can improve in bottle over several decades.
Pinot Gris:
Generally not very intense on the nose and palate, Pinot Gris from Alsace is marked by complex aromas such as dried fruit, apricot, honey, beeswax and gingerbread. Forest floor, mushrooms, and moss are considered the mineral characters of the varietal. Delightful freshness and lively roundness make the Alsatian Pinot Gris balanced and attractive.
Muscat:
Muscat from the region features subtle floral aromas accompanied by a distinctively citrus fruit and grape scent on the nose. Vinified dry, it feels exactly like biting into a grape. The freshness and hint of refined bitterness contribute to the harmony of the wine.
Gewürztraminer:
The aroma is intense and complex, offering an explosion of citrus (orange peel), exotic fruits (lychee, passion fruit, pineapple, mango), flowers (notably rose), and spices (gingerbread, peppermint, cloves and pepper). Frequent aromas of honey and ripe fruits also contribute to giving Gewürztraminer an incomparably rich nose. This is a full-bodied wine, with solid structure and a round mouthfeel. "Vendanges Tardives" and "Selection de Grains Nobles" Gewürztraminers ranging from sweet to viscous, possess exceptional richness and extraordinary aromatic complexity.
Pinot Noir:
Alsace Pinot Noir is light and fresh; revealing flavours of cherry, raspberry and blackberry, and soft tannins. It is most frequently aged in wooden barrels, producing a more complex and structured wine with more pronounced color and flavors evocative of ripe fruits or leather.
FOOD PAIRING
Balanced and refreshing, the diversity of Alsatian wines not only complement, but enhance an enormous array of cuisines - from highly spiced and complex Asian and Latin dishes to simple, earthy American and French fare. For every occasion, there is an Alsace wine to choose from.
Muscat, Pinot Gris and Crémant d'Alace, for instance, make excellent aperitif wines. With fine acidity and delicate aromas, not too sweet nor too high in alcohol, these wines tantalize the taste buds, paving the way for the next course.
For starters and salads, try Sylvaner or Pinot Noir with charcuterie. Pair Muscat with salads or asparagus. Riesling, surprisingly, goes well with goat cheese; it also pairs well with fish or shellfish.
Having spicy Asian shrimp or exotic curry for dinner? Gewürztraminer is your number one choice. Riesling with roast chicken or pork-based dishes is a perfect match.
Vendanges Tardives and Sélection de Grains Nobles Riesling or Gewürztraminer make marvelous pairings with sweeter desserts, such as honey and chestnut crème brûlée and apricot marzipan cake.
For more on Alsace, check out Jameson Fink's article on Alsatian wine producer Jean Trimbach here.