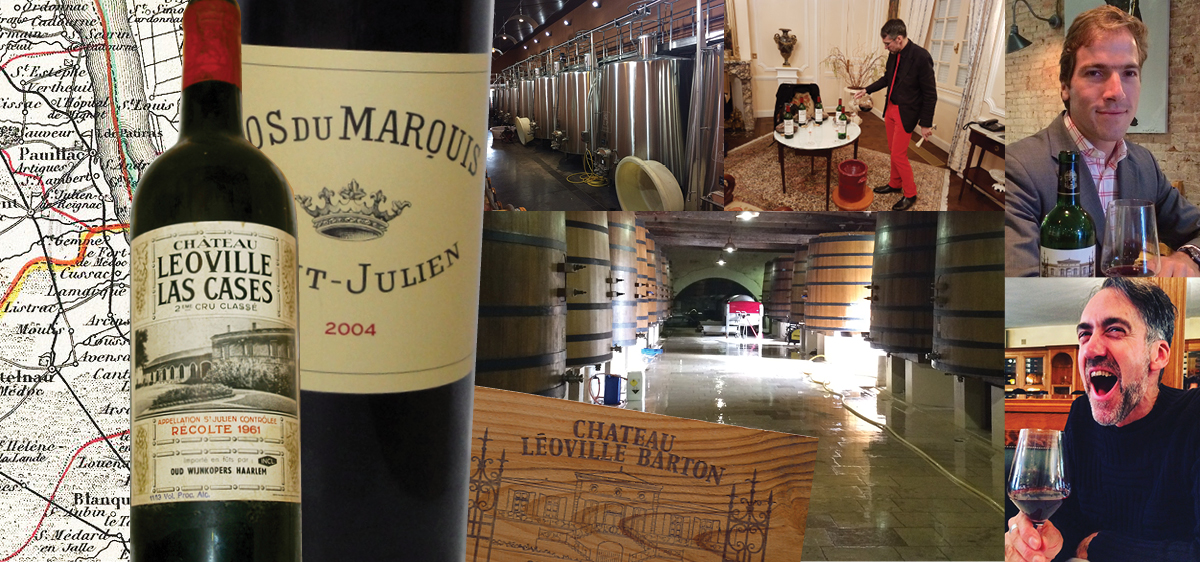 It feels like nobody is asking how red Bordeaux (BDX) slipped out of the spotlight that used to shine on it so very brightly. How did that happen and can it be reversed? Today other wines are getting a lot of the attention that red BDX used to take for granted. Just consider one type of situation where those wines are now almost invisible.
What has the hipster somm in New York Wine City (NYWC) who geeks-out about the funky "natural" wine from a tiny producer in the Jura/France known only to a few insiders (cool!) got in common with a Wall Street banker wallowing in the America First glory of a massively powerful California Cult Cabernet that cost him a four-figure price (hot!) in the restaurant where the hipster somm works? I mean, apart from the fact that they hate each other's wine?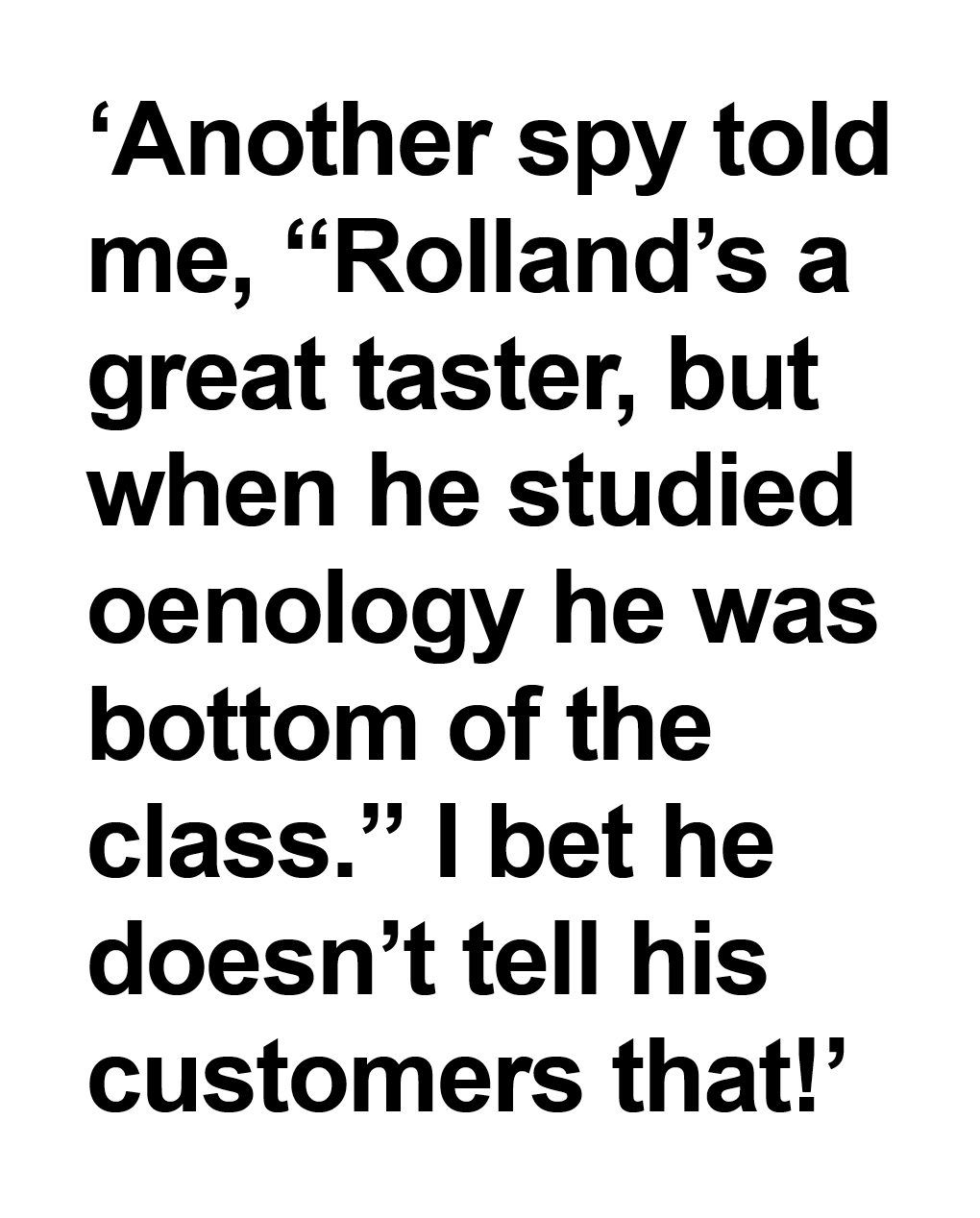 Both are convinced that they're not only dinking a special wine, but also basking in its aura. But, who doesn't want to feel special by drinking special wines? Of course, some wines have a special taste that makes them stand out from the crowd of tasty but interchangeable juice in the crowded marketplace, and that creates a buzz. Back in the 20th century high-end red BDX certainly used to be one of them.
As the car in which Damien Sartorius, the dashing young director of Château Léoville Barton in St. Julien/Médoc, drove me to neighboring Château Léoville Poyferré comes to a halt in the latter's parking lot my thoughts crystalize in the brilliant November sunshine. Red BDX would never have become as revered and reviled if it hadn't frequently generated a buzz since 1650 when Château Haut-Brion in Pessac-Leognan invented the dark colored, powerfully tannic style of wine we expect from the region. Today the famous trio of Léoville châteaux in St. Julien I'm seeking an answer to the question whether high-end red BDX still has the potential to generate a buzz or if it's doing the zombie shuffle.
Suddenly there's Anne Cuvelier of Léoville Poyferré jumping out of her compact car next to us. Damien jumps out of the car with me, he greets her warmly and introduces us. Clearly they get on well and that made it easier for him to get me this appointment, just as the weaker contact between Damien's family and the Delons of Château Léoville las Cases made it hard for him to help me there. In fact, I still don't know if the door of Léoville las Cases will open for me as it did several times back in the Old Days at the end of the 1990s.
As I follow Anne into Léoville Poyferre's wine store she tells me straight up that her family, "have a more modern wine style than the Barton-Sartorius family." I like her directness. I guess the fact the world's most influential wine critic Robert Parker showered the Cuvelier's wines with high scores, crowned with 100 points for the 2009 vintage helped give her that self-confidence. My eye catches the 2009 on the shelf for Euro 200, but next to it is the 2012 for just Euro 72.
Is Michel Rolland Darth Vader?
"All three Léovilles are 2eme Grand Cru Classé," Anne says, "all three are in family-ownership and together we own about one third of St. Julien's 920 hectares of vineyards. Everything's ready, let's go." She turns briskly on her heel and I follow her out and across the D2 to see the cellars on the other side of road.
As we enter the cellars I'm confronted with the gleaming and costly face of BDX modernism. "When we switched to stainless steel fermentation tanks in the 1990s we started working with consulting oenologist Michel Rolland. Since 2000 we have an in-house oenologist, since 2002 a new vineyard manager, and since 2005 a new cellar master too. We have a young team, and everything is a team decision!" That team sounds like a balance to the influence of the controversial Rolland, regarded by many in the wine scene as the Darth Vader of BDX winemaking.
The story of Léoville Poyferré's unflinching modernism continues as we walk through the high-tech facility. "In 2006 we bought a second grape sorting table, then in 2011 an optical sorter." It automatically sorts grapes berry-by-berry according to their ripeness, weeding out the half-ripe with the help of electronic eyes and mechanical hands. Few high-end wine producers admit to using this new technology because of the widespread prejudice in the wine scene that "real" and "authentic" wines are hand made, that is must be untouched by the robotic Terminators of Planet Wine.
"We bought more stainless steel tanks, so that we could do a cold maceration of the grapes for several days at 5°/6° Celsius before alcoholic fermentation," she breezily announces: another daring admission! This technique for extracting color and aromas from the grape skins was pioneered with the Pinot Noir grape in Burgundy in the 1980s when that region was still struggling to overcome the image of being an Other Place of wine. Extending it to Cabernet Sauvignon in the Médoc is as controversial the use of reverse osmosis technology to artificially concentrate the grape juice were during the last years of the 20th century. Once again few winemakers admit to using the method.
As we enter the tasting room and there's a line of wines waiting for me: Château Léoville Poyferré of the 2010 to 2015 vinatges. I ask myself what all this winemaking modernism actually does to the taste of the wine. All are quite rich with velvety tannins and a lingering, moderately dry finish. Sure, they're modern compared with what the château made back in the Old Days of the late 20th century. However, there's no hint of the jam-type flavors or the gobs of fruit cool much of the wine scene associate with Michel Rolland.
When Jonathan Nossiter's 2004 movie Mondovino – the one shot with a hand-held camera so shaky many moviegoers felt seasick! – showed Rolland babbling mantra-like to wine producers he consults for that they should use "micro-oxidation" (another modernistic cellar technique) on all their wines it turned him into Darth Vader. For many hipster somms he represents all that's wrong with red BDX, a category of wines they perceive as brutally molded into an unnatural shape with the use of cellar high-tech.
For more than a decade I've had spies in Bordeaux who fed me insider information. Recently one of them told me, "you know not everyone who employed Michel Rolland did what he told them to do. Some pretended to listen to his advice, then ignored it. For them it was all about using his name, and it worked. They got them up to 5 extra points from certain influential wine critics!" Another spy told me, "Rolland's a great taster, but when he studied oenology he was bottom of the class." I bet he doesn't tell his customers that!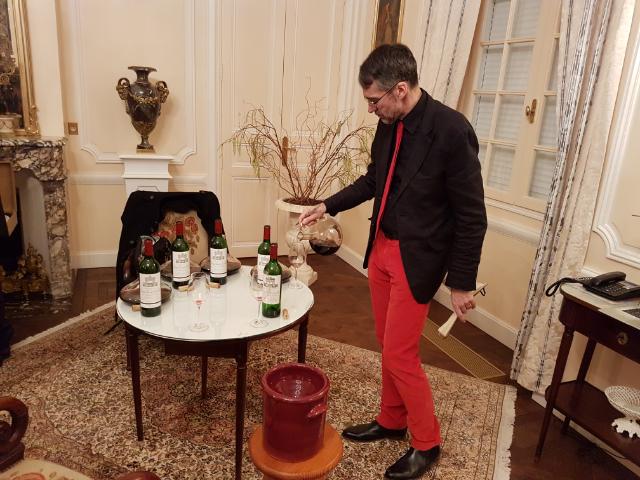 I pick up the glass of 2015 and the aromas of violets, fresh mint and licorice stun me. I've never encountered that before and if that's the result of the technical innovations Anne talked about then the new winemaking techniques really are changing red BDX. For those in love with the myth of the timeless greatness of the Médoc – the iron fist in velvet glove taste of the wines that Michael Broadbent MW made famous in the 1980s – this is Very Bad News, but has progress really only been negative for red BDX?
"St. Julien should be a strict and precise wine," Damien says to me with great conviction on the drive back to Château Langoa Barton where Léoville Barton is also made. It sounds totally different to everything I just heard and tasted.
"I've got something exciting to show you," he adds we pull into the courtyard. We climb out the exciting thing turns out to be standing next to his car under the same roof. "This is our new toy, our new crusher-destemmer. It doesn't hit the grapes to detach them from the stems as older models did, instead it gently shakes them off. And behind it is our optical sorting table." Coming from a self-confessed traditionalist this fervor for high-tech takes me aback. What does it mean for the taste of the wines?
We head off on a tour and the famous garden of Langoa Barton is the first stop., Massive replanting work is under way and that makes Damien change tack. "We made no money on either the 2012s or the 2013s, but we'll make money on other vintages." Wine-Searcher.com gives the average retail prices of the 2012 as Euro 73 and the 2013 as Euro 65. "We have 62 full-time employees including 18 vignerons cultivating 65 hectares of vineyards and 4 gardeners," he continues. If those prices include no profit, then maybe I've seriously underestimated the cost of running properties like this and maybe only a handful of producers are making big bucks? More questions that aren't easy to answer.
We step into the fermentation hall where rows of huge open-topped wooden vats and no stainless steel in sight are a total contrast to Léoville Poyferré's full-throttle modernism. "The advantage of using wood is that the temperature of the fermenting wine doesn't vary at all, even if it is 30° C during the day and -2° C at night, which could happen," he explains. So there's a wine logic to stick with what looks like redundant technology at first glance. However, there's a price for this decision: a lot of extra cleaning work, which means more labor costs.
As the tour's ends Damien tells me I've got up to 3 hours alone in the tasting room for the vintages 2010 to 2015. I need that deep immersion in order to forget about following the money and focus completely on the taste again, but it takes only minutes to recognize that Damien's description of St. Julien reds perfectly fits his family's own wines.
He wasn't director when the 2014 was made, but Damien was already involved in the winemaking process. There's a daring clarity to the way this wine looks me in the eye that reminds me of the way my host sometimes looks me right in the eye. The wine's paradoxical combination of ripeness and freshness makes me a jolt slightly each time I take a mouthful of it. Although the barrel sample of 2015 is riper, but the overall balance is so dry it tastes a little savage, but it also makes me feel that I'm fully alive. Damien is clearly committed to the same uncompromising crisp tannic style of red BDX his grandfather Anthony Barton was famous for. But could wines like these really generate a buzz in the 21st century? That question is also difficult to answer.
When I'm finished I cross the D2 from the cavernous tasting room to Damien's small office. He beams with delight when I tell him how much I like the recent vintages. Although I didn't smell violets, fresh mint or licorice in the 2015 as I did at Léoville Poyferré I still ask if he does any pre-fermentation cold maceration. "Oh yes, but only if the grapes are really ripe," he replies confidently. How come all that new technology doesn't make his wines taste more like those of Léoville Poyferré?
"You can't be picking the grapes that ripe though," I throw back, "because the alcohol levels are modest, even in 2010 – a vintage in which many wines had 14% or more alcohol – the Léoville Barton only has 13%!"
"That's true. When the grapes are ripe we pick them, rather than waiting longer like many of our neighbors do." From what Anne told me this morning Léoville Poyferre belongs to the group of late-picking Médoc producers, and from what Damien just said about early-picking it's a "core value" for his family. So this difference is probably the main factor that gives the wines of these two châteaux their contrasting personalities. At least that question is answered.
DANG! Suddenly I'm in the back of a limo on the D2 heading north. What happened? I pull out my iPhone and see that two whole months have passed about which at this moment I can remember exactly nothing! Where did the hell did they go? In the front passenger seat I see James Suckling, the wine critic behind JamesSuckling.com. At least I can remember how five months ago I started working for him. From what he's saying we're about to arrive at Léoville las Cases for a tasting and dinner. The door that remained firmly closed for me last November is about to effortlessly swing open!
The last trace of daylight is fading as we pull into the courtyard of Léoville las Cases in front of the small single-story château and a tall casually dressed man waves to us from that open door. James tells me that this is Pierre Graffeuille, the owner Jean-Hubert Delon's younger right hand man. Moments later, still feeling a bit dazed by the astonishing turn in events, I follow James and his team into the grand tasting room where bottles and decanters are arranged on a long glass-topped table.
James likes to taste sitting down so he can enter his notes straight into the database on his computer, and within moments his two assistants have everything set up for him. I remain standing and as I flip open my reporter's notebook memories of the last five days intensively tasting the 2014 vintage BDXs with James roll back into my mind like a wave. Delon appears and we all politely greet him, but clearly he's happy to leave most of the talking to Pierre.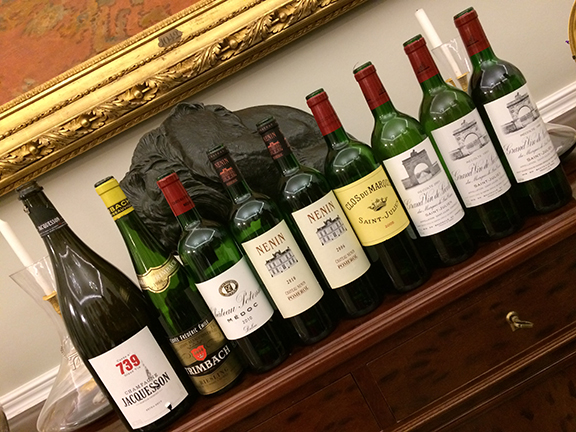 There are five other 2014s to taste before we get to the 2014 Grand Vin de Léoville las Cases and several of them are much cheaper than the wine the Delon family is most famous for. The 2014 Château Potensac that Wine-Searcher.com says retails for an average of Euro 21 has all the qualities I expect from a classified château costing double that price. Sensing my enthusiasm Pierre draws my attention to an oversized tablet propped on the tasting table showing me how it can display all the technical information for each wine in the tasting. Soemthing the three Léovilles have in common is openness.
The 2014 Le Petit Lion de Léoville las Cases is a strict and precise St. Julien while the 2014 Clos du Marquis is a more generous and well-rounded interpretation of the appellation. Both are impressive wines and according to Wine-Searcher.com their average retail prices of Euro 35 and Euro 42 respectively; moderate in the Crazy Médoc context.
Finally, I have the 2014 Grand Vin in my glass and on the tablet's screen are all the stats: 79% Cabernet Sauvignon, 11% Cabernet Franc, 10% Merlot picked between September 30th and October 13th 2014, the finished wine having 13.8% alcohol and pH 3.49. The first sip makes me forget all those numbers though. How can a wine be this concentrated and powerful, but also so incredibly fine?
James gets very excited, telling the boss that the wine, "has the kind of silky texture of a Grand Cru red Burgundy," and Delon nods, maybe not in agreement, but certainly in recognition that this mention of the Other Place of wine is meant as high praise. "Its feminine!" James concludes his eulogy of praise, meaning that traditionally red BDX is considered masculine, and Léoville las Cases was long considered one of the ultimate expressions of that personality.
"It depends what your ideal of femininity is!" Delon shoots back sharply. It could have been a feminist speaking.
The truth is this beautiful wine stands alone, demanding no metaphors to prop it up, nor would comparisons with other St. Juliens, Médocs or BDX wines really help describe what makes it taste so special, although it unquestionably belongs to all those categories.
"There was no speculative buying of the 2014 vintage," Pierre, observes, "and we sold the wine into the market for Euro 80 per bottle. There were about 12,000 twelve bottle cases of it, so you should easily be able to find it." In the Crazy Médoc context that's full disclosure. Wine-Searcher.com fills in the last gap gvining an average retail price of Euro 124 for the wine. That's roughly double the prices of the 2014s from Léoville Barton and Léoville Poyferré, but far below First Growth Château Lafite Rothschild's at Euro 422!
Of course, beauty is in the eye of the beholder and the beauty of wine is in the mouth of the drinker. That thought leads me to the Big Question: how many people could this wine touch, delight or astonish?
For the Wall Street banker it's way too light and delicate, and for the hipster somm it's way too conventional and old-fashioned, so both will turn away from its beauty. The fact is back in the Old Days a much broader range of wine drinkers and professionals in the West would have applauded this wine. In the radically polarized wine scene of the early 21st century the group of potential fans for this kind of high elegance is much narrower than it was.
Once the declaration that a wine was a "classic" was a great advantage to it, but now to many wine drinkers in the West it means the wine is passé. That applies to high-end red BDX more than any other wines.
Recently, I read a fascinating article by French wine marketing expert Guillaume Jourdan called, 'Luxury, Wine & Marketing: To be timeless is to be timed out'. Since 1945 the main thrust of French high-end wine marketing has been to create an impression of timelessness so that the Grand Vins of the Grand Nation appear to be above the restless hurly-burly of the marketplace. Of course, the goal of this was to push up the prices and make drinkers idealize these wines. However, post-Financial Crisis that strategy has often backfired and my guess is the very high prices for the 2009 and 2010 vintages accelerated this process. Jourdan suggests that,
"In 2017, to be "timeless" is to be timed out. So it is up to the brand, depending on its identity, to adjust its position on the Temporal/Timeless scale to define the degree of "temporality" that it wishes to express in its actions and its communications. That is the very art of a good marketing strategy: capitalizing on the past, with both feet very much on the ground, and with one's sights firmly focused on the future. "
The painful truth is that BDX has been timed out in the West, and too few wine drinkers are looking beyond the expensive and old-fashioned image to the beauty of the best contemporary wines. Many minds and hearts have closed to red BDX and it's doubtful whether many of them will ever open again.
Read BDX Pt. 1
Read BDX Pt. 2
Stuart Pigott is a British wine journalist living in Berlin. He has published a number of other wine books, including Touring in Wine Country, the Wine Atlas of Germany, Planet Wine, and Life Beyond Liebfraumilch.
Buy Stuart Pigott's The Best White Wine on Earth: The Riesling Story on Amazon for $17.30.
Buy Stuart Pigott's Kindle book ROCK STARS OF WINE AMERICA #3: FLXtra with KJR - This is a Love Story on Amazon for $4.99.
More from Stuart Pigott on Grape Collective:
Read Part I of the series: The Rise of The Hipster Sommelier
Read Part II: The Rise of the Hipster Sommelier Part II
Read Part III: Rise of the Hipster Sommerlier Part III