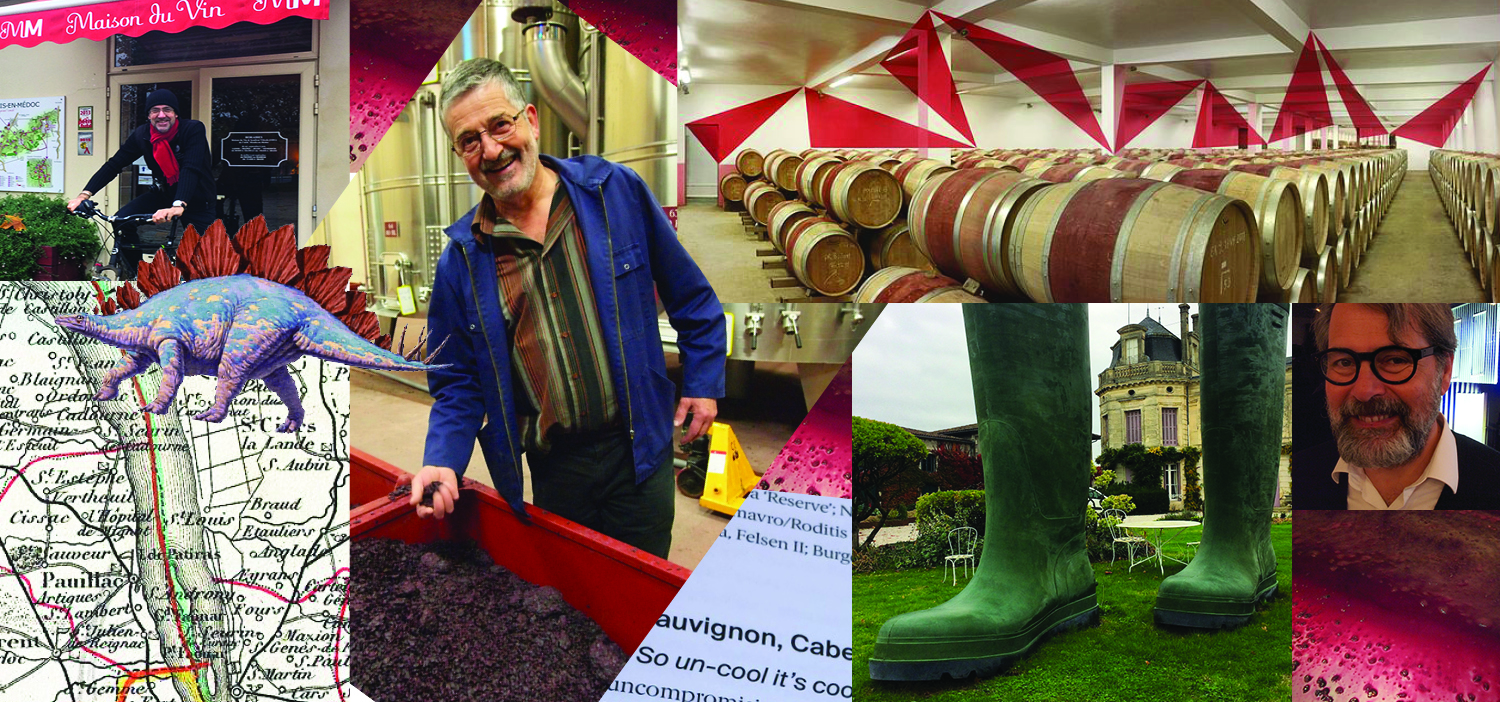 The Médoc sub-region of Bordeaux (BDX) used to be the Holy Land of wine, and until the end of the 20th century everybody thought it would remain that way until the end of days. Then something went terribly wrong, it was pushed right to the edge of our collective radar screen. How did that happen and will my search there for good and affordable wines only lead me to dinosaurs?
For the hipster somms of New York Wine City (NYWC) and the rest of the Western Wine World (WWW) the very fact that I'm standing in the tasting room of a Médoc Château with 70 hectares of vineyards holding a glass of red wine bearing its name is reason enough to write me off. For them red BDX is the result of industrial mass-production using all the evil tricks of modern winemaking technology. Worse still, they're sold for outrageous prices driven by the unbridled greed of corporate winery owners, a combination that makes them morally undrinkable. The fact that I find this wine delicious only proves that I, like them, am so very late 20th century.
Of course, red BDX producers never wanted to be on the Dark Side of the Force, but that didn't stop them from landing there. Things went badly wrong for them in the early years of this century when the aura of timelessness conjured around the famous châteaux of the Médoc by marketing spin-doctors flipped from being perceived by the WWW as enormously positive to looking deeply negative. At that moment prices jumped up yet again, reinforcing the image of high-end red BDX as status symbols making them irresistible to the nouveau riche of China and the ex-Soviet Union. Ouch!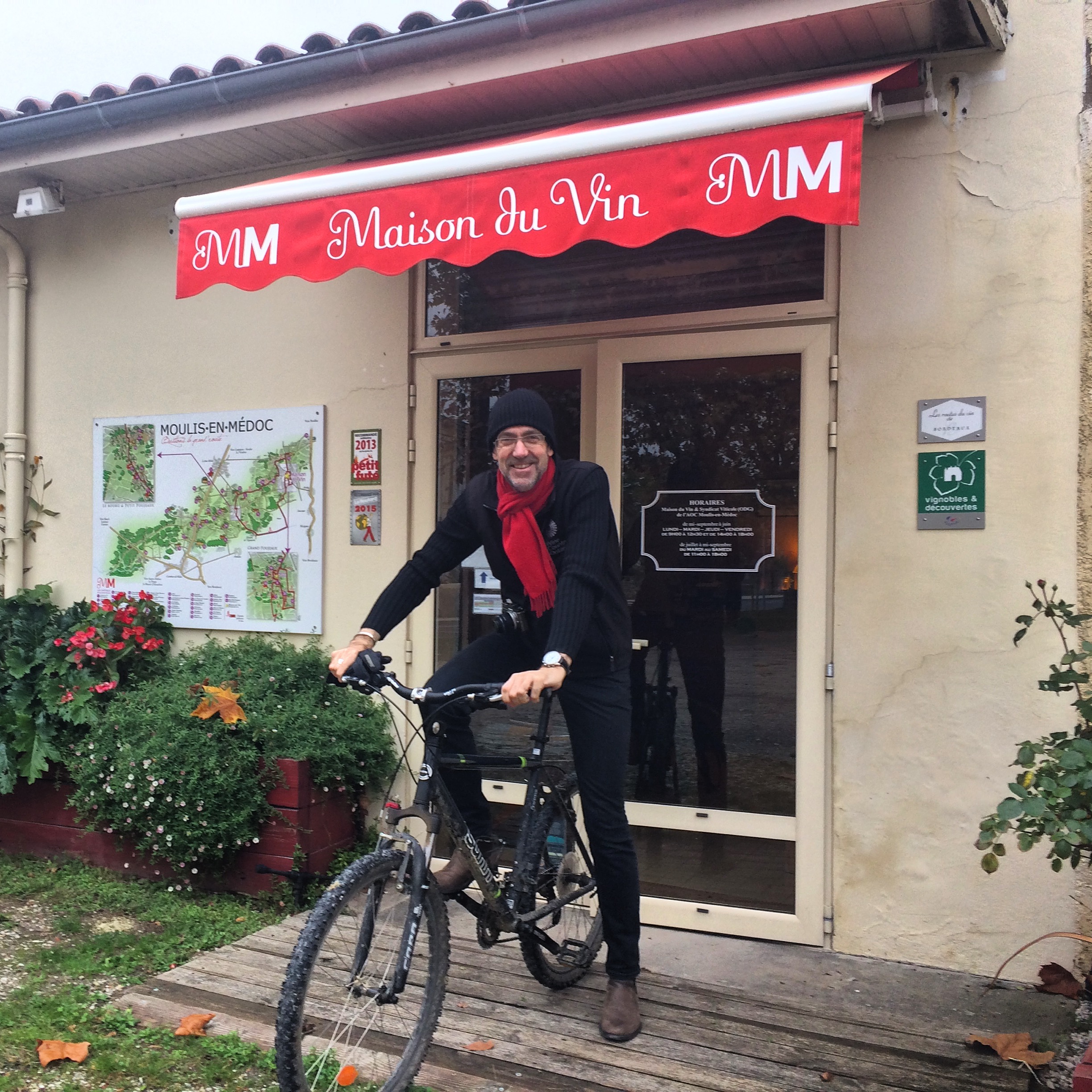 (Photo: Stuart Pigott gets on his bike)
But let me tell you about the wine in my glass. It's the 2009 vintage of Château Poujeaux in the appellation of Moulis and although it tastes both rich and elegant with a deep well of nuances that doesn't want to run dry. You can buy it for just under $40, and it's the most expensive wine I tasted in Moulis today! During a tour of the cellar Daniel Bencion, the maître du chais, just told me that the 2009 is one of the best wines he made in his 40-year career here, along with the 2016 currently finishing fermentation in stainless steel and concrete tanks. Parts of this cellar are seriously retro and I saw no high-tech at all. And the property is owned by the Cuvelier family who bought it from the Thiel family in 2008. So the wine in my glass doesn't fit the hipster somms image of red BDX at all, and for me that makes it a bird of paradise rather than a dinosaur.
However the problems for Moulis and many other parts of BDX don't end there. These "lightweight" prices are as much a turnoff for the Wall Street bankers and other members of the 0.1% as the "lightweight" body of the wine – the 2009 Poujeaux lies at the upper end of the scale with 14% alcohol – compared with the Cult Cabernets of California so many of them favor. For the occupants of this other NYWC bubble the classical elegance of this wine also looks so very late 20th century. Welcome to the highly polarized 21st century world of wine!
In the interest of complete disclosure I have to tell you that over the last couple of days I found out I like the taste of good red BDX every bit as much now as when I first experienced it back in 1981. As I jumped on the bicycle Damien Sartorius, the dashing young director of Châteaux Léoville Barton and Langoa Barton in St. Julien, lent me this morning and rode off in search of red BDX discoveries I wondered if I'm falling in love with these wines again. You tell me.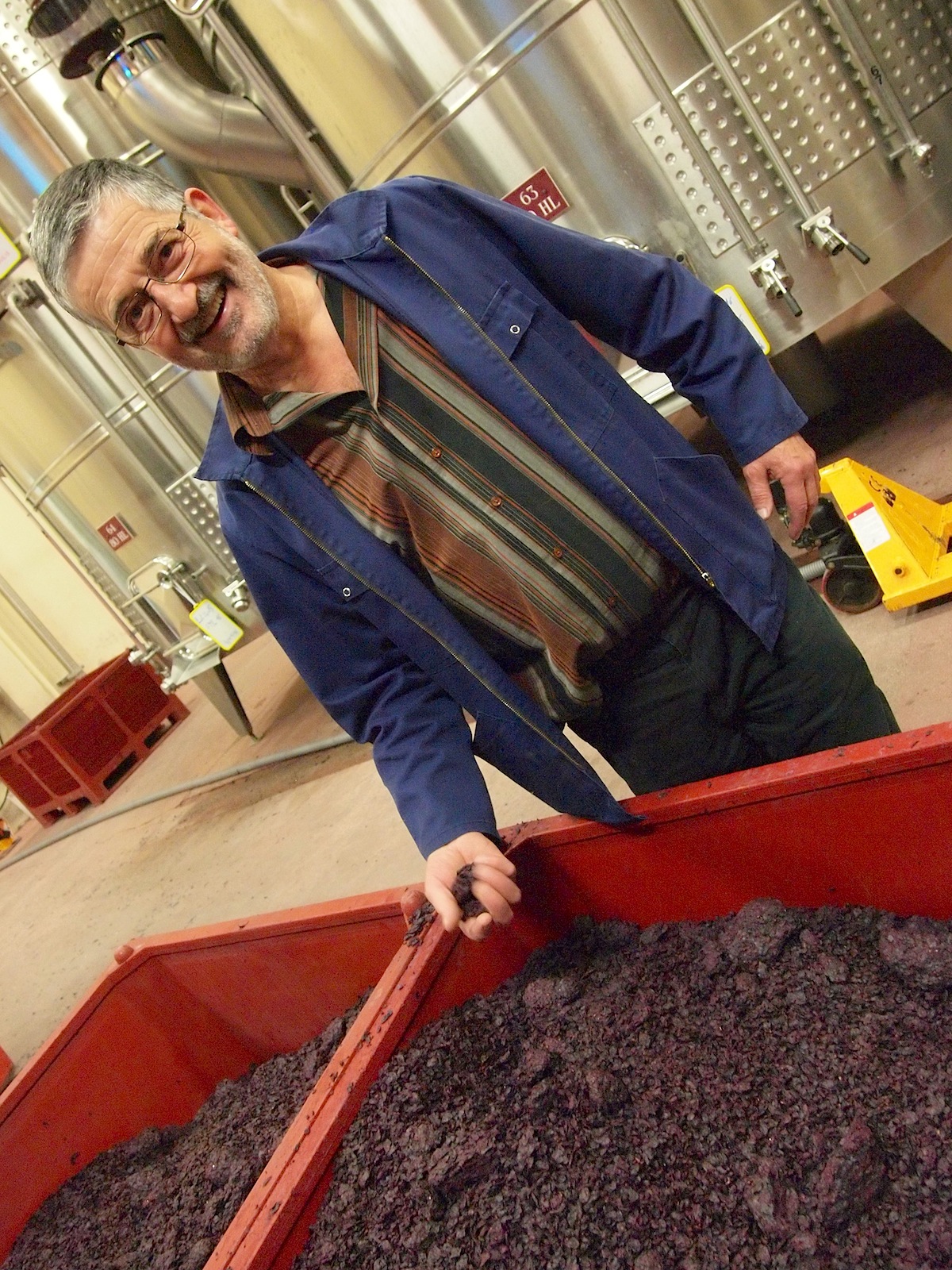 (Photo: Winemaker Daniel Bencion at Poujeaux with marc from 2016 vintage pressings made that day)
First stop this morning was the Maison du Vin Moulis in the village of Grand Poujeaux. Karin Riffaud of the Maison du Vin had organized appointments for me at three leading châteaux and a tasting of wines from most of the other 44 producers in this 624 hectare appellation. If you consult the wine media you'll find that although Moulis theoretically has a rather good name it often gets scant attention. Recently I found a major report on 2015 red BDX in a major European wine magazine that did not include one Moulis wine! Rarely is the appellation treated by colleagues as the potential equal to Margaux, St. Julien, Paulliac or St. Estéphe, the elite appellations of the Médoc, because they're all home to a string of classified growth châteaux and Moulis doesn't have even one of them.
Here on the wrong side of the tracks my next stop was Château Branas Grand Poujeaux, just around the corner from the Maison du Vin. It was acquired by the Onclin family in 2002 and although they clearly made some serious investments in the winery, from the street it looks like a singularly unspectacular farm house. The PR woman smiled a lot and winemaker Justin Onclin (keep it in the family) said little while I tasted every vintage from 2010 through 2015, but nobody tried to spoon-feed me marketing spin. The generous body, tannins and fine oak aromas of these wines wouldn't be enough to impress the Wall Street bankers, but would be way too much for the hipster somms. They would also consider the ripe back berry aromas of the wines as proof that the wines were made.
The biggest mistake most of the hipster somms make is their assumption that fruity wine aromas are fake and obscure the non-fruity authentic taste of wine. For them it only becomes apparent when the fruity "mask" is removed. They fail to grasp that the ripe fruit aromas of wine are actually natural, the great majority of these substances being produced by the vine (the others are produced by the fermentation, a natural process). They were there before we humans got interested in them and got selective about which of them we liked best. That supposed "mask" is actually the face of wine and it has become more clearly visible in the regular wines you can buy in regular stores because of improvements in viticulture and winemaking during recent years. It's this technological progress that the hipster somms are kicking back at with fundamentalist fervor. But, let's return to Moulis.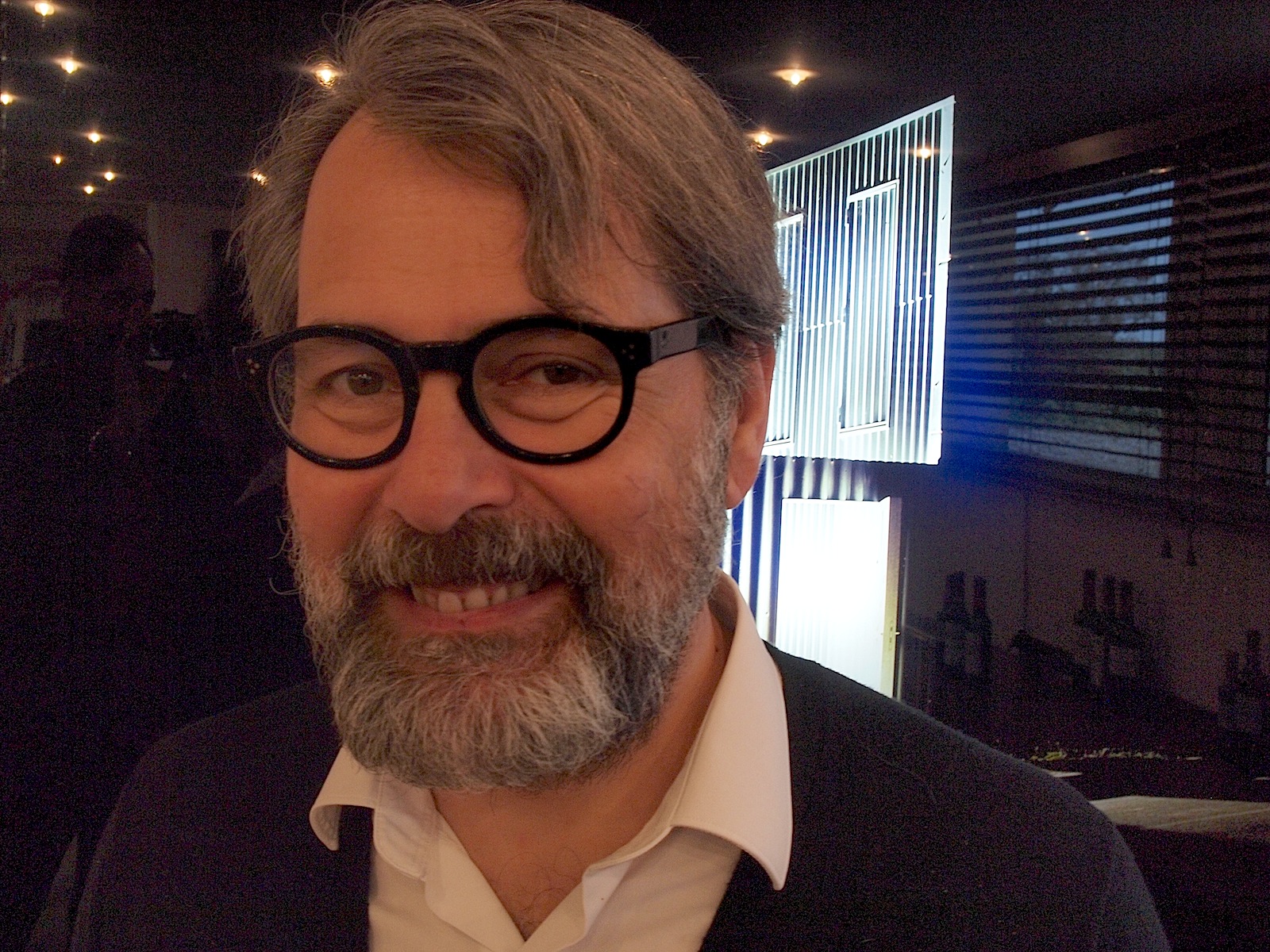 (Photo: Jean-Pierre of Chasse Spleen)
Lunch with Karin at Lion d'Or in Arcins brought an unexpected chance to talk in a relaxed situation with Jean-Pierre Foubet, the director of Château Chasse Spleen, with 100 hectares the largest and best-known producer in Moulis. Chasse Spleen and I go back a long way. 1978 was the first vintage I tasted back in 1981 and from then on I drank the wine with some regularity. That's why I was deeply shocked when I opened the January 31st 1993 issue of Wine Spectator magazine and read of the death of the estate's director Bernadette Villars, 48, and her husband Philippe in a mountaineering accident in the Pyranees. Back in 1976 Philippe Villars was the president of BDX négociant Ginestet, when his family bought Chasse Spleen. The couple were survived by their daughters, Claire, 25, and Celine, 24, and Celine married Jean-Pierre.
"The DNA of the Médoc has kept the spirit of the entrepreneurs who founded the wine industry. It was always for making business," he told me, which was very straight of him. Recently this has turned out to be a mixed blessing. Of course, that begged the question what had changed in recent years. "At Chasse Spleen we have less and less Merlot," he replied, "due to global warming it tends to get too much alcohol and over-ripeness. So we move to Cabernet Sauvignon and we shall move to more Cabernet Franc for elegance." Freshness, sleekness, dryness and elegance are the words I always used to describe Chasse Spleen. Are they still like that, or did the arrival of evil high-tech winemaking change all that?
When Karin dropped me at Chasse Spleen after lunch a enormous pair of rubber boots – a sculpture in the spirit of Claes Oldenburg – almost blocked my view of the building. Jean-Pierre explained that they were part of the Château's collection of contemporary art. Then in the cellar I was momentarily disorientated by what looked like dazzle camouflage until I stepped into the spot from which it aligns into a rational order. After all this marketing high-jinx it was reassuring to discover that the 2005, 2010 (two great vintages) and the 2013 (a lousy vintage) were classic Chasse Spleens with underplayed power and great vitality.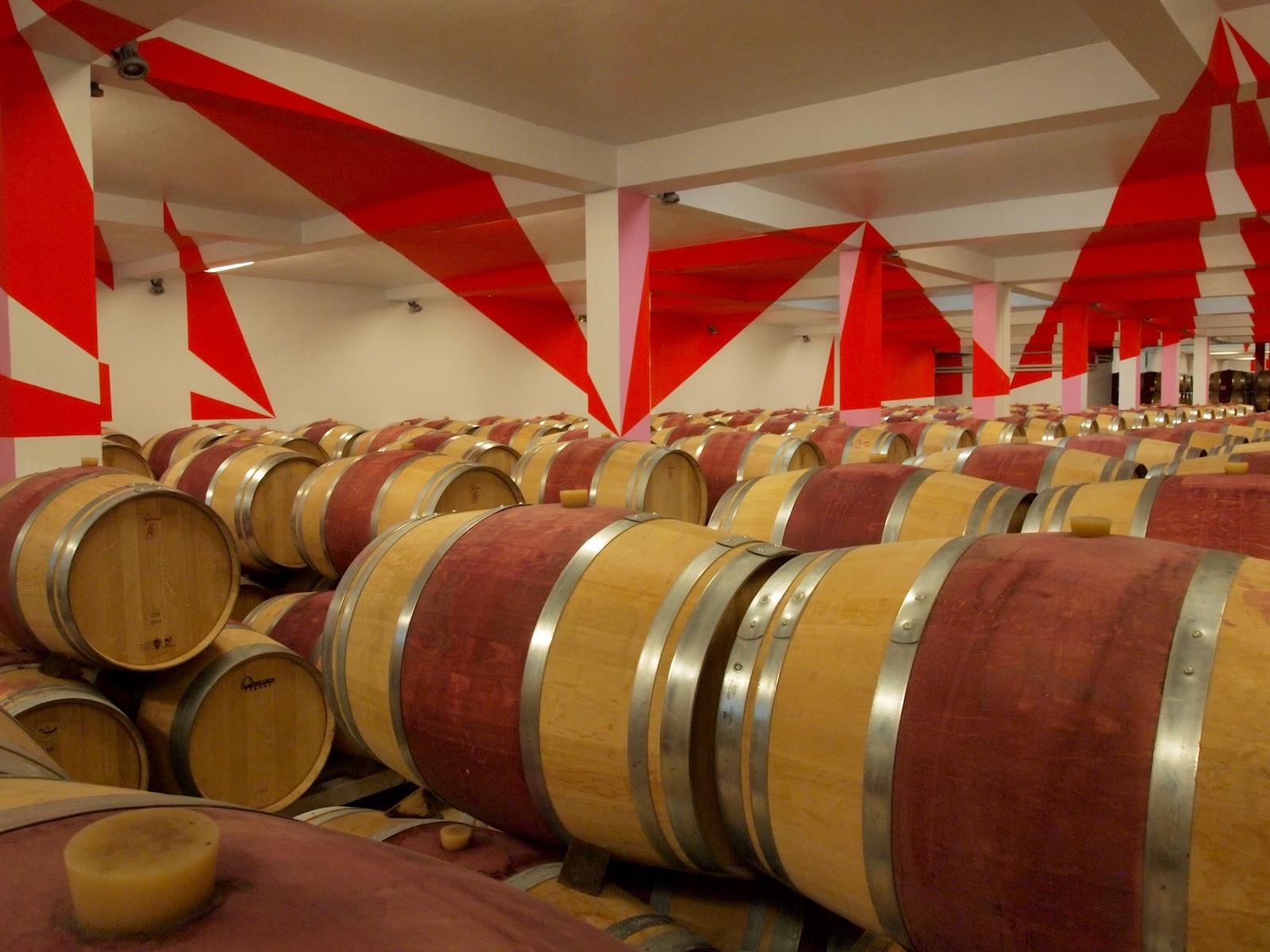 (Photo: The barrel cellar of Chasse Spleen)
Being British I have to now say "sorry", because this has become a regular wine story about regular wines. What I mean is this is a story about wines that you might want to drink because they're delicious, and which you might also be able to afford to drink because the prices aren't outrageous. Once again the hipster somms and Wall Street bankers will be switching off, because all of this is completely beneath them. What they both want are special wines that make them feel special, and to hell with the rest of us bozo winos!
The hipster somms long for the let's-get-down-and-dirty raw taste of the wild completely uncorrupted by sleight of human hand, the chill of stainless or the hum of high-tech machinery. What they seek cannot be delicious in the conventional sense, because otherwise it would be conventional, which would imply those terrible forms of corruption. No way Jose!
These wines earn the disdain of the Wall Street bankers for the nitty-gritty reasons of money and status: surely members of the upper 0.1% ought to only drink patriotic wines that belong to the upper 0.1%. Period. No pseudo-religious theories or complicated terroir bullshit are needed for that, just a hard-nosed commitment to the power of the dollar according to the motto of get rich or die!
Back at the Maison du Vin the tasting of wines from other producers quickly gives me a feeling for the diversity of Moulis wines. For example, the 2010 from Château Dutruch-Grand-Poujeaux is a self-confidently traditional wine with an intense herbal character and a long dry finish, while the 2010 Château Anthonic is a self-consciously modern wine with very ripe flavors and a lovely silkiness. Clearly almost all things are possible here, but I must thank Karin now and jump back on my bike in order to reach Château Mauvesin Barton – my bed for the night – at the other end of Moulis before the daylight fades.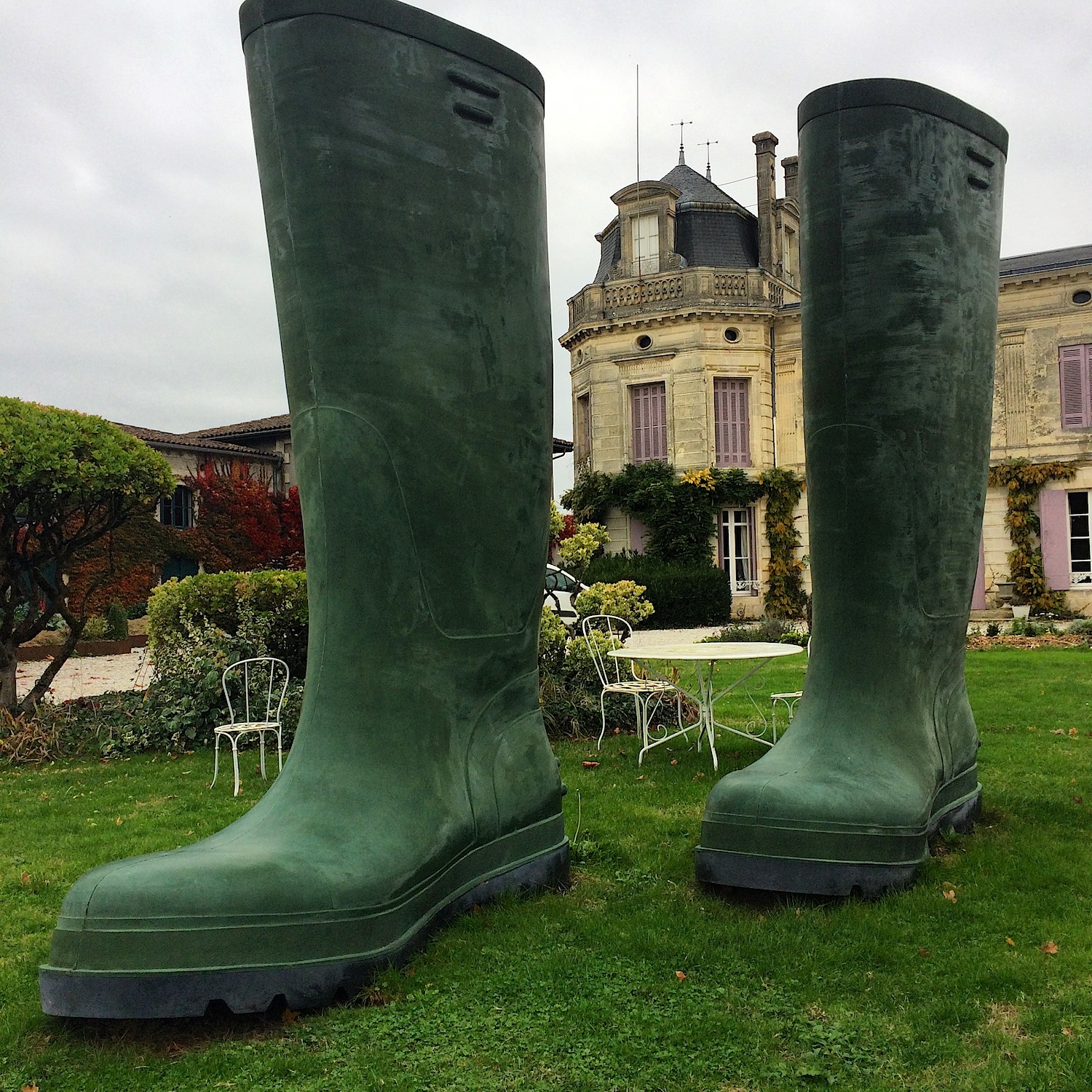 (Photo: The garden at Chase Spleen)
The next day remembering my ride back from the Maison du Vin makes the hairs on my neck stand up. Distracted by the vineyard I took one wrong turning and didn't realize my mistake until it was too late. That left me no choice but to ride for a few hair-raising minutes on the shoulder of quite a major highway in the dark during the middle of drive time. I got honked a good deal and I drove one driver to road rage, but at least I survived for this afternoon's mind-expanding tasting of Médoc wines in the tasting room of Langoa Barton in St. Julien.
I have to thank my young friend Emilien Delalande of the winemaking consultancy Laboratoire Oenoconseil for organizing these two dozen 2014s from little-known producers in the Médoc. Damien and Emilien are just putting the finishing touches to the long line of bottles on the table as I hastily scribble down all the unfamiliar names.
None of them looks or sounds stranger than the very first wine on the table, the 2014 Saikouk. Not only is the word "Château" missing form the name, but the entire label is a rich cerise color, the brand standing out in white letters. Then I pour myself a glass and the fruit aromas pouring from it almost bowl me over. It tastes so bright and juicy that it reminds me of great Beaujolais, although the appellation on the label is Médoc. What the hell?
"That wine was made by Latifa Saikouk, a young Moroccan woman who worked for several good Châteaux in the Médoc before she started her own domaine in Saint Seurin de Cadourne back in 2001. She has 9 hectares in the Médoc and Haut Médoc appellations and her wines are all about fruit!" Emilien explains with obvious pleasure in the fact that an outsider is breaking the mold. And what does it cost? "10 Euros."
We all continue with the tasting and rather quickly I notice how the wines from the commune of Saint-Christoly stand out because their tannins are more elegant than those of the majority from marketed under the simple Médoc Appellation. OK, a couple of them have quite a bit of green bell pepper aroma. Then I pour myself a glass of 2014 Clos Manou, the label of which has a picture of an elephant pushing a pile of BDX wooden cases in front of it with its trunk. What the hell?
The wine has astonishing dry elegance for this appellation and as much depth as some wines from much more fancy BDX appellations with fancy prices. Once again I turn to Emilien for information and he happily obliges.
"Francoise and Stéphane Dief made the first Clos Manou back in 1998 and their domaine grew from a very small beginning to 18 hectares today. Saint-Christoly is the most northerly commune in the Médoc with gravel soils and the Diefs make the best wine there."
"I love this wine. I think it's about $35 in the US, that is if you can find it!" Damien adds.
We continue tasting and just when I think that there are no more surprises there's the 2014 Château Tour Sieujean from Pauillac, in which appellation it's one of just four small independent producers remaining. Maybe it hasn't got the power of 2014 Château Mouton Rothschild, a First Growth with a $400 price tag, but it's a classic Pauillac, quite full-bodied with velvety tannins and it costs less than a tenth of the price!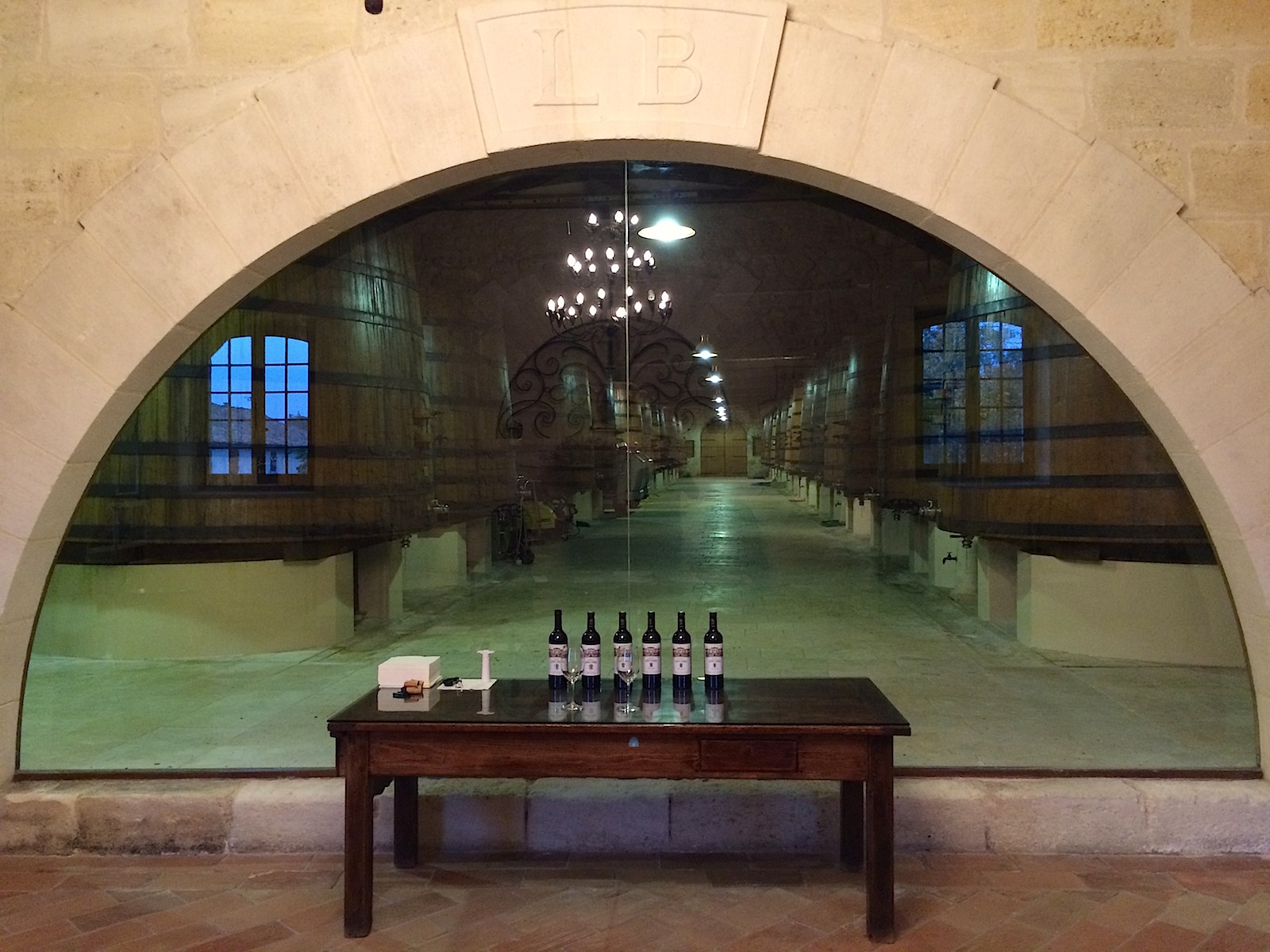 (Photo: The tasting room at Langoa Barton)
Finally I persuade Damien to bring out a bottle of the 2014 Château Mauvesin Barton and it's different again, sleek and delicate with rather dry tannins. He explains that this is the fourth vintage his sister Mélanie, made at this property since his family acquired it in 2011. "We still have a lot of work to do there," he says self-critically. However, for around $20 it's a very distinctive wine.
Time has run out, because Damien has to cook dinner, which means roasting a leg of wild boar over an open fire at Château Mauvesin Barton, something he's never done before. So we help Emilien pack up the row of bottles, then I thank him for introducing me to these unknown birds of paradise. As Damien's car pulls out of the courtyard of Langoa Barton it suddenly hits me how different from one another the three stars of the tasting were yet Emilien's company is advising all of them on the details of winemaking, and I blurt that out.
"The great thing about Emilien is that he is not pushing one style of winemaking," Damien replies. That makes him the opposite of Michel Rolland, the most famous BDX-based flying winemaker, regarded by many of many professionals in the WWW as the Darth Vader of wine. "He wants to help each of them realize and refine their own style of wine," Damien adds, and clearly he's on the same page as Emilien. The hipster somms of NYWC, the Wall Street bankers and much of the WWW have failed to register not only these wines, but also this new spirit in the Médoc. It's time to rediscover the Lost World of Wine!
Photography by Stuart Pigott
Stuart Pigott is a British wine journalist living in Berlin. He has published a number of other wine books, including Touring in Wine Country, the Wine Atlas of Germany, Planet Wine, and Life Beyond Liebfraumilch.
Read BDX Pt. 1
Read BDX Pt. 2
Read BDX Pt. 3 New Bordeaux, Money Secrets and Michel Rolland
Buy Stuart Pigott's The Best White Wine on Earth: The Riesling Story on Amazon for $17.30.
Buy Stuart Pigott's Kindle book ROCK STARS OF WINE AMERICA #3: FLXtra with KJR - This is a Love Story on Amazon for $4.99.
More from Stuart Pigott on Grape Collective:
Read Part I of the series: The Rise of The Hipster Sommelier
Read Part II: The Rise of the Hipster Sommelier Part II
Read Part III: Rise of the Hipster Sommerlier Part III