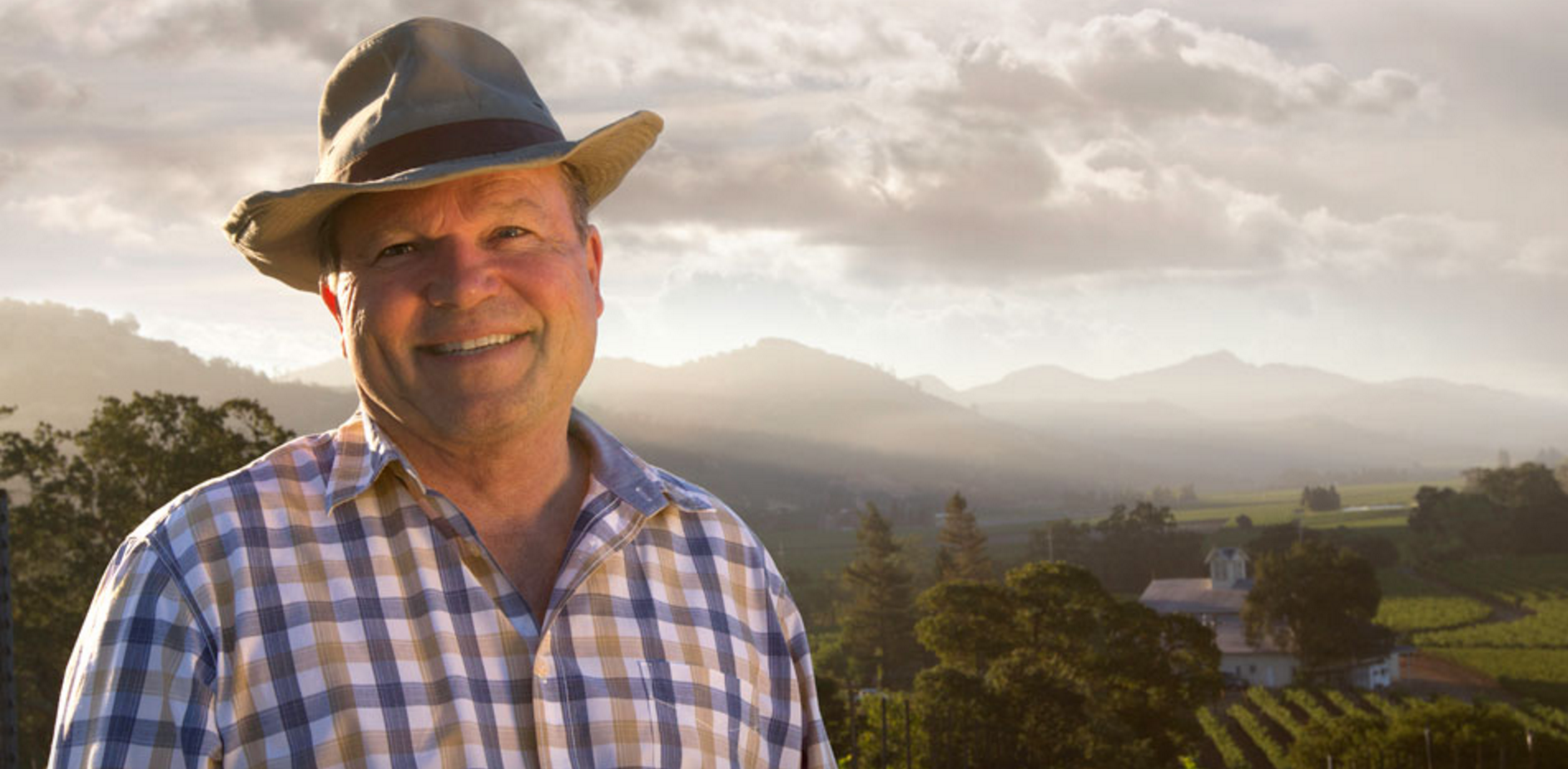 The Wagner family has farmed the current Caymus property to wine grapes since the 1940s; until 1972, when the winery was established, the fruit was sold to other area wineries.
The vineyard was planted to Nathan Fay's clone of Cabernet Sauvignon in the 1960s. Fay also famously provided grapes to Stag's Leap Wine Cellars which won the 1976 Judgment of Paris.
Read Dorothy Gaiter's profile of Chuck Wagner.
Dorothy Gaiter talks to Chuck Wagner about the changing face of Napa, balance in wine and great Cabernet Sauvigan.
Dorothy J. Gaiter: Caymus Vineyards is an iconic winery. It's also the only one in the world to be awarded two top Wine of the Year awards from the Wine Spectator, for your Special Selection Cabernet Sauvignon.
Chuck Wagner:That's correct.
What makes it so special?
It tastes good. I think making wine is a bit of a moving target and we've kind of changed with the times. I don't think that the wines we are producing today are the same as 10 years ago or 30 years ago, for that matter. I think wines have improved and along with that so has the Wine Spectator and how they look at wine. If anything I think we just advanced along the cause of becoming better, improving how we farm grapes, how we produce wine to make the product a little more special. We've been lucky enough because we are a part of how Napa grew up. We started in 1972 with production of 250 cases of Cabernet that we sold at $4.50 a bottle.
That's right. How I'd love to have that again.
So would I.
How has the wine changed itself? Has its style changed as well?
Yes. Stylistically I think the world of wine has changed. I think that there is a lot of honoring tradition and European wines that even if you look at some of the oldest wines of the world you will find that they have been improving through out the years regardless of AOC or whatever may be inspiring them to produce wine. I think that wine is partly interesting and especially for me because it's very competitive. It's not just in Rutherford or not just Napa Valley or just California. It's a worldwide competitive stage that we as wine makers are able to perform on and that makes it a lot of fun and very interesting.
There's been a lot of talk about balance in wines. What do you think of all that? Big alcohol, concentrated, extracted and then the idea of something that's more balanced and maybe friendly.
Well, balanced may mean something different to me than you. Balanced to me is when the major components of the wine are all put together and not one component sticks out. The essentials would be tannin, acidity, alcohol, wood content if it was barrel-aged, if it was barrel-aged in new barrel versus older, what a view. I also think there is a flavor of the variety in the soil from which it was derived and in the location it's grown. That is a large presence of the wine. In addition to these components of acidity and tannin you have that. Balance to me means harmony. It may have an alcohol of 11 or may have an alcohol of 15.5. I think balance for me is exactly that. I don't mind having a 15.5 alcohol wine provided the alcohol doesn't stick out, that I don't notice it.
Right. I feel that way too.
Brings about this great presence, texture ,and flavors on the power of that. I get excited about that.
Well, you should. You have such deep roots in Napa and Napa is Cabernet Sauvignon central. You have deep roots literally and figuratively. In your blood lines you have 3 awesome families who have been growing grapes and making wine.
Yeah. We are old Napa for sure. My mother's side was here longer than my father's. My mother's side came in 1857 on a covered wagon from Bible Grove, Missouri.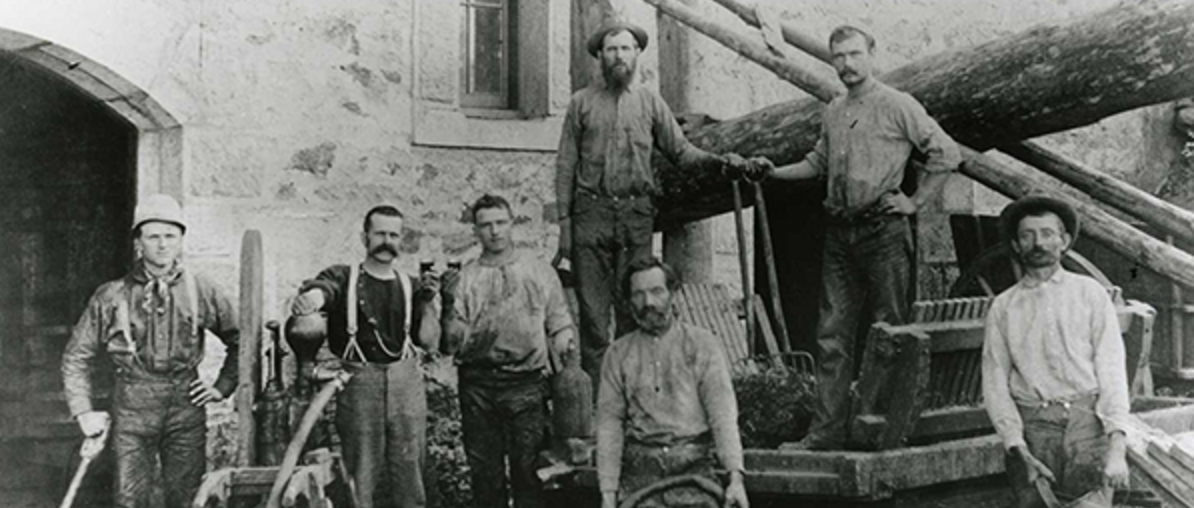 (Photo: The Stice Family)
I've read that.
My father's side came from Alsace in 1906. Both families, my mother's and father's were engaged in the production of wine, commercial wine business. Actually prohibition is what rather got in the way of my family continuing. Prohibition went on from 1919 to 1933, 13 to 14 years where it was illegal to produce wine for sale. My grandfather and my father at that time pulled out grapes and planted other crops right there in the middle if Napa Valley. We are in Rutherford, which is the center of Napa. Even when I grew up we had prunes and walnuts and grapes and cereal grain. Prunes were the primary business of the family and prune dehydration was something that my father was doing commercially.
I didn't know that. Prunes were big back then.
Prunes are still big.
Yeah. Nathan Fay had a lot of prunes, I remember. That's where your family got its clone? Its Cabernet Sauvignon clone from.
That's right. From that land. Fay had already planted his Cabernet vineyard and within the valley it was well known. My father knew Fay and asked if we could use some of his wood and some of the tissues, some of the sticks of wood have the Cabernet buds that would make a plant shoot and the mother variety. He took the mother plant and propagated that into our own land and that was the beginning of Caymus Cabernet.
And you make two? You make two different Cabernets. You make the Special Selection and the Napa, the regular--
Right. Today we make just two Cabernet Sauvignons under the Caymus label. We make Special Selection and Napa Valley.
Okay, and special selection you don't make every year. Right?
Well, we don't make it every year but almost every year. If Mother Nature is really unkind to us and the wines don't measure up, then we won't bottle it.
Now, you have the Wagner Family of Wines. More than Caymus you have Conundrum? I can't wait ... Well, tell me about Conundrum. I've always loved the name of that.
So do I. Well, it's a rather unique wine. Actually, this year, our current release, it's our 25th anniversary production of conundrum because we started in 1989. The origin of conundrum is my dad who loved wine all of his life, just like myself. I kind of caught on the same as my father drinking in moderation, loving wine. My dad was never afraid to blend two wines together at the table. Say a glass of Sauvignon Blanc and a glass of Chardonnay. Or Cabernet and Zinfandel or whatever it is--
Always two?
Yeah. He didn't have more than two bottles opened so that's why. But I think that what dad was showing me was the tradition of Europe. In the U. S. we'd all come to believe that wine must be good if it's 100% of the variety, on its own. But you can break those rules. I appreciate very much the AOC rules of Europe and through out Europe. I think those are important things. But I also believe that if you were to redo, if you had the chance to redo the AOC rules, knowing what we know today in terms of what variety belongs at what location, there could be other choices. I think we have advanced and become more knowledgeable in that.
That being said, California is a mix of all sorts of varieties. Everyone is trying whatever they please, and hopefully they are going to end up producing wine from the right variety from the right place. We are just undergoing that at this moment of time. That being said I think Conundrum is a California wine being non traditional and very unique in its California tradition of blending whatever tastes good together.
It started out as only a white wine but now you have a red and now you also have a rose.
Yes. Conundrum advanced to include a red a few years ago and it's basically the same concept where we were blending together different varieties so that it's not likewe have yet developed a blend such as the white where you have the 5 varieties that you blend together. It's no handcuffs. If something tastes good together then blend it together. We are not talking about what varieties go into the red conundrum this time, but it isn't slightly off dry dark red blend that does exceedingly well at the table. Conundrum red, even though it's fairly dark and has a sufficient amount of character and tannin it can't be served chill. It's a pretty interesting wine that way.
I've heard that it has some Zin.
It does.
Your father loves Zin. Right?
My dad's favorite one was Zinfandel.
Is that right?
Yes.
I read that. I thought how cool is that? This is in Napa.
Whenever Zinfandel ... You know my dad knew we were Cabernet producers obviously, but anybody that come by the winery, if they asked him, he would admit Zinfandel was his wine.
And Pinot Noir was your mother's.
That's right.
Wow! That's an interesting marriage. That's wonderful. The rosé , is it out yet?
Rosé has just been released in the market as we speak.
Perfect season.
Yeah. I'm not in love with rosé generally but I think this is a spectacular wine. Unlike Conundrum red and Conundrum white that have a bit of residual sugar, the rosé is dry.
It's so bright.
But very fig-driven-strawberries sort of characters to it, beautiful color, fresh, it should be served chilled, and I think probably consumed in first year of production, something like that.
Is this a project of one of your sons?
Yes. This is a project of my older son, Charlie.
Charlie. Okay. Is it his idea?
Yes.
Do they ever tell you ... you have 4 kids and 3 are in the wine business. Do they ever say, "Dad, I love you but you are wrong about something?"
Yes.
Is this going to be like pulling teeth? Like what?
First of all we are family. They are all family but they get along perfectly well. They say you can choose your friends but not your family.
It's true.
But I think that the wine business we look at it a little differently. It is definitely when you are at work, whether you are at Caymus or Mer Soleil, Conundrum winery and Emmolo winery it's all about that work and it's not necessarily about the relationship that we have with each other. Really it becomes a time to sit down and divide up the responsibilities as to who is going to be responsible in whatever areas it may be. As you know or may not know we are also farmers. I liken ourselves to farmers first and winemakers second. With that we farm through some of the top regions of the state of California. We are not just in Napa. We are significant in Napa. We are also farming in Santa Barbara in the Santa Maria Valley and Monterey County in the Santa Lucia Highlands.
The Wagners: Charlie, Jenny, Chuck, Joseph
The highlands. Great.
On Sonoma coast where recently we've just planted a vineyard in an area that most people haven't heard of and it is an AVA which is called Suisun Valley.
I don't know that.
It's Solano County. It's a neighboring county to Napa.
Your family grew grapes beginning in the '40s and you didn't start the winery until 1971 when your folks came to you, you were 19 just out of high school and they said?
Well, the family has grown grapes for 130 or so years in Napa but those were what we call standard varieties. They were high-production varieties that made very ordinary wines and it wasn't until 1966 that my dad had pulled the prunes and walnuts on the Caymus property and planted what we called at the time varietals which included Cabernet and a couple other varieties.
Now, I've read I guess on your website that your folks said that if you wanted to they would love to start a winery with you because you were selling grapes to other wineries and decided that these are really good grapes. You could do this on your own, the three of you. If you didn't want to go into the winery business they were going to move to Australia. Why Australia?
Well, probably because they were trying to try a new business, and Australians were coming into the United States and asking people to relocate to Australia and along with that they would have special tax benefits and sorts of things. It was a New-Age era. I think my parents have always been excited about that. I think that's probably part of the family, why they moved from Europe to America and from eastern over to western America and once you are there Australia sounds like the next jump.
I just think it's so cool that they were willing to do that. That they--
Yeah. That age.
You worked alongside them for more than 30 years making wine.
Yeah.
What a gift that was! Your mom was involved with it too. That's--
I think that I always knew it was a gift and it was always important to me but I think since my folks passed on especially thinking about working with my dad in the yard in wine production and looking back and seeing how we aligned and we really didn't argue, we basically saw the same direction and shot towards it. I was able to have a wonderful father-son relationship in the wine business. I like to think it's second to none. It was a great relationship. My mom, of course, she lived for a quite a few more years than my father. My father passed on at the age of just about 90 and my mother was almost 98 when she passed. She was also a large part of the business. She was the glue that kept the family together.
How did she come to like Pinot Noir? That's a very ... And did for a long time. She was an early person in that.
I can tell you how. That is pretty easy. Caymus is situated in the middle of Napa Valley but our neighboring vineyard years ago was owned by Beaulieu. Beaulieu Vineyard and so that area or that section of the Beaulieu land holdings were planted Pinot Noir. My father made home-made Pinot Noir. Late 1957, '58, '59. I recall these wines as when I began to drink, he still had a few older bottles to taste. The reason my mom liked it is because it was lighter and less bitter. I think it's fair to say that's the reason she fell in love with Pinot Noir wine.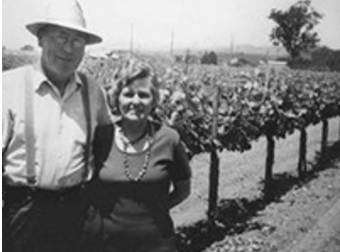 (Photo: Charlie and Lorna Wagner)
Part of your Wagner Family of Wines there is a winery brand called Bel Glos which is her maiden name.
Yeah. Belle Glos is my mother's maid name. Just to clarify back on why my father was able to make wine from the Beaulieu Vineyard is once they made their harvest for their own wine there were a few grapes left on each vine and so if you through and pick those it takes a lot of work to make a barrel of wine. We call it gleaning. By gleaning through the vineyard, picking it in buckets and that sort of thing. My dad was able to make some Pinot Noir from those vines through gleaning Beaulieu. Belle Glos, my mother's maid name is Glos and her mother was Estice. Those are the old families. Part of the old families of Napa valley. Glos was Germanic. They came in the 1880s into Napa valley and with that they worked in the vineyards and they were just vineyard labor.
My mother was one of 7 children born and raised in the middle of Rutherford as well as my father, same place. They met because they both lived near the Napa River, about a half a mile from each other. My father had befriended the Glos's boys, my mother's bother. That's how my mom and dad got together.
They eloped.
They eloped.
How romantic is that! That's incredible.
It lasted.
It lasted forever. Long long time. Was there ever any ... Did you have any other career aspirations outside of wine? You were so young. You were 19 when they came to you--
No. I could be happy doing anything honestly. I'm happy doing what I do just like my father.
You are very good at it too.
Thank you. Maybe I would also like to be a wine critic--
Well, that's fun too. That's fun too.
I think that I'm easy to please that way. I just get interested in whatever I'm doing and go that way.
What do you think about the way Napa has changed? You've seen it over decades and decades.
Yes. Napa has changed. There are negatives and positives to that change and I think that probably the greatest positive is that Napa has never been more beautiful than it is today.
So sad I haven't been there in a while.
It has about between 35 and 40,000 acres of vineyards that are manicured, basically a large garden. Every decade that goes by I think the vineyards even look more spectacular and more well-trimmed. Along with that we've had a lot of interest basically because Napa has the potential of making good wine. Along with that people who want to be in the wine business want to engage and potentially live the lifestyle of Napa. They will come and invest in our valley and produce wine. Well, that may sound curious or maybe not so positive, but it's actually, it's played a very positive role in Napa Valley and the reason is because people come from all walks of life, all countries of the land usually with a lot of money coming to Napa with the intent of producing the world's best wine.
There is no such thing as the world's best wine but I think they are inspired in believing that they can play role and make one of the best wines. With that, competition has become intense and when competition becomes intense, qualities will aspire. That's a very good thing for Napa. Maybe on the negative side, these days we have a lot of traffic. We have only 2 main highways going in and out of the valley so we have traffic jams twice a day during the work days. Again, some of the environments are unhappy about all the wineries and all the employees. We have that as a negative. On top of that we do have about a little over 3 million visitors a year. Plenty of people come to Napa because it's on their bucket list and it's a place to see. Personally I think it's a beautiful place to live, beautiful place to see and I think there are a lot of great wines in Napa.
All that pressure. I would imagine ... We know that land prices have gone crazy. Your family has more than 350 acres in Napa. Right?
Yeah. Something like that.
You have your succession plan worked out, it sounds like. Your kids already--
Yes.
A lot of people are worried about that.
Well, I am too because I think ... My succession plan is ... The first thing you need to do with that is to find out whether your children are interested in continuing what you do. It appears I've got that covered. We do look to European families. Of course the longest running family in wine business will be Antinori but otherwise there is Hugel and Trimbach, about half that, 14 generations or so. We do look at them and actually know some of those families personally and are able to speak about how can you keep a family together in the wine business and continue to go forward. After all one child makes two and as it goes down first thing you've got a hundred family members so you got to have a structure that allows the appropriate play for all the members. In most cases one person to run the show or maybe two and et cetera.
I think that looking at the families in Europe if anything I'm jealous of their ability to have been in the business. Why would I want our family to be in business, in the wine business? It's because it's a wonderful lifestyle. It's often referred to as romantic lifestyle. I think it is romantic. The romance is not what people expect sometimes. It's growing grapes, working with mother nature throughout a year. In the next year mother nature gives you another set of standards that you farm by. You always get something new and fresh and interesting. They are introducing wine again going along some kind of change timeline with what the clientele, what the consumer wants, what the critic likes. I think it does change to a degree through the years.
Now, if you were starting out all over again without your family history in Napa is Napa a place where you would want to do this if you could go anywhere?
No one has asked me that question so I don't know. I suppose, well, I can say this. I couldn't go to Napa unless I was really wealthy.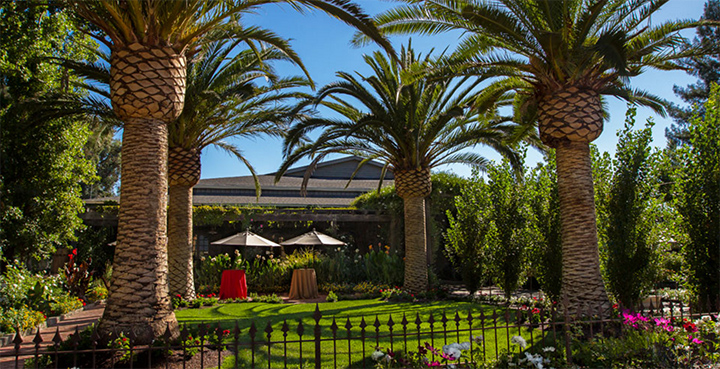 It's true. It takes a lot of money.
If I had a lot of money then I think potentially it's an option. Remember I was born in the Napa when Napa valley was just another agricultural valley of California. Maybe no different that say Santa Maria valley or San Francisco or Sonoma. No one was making a lot of money and no one was making great wines. There were few good wines but it wasn't really renowned. All of Napa grew up around me and sometimes I feel really kind of an older member of our community because of that. Being born and raised in a place where we were surrounded by farms that had diversity. Not just grapes, but as I mentioned prunes and walnuts. With farmers that really didn't make a lot of money they just made a living and they worked hard and they were good friends of my father. That's what I grew up in. That's changed incredibly. It's quite different.
What's happened in Napa is nothing more than the spotlight has increased that the wines are now renowned throughout the world no longer just around California. I recall only maybe 20 years ago when New York city was not happy about or thinking that California wouldn't have a chance against the European contenders because the Europeans had on the market here. That's changed in a very large way. California wines and Napa being the pinnacle of American wines have found a very safe place. I think it's based on the quality of wine that we make. I got to grow up as part of this and actually got to play a role in what Napa is known as today. I'm proud and happy. Also I know that I'm just fortunate that I was born there at the right time at the right place.
Well, that's just the gods smiling on you. Right? You were--
Possibly.
You were born in Rutherford. That's just incredible. Your kids must feel some of that too. That they are in the right place at the right time.
I think so. I guess.
You make a wine that's grown in Mendoza but the grapes are shipped here to California?
That's right. Yes.
How did that happen? How did that come to be?
Well, we grow other crops besides wine grapes. We do lemons and we--
You do! I didn't know that.
For 16 years we've farmed table grapes in northern Mexico and so we learned that fruits such as grapes such as what you can buy in the market place downtown here you buy a grape and it tastes fresh and it's crispy and delicious and you don't know the origin. It may be California, it could be Chile. The shipping has become common place in preserving quality along that shipping process. It has really come a long way. The idea of producing a Malbec wine from Mendoza grapes was an enterprising one partly because we think that Malbec is a very difficult variety in California. But they make exceedingly great wines in Mendoza but often they are broad shouldered, hard, wine and strike the palate in a different manner than say Caymus Cabernet which is more supple textures, fine tannin content.
We thought that if we were to take some Argentine Malbec and apply our wine making technique to it that we would make a Caymus style of Malbec from the Mendoza. We brought in a ... We located a vineyard. We are at the site in a choice location and at harvest, we chewed the grapes [to assure their quality], put them in containers and they were shipped up to Napa Valley where we received the grapes, took them out of the container and if it's table grapes they go into the store but in this case they went from the container into our receiving crusher. We fermented the grapes and made our style of wine from Mendoza Malbec. We called the brand, this label, Red Schooner referring to the boat that brought them.
Interesting. First of all I think the wine will speak for itself. It's delicious and I think it does taste a bit like a Caymus Cabernet. But when we went to apply for label registration with the TTB they would not allow us. They had not seen this condition before and so they wouldn't allow us to apply onto the bottle the vintage, the appellation or the variety.
Because it wasn't from here?
Because it was from grapes grown in Argentina but was made in California. With that we chose to call it a Wine of the World and instead of a vintage it's by voyage. The first bottling, the first vintage which is 2010, is Voyage One. Then Voyage Two is after that, et cetera.
We are on vintage three now? Voyage Three?
Yes. We are right in the Voyage Three. Just beginning Voyage Three.
But on the back label?
Yeah. The back label if you read it you can decipher the vintage of the wine and the variety and also the appellation.
Oh, you're just expanding all over the place and it's just--
Well, there is not a large production--
No. But you are in other parts. You are not just in Napa. For a company with some years on it you are very nimble still and that's a wonderful thing.
We have a lot of fun. I think that's part it. I think for my kids especially this [Red Schooner] is very enterprising and it's something that they can do. It's also a big part of them accepting the wine business. I'm excited for that. I think there is real potential in that even though it sounds inefficient, in fact it's not. We looked at the cost of say producing wine there and bringing bottles up versus bringing grapes up and producing the wine, and it seemed to be somewhat of a wash in terms of efficiency. But having the control, of being able to apply our wine-making standards to the wine, is important. But a very important part of this is that we have equipment that produces wine during September, October of every year. In the balance of the year it sits idle and it's not used. If this enables us to use fermentation equipment just this time of the year in April fermenting grapes from the Southern Hemisphere that also has an [efficiency to it. The Southern Hemisphere has a different growing-harvest cycle.]
That's really smart. That's really smart. Well, thank you so much for being with us. This was just a lot of fun. Good to see you again.