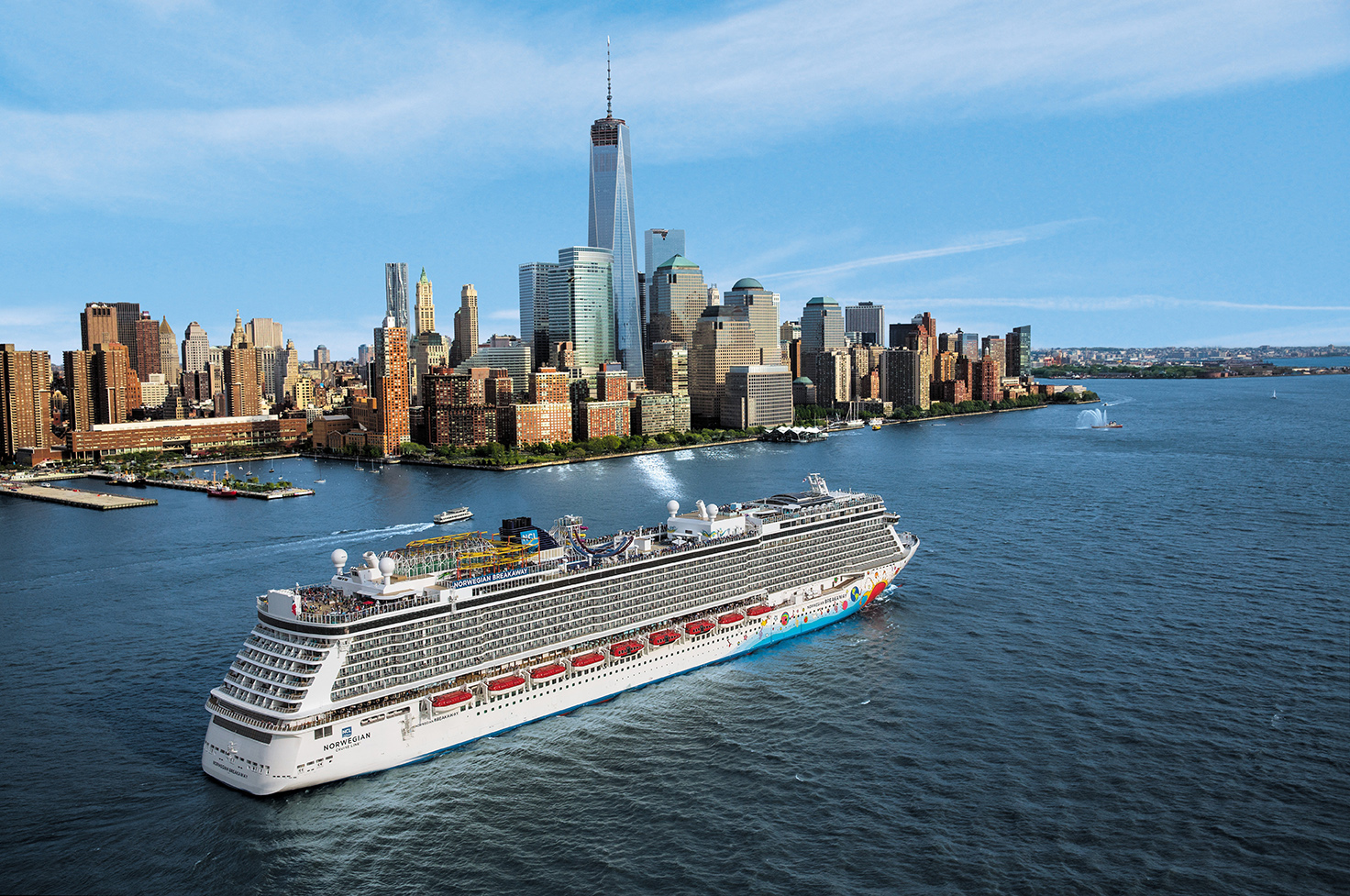 It's been a bruising month. Nevertheless, all of us need to just keep putting one foot in front of the other. We need to look ahead and carve out more time with our loved ones, and get away for a bit, if you can swing it.
Over the years, John and I have found two modes of travel that satisfy our desire to be alone as much as we want and to drink as many of our own bottles of wine as we want: We're big-time fans of cruises and of long-distance train travel in Amtrak's deluxe sleeper cars. And, mind you, both these ways of travel allow us to enjoy ever-changing vistas with stunning sunsets and glorious blue-white moons. What more could anyone want?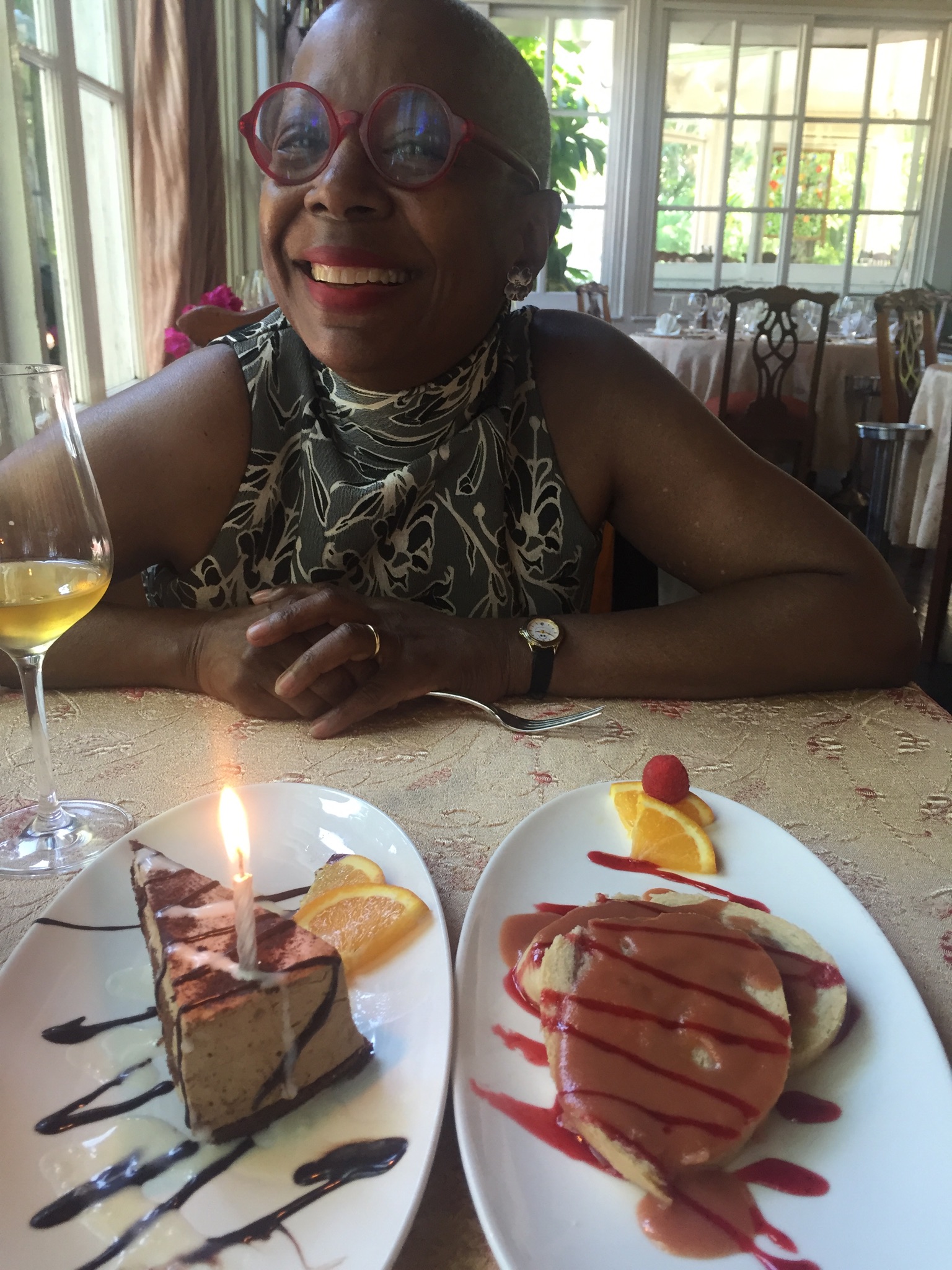 For our 37th official anniversary in April, we took Norwegian Cruise Line's three-year-old, 4,000-passenger capacity ship, the Breakaway, to the Bahamas. A couple things are great about that: First, instead of having to fly somewhere to take a ship, we took a cab from our apartment on the Upper West Side of Manhattan to its home port, the New York Passenger Ship Terminal in midtown, where Zoë and her girlfriend, Maria, waved us off from a park near the Intrepid Sea, Air & Space Museum.
And second, Norwegian Cruise Line is unusually welcoming to wine lovers, we discovered last year when we first took a trip on the Breakaway. While the ship has a well-priced and interesting wine list at its themed restaurants and even wine-dispensing kiosks, with a good selection and nice glasses, the cruise line also allows you to bring your own wine (no liquor or beer) aboard for a $15 a bottle corkage fee.
What's more, there's no limit to the number of wines you can bring, Wes Cort Sr., director of restaurants and beverage, and Luis Ortega, corporate manager of beverage development for the cruise line, wrote me in an email. Upon boarding, you pay for your bottles and a "corkage paid" sticker is affixed to them. (Royal Caribbean International's website says the cruise line does not charge corkage, but only allows guests each to bring two bottles of wine when they board. Carnival Cruise Line allows one bottle per person. If it's consumed at a restaurant or bar onboard, you pay $15 corkage. Water and soda in bottles are prohibited as bottles are a means of smuggling in alcohol, Carnival explains in its policy statements.
We took advantage of that great privilege Norwegian extended, spending weeks selecting our wines. When we asked Norwegian's officials about the percentage of guests who bring their wine with them, they told us, "This varies from ship to ship according to the ship's itinerary. If the ship is visiting a wine producing country, the percentage tends to increase. Nevertheless, it is not that significant. Guests know that they can find good wines on board nowadays." They added that the number of bottles purchased on board last year had increased to 2.6 million bottles, 15% over 2014.
Before we left, John also perused the massive wine list at Graycliff, a restaurant and resort in Nassau that boasts one of the largest wine cellars in the world. It has more than a quarter million bottles, from more than 400 vintners in 15 countries. We'd had lunch there in 2000 while on a Disney Cruise with Media and Zoë. From what we could tell online, that Disney-Graycliff connection has since become a "thing." Anyway, we had reservations there for our anniversary lunch and had confirmed that Garry Parks, the knowledgeable sommelier who had served us in 2000, would be working then. We brought a copy of our book, "Wine for Every Day and Every Occasion: Red, White, and Bubbly to Celebrate the Joy of Living," which recounted that lunch, to give to Garry.
We start most vacations with Champagne. For this one, seven nights for around $3,200 in a marvelous stateroom with a huge balcony and special meals included in our package, we started with a NV Marie Weiss ($35), which was new to us. It's a second label of Ployez-Jacquemart Champagne, also new to us. It's 25% Pinot Noir, 25% Pinot Meunier and 50% Chardonnay from the Montagne de Reims and the Cote des Blancs, half from premier cru and grand cru vineyards. We sipped it as we waved to the girls and the ship pulled out toward the Statue of Liberty. "Great nose of yeast, minerals and lemon. Lovely, classic Champagne tastes. Tightly wound fruit, just a beautiful wine. Not challenging or difficult, just beautifully made and easy to enjoy. Endless Champagne finish," we wrote in our notes.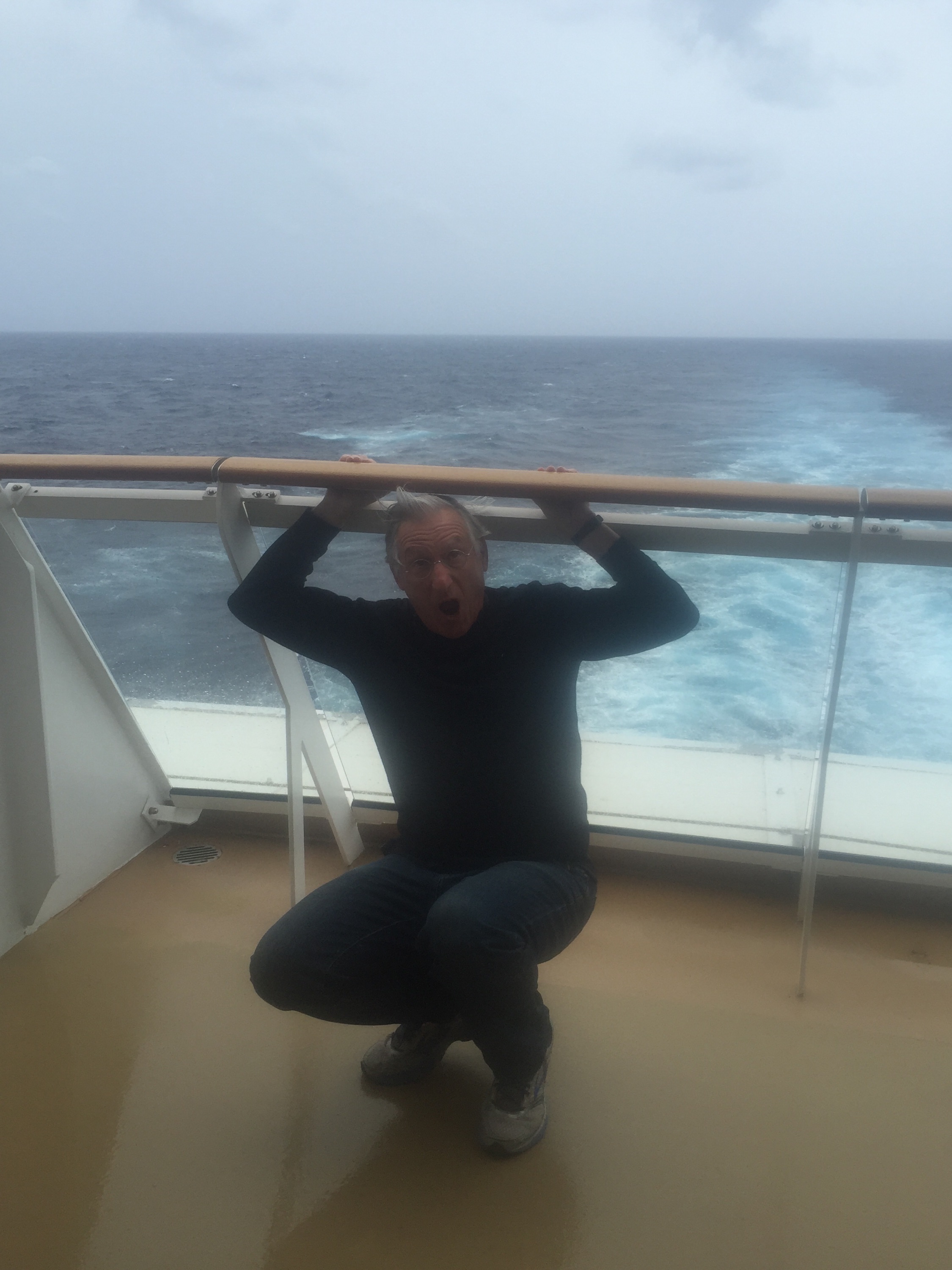 (Photo: John as Leonardo DiCaprio's character, Jack, in the Titanic after it sinks.)
We wondered about the wisdom of repeating a cruise, if it would be too familiar. So for our first night, we booked dinner at a restaurant we hadn't tried, Moderno Churrascaria, a Brazilian place with delicious cheeses and even sushi in its huge salad and appetizer bar, and for me, a serious carnivore, bliss on skewers, an endless procession of grilled meats. But the stunner for me was the grilled pineapple! The menu was perfect for our first still wine, a 2011 Gaja Ca'Marcanda Magari, from Toscana, $72. We sat for a long time just sipping this red blend of Merlot, Cabernet Sauvignon and Cabernet Franc, alone at first and then with some cheeses that John selected. "Classy, structured and crisp, the way some very good Cabernet can be. Then it became softer, like Merlot, with a hint of age. About 45 minutes in, it was earthier and richer with blue-black, huge fruit, robust, elegant," we wrote in our notes. Outside our deck-side window, the sun was setting and all too soon the Gaja was gone.
What to do? Fortunately, our stateroom was just above us, so John went to grab a second Champagne, a 2008 Christophe Mignon Brut Nature, 100% Pinot Meunier, also from the Marne Valley, $61. By this time, the servers had all gotten into our rhythm and seemed to enjoy us enjoying ourselves as we sipped only a glass each of this Champagne and watched the orange ball outside fall into the Atlantic Ocean. "Lemon Meringue, lemon and walnuts. Seriously no dosage. Not toasty, just fruit. Young, fresh, classic, a wine of real presence," we wrote. After the sun disappeared, we corked the Mignon and took it back to our room to a waiting ice bucket.
On the next day, our first full day, we went to dinner at Le Bistro, the French restaurant, and we took a long-cherished gift from John's brother, Kris, a 2001 Louis Latour Montrachet Grand Cru from Côte de Beaune.) "Pineapple and surprisingly oaky. Might have guessed it was an American Chardonnay from the '80s at first. A few minutes in, there was more acidity, less oak, a tightening up, some lemon soufflé, elegant with great acidity. An hour in, a little sherried. About 90 minutes in, it developed a Chablis-like sourness. After two and a half hours, it was still hanging in there, from appetizers through dessert," we wrote.
On our first Breakaway cruise we drank a lot of this wine from the ship's own lists: 2014 Francois Lurton Les Fumees Blanches Rosé from Grenache, Syrah and Cinsault (wine-searcher $12 and we paid about $32 on board). Again, it was a winner. "Juicy and crisp, strawberries, great grapefruit acidity and minerals, perfect with the BLTs, burgers and turkey sandwiches we had for lunch," we wrote in our notes.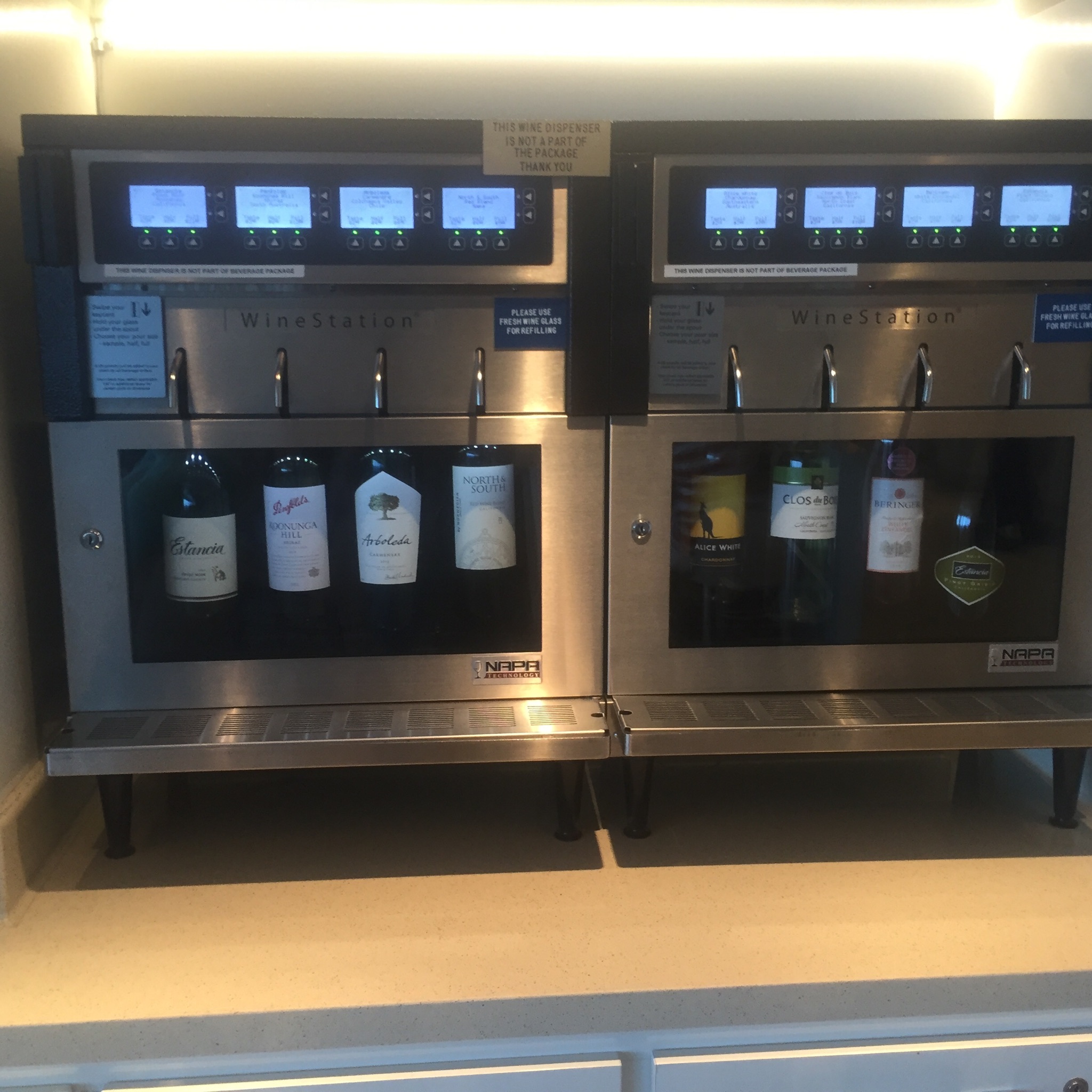 The ship's wine stations were a happy element and equipped with nice glasses, not plastic. Among the selections, which are monitored and changed regularly: Alice White Chardonnay, South Eastern Australia, was $2.15 for a taste, $3.60 for a half glass, and $7.25 for a full glass. Arboleda Carmenere, Colchagua Valley, Chile, was $2.90, $4.90 and $9.75, respectively, while Penfolds Koonunga Hill Shiraz from South Australia, $3.40, $6.60 and $13.00.
In Nassau, we walked to Graycliff in the hot sun and arrived to find a surprise. At our table was a bottle of 2009 Heitz Cellar Trailside Vineyards Cabernet Sauvignon with the notation on the label that it had been bottled in April 2013. Garry, the sommelier, explained that it was a gift from Daniel Vu, Heitz's national sales manager, whom we'd met earlier that month at a celebration of the Napa Valley winery's 55th anniversary and the 50th anniversary of the creation of its iconic Martha's Vineyard Cabernet Sauvignon, the first vineyard-designated Cabernet Sauvignon in Napa. He was getting married soon and we told him we were about to celebrate our 37th anniversary at Graycliff. Turns out, he'd done an event there recently and after hearing of our plans had contacted its owners, Enrico and Anna Maria Garzaroli. Their daughter Roberta had sent us the wine list. What a sweet thing for Daniel to have done!
We debated opening the Heitz then, but it was so hot outside and we were still a bit sweaty from the walk, so we decided to order two whites from Graycliff's wine list and to hope that the Breakaway would let us bring the Heitz aboard for the final night of our cruise. (At a stop-over in Orlando, one of two, we had been told that we could not bring on cooked food, in this case dinner from Sonny's BBQ, which we dream of, and so had had it for lunch.)
John had scouted Graycliff's wine list and selected two old whites while at home: a 1997 Guigal Condrieu ($97) and a 1987 Chapoutier Chante-Alouette ($66). Both were a risk because of their age, but if you're going to take that kind of risk, Graycliff, or a place that cares as much for its wine as this oasis does, is the place to take it.
The Condrieu was "a green-gold color, fresh, very tropical, with almonds, carambola (star fruit), grilled peaches and pineapple," we wrote. Garry offered mango and he was right. "Luscious, fresh and balanced, even bananas. Effortless," we added.
The Chapoutier smelled like "peaches. It's beautiful and old. Earthy and a bit sherry-like. Clean and at the same time earthy. Beautiful like an elegant, older person." We had these with conch chowder to start, lobster ravioli (a spot-on recommendation by our hostess, Karen Adderley) and a lovely filet of snapper. We could see Garry and Karen exhale. It was a terrific anniversary celebration.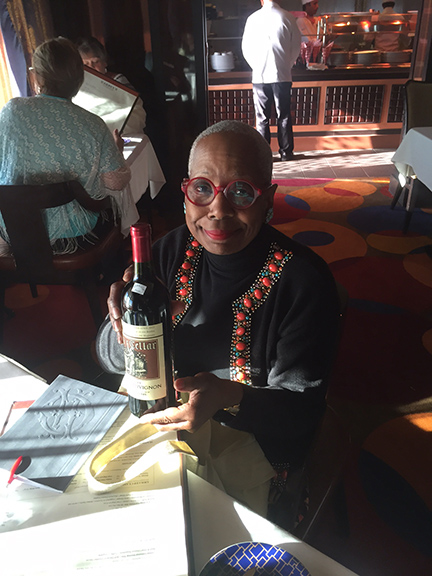 Walking down the hill, cradling the Heitz like a newborn, we nervously approached the ship. Would they take our wine and return it to us after we arrived in Manhattan? That was their first instinct, but I begged them to charge us corkage and give it back so that we could enjoy it on our last night.
Romance won. We opened it at Cagney's steakhouse, which we had selected for the return trip home because it would be on the correct side to see the sun set. The Heitz, we wrote, "looked like velvet. It's a really unusual color, a red-black, dense purple. Really unusual. Wonderfully acidic, as the other Heitz's have been. Serious black cherry and judicious oak. Minerally finish, earthy. Rose petals. John said he would never have guessed that it was 14.5% alcohol. Fabulously balanced. Like Cabernets from another time. Not showy, just mellow and confident in what it is. Great fruit. No need to be showy. Tobacco, black plums." We had it with filet mignon, mine black-and-blue.
Before closing our notebook on that trip, we wrote, "How wonderful to be able to drink our own wines. If we couldn't do this and had to order from most wine lists anywhere where we'd vacation, we'd spend a lot more for less special stuff. This was a wonderful wine vacation."
You owe it to yourself to take some time off. It's been a rough month. Not one day is promised. Grab a bottle and celebrate being here.
Dorothy J. Gaiter conceived and wrote The Wall Street Journal's wine column, "Tastings," from 1998 to 2010 with her husband, John Brecher. She has been tasting and studying wine since 1973. She has had a distinguished career in journalism as a reporter, editor, columnist and editorial writer at The Miami Herald and The New York Times as well as at The Journal.
As of publication the wines described above are available at the following retailers:
NV Marie Weiss is available at Some Good Wine in NY for $34.99
Gaja Ca'Marcanda Magari is available at Jersey Fine Wines for $59.99
Christophe Mignon Brut Nature is available at PJ Wine for $43.97
Alice White Chardonnay is available at GetWineOnline for $8.29
Arboleda Carmenere at UnCorkIt in Illinois for $19.44.
Penfolds Koonunga Hill Shiraz at Manor House Cellar in NY for $12.99
Heitz Cellar Trailside Vineyards Cabernet Sauvignon at Star Wines in NY for $74.99