In 2004, long before "natural wine" had anything like its current cachet, Tracey and Jared Brandt set out to transpose a radical French wine ethos to northern California terroir. Equipped with an apprenticeship under iconoclastic Rhône vigneron Eric Texier and a desire to make the kinds of wines they'd learned to love over many visits to France, the Brandts set out to interpret the fruit of clean-farmed vineyards on their own terms. They were unafraid of and unapologetic about what Tracey calls the "high-acid, cloudy, native ferments" that resulted, even when this style was still decidedly countertrend. Time would prove them very, very prescient.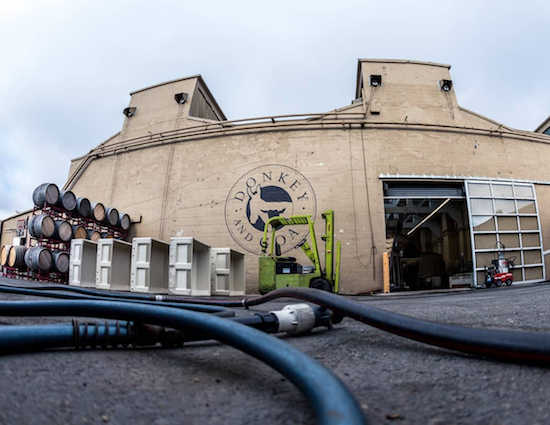 The Brandts made an early and deliberate choice not to buy vineyards, but to partner with growers who shared their low-intervention farming philosophy and cultivated varieties suited to the climates they were planted in -- not just buy grapes. They built their winery in Berkeley, keeping operations close to the community they wanted to serve. After initially casting a wide net, they gradually narrowed their "terroir" to vineyards sited north of the Bay Area, focussing on a handful of growers farming (then) lesser-known sites in the Sierra Nevada, Mendocino, and Napa.
(Photo: Donkey and Goat winery in Berkeley)
In a 2009 manifesto, Tracey starkly set out what Donkey and Goat wines were — and were not: "We make our wines for the table, not the cocktail glass. We make Rhône varietals in both colors plus an unusual Chardonnay. We strive to make wine as naturally as possible. We've done so since day one. Of late, natural is fashionable, which we do of course appreciate, but the reality is we've done this from the start because we feel it makes a superior wine while aligning with our environmental objectives."
In the vineyard, hand work and human judgement are the rule. The Brandts have zero tolerance for chemical farming and they call pick dates, but other than those absolutes, they trust their growers' choices. Their cellar is free from plastic fermentation vats, commercial yeasts, manipulations and additions of all kinds (down to an occasionally necessary minimal amount of added SO2). To prove their point, one year they did add commercial yeast to a few vats to see how this would affect the finished wine. Point proven: the wine never finished (fermenting, that is) and they "dumped the wine rather than fall down some slippery slope of additions to correct additions."
Staying true to making wines that are expressions of an ethos as well as a place is what matters to them. That said, the Brandts are realists, not dogmatists. They take, for instance, a nuanced view of biodynamics. "I drink wine. Rudolf Steiner didn't drink wine," Tracey is quick to point out. "For us, natural wine is continuity from soil to bottle. It's about transparency, it's about making delicious wines. It's about caring for the planet and our bodies and being honest about what we're asking you to put in yours and what we're doing to the planet as we steward from soil to bottle."
Over the years, the Brandts have refined their vision — tipping the balance of varieties they work with from red to white, pushing the limits of skin ferments (an eye-popping 308 days for the 2017 Alveare Marsanne), aging in Italian beehive-shaped clay vessels, walking the tightrope with a zero-added SO2 Syrah -- without straying from their commitment to making distinctive, deeply drinkable wines that take risks and reward those that do, too.
The following conversation between Donkey and Goat's Tracey Brandt and Grape Collective's Valerie Kathawala took place in New York City in September 2018.
Valerie Kathawala: What inspired you and your husband to get into winemaking generally and natural winemaking specifically?
Tracey Brandt: It really wasn't me. It was Jared, to be honest. Jared and I met in the late '90s. When we started dating, we were working in technology.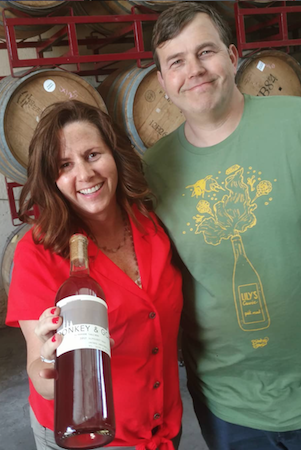 We found ourselves vacationing in wine regions in France, primarily. He had been toying with the idea of taking a sabbatical to do a harvest. As the years ticked away and our interests continued to focus on a more European sensibility than the California style of the time -- again, late '90s -- we started discovering people like Eric Texier. Then 9/11 happened and my company went away. Jared's company was hemorrhaging and we're both looking for a pause, if not a reset.
(Photo: Tracey and Jared Brandt)
He got serious about this idea of a sabbatical and, given all the things I just said, we immediately thought, "Hey, what if we were to do something in Europe, which we're a little bit more interested in and hey, could we both go?" (We weren't married at the time.) We contacted [the late] Joe Dressner of Louis/Dressner and asked him for Eric's information. Joe was a force of nature, but a lovely, lovely human. Anyway, he put us in touch. We met Eric and his wife, Laurence, and decided to go for it. So we basically moved to France in 2002 and were there for about nine months with Eric and Laurence and his three children. At the time, Eric had never had anybody come into his cellar like that, so we were the first. To be honest, I had envisioned myself learning how to make cheese. That never really came about, so when we got there, I was like, "Hey, how about two?" He's like, "Why not?," in his very French way.

Do you speak French?

I don't. We were dangerous while we were there: people thought we understood far more than we did. We could have a decently communicative conversation around food and winemaking. When it got to intellectual or cultural discussions, our verb conjugation was so poor that people would revert to English.

What happened next?
We came back, not necessarily thinking we were going to completely change our lives and start a winery and make natural wine, but more "Well, we did this thing. It was really amazing, it was eye opening, it was life changing. What's next? Well, let's get married." Next, we decided, "Let's make some wine. We're not getting bonded or anything, but we shouldn't lose the education we got." So we went to Brosseau Vineyard [in Monterey], we went up to the El Dorado appellation. We made six barrels of wine in someone else's basement in Potrero Hill in San Francisco -- again, just really like, "Let's apply it." The wines were pretty good, we were pretty jazzed about it.

The person who owned the basement, he got really into it. He decided to start a company the following year and he was really good at raising money. In fact, he was my last boss in technology. So he went out and started this custom crush thing called Crushpad and needed a lot of help, so I gave him help. In exchange, we got an AP, which is the legal term for having our own winery within his winery.

So Donkey and Goat was able to start with very little cash. We used all of his licensing, compliance team, equipment, lease, etc. and Donkey and Goat was able to do its little thing with no investors, save us, which was really important.

At the time, had we gone after serious investment, which we might have been able to do because of our tech connections, we believe pretty strongly that given the situation at the time, with Robert Parker really driving the marketplace, it would have been very difficult to say, "We're going to make wines that are more like this.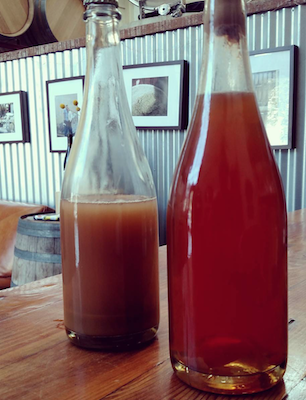 They're going to be native ferments and we're going to find vineyards that are farmed organically and sustainably. We're going to have wines that might be bracing for those critics and they're probably going to say they suck. That's all going to be okay." Our investors would have been like, "No.
(Photo: Donkey and Goat sparkling Ramato Pinot Gris)
It was really a very opportunistic thing, I think, that allowed us to go out in 2004 with no oenology degree and a crazy name and basically make these wines that were high-acid, cloudy, native ferments. I remember somewhere in 2006 or so, Esther Schimpf, who I adore and really kind of stewarded our brand for years, sent me a text: "There's a snake in your wine." I'm like, "Hmm, that's an odd statement. What are you talking about?" It was a tartrate chain that was like curled up in the bottle. It was definitely a different time, but that's how we got into it.

Where did the name Donkey and Goat come from?

It was an oddball, teasing reference to Jared and I, from 2002. We shared the story with artist friends who surprised us with an idea (name and design) for our winery. It stuck. Also, Eric's neighbor had a donkey and a goat. We walked by their home each day. I asked [some] French young men one morning why the donkey and goat were together in the field. It seemed like an odd pair to me, a city/suburban girl who had never lived on a farm, etc. They examined me with a quintessential French quizzical look and replied that they were like Jared and I. The donkey was a very hard worker (providing organic weed control in the vineyards) and the goat was the companion that kept the donkey happy, thus a better worker.
When you started out, Donkey and Goat was focused on Rhône varieties like Syrah and Roussanne, plus Chardonnay. Is this still the case?
No, I think we're far more varied. Having a smidge of business sense, we definitely decided early on that we shouldn't make everything. That we should have a focal point aside from the way we're making the wines, which is a huge focal point. So yeah, that was the Rhône with Chardonnay for probably the first five years. I think that was kind of our promise to ourselves.

Today, a large part of the production is still Rhône varietals. It's definitely still a large part of what we do, but then we also have Pinot Gris.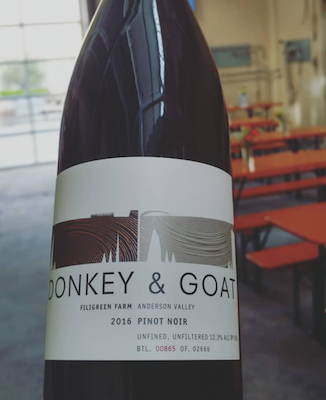 We dabble with Pinot Noir. We're going to dabble again, thanks to Mr. Asimov [who, at the time of this conversation, had just written of Donkey and Goat's 2016 Filigreen Farm Pinot Noir as being "lively, floral… superb."] We also make Chardonnay, we make several pet-nats, as we've been doing since 2011. We've been making Merlots since 2009. We make a little Cab, which really is largely just our mailing list from Napa. We now make a little Pinot Meunier into a pet-nat and a something else that's not yet totally baked. So yeah, so we're definitely more varied.
(Photo: Donkey and Goat 2016 Filigreen Farm Pinot Noir)
Is that driven by which grapes are available in the market?

No, no, no. Totally interest. There are availability issues in that we still haven't replaced a Merlot vineyard that I want to replace because I haven't found the right site that's farmed the way we want. Generally speaking, what we do these days is largely driven by what we're interested in.
Has the competition for grapes of this quality and this sort of farming gone up markedly along with the interest in California natural wines? Is that something you have to factor in as well?
There's definitely some of that. I think we're fortunate in that a lot of people at least express interest in working with us even if we're not working with them yet. We're big proponents of the handshake agreement leading to a lifelong partnership. We've had a couple relationships that didn't move forward, but largely, once we decide to date, we get married, so to speak.

I've had, I think, one situation where a high-falutin winemaker came in and offered more money. The grower basically kicked us out and I will never work with that person again. That person actually later came to me and tried to sell me their fruit again. I was like, "Absolutely not." That's the only time that's happened. In 15 years, that's not so bad, I guess.

Which geographic regions are you sourcing fruit from?
We're probably equally in Mendocino, 45%, 50% in El Dorado, and the rest split between largely Mendocino, a little bit in Napa, and one vineyard in Sonoma.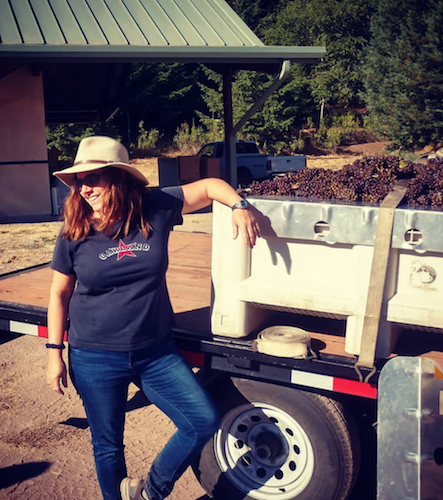 Within Mendocino, we're in the Anderson Valley, Mendocino County, and Mendocino Ridge. We've been in those areas since 2004.
(Photo: Tracey harvesting in the Anderson Valley)
Do you follow the Texier model of relying on close connections with farmers who are as like-minded as possible?
Oh, absolutely. That said, I absolutely do not micromanage our farmers. That's where I say it is all figured out before we decide to go on the first date. We don't start dating and then say, "And we would like you to start farming without [the herbicide] Roundup." Years ago, there was that. We were like, "Call us when you get off the Roundup." There were times where we would go in and even to this day, we'll have blocks where we're off the Roundup, but then a block down the path or down the road is still using it. You can tell. You walk in the vineyard and you see the difference in our rows.

I think our vines are beautiful in their disarray, but there are definitely weeds beneath those vines. Even if you hoe and use a French plow, the weeds are still going to come back a little bit. Our vines are largely dry farmed, so the roots are deep. We don't believe they're fighting as much with the weeds because they're not sitting in the topsoil.

But overall: absolutely. That was one of the things Eric taught us: "Don't just go out there and buy grapes. Spend two years finding who to work with." That's okay, because it's not like we're in it for the short game.

What is your stance on biodynamics? I think you have a nuanced take on it, not a wholehearted embrace.

Are we ready to say everybody has to farm biodynamic? No. But do I appreciate when I find vineyards that are? Absolutely. The Pinot Gris is a biodynamic certified vineyard farmed by Chris and Steph Tebbutts, who are some of the most educated biodynamists I know. It's Filigreen Farm. Chris is fascinating and extremely knowledgeable. The one issue I have with him, which is kind of a tug-o-war each year, is he likes to use baking soda as a mildew applicant. Baking soda totally screws my pH. So if there's any residual baking soda on those grapes when they come in, I'm in trouble. That happened one year with Pinot Noir, which is actually one of the reasons we stopped making it. There's a little religion around biodynamics and maybe I don't subscribe to everything. I drink wine, for example. Rudolf Steiner didn't drink wine. Chris and Steph don't drink wine, to put it in perspective.
Does the changing climate have you thinking about shifting closer to the coast?
Not necessarily. We made a promise long ago. We left Brosseau Vineyard and Chalone in '10. That was largely to get everything north because of the time we liked to spend in vineyards and especially during the growing season where we're monitoring and deciding when to pick the vineyards. It just was too hard logistically to go so far for one vineyard.

It begged the question, well, if we're going down to Chalone, we ought to just go on down to San Lucia or San Ynez or keep going. Then it was like, "Whoa. What are we doing?" There's a lot of cool stuff down there. It's really easy to be tempted. But at that point, our life just doesn't work. So we have sandwiched ourselves north. But other than that, anything is in play. This year we're actually making some Oregon wine.
In 2009, you wrote a very powerful manifesto about what your wines were and were not. Has anything changed since you wrote it?

That was written during harvest as a rant, I guess. A wine buyer who, in my opinion, was being obnoxious at the time, was, I think, ignoring the forest for the trees. I recently re-read it. I find it impressive how much is still relevant 10 years later. There were three lines that jumped out:
"So, yes we would love to make under 12.5 wines but to make wines naturally at that [alcohol level] in California is impossible."
I sound French using the word impossible! This was written as we concluded the 2009 vintage, which was the first cooler year we had since 2005. 2008 in particular was warm. Clearly it IS possible.
"Biodynamic is very interesting to us but we are hesitant to adopt a management system that is dependent on copper sulfate due to health concerns."
We have since started making Pinot Gris from the Demeter-certified Filigreen Farm and we do not use any copper or sulphur in that vineyard.
"We ferment all wines (red and white) in wood vats."
This was accurate at the time and the paragraph continues to point out that we did not then and had never prior made wine in plastic. That still holds true today and continues to be one of the most baffling aspects of material selection. Today, we include concrete, clay and stainless for the sparkling wines.
(Photo: Jared hugging his Italian clay tank)
How would you answer some of the criticism that comes up about natural wine? For example, Jamie Goode wrote within the past year that natural winemaking has the tendency to privilege process over origin and variety?

"Natural" is a really horrible word for the United States because it's so misused, right? It's been abused in food for decades. You go into any grocery store and you know what I'm talking about. But it comes from what was happening in Europe. They were using that word to describe the continuity from soil to the bottle back in '06 and '07. When it really started to take hold here, I actually sat down with people like Isabella Legeron and was like, "We should find a better word. This is not the word we want to hang our hat on." We made wine from 2004 until 2015 without saying we're making natural wine.

We still didn't come back and say we make natural wine because the word is so ... you know. At the end of the day, the market ran with it. I'm not one not to take advantage of the "Yeah, we've been doing this all along." There's a lot of work to be done, I think, to communicate what it is and what it's not. Right now I think there are definitely some abuses of the term.

To Jamie's point, there's now, I guess, an approach that is lumped within natural wine that your wines must be X% alcohol.

There's this thing called Dry Farm. They require their wines be X% alcohol and no higher. That's all based on really a paleo diet, not natural wine, but those two things have somehow come together. Jared and I do not believe that our wines have to be any alcohol level. We are not trying to make 14% wines. We never have. It's not because somebody said natural wine can't be 14%. It's because the style of wine we want to make is really more about acidity and brightness, about texture and savory elements. California gives us fruit. For us to do what we want to do, we can't succeed at 14.5% to 15.5% wines. If you look at some of our earlier wines, they were higher in alcohol. Some of it was that that was a different climate, some of it was we were also younger and a couple years in and growers used to push us.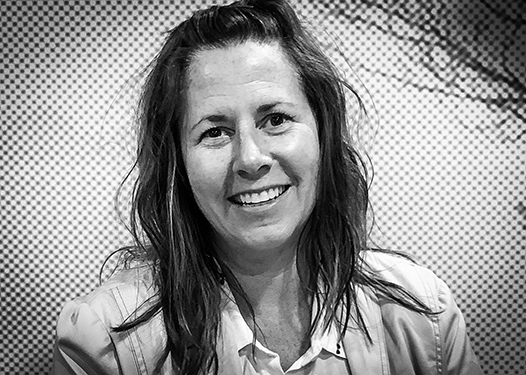 We'd want to pick it and they're like, "No, no, no." I still get occasional pushback like, "Are you sure?" Like my Filigreen. Chris is like, "Tracey, are you sure? The seeds are still largely green." This was last week. I'm like, "I'm sure." He's like, "Are you positive?" I'm like, "I'm positive." We get it in and we crush it all. Lo and behold, it's beautiful. The numbers were perfect, it tasted fantastic. It was exactly where I wanted, but he and every other person that buys Pinot Gris from him thought I was nuts. I'm like, "That's okay. Pick yours later." I do think with a natural wine if people say "I have to be 13%" or whatever, that's a mistake. There are some years where that's not going to work.

To get there, you are going to pick wines that aren't ready or you are going to have to water wines to get there. Neither is probably a good idea, ultimately. For me, natural wine is continuity from soil to bottle. It is about the planet and our bodies. By that, I mean let's not fuck the planet any more than we already have and let's not cause ourselves to die of all sorts of immune diseases and/or cancer any more than we already have. Let's get off the petrochemical thing. There's a lot of plastic in a lot of places in the wine industry and then there's a lot of petrochemicals in the soil, so it's in both places I'm speaking of.
So, I don't know if Jamie's right or wrong. I think there's definitely probably some validity to some of his points.

For us, it's about transparency, it's about making delicious wines. It's about caring for the planet and our bodies and being honest about what we're asking you to put in yours and what we're doing to the planet as we steward from soil to bottle. Whether it be using recycled containers and getting off styrofoam or not using plastic liners on screw caps because there's evidence they have BPA in them and not fermenting in plastic because we think it might leech, there's lots of things we do that go into that.

Along those lines, how do you see your role as pioneers of this generation of natural winemakers in California? Do you feel a sense of responsibility to be a model to newer producers who are looking to you to? Do you feel maybe you push the envelope a little bit more just because you know people will be paying attention to what you're doing?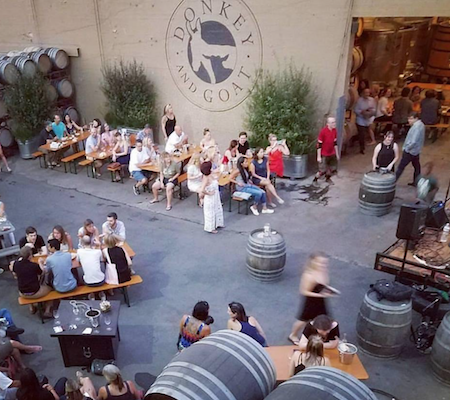 Not really. I feel like we're at this weird place where this is our 15th vintage with Donkey and Goat. We've always had kids while we've done this, so we've never been the young hipsters that could go out at all hours. There's an element to the natural wine crowd that's also young, hip, partiers that we're just not.
(Photo: An event at the Donkey and Goat winery)
When you look at the people that come to my table, for example, 90% of them aren't even in the wine business. They're people whose kids go to my kids' school or I knew before we did wine or Jared knows from technology. It's people from all walks of life in the Bay Area. I feel like we are off doing our little thing. We continue to do our thing year in, year out. I don't think we're by any means the most groundbreaking in varietals. We do some cool stuff. Is it the coolest, newest thing with carbonic this or some esoteric varietal that we're bringing back to life? Not necessarily.

There's little things I guess we do. Honestly, that just came from tasting. We're big believers in tasting everything always, often. No one but Jared and I can call a pressing, meaning no one can stop the pressing and say we're done, let's dump and do something else. Some varietals you can squeeze until you think it's impossible to still be getting quality juice and we are. Others we stop far earlier.

It's a tasting exercise. It's what were those stems like if the stems are in the press? With the Pinot Gris one year, it was like, "This is fucking delicious." Like I just do not want to stop, I want to do more of this and bottle it separately. So we do have a lot of aha's in that manner. Let's do that because why not? Sometimes these things work out and sometimes they don't.

Taking things back to the beginning: Are you still in touch with Eric Texier? Do you have a sense of what he thinks of your wines?
Yes, we remain good friends. We have vacationed together. His youngest lived with us for three months and attended American high school back in 2011. We visit whenever we can in either direction. We definitely occasionally talk about what we are doing, what he is doing, etc. He has blinded his French friends on our wines over the years and on several occasions I understand the response was shock to find they were made in California!