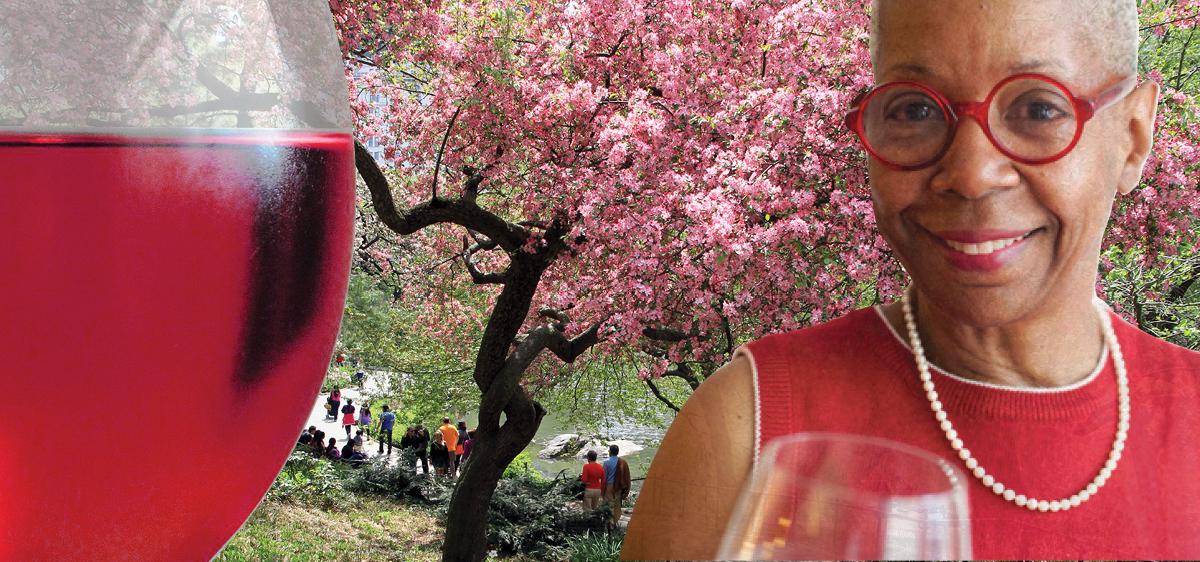 We spent some time in Central Park on Easter Sunday and I was so sorry we weren't carrying glasses of rosé. The cherry blossoms were beginning to show, the yellow and white daffodils were beaming and it was so hot there were people sunbathing near picnicking families spread out under trees.
So after a brief turn on the Reservoir track, bumping into tourists walking the wrong way despite the signs, we came home and plotted a dinner of fried catfish, my new experiment in seafood. Actually, I once caught a catfish when we were staying in a cabin at the Flamingo Lodge in Everglades National Park on Florida Bay in the 1980s. I'd never caught a fish before and that startling achievement is one of many sweet memories of the lodge, which was destroyed by back-to-back hurricanes in 2005. The chef at the lodge offered to cook my fish for us but I wanted to try my hand at it. (Sure, that was the euphoria talking, but it was delicious.)
Anyway, on Sunday we were nearing the end of a tasting of rosés and I thought a thick-fleshed, crispy-coated, well-seasoned fish might go well with rosés and it did. Of the 22 rosés we sampled, we especially liked six, all from 2016. Some were blithe, easy-going and refreshing, while others had a more serious bent. Our favorites would pair well with a wide range of dishes including shrimp scampi, sushi, ribs and even lamb. Although we tend to drink more rosé when the temperature rises, some of these, with their abundant acidity and weight, would be yummy with heartier, cold-weather fare.
Right now, rosés are everywhere you turn, an amazing marketing success story, which began in earnest, I'd guess, less than 10 years ago. We were early to the party. When we wrote our first "Tastings" column about rosés in The Wall Street Journal, on Aug. 7, 1998, five months after we began writing the column, it was in response to readers' pleading. "Apparently, they're a popular guilty pleasure," we wrote.
Our favorite rosés are those that truly taste pink. They're not light reds or colorful whites masquerading. They're proudly pink. To quickly run through how rosés are made: There are three ways to produce them. You can blend red and white wines to get the desired color, easy-peasy, and there are the maceration method and the rarer saignée method.
In the maceration or direct-skin method, dark-skinned grapes are crushed (macerated) and the skins kept in contact with the colorless juice until the desired color and character from the fruit are reached. The longer the contact with the skins, the redder the wine. A few years ago, wine folks started describing this method as "intentional."
Saignée translates as "bleeding," and with this method, rosé is a by-product of red-wine making. To concentrate color and tannins in red wines, winemakers will bleed off some juice, rosé. Some experts scoff at this method, saying the resulting wines are not true rosé, intentional. My bottom line is the taste and I tend to prefer the paler pinks with nice acidity, minerals and good fruit, however the winemaker gets there. Some remind me of strawberries, watermelon, pink grapefruit, passion fruit, melons and sometimes carambola.
Pretty much any dark-skinned grape will do, theoretically, though two that we bought, one from Cabernet Franc and a Beaujolais rosé from Gamay, just didn't cut it. As this list demonstrates, good rosé also can be made all over the world and we've found some we like from Greece to Long Island, New York, from both the North Fork and the Hamptons, where we were early to recognize German winemaker, Roman Roth's deft hand with rosé at Wölffer Estate Vineyard in Sagaponack.
Our favorites, in alphabetical order:
Cline Old Vine Mourvèdre, $12.99, Contra Costa County, California, across the Bay from San Francisco. This was a controversial wine. "Too much tropical fruit nose for me but Dottie likes it," John wrote in our notes. The darkest of the seven, it had hints of melon and green peppers the way some Sauvignon Blanc can. Fleshy. I just couldn't stop trying to figure it out. Fascinating. Cline Family Cellars was founded in 1982 in Sonoma by Fred Cline, a descendant of Valeriano Jacuzzi who invented the Jacuzzi whirlpool bath. Cline Cellars is the largest grower and producer of Mourvèdre grapes in California, according to its website. The grapes for this wine came from 100-year-old, dry-farmed vines.
Bodegas Conde Valdemar, $13.99, from Garnacha and Viura grapes, Rioja, Spain. "Smells like a crisp white, a bit of flint. Very citrusy, with pink grapefruit and tangerine. Charming," we wrote in our notes. The Bodegas Valdemar enterprise was founded in 1889 by the Martinez Bujanda family. A new winery was built in 1984 and the estate is one of the largest in Rioja. It's run by fifth generation, Ana and her brother, Carlos Martinez Bujanda. The Conde line also includes a Rosada, a deep raspberry colored nouveau-like rosé from Garnacha and Tempranillo, but we haven't had it.
Mathilde Chapoutier "Grand Ferrage" $19.99 Côtes de Provence, France, from Grenache, Syrah, Cinsault, and Rolle. Mathilde is the daughter of Michel Chapoutier, the famous Rhône Valley winemaker, and the eighth generation of the family to make wine, according to Chapoutier's website. (I profiled her dad in 2015. ). The press materials with this say she has "curated" this wine. We wrote in our notes, "Salmon-colored. Restrained, dry and intense with hints of kiwi, pink grapefruit and cucumber fleshiness. Great for an elegant family dinner party."
Protea, $17, from Mouvèdre, Shiraz, Cinsault and Grenache grapes, Western Cape, South Africa. Protea (PROH-tee-uh) is the national flower of South Africa and the filigreed label is designed to be an homage to that flower. "Crisp with a fresh, spring nose. Dry, charming and lively, with tangerines, raspberries. Like a well-made Provencal rosé." Protea wines, which are designed for early drinking, are part of the Anthonij Rupert Wyne estate, which includes other brands. Anthonij Rupert was the younger son of the late Anton Edward Rupert, a South African billionaire, philanthropist, environmentalist and luxury brand owner (Cartier, Alfred Dunhill, Piaget, Baume & Mercier and Montblanc to name a few). The father was also an outspoken critic of apartheid. The family had long been involved in winemaking and Anthonij, a winemaker and owner of a large wine property (3,200 acres), was killed in a car accident at 49 in 2001. His older brother Johann then took over the property, beginning a state-of-the-art expansion and named the entire wine enterprise after his younger brother. A Forbes magazine profile last year described Johann this way: "The 65-year-old Rupert belongs to that substratum of the stratospherically wealthy for whom silence is considered platinum."
Sidebar Cellars, $21, from Syrah, Russian River Valley, California. Sidebar Cellars was started in 2014 by veteran winemaker David Ramey and his wife, Clara, who founded Ramey Wine Cellars in 1996 in Healdsburg. Sidebar wines are from different grape varieties than those used for Ramey wines. Sidebar wines are made by Lydia Cummins, who has worked with David Ramey since 2008. David is credited with doing groundbreaking work with sur lie aging. That's when winemakers leave the sediment that results during fermentation, stuff like dead yeast cells, in contact with the wine for added complexity and then drain the wine off. This rosé was aged sur lie in stainless steel barrels for three months. "Crisp, dry and clean. Even some seashells. Great acidity, pink grapefruit, nice weight. Someone really cared about this. It's made by someone who likes rosé," we wrote in our notes.
Toad Hollow, $14.99, from Pinot Noir, Healdsburg, Sonoma. A longtime favorite. Toad Hollow began making dry rosé in 1995, and we immediately loved it. In fact, it regularly did well in our numerous blind tastings of rosés over the years. The name, "Eye of the Toad," used to be more prominently displayed on the label. It's there still, but on the bottom now. "Pretty, a deeper pink. Zippy acidity under hints of watermelon, pomegranates and strawberry. Mouth-watering. A makes-you-smile wine," we wrote in our notes. The winery is owned by Francine "Frankie" Williams, the widow of R. Todd Williams, who founded it in 1993 with the late Rodney Strong. Williams was the older brother of the late comedian Robin Williams.
John and I celebrated our 38th wedding anniversary last week, so things, at least some of those things that we have some control over, are looking rosy right now. We and our daughters live in the same city and see each other often. We appreciate what a blessing that is. John just came in from his daily jaunt in the park and told me that the cherry blossoms are open now.
Grab a bottle of rosé and someone you love and celebrate today.
Dorothy J. Gaiter conceived and wrote The Wall Street Journal's wine column, "Tastings," from 1998 to 2010 with her husband, John Brecher. She has been tasting and studying wine since 1973. She has had a distinguished career in journalism as a reporter, editor, columnist and editorial writer at The Miami Herald and The New York Times as well as at The Journal. Dottie and John are well-known from their many television appearances, especially on Martha Stewart's show, and as the creators of the annual "Open That Bottle Night" celebration of wine and friendship. The first bottle they shared was André Cold Duck.
Read more of Dorothy J. Gaiter on Grape Collective.
As of publications the wines are available at the follow locations: (via winesearcher.com)
Mathilde Chapoutier "Grand Ferrage" at The Rye Brook Wine shop in NY for $17.99
Cline Old Vine Mourvèdre at Grape Gollective for $14.99
Bodegas Conde Valdemar at Grape Collective for 13.99
Protea from Manor House Cellar in NY for $15.99
Sidebar Cellars is available at Cellar d'Or in NY for $14.50
Toad Hollow at Empire Wine in NY for $10.95