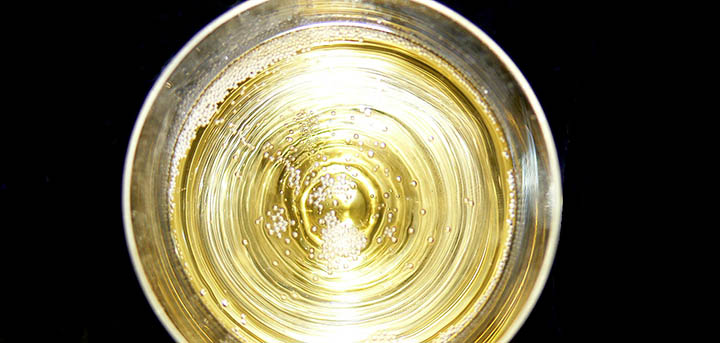 "Flutes?" asked Sebastian Zutant, a leading sommelier in Washington, D.C., with obvious disdain. "We're adults; we use real wine glasses."

Zutant was helping pour wines at a charity wine dinner when he caught word that one attendee had asked for Champagne flutes. Since guests had brought a variety of impressive wines -- about 100 collectors attended the bring-your-own-bottle event -- Zutant and the other sommeliers had fixed every place setting with five "universal" glasses.

Several attendees arrived with Champagne, but only one requested flutes. Zutant, who has been managing beverage programs at some of D.C.'s best restaurants for more than a decade, was having none of it. Like most wine enthusiasts, he loathes flutes.

The flute gained popularity around 50 years ago as the coupe -- the sherbet-style glass supposedly molded from Marie Antoinette's left breast -- fell out of favor. But like the coupe, it's a terrible vessel for enjoying Champagne. And finally, sommeliers, retailers, and wine educators are beginning to say so.

Contrary to popular wisdom, Marie Antoinette didn't inspire the coupe. Historians now trace the glass to 17th-century England, long before Antoinette became queen of France. They believe the coupe was invented to ease service at large parties, as it held more than regular wine glasses, or simply to take advantage of Champagne's rising popularity by offering consumers something new.

While coupes are fun -- they can be stacked in layers to build Champagne towers and are perfect for recreating scenes from The Great Gatsby -- they're designed poorly. Like martini glasses, coupes are prone to slosh over. They're top-heavy, so one inevitably holds the bowl, thus warming Champagne too swiftly. Most importantly, coupes too quickly dissipate Champagne's bouquet and effervescence.

The flute is just as bad. It was designed purely for aesthetics; the glass's slender walls preserve and accentuate Champagne's bubbles but do nothing for its aromas. For most of the past 50 years, this hardly mattered. For most producers and virtually every consumer, Champagne wasn't about wine; it was about luxury. So the flute was the ultimate status symbol, since it was synonymous with Champagne.

Today, of course, Champagne is in the midst of a renaissance. The region is producing more serious wines than ever before. And many of the region's top winemakers describe bubbles as an "accessory," and focus principally on their vin clair -- the still wine that's created before secondary fermentation -- because that's where the flavors are.

On a recent visit to Champagne, I didn't encounter a single flute. In cellars, white wine glasses ruled the day. Restaurants seemed to prefer tulip-shaped stems -- while slim at the base, these glasses gradually open to a wide bowl that then narrows slightly towards the top. A few locales even utilized wide-bottomed red wine glasses, especially for rosé and older vintage Champagne.

As wine writer Jordan Mackay once explained, "[Champagne] deserves a full, real wine glass with both shape and dimension. Such a vessel is much more flattering to the aromatics, allowing you both to smell the wine better (which is 90% of tasting it) and to take a much more meaningful sip."

Flutes are fine for celebratory toasts with trivial sparkling wines and they work well with festive, bubbly cocktails like mimosas and French 75s. Manhattans, daiquiris, and many other cocktails are best served in coupes. With real Champagne, though, take Zutant's advice and skip both. Serious wines deserve serious glasses.

David White is the founder and editor of Terroirist.com, which was named "Best Overall Wine Blog" at the 2013 Wine Blog Awards. His columns are housed at Grape Collective.