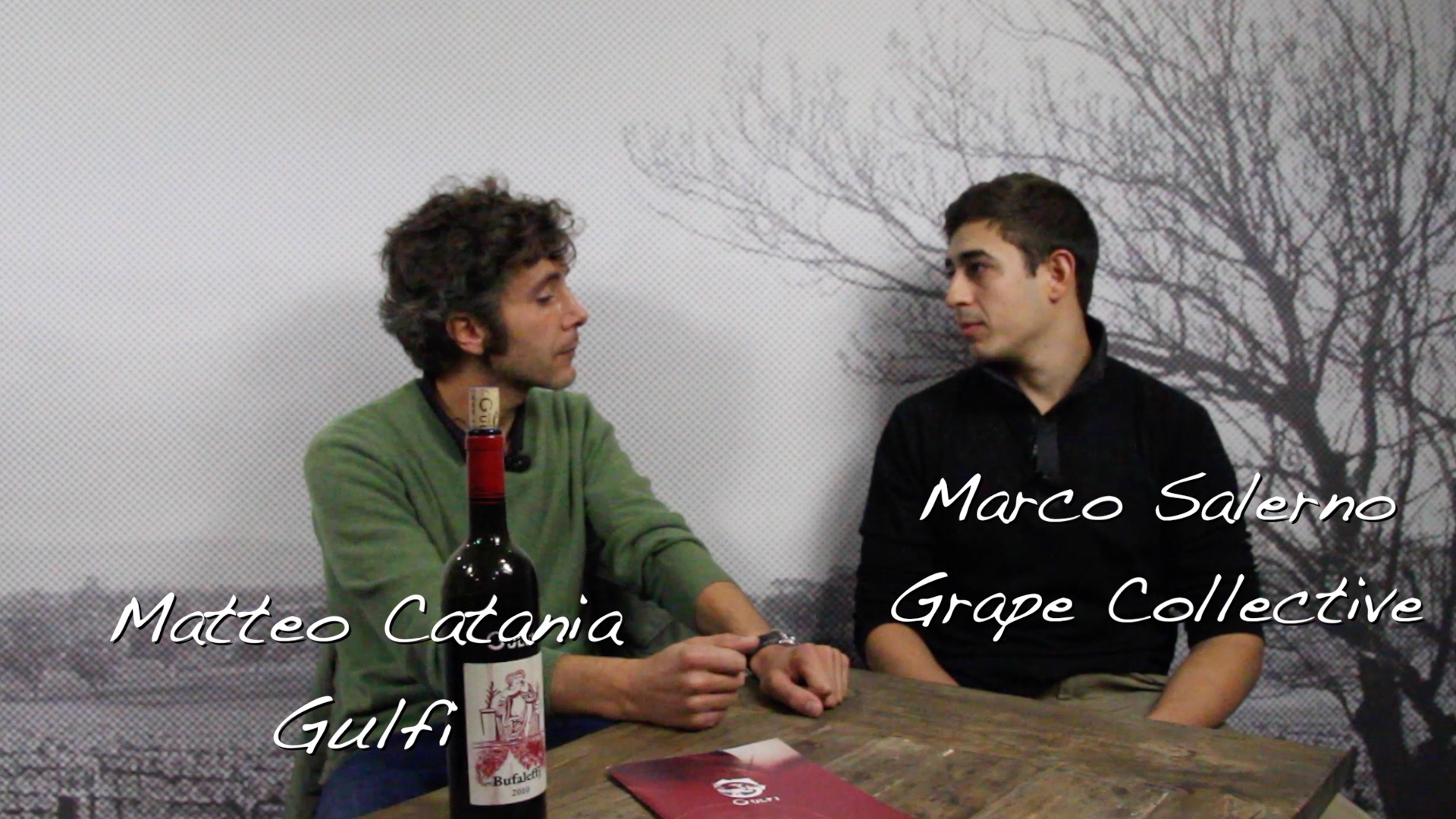 Sometimes when on vacation one randomly experiences something great and unexpected - something that stays with you long past when your return flight hits the tarmac. That happened to me two years ago when staying in Donnalucata, a charming coastal town of the Vittoria region of Italy - and the "great" was Gulfi.
It was midday, there was a frenzy at the grocery store. A hungry mob of locals demanded the essentials: panini, prosciutto, formaggi, arancini, and anything else that could be flung in their direction over the counter before lunch time. The civilized take-a-number system was completely done away with. No one could distinguish the line at the cash register from the sea of people that filled the densely-packed store. With all the yelling and commotion, it felt like I was fighting for my lunch and my life.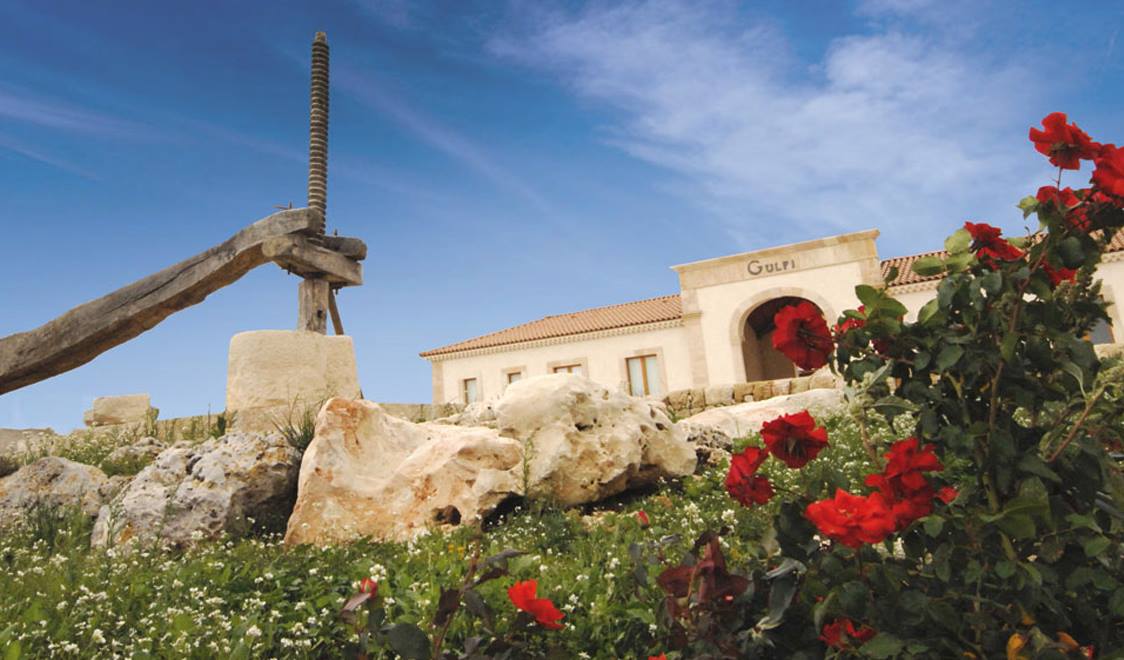 As I waited in what I thought was the line, I unexpectedly found serenity in the wine selection. I gravitated towards the shelves, and saw that an entire wall was dedicated to wine, whereas other products were shoved into nooks and crannies. I knew there was something special present--someone had taken the time to carefully curate the selection--but there was no chance I'd be able to decipher it among such turbulence. I purchased my lunch and walked out the door.
Hours later, I returned, and the hustle of lunch had settled into the slowness of late afternoon. Despite the lack of action, the owner began to buzz with excitement when I asked him about the wine selection. Through his gesticulations, it quickly became evident he was a wine fanatic. He walked me through what seemed to be his life's work, pacing back and forth along the aisle, as I pointed to some of his top picks. "Questo e' buona!" (This one is great!). I pointed to another, "Pure buona" (Also great!). And another, "Bhe', buona!" (I don't know, great!). "How could everything be so buona!?" I thought to myself. I begged him to narrow it down, and after a moment's thought, he unequivocally answered: "Gulfi, e' la migliore della nostra zona," or in English "Gulfi, it is the best of our region."
Gulfi's accolades from home and abroad demonstrate its status as a producer among diverse company – Best Producer of the Year in Sicily (2016), Vino Slow Award (2014), Le Guide de L'Espresso Wine of Excellence (2012), and 95s in the Wine Advocate and 92s in the Wine Spectator. Most of the attention has gone to two kinds of wine: Cerasuolo di Vittoria and Nero d'Avola from Pachino.
Cerasuolo di Vittoria is a simple red wine with deep aromas of cherry and great structural acidity. With a medium-light body, this wine is a great example of how young wines can be excellent when they are terroir-driven.

The Nero d'Avola from Pachino is a different story: Pachino is the most southern point of Sicily, which is lower in latitude than Tunisia. Convinced that Pachino is the spiritual home of Nero d'Avola, there Gulfi has established single vineyard "contrada" wines, including the Maccari, Bufaleffj, Baroni, and San Lore. Each of these contrada wines has a distinct personality -- some more masculine, others more elegant -- which ultimately shake up what we might think about Nero d'Avola. Nero d'Avola is much more than a grape to "cut" the wine of Northern Italy and Bordeaux, which was once the case as Matteo Gulfi explained in the interview. Pachino wine made from Nero d'Avola is first-class all on its own.
Gulfi is dedicated to celebrating their land, history, and culture through wine. Everyday Sicilians, like the grocery shop owner, proudly drink Gulfi's wines because they recognize this intention. Gulfi wines are simply Gulfi -- they don't try to be anyone else and know who they are by listening to their ancestors.

--
Grape Collective talked to Matteo Catania, winemaker and the son of the owner of the Gulfi winery, about the very ambitious winery and the excellent wines they make.
Marco Salerno: Matteo, tell us about Gulfi and how you guys got started.
Matteo Catania: Well it's easy. We started for love. One is about culture, and culture is something that the human being is connected. Gulfi was born with my grandfather, and then it was my father, in '95, that he changed everything when he died. Then he met Salvo Foti, which is our enologist, winemaker, but the only problem is that with Salvo you don't have any compromise, so you have to work in a straight way. It was what my father loved, so they matched well with one another. With Salvo you have to work in a certain way, because wine is about, as I told you before, culture, and our culture, the European culture, in terms of wine, first comes from the Greeks and then was the Roman that spread the bush-vines all over Europe.
So the Greeks arrived in Sicily, and then they start planting. The Greeks brought bush-vines and then the Romans improved it from an anesthetics point of view. So when you are looking at the vineyards, they were much more beautiful because everywhere you looked at the vineyards were perfectly aligned. And from production standpoint, you have more vines in a single plot, which means a lower yield, because the roots can only grow in the soil. So they produced less but they produced as much as they could. And these were the Romans.
So what Salvo did, along with my father, was just following this.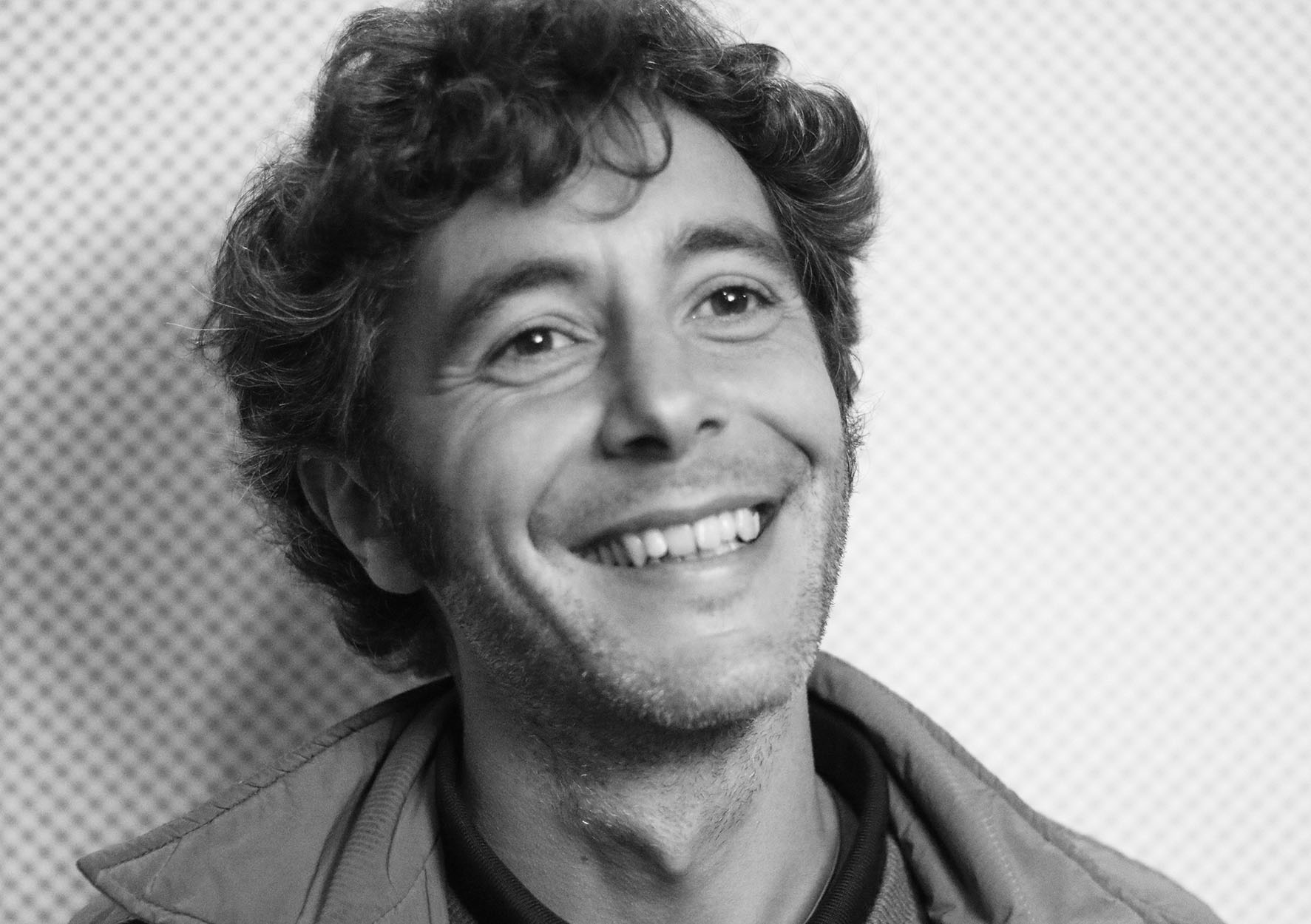 What part of Sicily is that?
The name Gulfi, which is the name of the area, comes from the Greek. It's the southeast part of Sicily, close to Ragusa, in Vittoria, on the Iblei Mountains. And so we started there with Nero d'Avola and Frappato because historically these grapes are grown in our region and blended together.
Then a 100% Nero d'Avola, what is the best place? It's Pachino. Pachino is the southeastern part of Sicily, under the tectonic plates, so the conjunction from the European continent and African continent. So the layers are like a cake. Which means here you have a lot of different composition -- limestone, red clay, with some areas with more iron composition. It's really diverse, and that's why we made the four grand cru concept vineyards. So we started in Gulfi, and went to Pachino afterward.
Now we come to the last area we were working, which is Etna. So Gulfi works in three different areas, however, the winery is based in Gulfi.
Are you organic?
We don't buy grapes, and we try to work and an organic way. What I'm trying to tell you, is that there are a lot of important things ... The way we were working, since beginning, is already organic. So in 2004, we decided, why don't we take the certification? But what I'm trying to let you know, is that if you believe in something, you already do it. We never became a organic. We were born. Because the way that we were working, according to European commission, is already organic. That's what I was trying to let you know.
Can you tell us about Gulfi's philosophy on winemaking?
Okay, it's really simple, simple, simple. We try to make good wines. You could tell me, well of course, but I think it's more. Because with the chemicals, with an aging system, things that you can make a good wine, in any case. But when you want produce something unique, something that comes from a single plot, that not even Chinese copy. So that's different. So it means following your history, and our philosophy comes from our culture, our history.
If you see, everything is connected. So the philosophy is try to be less interventionist as possible, inside the vineyards, and during the vinification process. We try to make the wine into the vineyard, which everybody says, but it's true. But then you need a real big knowledge, in order to take the best from your grape to make a great wine.
So many people think that going back to organic, or biodynamic, so everything is okay. Because if there is a problem, there is a technical problem, it's not because you are organic or biodynamic, to say oh this is a real wine. It's not a real wine, wine comes from culture, its knowledge. And after over 2000 years of knowledge, maybe we can say that you need to know how to make your wine.
So you need to know your grape. You need to know your land, you need to know your history, and everything about it. And then maybe you can start experimenting. Then maybe you can see what is the best way to make that grape into a wine.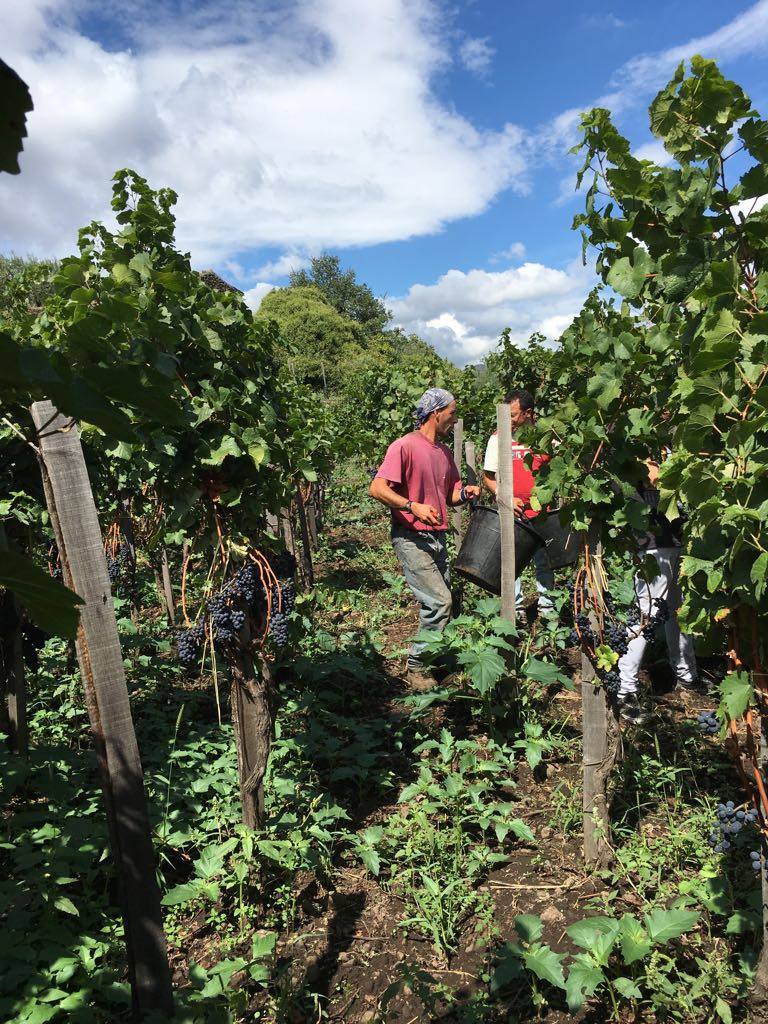 Tell us your philosophy of viticulture.
I don't want to repeat, but it's always the same one. We work with more or less 9,000 plants per acre, as an average, but it depends. This is the way we are working because we're trying to follow the culture.
So if you put many vines close together, they get in competition. If we get in competition, we have to fight for the food, right? It's like we're in a competition. If I bring you the food every day, you don't go to buy your food. Right? Because I came to your door. "Hey Marco, it's Matteo, here's your breakfast." At lunch, "Hey Marco, here's your lunch," and then for dinner. But then if I don't come for a couple of days, you get starving. You go out hunting, or buying your food. So the vine is the same.
If you put water, irrigation, the root stays up. It doesn't need the food, you deliver it to it. But if you don't put the water, the roots have to eat. If it has another one next to it, it cannot go horizontal. There's only one place where the roots can go. Down into the soil. So that's the stupid secret. So just following the history, which is much more expensive of course, but then you can make something unique.
That was the challenge of my father, when he started along with Salvo. Because many people think Nero d'Avola as a rustic wine, sometimes even marmalade. It's a good wine, there's nothing wrong, but it's not top class.
So we wanted to show everyone that Nero d'Avola could be a top-class wine, but in order to do it you have to go in the right area, making the right wine. We have to stop to call Nero d'Avola. We should call Pachino, the wine of Pachino. So you don't say Chardonnay, you say Chablis. So that's what we want to achieve one day. That's the reason you don't find any Nero d'Avola on our labels. Do you see Nebbiolo on Barolo? Do you see Sangiovese on Brunello? No because you are selling the area. So that's what we want to achieve.
So could you tell us a little bit more about the single vineyard, or "contrada" wine in Pachino?
Yes. Thanks for the question first of all. Because I am just finished now, a mapping of Pachino and our vineyards in that region. As I told you before, according to the history, it's district in English, so we call it "contrada" because there are different soils, but you have a different soil composition as well. So what we went to all the people of the area, asking which was the best "contrada."
We asked Señor Latino, this old guy who knows everything about this area. For making the 100% Nero d'Avola, he told us, "Well, it depends." If you want an elegant wine you have to go to Bufaleffi contrada; if you want something delicate then you go to San Lorenzo contrada; if you want a more masculine wine you have to go to Maccari. So we followed his advice, by choosing the most famous contradas and making the wine. So for example, you have Nerobufaleffi which comes from Bufaleffi district and Bufaleffi vineyard.
So, it has the J on the bottle. Why did you put that on?
This is a thanks to the Greeks. When the Greeks arrived, they couldn't spell the Bufaleffi, so they put the J. We want to pay tribute to the Greek culture, and that's the reason why we exchanged I with the J. Then the logo that you see here, is an image from Roman culture. So it's a real mosaic that is in the middle of Sicily, showing the mythological story of Eros. Of course this is a simplified outline, but it's a real mosaic inside the middle of Sicily. In the Villa it's called the Villa Del Casale, and it's the biggest surface of mosaic worldwide. So it's fantastic.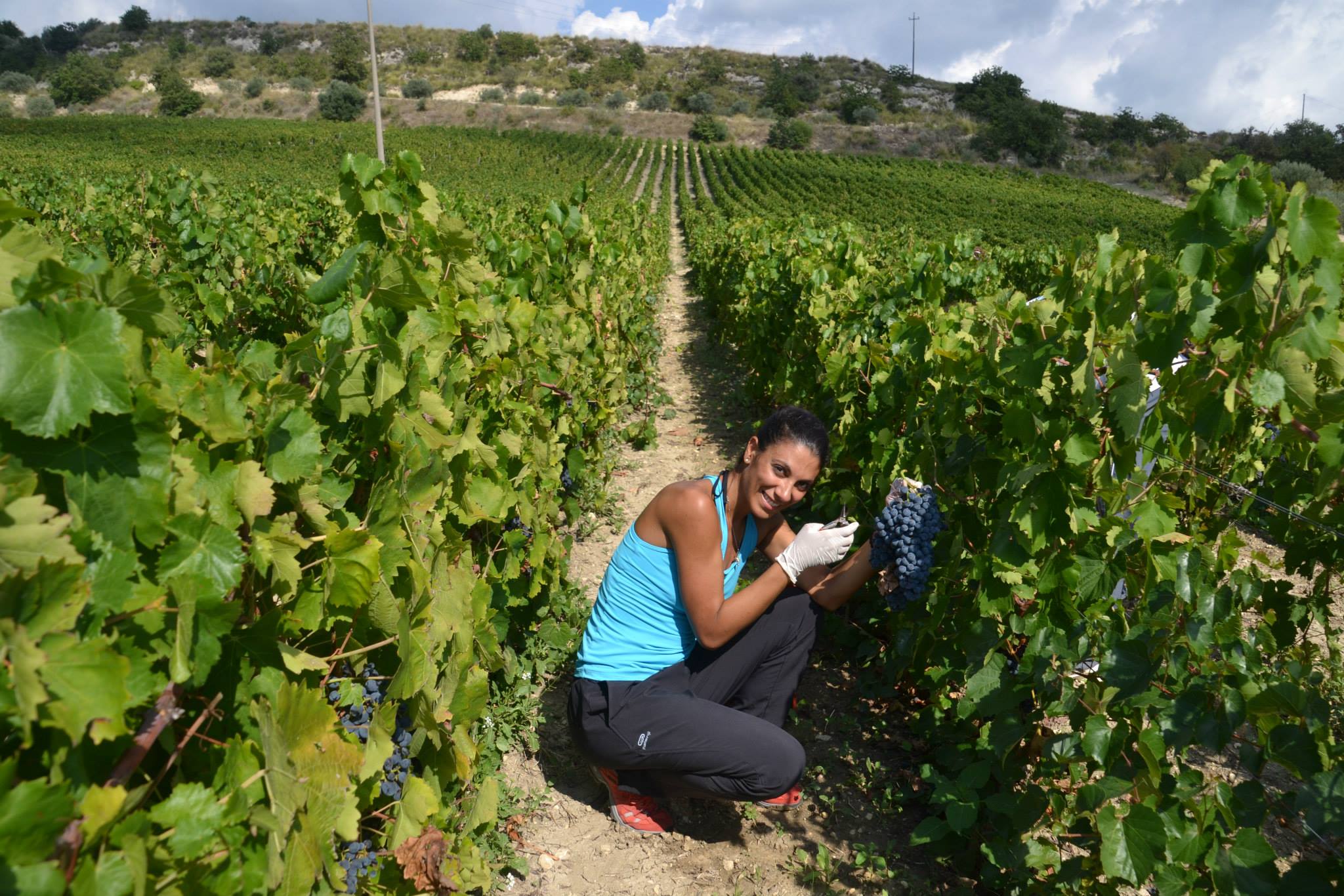 Tell us more about the different soils.
So speaking about Pachino, it's where we make our for a grand cru concept. I say grand cru concept because everybody can understand it. We don't have grand cru, that is why we say concept. But this way you can understand the best vineyards, in the best area, for that grape.
So in each contrada as I told you before, there is a different kind of soil and inside the contrada the composition changes as well. So in the Maccari vineyard you have a more iron and gravel soil composition. The San Lorenzo vineyard is the closest vineyard to the sea, it's 600 meters by the sea, 10 meters above the sea level, so just there. It's more sandy, as you can understand and it's even related to soil composition. In Baroni, it's just all about limestone. So I was ... For joking I said, "If you go in summer time in Augusta, you need sunglasses." Because it reflects very much the limestone.
The Bufaleffi, it's just a mix of everything. So you have volcanic soil, black clay, red clay, limestone soil composition, and you can see the color changing of the soil with the eye. So it's fantastic.
And all the soil makes different wines. For me for example, the Barone is the easiest, because the limestone takes on the fruit with the power of the wine. So for me, it's like a teenager, you want to destroy the world, with lots of energy ...
And Maccari is more wild. It's a wine the more you age it, the more comes out these sort of leather flavors. It's the more masculine.
Bufaleffi for me, is like a bull. It's powerful but it's elegant. It's beautiful. You can even, if you have to, translated in a human being for me, it's like Sofia Loren. So beautiful, it's fooling you by the beautiful shapes, but at the same time it's really elegant.
And San Lore is the more aristocratic. It's the most delicate. So you have this kind of saltiness that always comes back from the vineyard, like seaweed.
So according to who tastes the wine, some prefer Barone, some Bufaleffi, some San Lore, some Maccari, and that ... It means that we are right. To make a ... For a single parcel vinified separately. The only difference, it's all in the soil.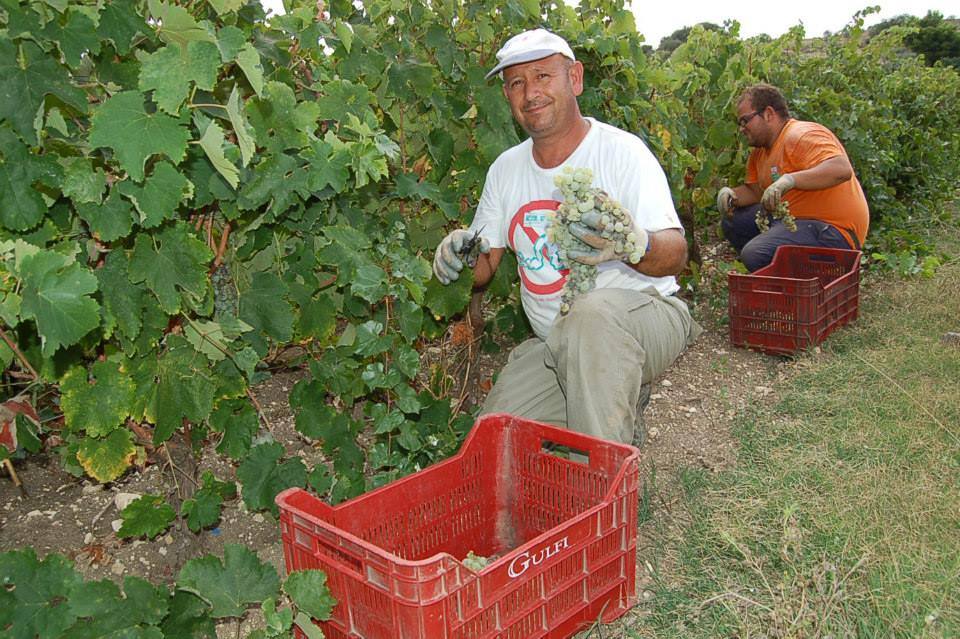 Tell me more about the different grapes you grow.
Okay. Let's start with Chiaramonte Gulfi where the winery is based. So Chiaramonte Gulfi is inside the DOCG area of Cerasuolo di Vittoria. It's interesting to know that it comes from the 1606. So when the duchess of Victoria Hernandez she built up the Vittoria town, and she gives to the first hundred people that were going to live there one free hectare, but they had to plant it with vines. So Cerasuolo di Vittoria starts with this story.
Here, inside the Cerasuolo di Vittoria area, you have different kind of altitude. Because Gulfi it's on the Iblei mountain, but then there is flat of Vittoria. Which means you have different micro-climates. Where we are, ourselves, we have plenty different grapes.
So we have Nero d'Avola and Frappato, the grapes are used in the Vittoria region. You can add a minimum of 50% of Nero d'Avola and a maximum of 70%. The rest must be Frappato, so you can decide which kind of percentage you want to put your wine.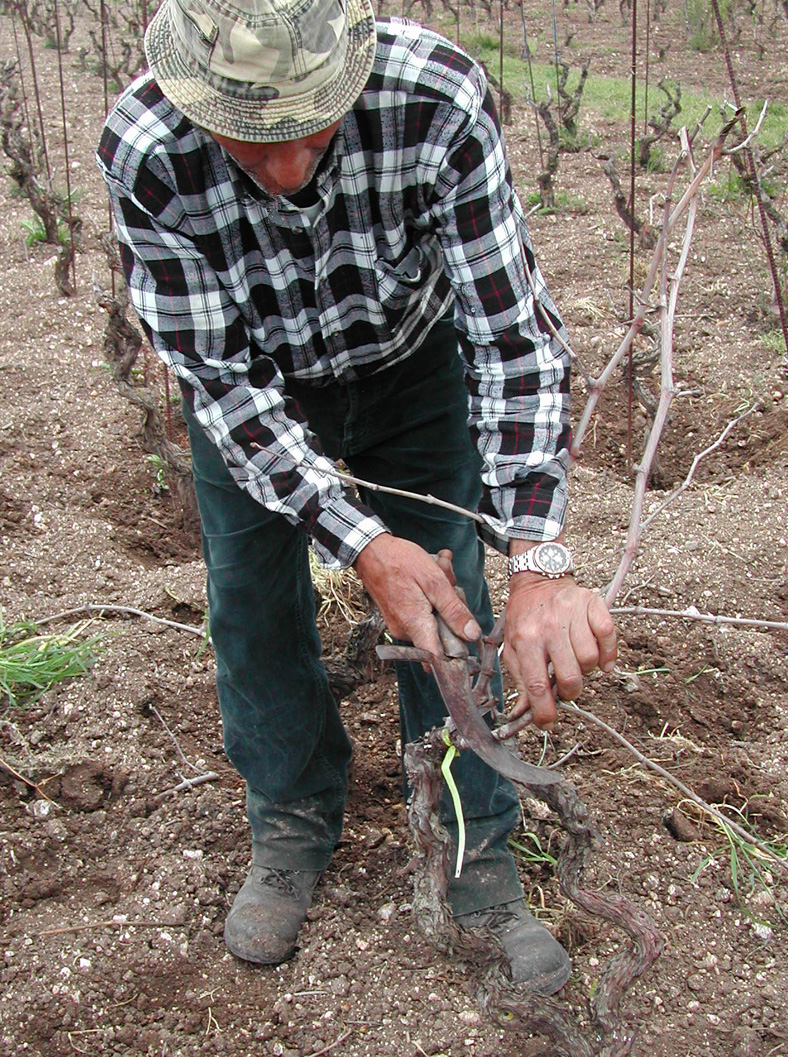 We do, more or less, 50-50. For the classical, for the Cerasuolo Classico, we do 70-30. 70% Nero d'Avola 30% Frappato. Frappato delivers more cherry flavors, and the Nero d'Avola delivers the structure and freshness.
Then we make Nerojbleo and the other one is Rossojbleo from Nero d'Avola. So Rossojbleo is more fresh and Nerojbleo is more structured, but always from the where we are located on the Iblei mountains.
Then we make to whites. So we have a single vineyard which is literally planted with 50% with Carricante and 50% with Chardonnay. So we would vinify it separately, and then we blend it together.
Then we have another single vineyard, which is only Carricante, which we make the wine. So these are the wines that we are producing in the DOCG area of Cerasuolo di Vittoria.
In Pachino, now you should know it very well, we produce the four crus, which is Barone, Maccari, San Lore, and Bufaleffi. Since two years, we are making an experiment of ... So taking some grapes from San Lorenzo vineyard and we make a rosé. So Nero d'Avola rose from one of our top vineyards.
Then the last production, is on Etna. At 850 meters above the sea level, we have Nerello Mascalese planted. And we have planted inside the same vineyard some Pinot Noir to make an experiment out of it. So it's less than half hectare. Of course on Etna, the terroir is completely different, it's black soil from the volcanic. So it's a different style, it's a completely different world. So we make Nerello Mascalese, which is called Resecca And we make our Pinot Noir, which is called Pino.
Tell us about your "Locanda."
So in Chiaramonte Gulfi, inside the winery it's interesting, because we have more of a resort inside the winery. So our restaurant, some rooms, and we call it Locanda Gulfi. Locanda was a name that people that were traveling, they stopped for feed, sleep, in the day after they were moving to the next destination. So, we had this feeling and so we made the Locanda Gulfi.
And then to welcome the people that are coming, in the winery, maybe they want to rest and enjoy the area, and that's something really interesting, because in the restaurant you can eat, and if you turn your head you can see all of the vinification area. So in September, maybe you can see things happening. Even for the harvest. That's really interesting.
How is the new generation of wine in Sicily evolving?
They have grew up very well. No, that's the best thing that is happening. Because the new generation is bringing fresh air. It's destroying the mentality ... The old mentality, which doesn't mean it was wrong, but the mentality in Sicily about making wine was not the mentality of the new generation.
That's the reason why it's beginning, let's say in the last 15 years ... One one of the hottest regions in Italy for wine. One of the most interesting regions about ... In Italy, maybe even in the world, about making wine, because suddenly high-quality became a possible reality in Sicily.
It doesn't mean that the soil has changed. The new generation has changed. The new generation is picking up the old grape variety. They are working, vinifying in parcels also. They have a philosophy, they follow what they believe. So they have passion for what they're doing, but they can't do it because the market is more interesting.
So it's not happening in all in Sicily. Sicily is really interesting because you have a lot of grape varieties, micro-climates, it is a continent, Sicily. But even the south of Italy, all the south of Italy, so all the old grapes are coming back because there is a demand from the market.
The new generation can take the risk in doing something different.