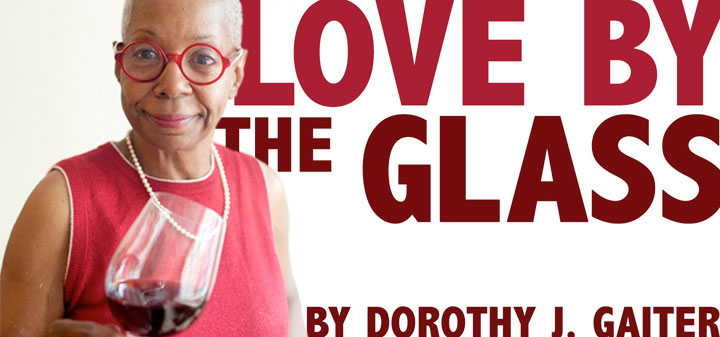 "If not now, when?" John called back to me the other day. I had just read that the wine we were considering drinking for Open That Bottle Night was one of only 12 magnums bottled, and I was suddenly gripped by a desire to find a different wine to open, to put the magnum away for another time.
John's question, of course, cut to the heart of the matter, the reason we invented OTBN back in 1999. We could relate to the readers of Tastings, our column in The Wall Street Journal, who kept asking us to tell them the perfect time to open their special bottle of (FILL IN THE BLANK) and to lament that they had allowed all manner of noteworthy occasions to come and go without opening said wine: wedding, births, graduations, promotions, anniversaries.
The magnum that had thrown me into crisis mode is a 1994 Schneider Vineyards Merlot from the North Fork of Long Island. We purchased it at an auction, probably sponsored by the Long Island Wine Council, in 1997, soon after its release and before we began writing Tastings. The Merlot and a magnum of the winery's 1994 Cabernet Franc, also one of 12 bottles, were our first-ever wine auction purchases. Each had been $50, with the proceeds going to an organization that helps homeless people. They were also Schneider Vineyards' first releases.
After collecting the bottles that day, we had Bruce Schneider, his wife Christiane Baker Schneider, and Kip Bedell sign them. The Schneiders had purchased grapes from North Fork wineries and Bedell, who owned Bedell Cellars in Cutchogue back then and is known as Mr. Merlot, had helped craft the wines to their tastes. The Merlot is 90 per cent Merlot and 10 per cent Cabernet Franc.
We'll be opening that Merlot and an old dessert wine (still undecided) on Feb. 27, this year's OTBN, at a cute little organic French-Caribbean bistro called A Café at 973 Columbus Avenue between 107 and 108 streets on the Upper West Side of Manhattan (acafeny.com). We'll be there from 7 until around 9:15 and you should come have a taste and share your OTBN wine and stories.
A Café has a $25 prix fixe menu from 6 to 8 p.m. that includes an appetizer and entrée. Dessert is $8 extra. When you call for reservations, 212-222-2033, tell Al you're reserving for Open That Bottle Night or email him at [email protected]. He's also the guy who will take your payment.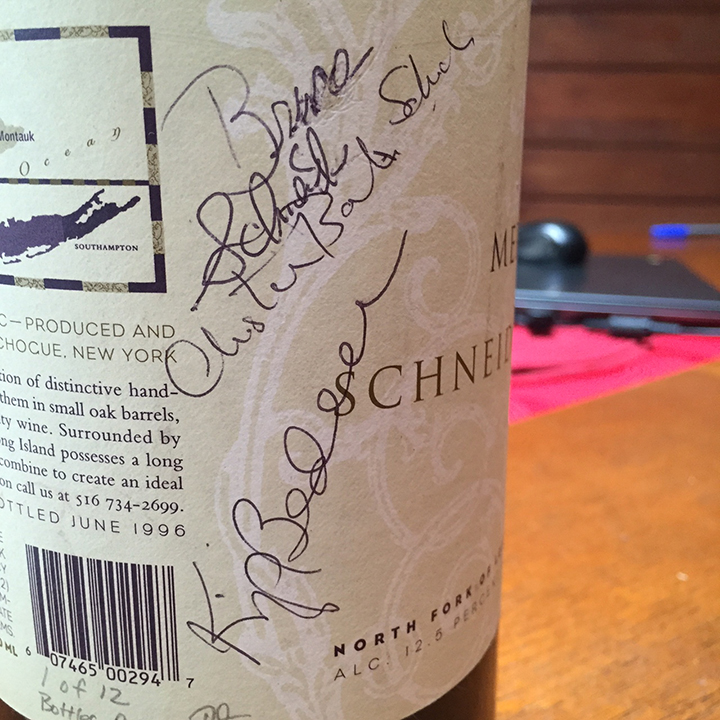 Back in the 1990s, we had concluded that Cabernet Franc was the great red grape of Long Island, not Merlot, which was the conventional wisdom. So we were thrilled to meet the Schneiders and to learn that they agreed and were passionate about it. We had had their Merlot and Cab Franc in regular-size bottles and been blown away by their finesse, depth and power, so when the magnums came up at the auction, we pounced. Bruce is now managing partner and a co-founder with Charles Bieler of The Gotham Project, "the leading wine-on-tap supplier in the U.S.," he wrote me in an email, adding that the tap system had "eliminated more than 1 million bottles from the waste stream since we started in 2010." Although Schneider Vineyards ceased to exist with the sale of its vineyards in 2007, Bruce is still working with Cabernet Franc at Onabay Vineyards in Southold and with Finger Lakes fruit with Bieler.
Here's what Bruce wrote about the 1994 Schneider Merlot and Cabernet Franc:
"We did not intend to produce a Merlot, just a Cab Franc-Merlot blend. We hand-harvested with about a dozen friends and family three tons of Cabernet Franc we purchased from Palmer Vineyards and 1.5 tons of Merlot from Mattituck Hills Vineyard (later purchased by Macari).
"I guess in our minds Right Bank blend à la Cheval Blanc was the reference point. But once the wines were made and we began blending trials with Kip Bedell the Cab Franc wine we liked the best was with just about 10% Merlot blended in. The problem was the Merlot on its own was darn tasty and when we blended in a little Cabernet Franc, even better. So we ended up producing about 225 cases of Cabernet Franc and about 90 cases of the Merlot.
"I recently opened a bottle of the 1994 Cab Franc and one of the Merlot," Bruce continued. "The Merlot was still enjoyable but the Cab Franc outshone it, showing more youthful fruit."
Since I was having such a difficult time deciding on the wine -- we used to collect '82 Barolos and are down to our last one -- I contacted some previous OTBN participants to ask if they'd made their selections.
Mike Veseth, an awesomely erudite economist in Tacoma, Wash., is editor of The Wine Economist blog (wineeconomist.com), which analyzes global wine markets. He's also written a lot of best-selling books including Wine Wars and Money, Taste & Wine: It's Complicated.
"We are celebrating OTBN twice!" he emailed me. "Our regular group cannot all gather together at once, so some of us are meeting at a local restaurant on Friday the 26th and others of us are gathering at our house on the 27th for an OTBN pot luck. OTBN is good, so two OTBNs should be even better.
"For the Friday dinner we want to honor our friend Ron Thomas who is retiring as President of the University of Puget Sound after 13 years of distinguished service. So we are going to open a 2007 Owen Roe Columbia Valley Zinfandel called 'The President.'
"On Saturday we will open a wine from our last trip to South Africa, 2010 De Toren Z – a classic Bordeaux blend from a great site in Stellenbosch. It will be a good way for us to share our memories of the Cape Winelands with our friends."
David Crowley of Woburn, Mass., who writes a creative and delicious cooking and wine blog (cookingchatfood.com), says he'll be opening a 2012 t. "This was my favorite Burgundy from a wine club gathering about two years ago, a 2012 Moillard Gevrey-Chambertin Beau-Versant" for which he told me he prepared pan seared salmon with a mushroom sauce. Yummy.
"I don't tend to keep wines for multiple years, but occasionally try to hold one for a bit," he wrote me. "But I'm ready to see how this one tastes now. I suspect it will be quite good!
Jeffrey M. Kralik Ph.D. of Philadelphia writes the wildly entertaining blog The Drunken Cyclist. I bumped into him recently at a wonderfully educational Vins Clairs Tasting with Régis Camus, the chef de cave for Piper-Heidsieck. When I asked Jeffrey what he was opening for OTBN, he wrote, "These past few weeks I have been down in my cellar taking inventory as I will be moving across the country this summer. As I have been meticulously going through my wines, I have noticed that I am far better at adding wines than I am at subtracting them upon consumption. Once in a while though, there is a bottle that I thought I had consumed, or one that I had never entered.
"Such was the case when I came across these three bottles:
1985 Moët & Chandon Champagne Cuvée Dom Pérignon
1985 Inglenook Reunion
1985 Graham Porto Vintage
"The first I thought I had consumed, the second I had mis-entered (for some reason it was entered as a 2005) and the third, I really have no idea how it got into my cellar. I sat there and relished in my good fortune, but then it occurred to me: what a perfect line-up for OTBN.
"So a few friends of mine and I are going to, well, party like it's 1985...."
Darn. I should have that man's address!
Nicola McConnell of New Zealand, founding director of the whip-smart wine and food-focused marketing and public relations company BrandAmp (brandamp.co.nz ), posted a call (brandamp.co.nz/open-that-bottle-night-2016 ) to its blog's readers in New Zealand and Australia to celebrate OTBN. Here's what she said when I asked what she was opening:
"When I worked for Penfolds so many people came to the Red Wine Recorking Clinics clutching these bottles they had been saving for a special occasion but the bottles become so important that the 'occasion' never came and in the meantime the bottle wasn't stored properly and was past its best. It was a salient lesson. Peter Gago, Penfolds chief winemaker, always used to say 'opening the bottle is the occasion,' a very wise philosophy and what's at the heart of your creation."
John and I have always said that you should open those special bottles as often as possible and not just once a year.
"In homage to my Penfolds experience I will be opening a bottle of 2000 St Henri Shiraz," Nicola continued. "I also have a 2005 Leo Buring Leonay Riesling which will be opened. I've invited a couple of friends over and as it's still summer here we're planning a late evening BBQ with steak and shiraz.
"The Riesling. Leo Buring was also in the Southcorp portfolio when I worked for the company (which also owned Penfolds and multiple brands). 2005 was the final vintage made under the old Southcorp as the company was bought by Foster in May 2005 after vintage, so it's one of the last wines I have from what was a golden era in the industry for me."
Another Australian, Trish Barry, managing director of Mastermind Consulting, asked in 2010 if she could help spread OTBN in her part of the world as a "passion project." We said sure! The more the merrier. OTBN has always been an international affair. She'll be opening a Best's Great Western Old Vine Pinot Meunier. "This wine was made from the old 1868 Pinot Meunier plantings that surround the winery and given the age of the vines is rarely made," she wrote me in an email. "It's got a cult following in Australia given there are not many Pinot Meunier wines being made as a straight varietal and in the year that the winery celebrates their 150th birthday what better time to open and enjoy!"
Anatoli Levine of Stamford, Connecticut, who writes the chatty blog "Talk-a-Vino, Wine, Food and Life" (talk-a-vino.com) wrote of OTBN, "It always presents a difficult choice for me. Mentally, I'm ready to open any bottle from my cellar. However, once it is actually the time to pull the cork, the doubt comes in—'is this wine ready?' or 'will be this wine still good?' For instance, I have a Burgundy from 1969 -- nothing special, I think some generic AOC wine -- I don't know if this will be still good. Or I have Mazzei Chianti from 1988 -- again, not sure if this is the right time (had Carpineto Chianti 1990 recently, and it was perfectly fresh, so maybe 1988 can last for a bit longer?)
"See, I'm literally thinking out loud with you, and while I'm writing this, my mind is racing ('may be Leviathan? but it is 2007, probably still too young? I have some interesting Burgundy from 2005 -- too early') -- see, it is so hard to make a decision for me, it is not funny. I'm sure I will find a good bottle to open, but it will be a last-minute decision."
The only thing I'm sure of is this: I'm holding on to the magnum of 1994 Schneider Vineyards Cabernet Franc for a few more years, but you should come help us drink the Merlot!
Dorothy J. Gaiter conceived and wrote The Wall Street Journal's wine column, "Tastings," from 1998 to 2010 with her husband, John Brecher. She has been tasting and studying wine since 1973. She has had a distinguished career in journalism as a reporter, editor, columnist and editorial writer at The Miami Herald and The New York Times as well as at The Journal.
Please join us on Open That Bottle Night, Feb. 27, at A Café, 973 Columbus Avenue, in Manhattan. Tell Al, the manager, at 212-222-2033 that you're reserving for OTBN or email him at [email protected]. See you there!