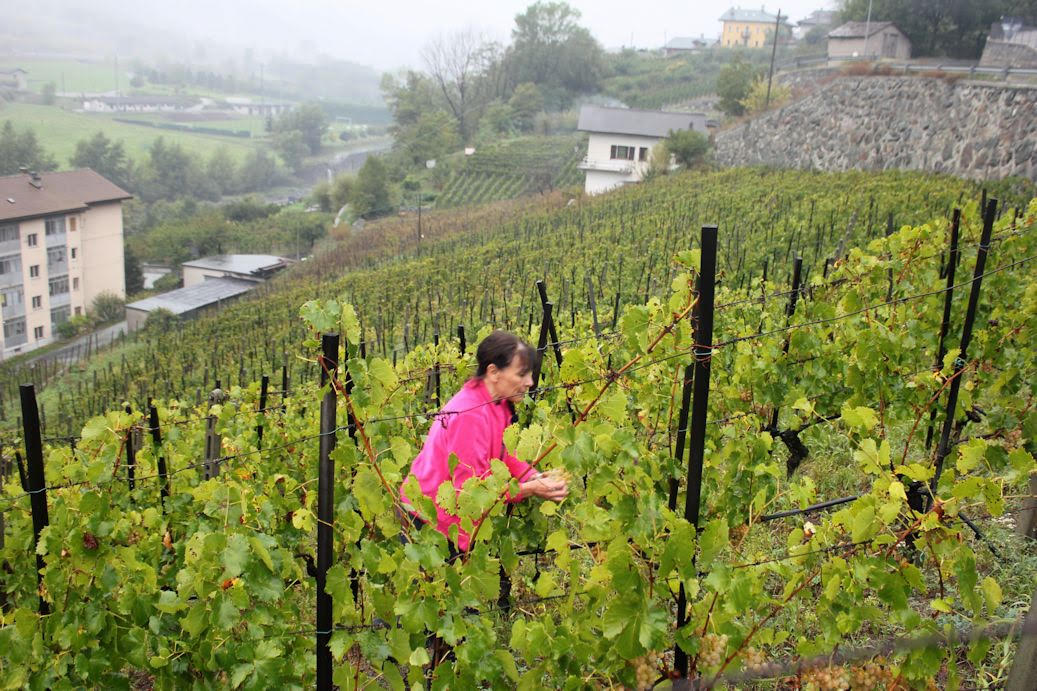 There is a good chance that you have never heard of Ezio Voyat (rightfully so). Most people haven't -- the wine is very rare, hardly any stores carry it, and allocation is so sparse that years can go by without it arriving to the US. What's the fuss?
Ezio Voyat was one of the main protagonists to popularize wine from Chambave in Valle d'Aosta. Valle D'Aosta: the smallest and least populated region of Italy, cornered by Piedmonte, the Savoie region of France, and the tallest peaks of Europe into an isolated pocket. Chambave (a DOC subzone) sits at about 2300 ft and, as you might expect, the vineyards are dramatically steep, fragmented, and sharply cut into the mountainside.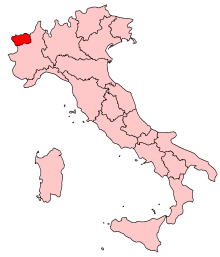 Only a handful of producers can withstand these conditions. Adolfo, Ezio's son, reflects: "Sometimes the slopes are so steep that oil comes out of the tractor's engine!" The small amount of land available for grape-growing coupled with difficult conditions means that there is little wine to go around.
Voyat's vineyard is an ancient growing site in the recluse of the mountain's brow. With less than 5 acres of land, production is very slow on pre-phylloxera vines. Nature determines when the wine is ready -- the Voyat family don't rush their harvest and take their time to prepare the wine, only sending it to market when they are satisfied with the end-product. Further, the Voyat family uses natural winemaking techniques, such as encouraging native foliage to grow alongside the vines and using minimal intervention in the cellar. Finally, the wine is aged in a traditional chestnut wood barrel. The vineyard is within walking distance of the family's modest house and cellar.
No matter how desolate, life in the mountains never seems to be quiet. Boulders, rocks, and thin soils make for a stressful environment where the vines must work hard to survive. Stressed vines make better wine, but this sort of environment comes at a cost. Stone walls were built to prevent landslides, which are not uncommon in Valle D'Aosta. This might be a clue for why Voyat called some of his wine "Le Muraglie" or in English "The Walls". And yet, landslides are not the only things causing a raucous: "If nature was not enough, we also have to put up with regulations," Adolfo continues to reflect. The Voyat family rejected the DOC status because they hold themselves to a higher standard. On the label, there is hardly any indication of where the wine comes from and sometimes the vintage is even missing -- bottle simply says "Voyat Le Muraglie Rosso", for example. In reality, walls can be protective of natural and political agitation.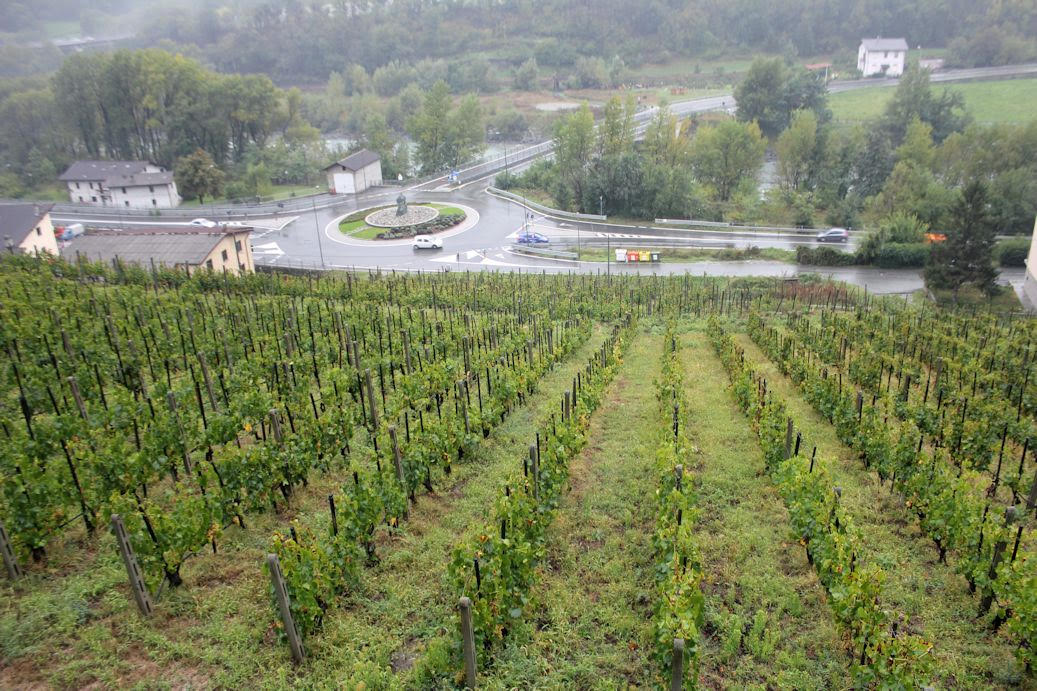 But who is Ezio Voyat!?, you must be thinking by now. Neal Rosenthal, in his seminal book Reflections of a Wine Merchant, sheds some light: "We drove north from Carema, gaining altitude, and we arrived at the Voyat residence. Ezio awaited us. Voyat was a vineyard owner but actually earned his living as the head croupier at the casino in the neighboring town of Saint Vincent. He was an impressive sight. He was not tall, but he left the impression of bigness; his face was square; his hair was a tight bristle of gray and black; and his broad chest announced a round, firm, and large belly. We descended into the cellar...The lasting image of Ezio remains his proud stance while presenting his great series of Chambave on that gray, cold day in January 1980…"
With unyielding tenacity, Ezio Voyat proved that Chambave could produce incredible, terroir-driven wines at a time when hardly anyone in the US had heard of Chambave. Then, he suddenly died in 2003, leaving his family to carry on his winemaking legacy. Rest assured, they have done so with grace, with his daughter, Marilena, leading the way. She grew up watching her father and admiring his love for their vines. The Voyat's viticulture tradition lives on through Marinela. As you discover Voyat's wines, the family waits for their deserved congratulations, patiently and without vanity.
The wines:
Rosso Le Muraglie 2014: 50% Petite Rouge, 40% Gros Vein (a rare grape that grows exclusively in Valle d'Aosta), and 10% Dolcetto. Profound aromas of wild flowers and earth. Smoky like bacon. The wine's high acidity and integrated tannins would make for a great pairing with gamey red meat, like lamb. Oddly enough, the longer the wine is open, the more tannic it gets. Indeed, there is much to be uncovered in this wine. (As of publication $33.99 at Grape Collective)
La Gazelle: 100% Moscato. This wine is named after Ezio's daughter, Marilena, who was an Olympic track gold medalist known around Italy as the "Gazelle". This Moscato is unlike any other that you have ever had -- dry as a bone, with aromas of straw and honey, herbaceous and concentrated flavors of ripe grapes, and a finish of mouth-watering acidity. La Gazelle was Ezio's favorite wine.
Le Muraglie Ambrato: 100% Moscato made passito-style. A masterpiece. Golden in color; luscious flavors of dried apricot interwoven with earthy aromas that are unknown to most white wines. Since Ezio's passing, it seems that this wine has fallen out of production. (As of publication Astor Wines sells the 2000 vintage at $124.99 a pop).
--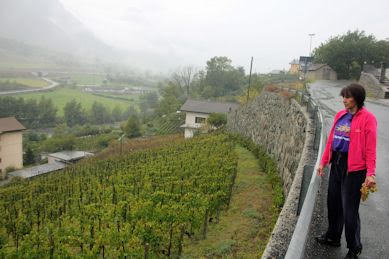 Grape Collective sent a series of questions to Marinela Voyat via email:
1. What is your philosophy of winemaking?

My family has been making wine since the 1800's here. It has to be a great passion because it is impossible to make a living from a yield of just 2,000 bottles per vintage. I teach physical education at the local school and then tend the vines in my free time. My father was an account at the Casino and every moment he did not work, he spent in the vineyard and in the cellars. You really have to believe that you are doing something special to dedicate yourself to the cellars after working all day. I was very close to my father and his enthusiasm and love for these vines and the wines they produce live on in me.
2. How has the Voyat family transitioned since Ezio's death? Any changes?
Ezio, my father, was a force of nature and it is very difficult to walk in his shoes. My mother tried to until her death in 2012 and now it is up to me. It is a daunting challenge. I worked in the vineyard by my father's side since I could walk. He dedicated the dry Moscato to me. My nickname is "La Gazzella" from when I was a runner for the Italian track team. We have always made more Moscato than Rosso and I tend to favor it since my father made it for me. I would like someday to make the Ambrata, the passito Moscato once again. Perhaps when I retire and have more time to dedicate to the cellars.

3. Could you tell us about the the grapes that you grow?

Moscato is the white varietal of the Chambave. In our unique microclimate, the grape produces a wine of uncommon depth and aromatics. Once we made an Ambrato, a passito version, that was world famous from that vine.

Petite Rouge, Gros Vein or Vien de Nus, and Dolcetto are local varietals used for red wines of our zone. My great, great grandfather planted the original vines and my father has painstakingly hand- grafted better and better clones which he researched onto our pre-phyloxera root stock. Everyone in the Chambave has these grapes. The difference is in the microclimate (it rains very little here) and the special sandy, stony terrain we have. We have perfect south-facing exposure. Cold summer nights allow a very slow, long ripening which our special clones of thicker skinned Moscato are especially adapted to. We made the traditional, sweet Moscato Passito and so my father decided to make a dry Moscato in contrast. At the time, a dry Moscato was very unusual. Most Moscatos produced, even today, are sweet. I think that makes ours very special. For the red, it is our old vines which give our three grapes such intensity.

4. Please tell us about your terroir. How is it unique?

Our terroir is very special but the soil is sandy and fragile and can easily wash down the hill. We built, stone by stone, special retaining walls (Le Muraglie) to keep the vineyards from sliding down our steep slope. We gave the Rosso and the Passito the name, Le Muraglie when we stepped out of the DOC. The slope of the vineyard is very steep and if we try to work it with a tractor, the oil leaks out! We must do everything by hand.

5. Why did the Voyat family decide to get into winemaking?

I don't remember why, it is just something we have always done. The wines produced from our vineyard have always been exceptional and it would be a shame not to take advantage of natures gift to us.

6. How is the approach of Voyat wine distinct in comparison to other producers in Valle d'Aosta and in comparison to other producers in Italy?

I can't speak for the other producers. My father and his father were fanatics, They spent years in the vineyard making a special selection of the moscato vines. They searched plant by plant for the vines that produced the most resistant grapes with the thickest skins and they grafted them one by one onto our ancient root stock. We could never have made the Moscato Passito without this special vine selection. Unlike some Italian producers, we would never plant international varietals. We will continue to grow the same four grapes as long as I live. Our native grapes are perfect for the our location and terrain and the clonal selection we have made ensures that they are the best they can be. You have to believe in and know the enological history of your zone. There is usually a very good reason certain grapes are found in certain areas. We also do not believe in intervening in the cellars. A wine is made in the vineyard which is why my father and I have always spent so much time caring for our vines.

7. Why does the Voyat family does not have a website?

We are very small and quite honestly, I do not have the time to dedicate myself to this technology. We prefer that our wines speak for themselves. They can make people fall in love with them far better than a website could. They are wonderful ambassadors.

8. Why is production so irregular?

Sometimes the harvests are very small or not up to our standards. Since I am by myself now, I sold off the red grapes to concentrate on the large production of Moscato and to specialize in the younger, fresher version. I now realize that the market wants both a red and a white wine so I am producing the Rosso again. We have always made more Moscato than Rosso. The production of Rosso is very limited and tends to run out quickly. I do not want to do any replanting. I prefer to leave the vineyards as they have always been which means that the Rosso will continue to be a small production.

9. Why is Ezio Voyat considered such a protagonist in the region?
My father was making great wines in the Valle d'Aosta when no one else really was. We became the face of the Chambave and the Valle d'Aosta. We were one of the very first Italian wineries to be exported which gave us some notoriety. Royal houses all over Europe used to make special requests for our Ambrato (Moscato Passito). We have always been dedicated to quality and this will never change. My Moscato and Rosso are the same as my father's and I have no intention of changing the way we make the wines. Perhaps it is the special qualitites that our little vineyard give to the wines. Perhaps it is our distinct label. I don't really know. My father was a small estate producer in an area run by large cooperatives. It is still an area today of cooperatives and not enough small producers. He was so passionate about the Chambave that when they insisted on expanding the DOC to include areas such as the river bed and the shadey side of the valley, he said that they were diluting it and that he would no longer be a part of it. It broke his heart to separate himself from the DOC but he was very principle and he was right. Some of the Chambave wines produced today are not worthy of being under the DOC. They tried to appropriate our land when we stepped out of the DOC. It took years of bitter court battles to win back the right to our land. We will never go back under the DOC.