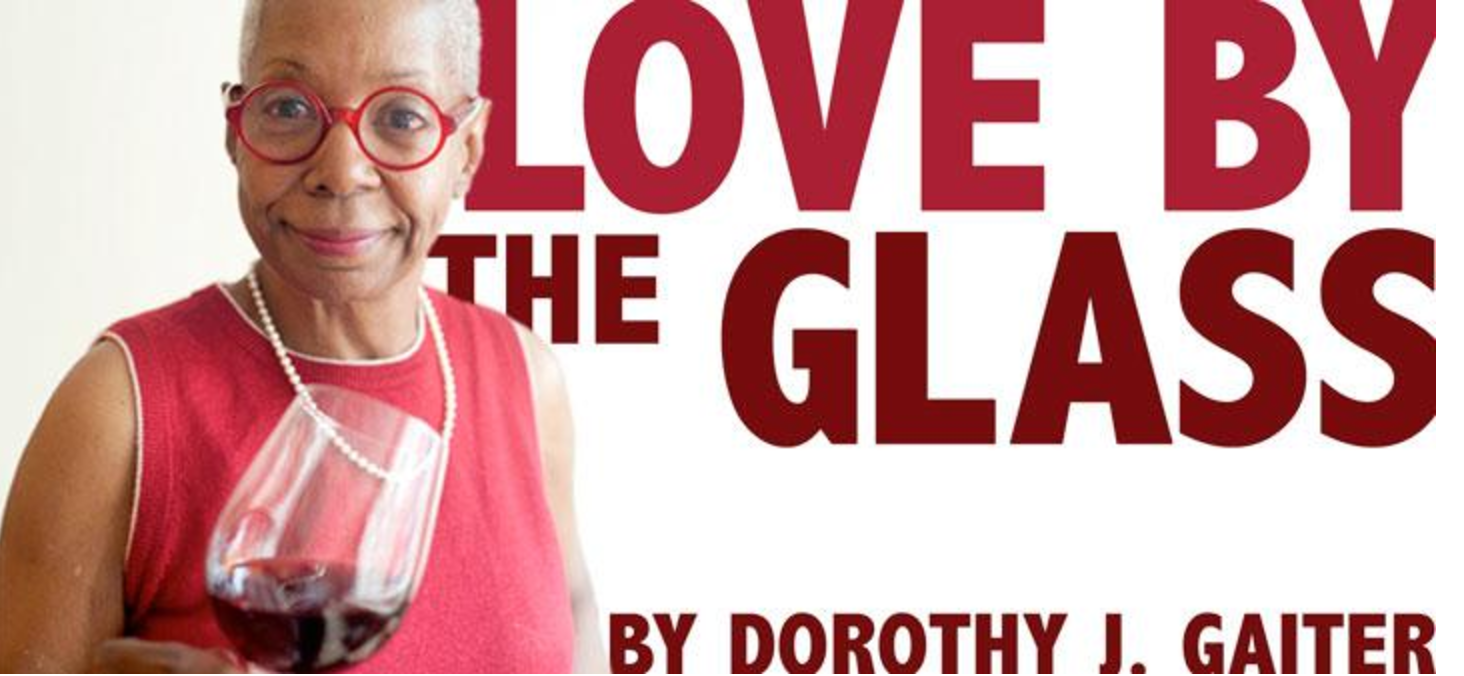 John and I sometimes get an itch to visit Miami, where we met at 9 a.m., on June 4, 1973. These periodic visits, like the one a couple weeks ago, are primarily for two reasons: To eat at our favorite restaurants and to check on the homes we shared for so many years.
We map out our meals, attending to pressing dilemmas like when to have that off-the-charts, gut-busting barbecue at Shorty's. John also indulges me by visiting a U-Pick strawberry field in South Dade County. Always on the list of must-have dining experiences, aside from breakfast at the Latin American restaurant on Coral Way, is Joe's Stone Crabs, a Miami Beach institution for more than 100 years.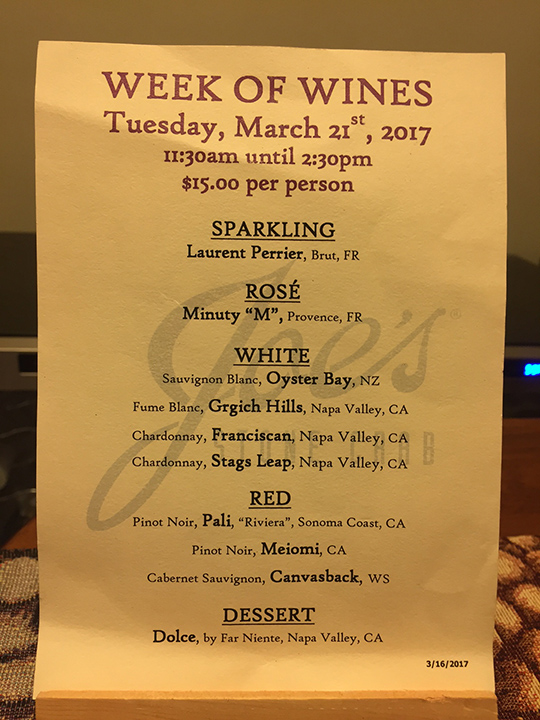 We've eaten at Joe's countless times and have even introduced our daughters to it. However, while there's nothing—nothing--like its chilled, glistening, plump and sweet stone crab claws, coral with black tips, its wine list has always left us wanting. Back in the day there, wine seemed like an afterthought. Fortunately, most times we could find a Chablis or a Muscadet on its modest list, but generally there were not a lot of great choices.
So we were delighted to learn that our trip coincided with Joe's Week of Wines--new to us and, sorry, so far only at lunch one week in March-- and that we'd find an improved wine list and way more attentive and skilled wine service. It's great to see an old institution changing with the times, and involving wine in the changes. Look around your communities. Restaurants are doing creative things to bring in customers and often these things involve wine. (More on some of those, below.) During the Week of Wines at Joe's, for $15 per person and the cost of whatever you order for lunch, distributors will pour as much as you want of 10 wines. What a deal!
We went there, virtually straight from the airport, for dinner that first day. It was while waiting for Joe's to open—the best way to avoid a long wait, we figured--that we met the man responsible for this new attention to wine, Paul Kozolis, the wine director. Kozolis, a towering man in a serious gray suit who spoke passionately about wine while keeping his eyes on every corner of the restaurant, emailed me later that he had started at Joe's 38 years ago as a bartender. He said his three main distributors suggest wines for the Week of Wines and that he then "goes from there." Joe's on Miami Beach is still owned by the family of its founders, Joseph and Jennie Weiss. The Joe's Stone Crabs in other cities are owned by a restaurant group.
We joked with Kozolis, before seeing the wine list, that we'd probably have a Chablis, and that's what we had, one of two on its better but still growing list, a 2011 Simonnet-Febvre Chablis (Louis Latour), $47. (Latour says it retails for around $19.99) A step up from Chablis' entry-level classification, Petit Chablis, but not as special and pricey as Chablis Premier Cru, and the priciest, Chablis Grand Cru, this "regular" Chablis was lemony with green apples, and packed with minerals, with a nose of orange blossoms. The age on it may have contributed richness to its Chardonnay fruit. With an underpinning of chalk, it reminded us of seashells. This was satisfying and easy without being too simple, which is what we wanted, having just gotten off a plane. Perfect with large claws, $56.95 for each order.
Stone crab claws are one of Nature's most delicious treats. I don't like to think about this process but after the legal-size claw or claws are properly removed from the crab, it is released into the ocean where it can regrow its claws three or four times. Joe's and the fishing industry supported Florida laws intended to insure the sustainability of the crabs and the industry that's dependent on them. Only the claws can be taken, not the entire crab, and taking claws from egg-bearing female crabs is prohibited. The Monterey Bay Aquarium's Seafood Watch program, which recommends environmentally sensitive practices, has given the Florida's industry its highest rating of "Best Choice" for its strict standards and commitment to sustainability. You may have noticed the famous Monterey aquarium in scenes from HBO's mini-series "Big Little Lies," which is set in that coastal city. Stone Crab season runs from October 15 through May 15, but a robust industry has sprung up in supplying frozen ones year round.
Joe's and others also ship. Our first year in Manhattan, our dear former Miami Herald colleague, longtime South Florida wine writer Bob Hosmon, sent us claws from Joe's. Now that's a true friend.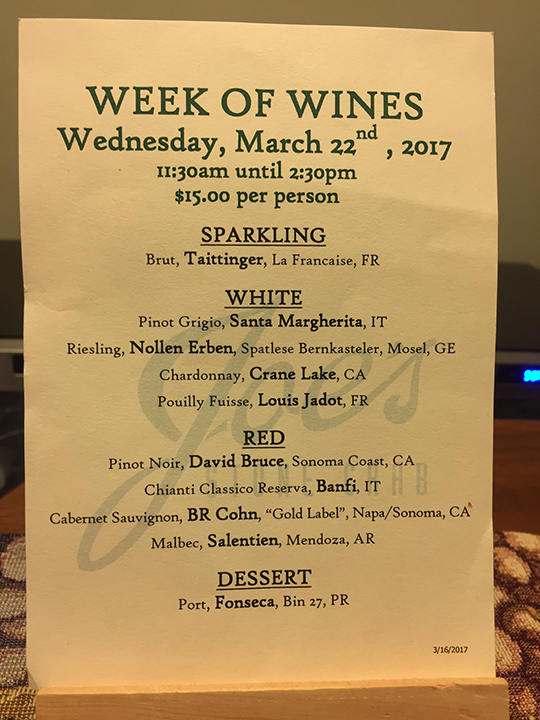 Joe's claws are served on metal platters, with butter or mustard sauce (we get both) and Joe's famous sides. We ordered creamed spinach (without garlic), Lyonnaise potatoes and grilled tomatoes stuffed with spinach and topped with melted cheese. If there's room, there's heavenly Key Lime pie. There wasn't this time.
We'd asked Kozolis about the Week of Wines so he brought over cards with the selections for the next two days. The Week of Wines, sadly, happens only one week in March and only for lunch. However, Kozolis wrote in an email, "we have thought about doing this twice a year and I am heading in that direction." He said he had initiated Joe's Week of Wines eight years ago after watching a competitor who had them (but under new ownership no longer does) pack in crowds at lunchtime.
About the spiffed-up wine service, Kozolis wrote, "I have always had a passion for wine and with my studies at Johnson & Wales [a university strong in culinary and hospitality training], I changed the way Joe's thought about wine and its program."
The first thing we noticed that had changed about Joe's wine service was that our server, who had been there for 33 years, quickly agreed that the Chablis was too cold, whisked away the ice bucket and offered this: "When it's too cold, it's closed up. You just don't get the wonderful fullness of it."
Wine service there used to be "correct," in the showing of the bottle before opening, etc., but it was not particularly engaged. Kozolis wrote that he's big on training: "I do wine tastings twice a week with my staff. Also any new wine that is added to the list is talked about by me or I have someone from the distributor or the winery itself talk to them."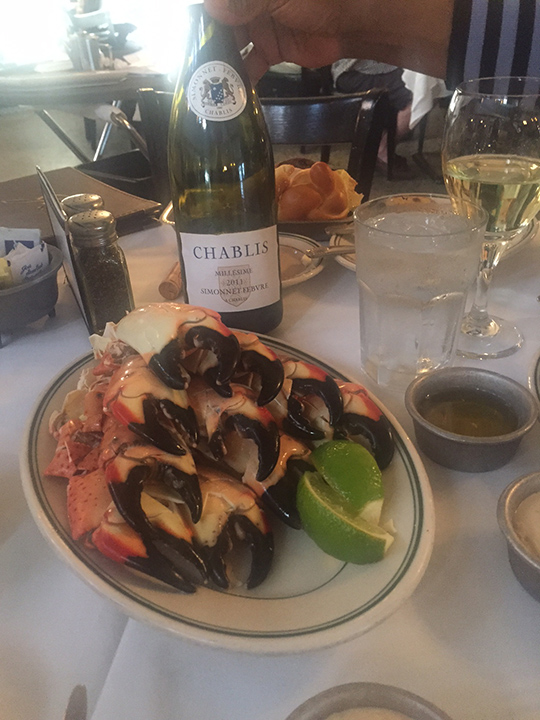 We decided to come back for the Week of Wines on Wednesday, the day Taittinger Brut La Francaise was the first wine poured. It was our wedding Champagne, of which we purchased 18 bottles for 16 people, a healthy ratio. Now to be honest, it did occur to me to drink the Taittinger, ($50) exclusively, but we were curious about how the other wines would pair. (The prices throughout are what Wine-Searcher lists as average. I like looking at them since I had a glass of each wine—two of the Taittinger-- for $15! And yes, we made much use of a spit bucket; this was a lot of wine, especially in early afternoon.) The Taittinger had a great yeasty, lemony nose, lively citrus and toast tastes and great minerals. "A friendly Champagne," our notes read.
In the order they were poured after the Taittinger: Santa Margherita Pinot Grigio from Italy ($25) was uninspiring; Nollen Erben Spatlese Bernkasteler Riesling from Germany ($12) was, as we'd suspect, too sweet, but charming on its own; the Crane Lake Chardonnay from California tasted as expected of a wine whose average price is $5, sweet and simple; Louis Jadot Pouilly Fuissé from France ($25) surprised us. We hadn't had a Pouilly Fuissé that made us stop and think in a few years and this one, we wrote in our notes, was "really good with the crab. It needs to be really cold, though. As it warms, it gets kind of funky." We were so pleased to have once again liked a Pouilly Fuissé that back home we ordered this one again and with the opportunity to drink an entire bottle, it was even better.
Now to the reds. Joe's Stone Crabs is famous for its crabs but its menu also features steaks, hamburgers, lamb, ribs, chicken and other seafood dishes. Most of the wine sold at Joe's is red, Kozolis said, and over the years we've seen diners at dinnertime with heavy reds and stone crabs. To each his own, I guess. Anyway, we were game. The David Bruce Pinot Noir, Sonoma ($34) was classic California Pinot Noir. Lovely lavender-raspberry nose, with full red berry fruit, nice acidity, rich earth and a minerality that sang with the spinach and cut through the richness of the crabs. What a surprise! We routinely drink Pinot Noirs with salmon, but would not have thought this would work with crabs. Not our first choice of a pairing, but if we had to have a red with the crabs, this would be the way to go.
After the Bruce Pinot Noir, there was the Banfi Chianti Classico Riserva from Italy ($18), nicely herbal but too heavy; BR Cohn Gold Label Napa/Sonoma Cabernet Sauvignon ($38), huge, oaky, with plums and chocolate. Not in the same universe as the crab claws. Then the Bodegas Salentien Malbec from Argentina, ($18), whose winemaker, José "Pepe" Galante, I interviewed a few years ago. "Really good wine, but not with the crabs," we wrote in our notes. Then the final wine, a Fonseca Port Bin 27, Portugal, ($18). "That's a good dessert, simple and sweet," we wrote in our notes. "Not much depth, but a tiny glass would be fine."
Looking around the restaurant, we saw a few other tables of large parties participating in the Week of Wines that day, and they were having a lot of fun, as were we. Good for Joe's, good for diners, good for the distributors.
Coming up: French Restaurant Week in New York City and the Tri-State area is July 3-16 with prix-fixe menus for dinner, and in some cases, lunch, with special emphasis on wines. Check this site, frenchrestaurantweek.com, for participating restaurants in our region and dates and restaurants participating in Chicago, Los Angeles, and San Francisco
Now in its 30th year of hosting National Wine Week, the Quality Branded restaurant group does it three times a year, in Spring, Summer and Fall. For the cost of lunch and brunch and $20, diners can taste 10 wines poured over the week by 100 vintners at the restaurant group's Quality Italian, Quality Meats, Smith & Wollensky, Park Avenue and Maloney & Porcelli restaurants. Quality Branded's next Wine Week is July 10-16. In about three weeks, the wines will be listed on its site, (qualitybranded.com/wine-week/), according to its marketing people.
The date for German Wine Week in New York hasn't been set, its organizers told me. Usually it goes on for multiple weeks. They suggests you check their website, germanwineusa.com, off and on.
For a restaurant of its caliber Joe's should have an even broader list of quality wines. It really is an amazing place with a clientele that will often make you turn your head. In the late 1980s, Sandy Rosenblith, a fierce advocate for community development who became my friend, introduced us to one of our heroes, U.S. Supreme Court Justice William Brennan Jr., sitting at a sunny table about to enjoy his lunch. Both of them are gone now.
Blue sky---if anything were possible--is there something else you'd like to do with wine at Joe's? I asked Kozolis in an email.
"Yes sell a lot more!" he responded. "I would like to have a wine cellar at Joe's. This would allow me to have older vintages and be able to collect."
Dorothy J. Gaiter conceived and wrote The Wall Street Journal's wine column, "Tastings," from 1998 to 2010 with her husband, John Brecher. She has been tasting and studying wine since 1973. She has had a distinguished career in journalism as a reporter, editor, columnist and editorial writer at The Miami Herald and The New York Times as well as at The Journal. Dottie and John are well-known from their many television appearances, especially on Martha Stewart's show, and as the creators of the annual "Open That Bottle Night" celebration of wine and friendship. The first bottle they shared was André Cold Duck.