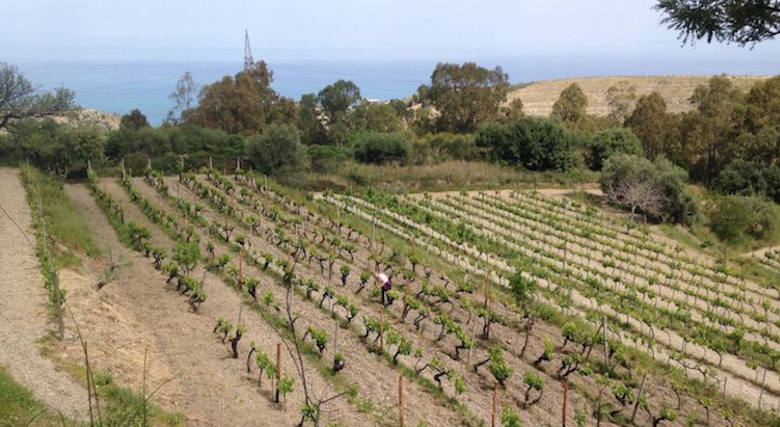 Paradise, utopia, shangri-la, heaven, nirvana -- all of these notions express an ideal place or state, something that is not here, not present. It's time to realize that the Garden of Eden is actually in our backyard. Even if you live in New York City (the rudest, and one of the most polluted cities on Earth), it's our collective duty to develop locales of human enrichment -- now, not later -- whatever your schtick might be. Who wants to be in a state of ecstasy when they're dead, anyway? I would just want to rest!
Grape Collective's religion is wine, and our latest savior is Giovanni Scarfone, a vigneron who has a small holding (2.5 hectares) in the Faro region of Sicily. His vines sit in the mountains that overlook Messina, a city that air-kisses the boot of Italy. Giovanni is considered to be among the best of his generation. He got this reputation by creating his "own little reality" as he puts it.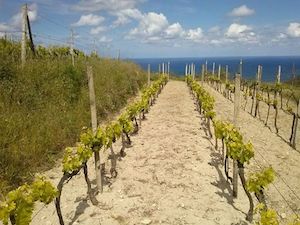 After completing his studies at the University of Bologna, Giovanni returned home and has consistently made wines that reflect his family's tradition and their appreciation of the land. Favoring natural winemaking techniques that display authenticity over technical "perfection," there is no use of pesticides or additives, each row of vines is meticulously manicured free of weeds and leaf scorch, and the surrounding forest is a biodiverse paradise.
This is "conscientious" wine, as Giovanni has called it. Essentially, the family's knowledge and awareness of the vineyard is so great that the land feels like another family member. Only Giovanni, his wife, and his father touch the vines and they harvest the grapes by hand, and only estate-grown fruit and indigenous yeast create the wine. Ultimately, the Bonavita's aim is full expression of the wine through the cultivation of the vineyard and not through using tricks in the cellar.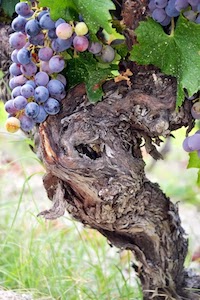 Since 2004, when Giovanni returned to Sicily, his wines have consistently proven that hard work, dedication, and patience are key elements to living in your Garden of Eden. In Giovanni's garden, you will find Sicilian grape varietals: Nerello Mascalese, Nerello Cappuccio, and Nocera. With only 600 cases of wine per year, production is small but defines Giovanni's existence.
Faro
Faro wines began to flourish in the 14th century and were once prized all over Europe. Because of earthquakes, phylloxera, and lack of proper investment in infrastructure, there are less than one-tenth the vineyard acres than there had been previously. Bonavita is one of our saving graces.
Faro is a blend of Nerello Mascalese, Nerello Cappuccio, and Nocero, which is aged for at least three years in old oak barrels. The wine is ruby red, with beautiful aromas of ripe cherries and raspberries, layered with savory spices and herbs. It is full-bodied, with fine, flowing tannins, bright acidity, and with a mineral-laden finish for days.
Rosato
The Rosato is also a blast from the past; in this case, the way Southern Italian peasants used to make their rosé. With a longer period of skin maceration, the wine comes out structured and powerful, not like the light, dainty rosés you might be used to. A perfect pairing for vegetable lasagna, or any heavy meal throughout the summer.
Barbara Sturgis, my colleague, loves the Rosato so much that she already wrote an article about it last spring. This is what she has to say about it: "The Rosato, also a blend of Nerello Mascalese, Nerello Cappuccio and Nocero, gets its deep color from 12 hours of maceration on the skins. The Rosato is then fermented in small barrels. It is a multi-layered wine with fresh fruit (strawberries, watermelon and blood oranges) and minerality with a medium body and long finish. Its vibrancy is similar to that of Jura reds."
--
Grape Collective sent a series of questions to Giovanni Scarfone via email: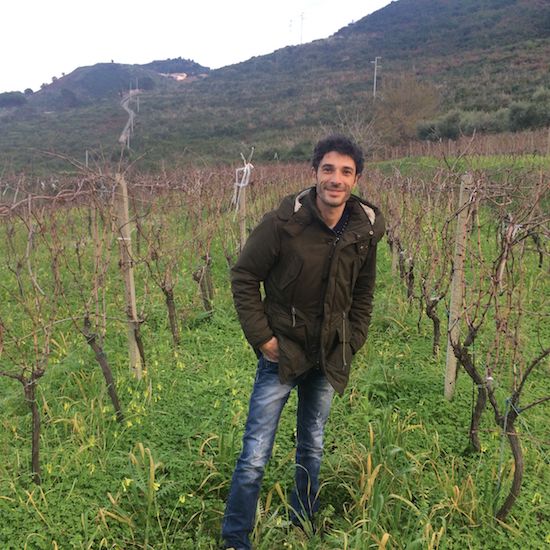 How did you get into winemaking?
I studied agricultural science at the University of Bologna. My passion, inherited from my father, was mainly linked to the cultivation of the vine and the family tradition of winemaking for "passion," only for family and friends. In 2004, after graduation, I decided to return to Sicily and try to create our own little reality. We started with just one hectare of vineyard, in the last 13 years, we arrived at about 2.5 hectares.
What is your philosophy in making wine?
It was fundamental for me to relate to the experiences of my father and later with other small producers who then have become dear friends. The technical approach learned during my university studies soon clashed with my desire to make an authentic wine, not necessarily perfect, but that is an expression of our little piece of land.
Please tell me about the terroir of your vineyard.
The position of our vineyard has certainly helped us. We are lucky to be in a still very pristine area, surrounded by a forest which is a key source of biodiversity, and we are exposed to fresh winds from the north, which provide a micro-climate much cooler and continental compared to other areas of Sicily, which guarantees a perfect ripeness of our grapes.
How do you cultivate your vines?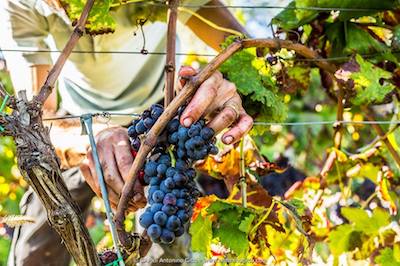 In the vineyard we use only low doses of copper and sulfur for pests, we alternate years with the green manure legumes and grasses fundamental to enrich the soil with organic matter and nitrogen. All work in the vineyard and cellar is done by me, my father and my wife.
Why is your Faro so special?
For me it is FUNDAMENTALLY the place where the vines are born. The terroir represents 95% of the characterization of a wine. Then man interprets in his own way and I've always tried to enhance the characteristics of our grapes, by long maceration and long aging.
How does your Faro compare to Palari's?
I am not the right person to describe the differences of our Faro to Palari. Palari is a company that has been very important for popularizing wines from our region around the world for the last 90 years.
How do Nerello Mascalese and Nerello Cappuccio mature differently in Faro than on Mount Etna?
We typically harvest by between late September and mid-October, therefore at a very similar time as Etna. We are at an altitude much lower (300 m above sea level) than Etna. There is volcanic soil on Etna, which is extremely dry, hot, dark, and with great drainage. Here at Bonavita, we have white soils, rich in clay and limestone, which cool and retain moisture in the warmer months, and ensure that the vines have a good supply of water and permit gradual maturation of grapes, ideal for enhancing flavors and ripe tannins.
What is the inspiration behind your rosé?
Our rosé comes from a return to the past. In Sicily, and I would say in all of Southern Italy, it was the custom of the peasants to do a "little red," with short maceration on the skins of red grapes, about one night to get a lighter wine, with good acidity, but also with a personality given mainly by a good presence of tannins. A rosé'wine for the whole meal -- this is what Bonavita Rosato aspires to be.
How is the recognition of the Faro region different depending on the market-- the USA compared to Europe, Italy, and even within Sicily?
Our sales are divided more or less between these countries: 40% USA, 10% Japan, 5% Canada and 45% Italy.
Where do you see Faro in the next 10 years?
I hope that Faro, our appellation, continues to grow in attention. With regard to terroir, our area is very interesting, perhaps unique, for exposure, soils and grape varieties. I hope people begin to recognize this more.