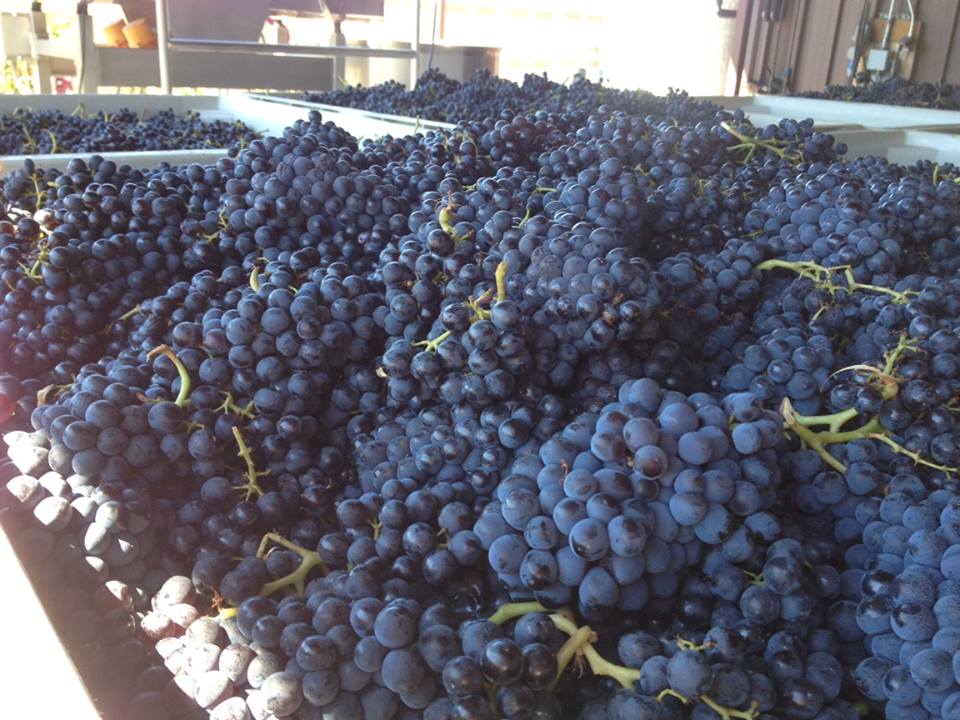 I first heard of Unti Vineyards when I was touring Dry Creek Valley in Sonoma and stopped to Instagram a vineyard scene. (Shocking, I know.) One of the owners of the charming Seattle food and wine boutique, Picnic, saw the photo and implored me to visit Unti.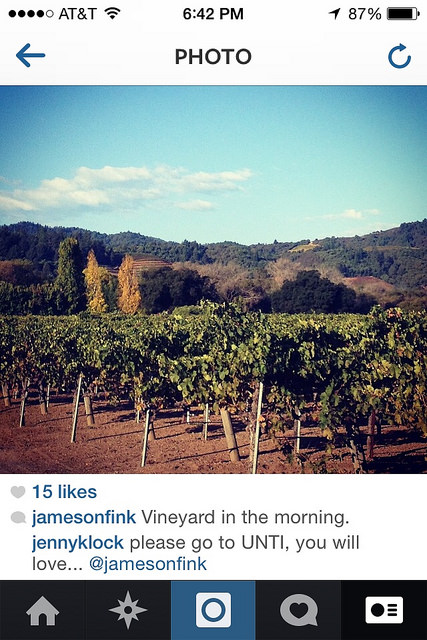 Unfortunately, I was a terrible disappointment to Jenny, but, thankfully got to meet Mick Unti when he was up at Picnic pouring his wines. Better late than never? I became so interested in the wines and the story behind them that I had to speak with Mick when he got back home.
One of the first wines that fascinated me was Fiano. I've had wonderful versions of this southern Italian white wine grape before, but never from California. Unti's blends in 25% Vermentino, also an atypical choice for...anywhere in the United States.
When I spoke with Mick about it, the first thing he did was mention "a really cool book out right now by a guy named Ian D'Agata on Italian varieties" called Native Wine Grapes of Italy. (Gotta get that added to the pile on the nightstand.)
So why Fiano? "I think Fiano has just got more stuff to it," begins Mick. "You get a grape variety that has texture, it has really interesting aromas, it retains acidity. It was probably just our experience of tasting versions from Campania coupled with the fact we had an idea it would retain some acidity."
And then there's Montepulciano, which you'll find in a Sangiovese-based blend called Segromigno. Planting it was inspired by his father's visit to Italy in 2004. Regarding this grape, Mick explained, "We're just drawn to these boutique versions, these smaller winery specialty versions of Montepulciano. The wine was black, and has nice structure, and has complexity, and it also retains nice acidity. Montepulciano just has got a distinctive character: earthy but still grapey. It's uniquely Italian."
Mick was quick to heap praise on A16, a San Francisco restaurant specializing in Southern Italian wines and other noteworthy regions. "Until very recently, neither of the artistic versions of Fiano or Montepulciano were really available," states Mick. "A16 dramatically changed that when they opened up in San Francisco. Before that, nobody ever really thought about those two things."
And hey, how about some Aglianico? Why not? Mick planted 2 acres this year. (He also brings up the fantastic selection available, again, at A16 that broadened his notions of what this grape could achieve.)
There was talk of rosé as well. "As far as dryness, complexity body, depth. there's Bandol rosé and then there's everybody else. So we know were not there and not even making our rosé from predominantly Mourvedre. But we definitely have that style in mind when were making out rosé."
So in additon to Fiano, Vermentino, Montepulciano, Sangiovese, Grenache, and Mourvedre, you'll also find at Unti some Barbera, Syrah, Grenache Blanc, even Picpoul. And, yes, some Zinfandel. Mick deadpans, "Clearly we can't hold a thought for very long because we keep planting different varieties." But he's serious when it comes to why he chose those grapes, revealing:
"Hey I love Burgundy, and I love Nebbiolo, and I love German Riesling, and I love Gruner Veltliner. But our climate doesn't have anything to do with any of those varieties. So while I love those, we wouldn't plant those just because we like them. So what we've done is obviously used our knowledge of the Rhone, our knowledge of Central Italy, our knowledge of (to a limited degree) Spain and applied that to what would work here."
Mick added, 'And I do think that's a legitimate trend of how small wineries are going to evolve in the future. Growers and small wineries have to be have to be pretty damn familiar with the world of wine and certainly the world wine market. And those folks will have an edge over some other ones."
He also sees the somms-cum-winemakers as part of that trend. "Quite a few sommeliers are winemakers now and they have an edge over other people because they have an idea of what should be grown and made in a particular geographic location. Or they look for folks who are growing those grapes that create wines that have expression, structure, and complexity."
Sure there's a method to the madness (for grapes) at Unti. But it's one, at the core, fueled by passion. Mick concluded, "If there's anything that we do it's really a manifestation of our genuine enthusiasm for the world of wine."