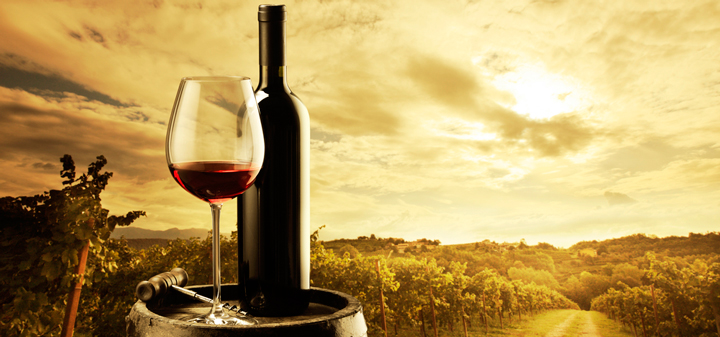 Lucky me. My husband produces a rosé from Provence, and come April, our veins are coursing pink. It's a steady diet that lasts well into October, when either the weather gets cold enough to demand a hearty red, or our rosé supply runs out (this usually happens first).
We're not the only ones: Provençal rosé is among the fastest growing — and most fashionable — wines in the U.S., with import volumes up 40% each year. But sadly, Provence gets no respect as a red wine region. Admittedly not much red is made; although the region is planted almost entirely with red grapes, most winemakers use them for rosé. But some of the reds are on a par with France's most delicious wines — and are well worth discovery.
Sun-baked, mild, and arid, Provence is arguably one of France's best-suited places for grape growing. In fact, Provence was the first French region to be planted with grapes, in 600 B.C., and for most of its history, red wine was the focus. Yet Provence fell into bulk production during much of the last century, and today rosé hogs the spotlight — and increasingly, the vineyard land.
"The greatest threat to red wine production in Provence is the rise of rosé," believes Elizabeth Gabay, Master of Wine, who lives in Provence. "The pressure is on producers to shift from red wine production to rosé."
Which would be a terrible shame. Many Provence reds are Southern Rhône-like in style, as they rely on the same grapes: Mourvèdre, Grenache, Cinsault, and Syrah. Some offer loads of well-priced, easy-drinking pleasure, while others are complex, super-structured, and can take a decade to come into their own. The common denominator: the taste of the warm, Mediterranean sun and the fragrant mix of Provencal wild herbs, called garrigue.
Bandol is the undisputed crown jewel of Provence. This small coastal region has been crafting full-bodied reds for centuries. Producers here are almost uniformly old-school, fermenting with stems, eschewing new oak, and bottling their wines un-fined and unfiltered.
Made mostly from old-vine Mourvèdre, these are not easy wines to love — they are tannic, tight, and can require many years of age. Yet they emerge as earthy, brooding wines of rare power and incredible length — similar to Barolo, yet darker, more powerful, and packed with crushed herbs. Bandol star producers include Tempier, Pibarnon, and Pradeaux (the Portalis family has owned this estate since before the French revolution; Jean-Marie Etienne Portalis helped draft the Napoleonic code).
Delicious wines are made outside of Bandol, too. One of my favorites is the affordable (under $20) Mas de Gourgonnier from Les Baux de Provence near Avignon. These guys farm organically alongside olive trees, and you can taste a hint of black olive tapenade in the wine. It's a tasty enticement to put down your glass of rosé.
WINES
Château de Pibarnon Rouge 2010, Bandol
One of the region's finest wines. Do also check out their 2010 Restanques de Pibarnon, the less-expensive baby-brother red, which is still quite a serious wine.
Domaine Tempier Rouge 2011, Bandol
Although most famous for their rosé, Tempier makes this awesome red which has amassed a small cult following. Made from very old-vine Mourvèdre in a traditional style, it's dark, sturdy, and earth-driven.
Château Pradeaux 2006, Bandol
It's incredibly rare to find an ageworthy wine with this much complexity for under $40. Spice and stewed fruit somehow remain refreshing in this ethereal wine.
Mas de Gourgonnier 2012, Les Baux de Provence
Racy, fresh, spiced red fruit and crushed herbs come together in this delicious red, a blend of Grenache, Syrah, Mourvèdre, and Carignan. A perfect barbecue wine.
Commanderie de Peyrassol, 2012, Côtes de Provence
Fans of richer, more hedonistic wines will appreciate this Syrah-Cabernet blend from a top producer. It delivers loads of fragrant dark fruit, lavender, earth, and spice for a very low price.
Château Jean-Pierre Gaussen 2008, Bandol
Winemaker/owner Jean-Pierre Gaussen is a master at Mourvèdre, and this big, muscular red oozes chocolate, strawberries, loads of funky earth notes, and bright acidity.