A few years ago, when François Millo, then president of the Provence Wine Council, was in New York with dozens of Rosé makers, he told me something that stopped me in my tracks. This very French man suggested that people should view Rosé the way they view beer. For instance, he said -- minus my vernacular -- they should consider knocking back a Rosé in the lodge après skiing instead of a beer.
While I struggled momentarily not to spray the Rosé that I was tasting all over him, it struck me that my surprise at his comment had more to do with my snobbery about beer than what I thought at the time was his startling lack of old school French chauvinism about wine. Self-knowledge is a wonderful thing! (At the time, John and I had only recently begun our journey of discovery of artisanal beers—I know, we were tardy to the party. I now seek out places with interesting cask beers. And to better enjoy beers of many types, Media's boyfriend, José, gave us a set of assorted, specially designed beer glasses. Smart, thoughtful young man!)
Millo and the winemakers were here as part of a campaign to press their case that Rosé should be enjoyed year-round, not just in summer -- thus the winter-sport reference. Yes, they hail from a culture that for centuries has enjoyed casual wine daily, and John and I have for years celebrated fun, gulping wines. Still, it was jarring to hear this line of discussion from a Frenchman. To be sure, not all Rosé are easy-going, gulpable wines. Some are quite serious, including some of these I've enjoyed over the past several months.
Looking at this list of nine of my favorites, all from 2014, I was so happy to see that five were American. For us, good Rosés are like Pinot Noir. For way too long, people said American winemakers couldn't make good Pinot Noir. Some said the same thing about Rosé. That our efforts were ham-fisted. (By that they meant clumsy. But ham with Rosé? Iberian ham with Rosé? I'm all over that!) Those critics were wrong on both counts. (Martin Ray, we discovered in the '80s, had been making awesome Pinot Noir for decades in the Santa Cruz Mountains.)
Badly made Rosé can be heavy and bitter from too much tannin, or can be sweet. The best, whether pale pink or deeper, are proudly pink. That is, they have the kind of fleshy acidity that reminds me of great strawberries and tomatoes. They aren't colorful whites or pale reds, they're pink and fragrant, and for several years now, they've been the "In" summer drink. Sorry, Mr. Millo.
There are a couple ways to make Rosé. A third way actually involves blending red and white wine, but I'll focus on the other two: direct-skin contact, what's now fashionably called "intentional Rosé, " and the saignée method, which translates as "bleeding." With "intentional Rosé," dark-skinned grapes are crushed (macerated) and the skins are kept in contact with the colorless juice until the desired color and fruit extraction has been achieved, usually less than three days. Red wine results in longer contact. With the saignée method, Rosé is essentially a by-product of red-wine making. When winemakers want more tannin and color in their red wines, they'll bleed off some of the juice, which is pink, and the remaining juice becomes more intensely colored and flavored because the excess, Rosé juice has been removed. Millo later was quoted as saying that these were not true Rosé. There's that classic French chauvinism! Frankly, I don't care much about what method is used. Taste, to me, is key. The conventional wisdom is that intentional Rosé is paler and fruitier.
The nine, in alphabetical order:
Our notes for Arnot Roberts Touriga Nacional Rosé, from Clear Lake, Healdsburg, California, called this "a true Rosé." John underlined Rosé. "It has nice weight, and a fleshy, rich, classy minerality, like Rosé Champagne. This is a very satisfying mouthful of wine. Strawberries and rhubarb. Classy."
Day Wines "Babycheeks" Rosé, Willamette, Oregon. Winemaker Brianne Day, who founded her winery in 2012, made this exuberant, tasty wine from equal parts Tannat and Cot (Malbec). Among her line-up is "Running Bare," a wine that is a blend of Cabernet Franc, Cot and Tannat. All of the vineyards she works with are organic, sustainable or biodynamically farmed. As befits its lineage, her Babycheeks is one of the more serious and food-worthy among those that impressed me. I asked her about her inspiration for the wine and its name.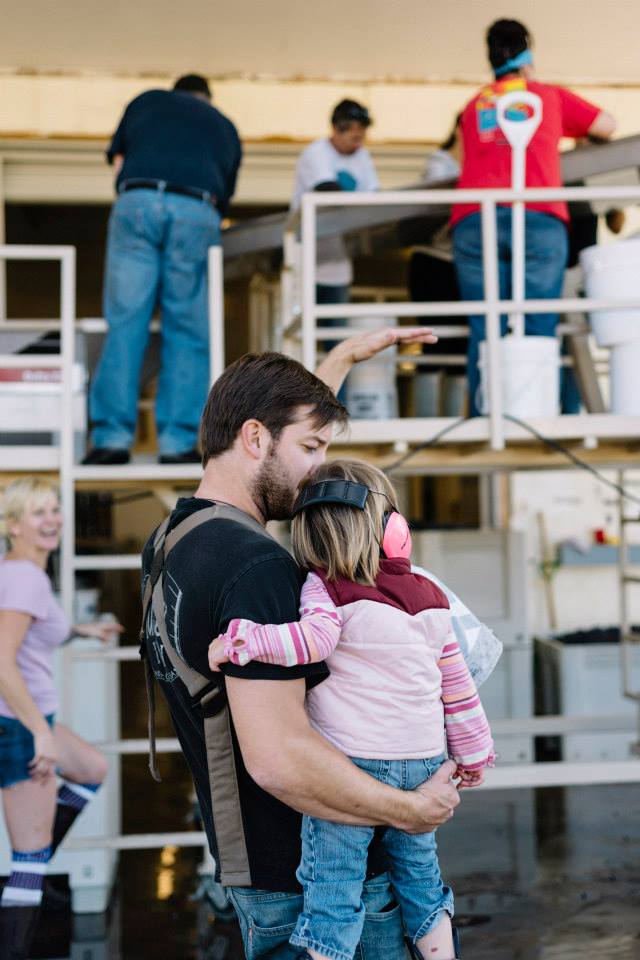 Babycheeks Gwen Shinn supervising the winemaking
"I decided to make it kind of on a whim -- and it was the same moment I decided on the name," she wrote me last week. "The fruit was being sorted and was full of bright pink juice -- it was a stream of juice coming down the sorting line. We passed around a glass of the Cot juice and were saying how yummy it was and I thought about my current quantities of wine available for sale and how I could use another spring release so thought, 'I need to make a Rosé.'
"My close friends were there helping to sort, and their little daughter Gwen has been at all three of my harvests, she just turned 3 herself. Her baby brother Lachlan was there too, only six weeks old. Right when I had the thought that I should make a Rosé I saw Gwen's little face peeking over the edge of the sorting line and thought how her cheeks were the same color as the juice, and decided to call it Babycheeks. She's ridiculously adorable and I love her parents like siblings.
"I left the juice on the skins for 36 hours then saignee'd it into one neutral barrel of each variety. It begin fermenting on its own after a day and it was easy going," Day continued. "The Tannat tasted like San Pellegrino grapefruit soda all through fermentation. After they stopped primary fermentation I gave them their first sulfur to inhibit ML and racked them together into stainless steel. I bottled the wine unfiltered at the end of January." Bliss.
Ehlers Estate Sylviane Cabernet Franc Rosé, Napa, California, knocked our socks off, as did its sur lie Sauvignon Blanc. This Rosé was focused, pure, bright and crisp. A serious Rosé, dry, juicy and mouth-watering, with a Rosé Champagne nose.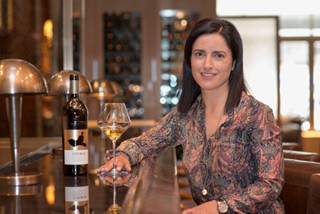 Back in March – I met winemaker Sandra Alves (right), one of three winemakers at the family-owned, sustainably farmed Esporão winery in Douro, Portugal. Alves specializes in the production of white wines from local grapes but at her tasting, during a reception, we were treated to a tank sample of Esporão Assobio Rosé, which was earthy and zesty. It was made at one of Esporão's wineries, Quinta dos Murcas, from hand-picked Tinta Roriz, Touriga Nacional, Tinta Francisca and Touriga Franca. Fresh, great with and without food.
Inman Family Rosé of Pinot Noir "Endless Crush," Russian River, California, also stood out. "Very pretty, light peach-watermelon color, the color of tea roses. Tasty and light, vibrant with a little bit of a tannic bite at the end."
M. Chapoutier Côtes du Rhône Belleruche Rosé, France, our notes say, was "very good, dry and very crisp, with light strawberry tastes. Charming, with not a single false note. Buy 10 cases and drink all summer." It was great with an assortment of lamb and chicken Greek dishes. We had a 2015 Mathilda Rosé last week from Chapoutier's Australian wine operation, its first. It'll be on shelves in August, according to Timothée Chavanes, brand ambassador for Maison M.Chapoutier.
Mouton Cadet Rosé, France – yes, that name from our youth -- was a winner with the whole family, with the right amount of strawberry, raspberry and watermelon notes and fine acidity and weight. Media liked its citrus tones, its juicy tartness. The wine is mostly Merlot (74%) with some Cabernet Franc (15%) for backbone, and the rest Cabernet Sauvignon (11%) for elegance.
Prieure de Montezargues Tavel Rosé, France. Classic Tavel, a Rosé with backbone, not shy. A vibrant food wine, fleshy, good acidity, not a hint of sweetness. Great with garlicky roast chicken.
Sheldrake Point Rosé, Finger Lakes, New York, was perfect for sipping on the deck. A pleasant, makes-you-smile wine. Simple in the best sense of the word.
Rock on, Rosé!
Dorothy J. Gaiter conceived and wrote The Wall Street Journal's wine column, "Tastings," from 1998 to 2010 with her husband, John Brecher. She has been tasting and studying wine since 1973. She has had a distinguished career in journalism as a reporter, editor, columnist and editorial writer at The Miami Herald and The New York Times as well as at The Journal.
As of date of publication these wines are available via Winesearcher.
Sheldrake Point Rosé is avilable at Heights Chateau in Brooklyn for $12.99/bottle.
Prieure de Montezargues Tavel Rosé is available at Vintry Fine Wines in Manhattan for $18/bottle.
Mouton Cadet Rosé is available at Saratoga Wine Exchange for $12.64/bottle.
M. Chapoutier Côtes du Rhône Belleruche Rosé is available at PJ Wine in Manhattan for $8.64/bottle.
Inman Family Rosé of Pinot Noir "Endless Crush is available at Kessler Wine and Spirits for $23.99/bottle.
Esporão Assobio Rosé is available at White Star in Brooklyn for $6.99/bottle.
Ehlers Estate Sylviane Cabernet Franc Rosé is not available via Winesearcher.
Arnot Roberts Touriga Nacional Rosé is available at Zachy's for $25.50/bottle.