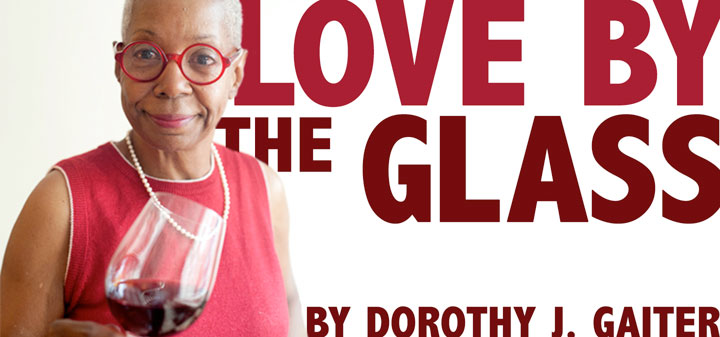 We usually recommend American wines for Thanksgiving since we've come to think of it as such a quintessential American holiday. The reality of it, though, is that rituals of giving thanks are found in most cultures and religions around the world, many centered on the harvest season, fertility or family.
In Germany, there's Erntedankfest, with harvest queens and fattened chickens. In Ghana, there's Homowo, which honors an essential crop, yams, and is held in remembrance of a colonial-era famine. Koreans celebrate Chu-Sok, making pilgrimages to their hometowns to give thanks for their ancestors, believed to be responsible for good crops. Tamils have Pongal, a four-day celebration of their families and the sun and livestock, during which they burn their old clothes. Vietnamese have Têt-Trung-Thu, which honors children, the idea being that during harvest, parents are so busy that they sometimes are a little neglectful of their kids. Post harvest, for Têt-Trung-Thu, they shower their children with affection and sweets.
We don't have to look to distant shores for diverse cultures giving thanks. Despite the headlines, we are a nation of immigrants. We all have stories, some true, some exaggerated, some a bit of both, of how and why our families came to be here. (Talk about exaggerating: Godfrey Hodgson wrote in his 2007 book, "A Great and Godly Adventure, The Pilgrims and the Myth of the First Thanksgiving," that the Pilgrims could not have eaten turkey that first Thanksgiving because there weren't any in Massachusetts!)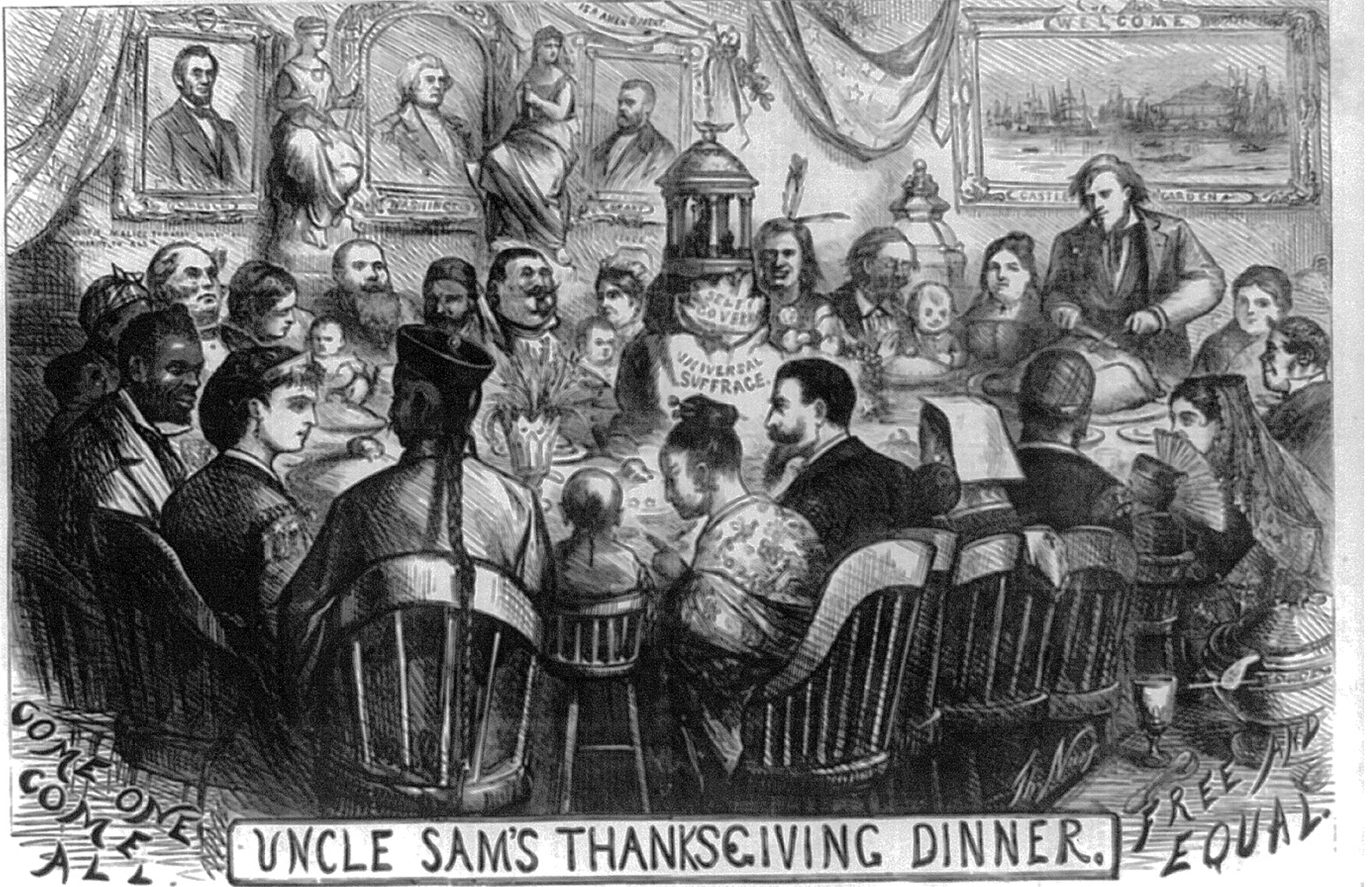 Uncle Sam's Thanksgiving Dinner, 20 November, 1869, by Thomas Nast, Harper's Weekly, Source: Library of Congress
So for this Thanksgiving, I'm embracing wines from a broad swath of the world, from your home state, wherever that is; to Italy, which gave us Christopher Columbus, who, backed by the Spanish crown, found the "New World;" as well as from England, where the people we call Pilgrims originally set sail from, Hodgson wrote, before settling for a time in Holland and then coming to Massachusetts.
With all of the traditional Thanksgiving dishes, the turkey -- yes, the turkey -- the savory stuffing, the sweet and tart cranberry sauce, and, in our house, the corn soufflé that the girls whip up, not to mention the sweet potatoes with roasted marshmallow crust, and the green beans, you don't want a wine that has the weight of yet another dish. Below are some suggestions from the moment you greet your guests or your family starts to mill about the kitchen. Everyone should soon have a glass in their hands!
We like to start with a sparkler and, as with most, especially with Champagne, you could drink it right through the entire meal, which in our house can tip at three hours. I'll address Champagne in another column. If you have a favorite and it's part of your family's Thanksgiving tradition, go for it! Otherwise, think about starting with a sparkler from your home state, celebrating the bounty of your local winegrowers. We recently fell for a 2009 Heart & Hands Wine Company Blanc de Noirs from the Finger Lakes of New York, $38.99. Made by Susan and Tom Higgins from 100% hand-picked Pinot Noir grown in limestone soil, this wine, which sat on its lees for almost six years, was beautifully made. It had fine, lovely bubbles and a rich, full-on taste of toast and lemon curd. They made only 108 cases. Bonhomie Wine Imports, bonhomiewine.com.
Where would we be if the Pilgrims had decided not to leave England? I recently wrote about sparklers from Ridgeview Wine Estate, located in Sussex, England, which in 2010 beat five Champagnes to win Decanter magazine's International Trophy for Sparkling Wine Over 10 pounds, around $15. Grand Cru Selections imports and distributes Ridgeview (grandcruselectionswine.com). The 2011 Ridgeview Cavendish Brut, from mostly Pinot Noir, is yeasty, like a perfect croissant, with zesty, ripe lemons, and almonds, $36. The 2009 Ridgeview Fitzrovia Rosé Brut, with its hint of strawberries and raspberries, would do well, too, especially with the dark meat of the turkey, and the traditional side dishes. It's 50% Chardonnay, and about a quarter each Pinot Noir and Pinot Meunier, $33.95.
For white-wine only drinkers, here are two still white wine suggestions: a Riesling, of course --I know--and a Pinot Gris. Jeannette Eger, a ninth-generation winemaker from the Pfalz region of Germany, was at a recent Bonhomie Imports tasting pouring her delicious and distinctive 2013 Pfalz Goldberg Riesling (chambersstwines.com), $29.99. Eger's family owns a large winemaking enterprise, but she wanted to do her own thing and appropriating five acres of the family's plot called "Goldberg," she converted it to an organic vineyard. This Riesling, planted in 2008, is not a demure, floral bonbon. It's packed with minerals, a hint of herbs, and a pleasing, surprising pinch of salt. When I commented on the salt and asked, "limestone?" Eger nodded yes. Fascinating, with enough zest to dance with the entire, groaning table.
The 2014 Raptor Ridge Pinot Gris from the Willamette Valley is a stunner ($20). The organic winery, a Pinot Noir and Pinot Gris specialist, was founded in 1995 by Scott and Annie Shull, who met while working at a tech company. It's located on a ridge in the Chehalem Mountains, an area that produces amazingly pure and aromatic Pinot Noirs, as well as Alsace and German white varieties. "This is an exceptional wine," we wrote in our notes. "It really is Alsatian-style. Lychee, white pepper, subtle tropical fruits, nice and round in the mouth, nice weight. Extremely balanced. Can't be anything but what it is. Really ripe grapes; not even a hint of sweetness." A portion of the proceeds from every Raptor Ridge wine sold supports iSalud!, a non-profit healthcare program for vineyard workers and their families. That's a wonderful way to show thanks for the people who make possible the wines we enjoy. (raptorridgewinery.com)
Thanksgiving is when we usually pull out an American Cabernet Sauvignon with some age on it. By our usual yardstick, the 2012 Cliff Lede Cabernet Sauvignon Stags Leap District, Napa, is a youngster, but it's a pretty fabulous, majestic wunderkind. Even the turkey would swoon, if it could. ($75, wine.com). "Big, rich California Cabernet," our notes read. "Not heavy or alcoholic even at 15.3. Velvety and filled with ripe fruit, not oak, tastes. Satisfying and balanced. Great earth." It's 78% Cabernet Sauvignon, 8% Petit Verdot, 6% Cabernet Franc, 5% Malbec and 3% Merlot, grown in the famous, unique Stags Leap District's soil, rich in loam, clay and volcanic sediments.
In keeping with my nod to other shores, think about a fine Chianti Classico. Several months ago, at a Chianti Classico Gran Selezione Master Class with Antonio Galloni, founder of Vinous and former contributing critic for Robert M. Parker Jr.'s Wine Advocate, I had a handful that were really impressive. Fontodi Vigna del Sorbo 2010, I thought, was the total package ($70 Vinifera imports). An unorthodox choice, perhaps, for Thanksgiving, but I think its structure, finesse and grandeur would be spot on. "Intense," my notes say of this organically grown wine. "Concentrated, amazing, prunes and earth, lavender. Really, really intense. Take small sips. Softens in the glass. Yummy."
From closer to home, we were thrilled with a Bedell Cellars Merlot from the North Fork of Long Island, N.Y. ($25 to $35, wine-searcher.com or bedellcellars.com). Bedell's Merlots helped put the North Fork on the country's wine map. Still, we've always been more fond of the region's Cabernet Franc, so this wine, which a tasting-room pourer told me is 100% Merlot, surprised us. "Delicious. Tastes mostly like a great Cabernet Franc at first. Rich, full, balanced, fleshy, full and spicy. After open for a while, it became a relaxed, easy-to-love wine. Red berries, fruity, with some depth and awesome acidity. We could drink it every night. Seriously awesome." The 2009 version of this sustainably grown wine was served in 2013 at the Congressional luncheon (with the second course, hickory-grilled bison) following President Obama's inauguration.
Sometimes I'll bake a pumpkin or a sweet potato pie. Some of us may go back to the sparkler with the pie, while others forego them altogether for a little glass of something sweet and light, like a Moscato. The 2014 Tenute Cisa Asinari dei Marchesi di Gresy La Serra, Moscato d'Asti, is a perfect end note. Marchesi di Grésy is renowned in Piedmont, Italy, for its Barbarescos. This Moscato d'Asti is from its La Serra estate. ($17, martinscottwines.com and dallaterra.com). It's lightly effervescent, with hints of white peaches, pears and Granny Smith apples, and its sweetness feels like an embrace.
The creation of America's Thanksgiving as a national holiday was an effort to help assimilate, unify, the North and the South. It had been observed by some but not all states before President Abraham Lincoln declared it a national holiday in 1863, prompted in large measure by a lengthy campaign by Sarah Josepha Hale, an influential editor of a women's magazine. Lincoln and his secretary of state hoped it would "heal the wounds of the nation." Still, it wasn't until 1941 that Congress permanently situated it on the fourth Thursday in November.
And as for those myths. Godfrey Hodgson takes on a historian who writes that the invented traditions of the late 19th century were "primarily designed" to deal with "how to assimilate…an almost unmanageable influx of immigrants."
Hodgson disagrees. "It was embraced by immigrants with love, not foisted on them by manipulative masters," he wrote. "One can deconstruct the idea of Thanksgiving as much as one likes. It remains, not a hymn to battle or violence, not a festival of national pride and superiority, but a domestic celebration of gratitude, humility, and inclusiveness. These are not qualities for which anyone need apologize. Now Thanksgiving, the avatar of the harvest home, celebrates the gathering not of scattered crops but of disparate people. It is the holiday when family comes home.'
This Thanksgiving there is much to contemplate. The campaign for President of the United States is underway and has been far from inspiring. Civilizations, beset by violence, are crumbling, setting off exoduses of refugees seeking a safe haven. While you're raising your forks and glasses this Thanksgiving, give thanks for what you have and seek out ways to help the less fortunate among us.
Dorothy J. Gaiter conceived and wrote The Wall Street Journal's wine column, "Tastings," from 1998 to 2010 with her husband, John Brecher. She has been tasting and studying wine since 1973. She has had a distinguished career in journalism as a reporter, editor, columnist and editorial writer at The Miami Herald and The New York Times as well as at The Journal.