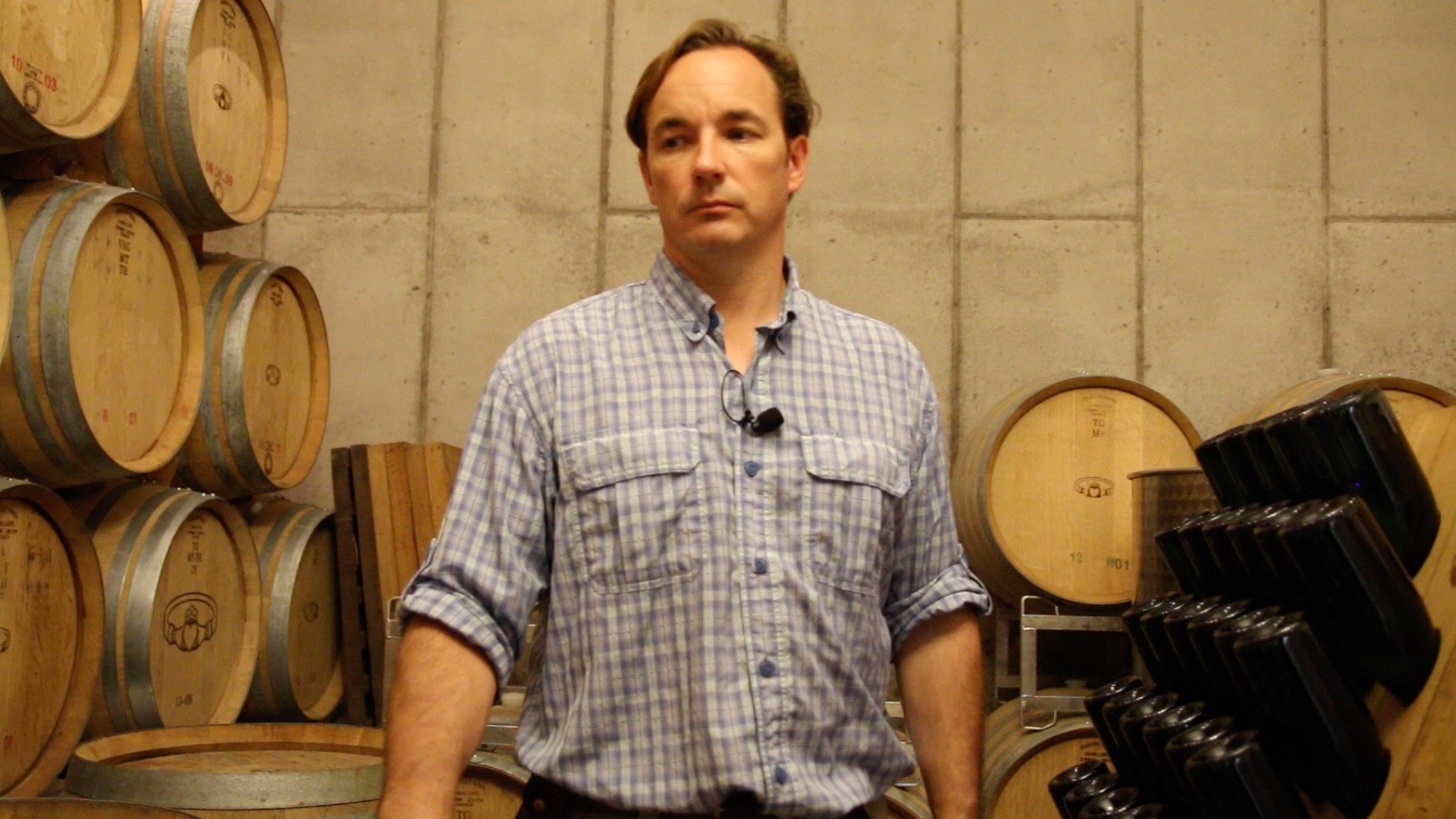 I first heard about Heart & Hands when I was having dinner in the Tavern at Gramercy Tavern. I was discussing Finger Lakes wines with the server, and as the conversation veered towards whether they have figured out reds, he brought up Heart & Hands. Their Pinot Noir is found on the Tavern wine list, and for good reason; the wine is excellent.
Years ago when I first visited the Finger Lakes, the reds had a waft of underripe green pepper about them. Certainly not in the class of the Rieslings, which at the time were very good and are now even better. Since that first visit I have been back many times and keep discovering winemakers who are nailing the reds.
The first winemaker I came across who had clearly elevated the reds was Morten Hallgren of Ravines (described by New York Times critic Eric Asimov in an October 2011 column as one of the area's "best producers"). Since I first moved to Manhattan a little over 10 years ago I hadn't come across a Finger Lakes red on any good wine list in the city. So it was a pleasant surprise when several years ago I found Ravines Pinot Noir on the by the glass list at the Spotted Pig in the West Village.
Since that discovery I found other Finger Lakes reds that have also been pleasant surprises. Kim Engle of Bloomer Creek's White Horse Blend is an excellent Meritage style blend. Engle is well described by Asimov as "absent-minded air of a hippie amateur, but he is a skillful professional who says he was influenced by the natural winemakers of the Loire Valley."
Element Wines Pinot Noir crafted by Master Sommelier turned winemaker Christopher Bates is also a success. The wines are delightfully floral, low alcohol and high in acid. Bates doesn't own vineyards but contracts with growers in different areas of the Finger Lakes to make wine of the region rather than a site specific wine. Each distinct plot of grapes adds a different characteristic or layer to the final Pinot Noir blend.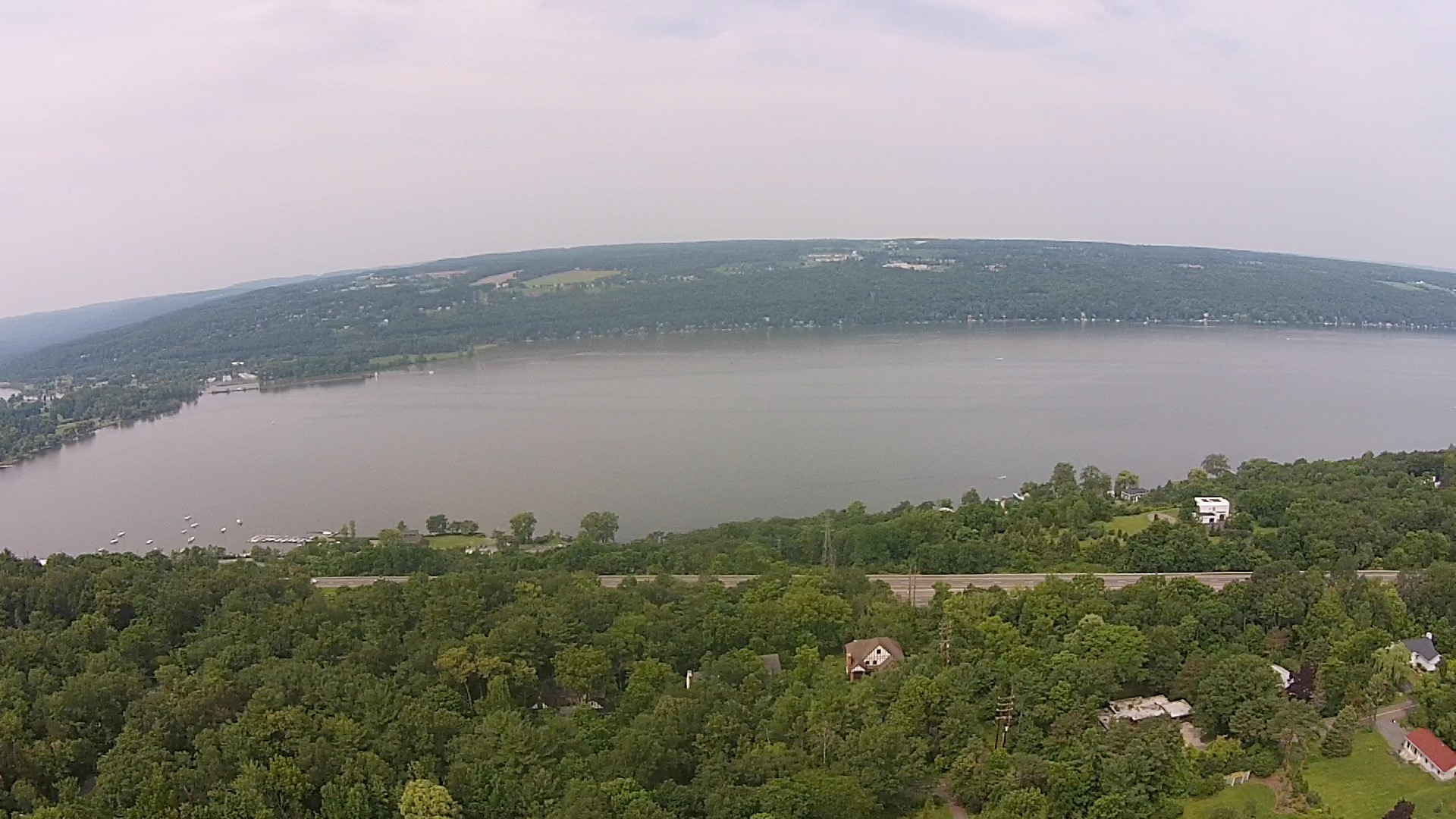 Recently we discovered a very interesting collaboration between the three star Michelin restaurant Eleven Madison Park and Herman J. Wiemer to produce a Cabernet Franc made exclusively for and with considerable input from the restaurant.
What is interesting about Heart & Hands is that although they make several styles of Riesling, Pinot Noir is the signature varietal in their line up.
Heart & Hands was created by the husband and wife team of Tom and Susan Higgins. Tom's wine experience dates back to high school when he worked at Hazlitt 1852 Vineyards in the Finger Lakes. He went on to work at Zachy's Wine & Liquor in New York, and then continued to gain wine business experience by working harvests in France.
Upon his return to the United States, he sought out a harvest opportunity at Calera Wine Company located in Hollister, California. Josh Jensen, owner and winemaker of Calera, was known as a Pinot Noir pioneer back in the the 1970s for his efforts in crafting Burgundian-style Pinot Noir from his limestone laden soil.
Christopher Barnes: What area of the Finger Lakes is Heart & Hands located?
Tom Higgins: The area of the Finger Lakes that we're in right now is on the eastern shore of Cayuga Lake. It is about 10 miles south of the north end of the lake. And its unique properties are actually this band of limestone that is called the Onondaga limestone escarpment. It runs from Buffalo out to the eastern part of the state, but it just traverses down through this area in a nine mile band. It is the cornerstone for Wall Street, it is their literal curb stone. There are a lot of buildings in lower Manhattan that were built of this.
Here, locally speaking, there are a lot of quarries that provided those elements both locally as well as around New York State. It's a great building material and is otherwise known as calcium carbonate. But for us, it actually provides a natural buffer in the soil. A natural pH buffer to allow for a greater uptake of nutrients at a quicker span than if we were in other parts of the Finger Lakes, due in part to the fact that this limestone doesn't exist anywhere else throughout the region.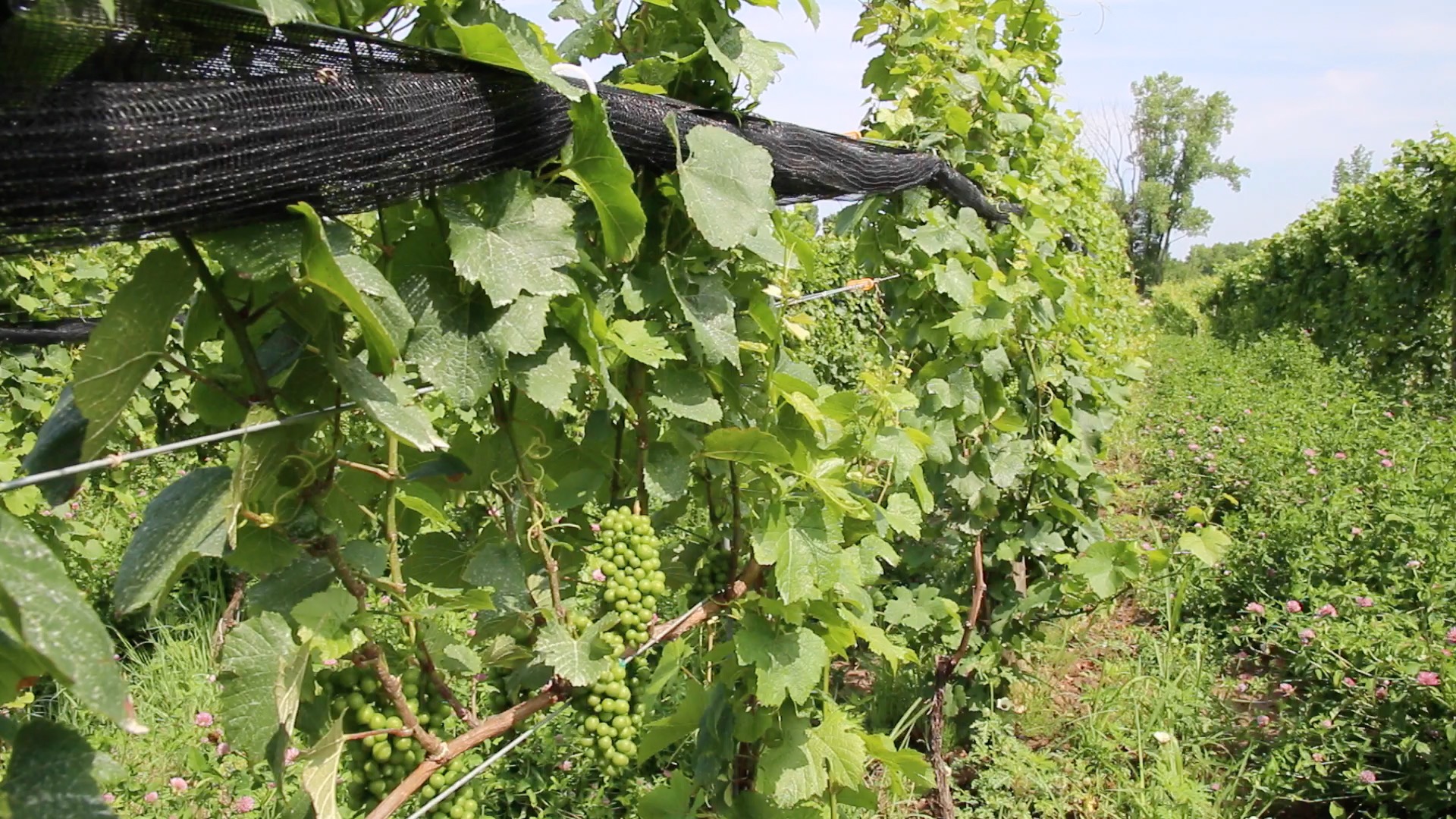 Tom, tell us how the limestone impacts the viticulture. What characteristics does it bring out in the wine?
The limestone impacts the viticulture in a way that you would see first hand if you were in a vineyard that didn't have any element of lime. I've been out consulting at several vineyards in the region, and in some cases the soil pH - being it's from the naturally acidic range that we have now - it washes off and makes the soil pH between five and five and half. For those of you who remember old school chemistry class, seven is a neutral pH that a lot of my colleagues here in the region have to amend their soils to adjust that soil pH.
So, on our property it is inherent. When you go out to those vines on those properties, on those partials, you'll see very little growth during the middle of the season. Like right now you may only see five or six inches of growth on those vines because they can't locate the nutrients. The appropriate buffer in the soil for finding those nutrients isn't there. So as a result of that, they have to make those lime additions every season to their soil. And that takes time. Lime is a slow mover through the soil. And like a component like nitrogen, that calcium carbonate takes about three years to get to the vine's roots to help create that buffer.
So, naturally speaking, by looking at other parts of the world, Burgundy, Alsace, throughout Germany, this fundamental component of limestone was what they gravitated to because they found that vines that are in a pH of seven, which we are right here, they do better in those soils. Now they may not be great for other cash crops like corn or wheat or soybeans, but they are great in the sense for wine grapes. So that's probably part of the reason why many of the fundamental wine regions that we view now have high-quality wine grapes on them. It's because vinifera vines, particularly Pinot Noir and Riesling, benefit from being on high pH soil so they can take up those nutrients at a faster rate, and supply the vines with what they need throughout the growing season.
So Tom, Pinot Noir has always been a tricky grape in the Finger Lakes. I remember coming up here was I was younger and you'd find a sort of vegetated, bell pepper taste with a lot of the reds. And more recently you've started to see winemakers such as yourself, Ravines I'd say, who really seem to be cracking the reds, in particular Pinot Noir. How has that happened? How has that change evolved with Pinot Noir?
Pinot Noir is known as the heartbreak grape. The clusters themselves are a tight bunch cluster and they are a thin skinned variety. The great thing they have going for them though is that they're early ripening, so within a cooler climate region, like the Finger Lakes, they benefit from the aspect of the lakes. So the Finger Lakes themselves regulate the thermal dynamic of the region. It doesn't get too hot in the summertime, nor too cold in the wintertime. So with that, it benefits a variety like Pinot Noir because the warm days help ripen the fruit and the cool nights help preserve acidity.
This thin skinned variety is a little more susceptible to disease pressure given the cluster size, and it's a little more difficult to work with because of those thin skins. So the birds, the bees, everything loves Pinot Noir. Everything loves an early ripening variety. So for us, sorting on the sorting table has been a fundamental component to amplifying the quality of the finished product to eliminate anything that maybe the other elements have gotten into.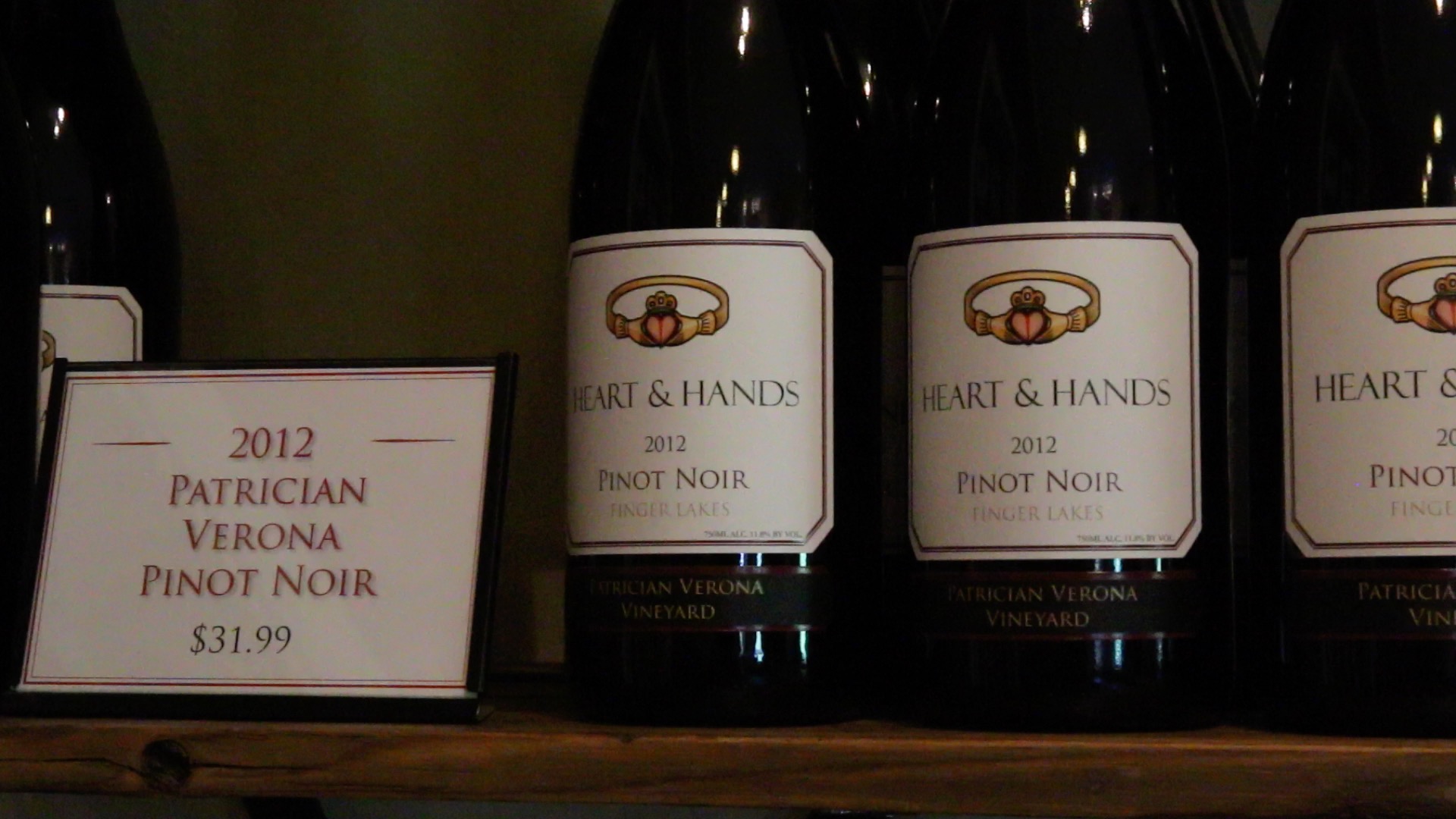 What's the difference between making successful reds and unsuccessful reds in the Finger Lakes?
So the difference between making successful reds and unsuccessful reds in the Finger Lakes is paying attention to the viticultural aspects. We find that things like leaf removal earlier in the season is a fundamental way of exposing that fruit earlier on, and the light penetration into the fruit helps to dry it out. In a wet growing region like we have here in the Finger Lakes, the air drainage allows it to successfully ripen in a way that is consistent. And I think that is the fundamental component in what you see around the world with grape varieties like Pinot Noir, like Cabernet Franc, that you have to pay attention to the viticultural ascepts. And it pays dividends then in the cellar, it makes my job as a winemaker so much easier if the viticultural aspects are taken care of earlier on.
What are the things that make a vintage really good versus just an okay vintage? And how much variation do you have from year to year?
How much variation do we have year to year? I would say significant. We have to contend with everything, including cooler winters; polar vortex a couple years ago became the new term on our radar. I would also say we're a vintage-based region. So the vintage really matters, it's a reflection of the growing season. So if you have a cooler vintage, the Pinots are going to be more aromatic. Rieslings may benefit, so Rieslings are going to be vibrant, fresh, higher acid. On the Pinot front, when you're talking about a perfect growing season, you'll probably have intermittent rains because we're not irrigated here, so we utilize what Mother Nature has to give us and the clay base soils to help maintain that healthy fertile environment for the vines. In fact, in this region, we are tiled at every other row. So you run a four inch drain tile throughout the region to mitigate the moisture, to help the vines stay nice and dry.
Ideally a perfect season would probably be one in which we have 80 degree days and 60 degree nights. Both Pinot Noir and Riesling would definitely benefit from that. And then a smattering of rain maybe once a week, maybe a half inch or so of rain would be an ideal condition for the Finger Lakes. Unfortunately, we can't always order up what we get. That is the beauty of vintage. It really is a reflection of all the hard work and effort that has gone into the vineyard and the cellar.
Tom, how did you get into the wine business?
So how I got into the wine business was through a friend of mine. I grew up over on Seneca Lake and the parents of a friend of mine needed additional help for the summer. Her parents ran a bit larger-sized winery than what we currently have. They needed help in the vineyard and in the cellar. So it planted the seed I would say. I went to school for accounting and computers and did the computer thing post-college where I met my wife Susan, and we did the tech thing for a few years and decided that after getting too many pages at two o'clock in the morning from servers going down, it was about time for me to transition into something, into my passion.
So I was fortunate enough to work for a wine retailer just north of Manhattan, and subsequent to that I was able to go over and work in France as well as out in California. I spent a harvest out there. And then I returned back to the Finger Lakes to start our project, to work for a couple other wineries, and to learn the lay of the land which included property hunting.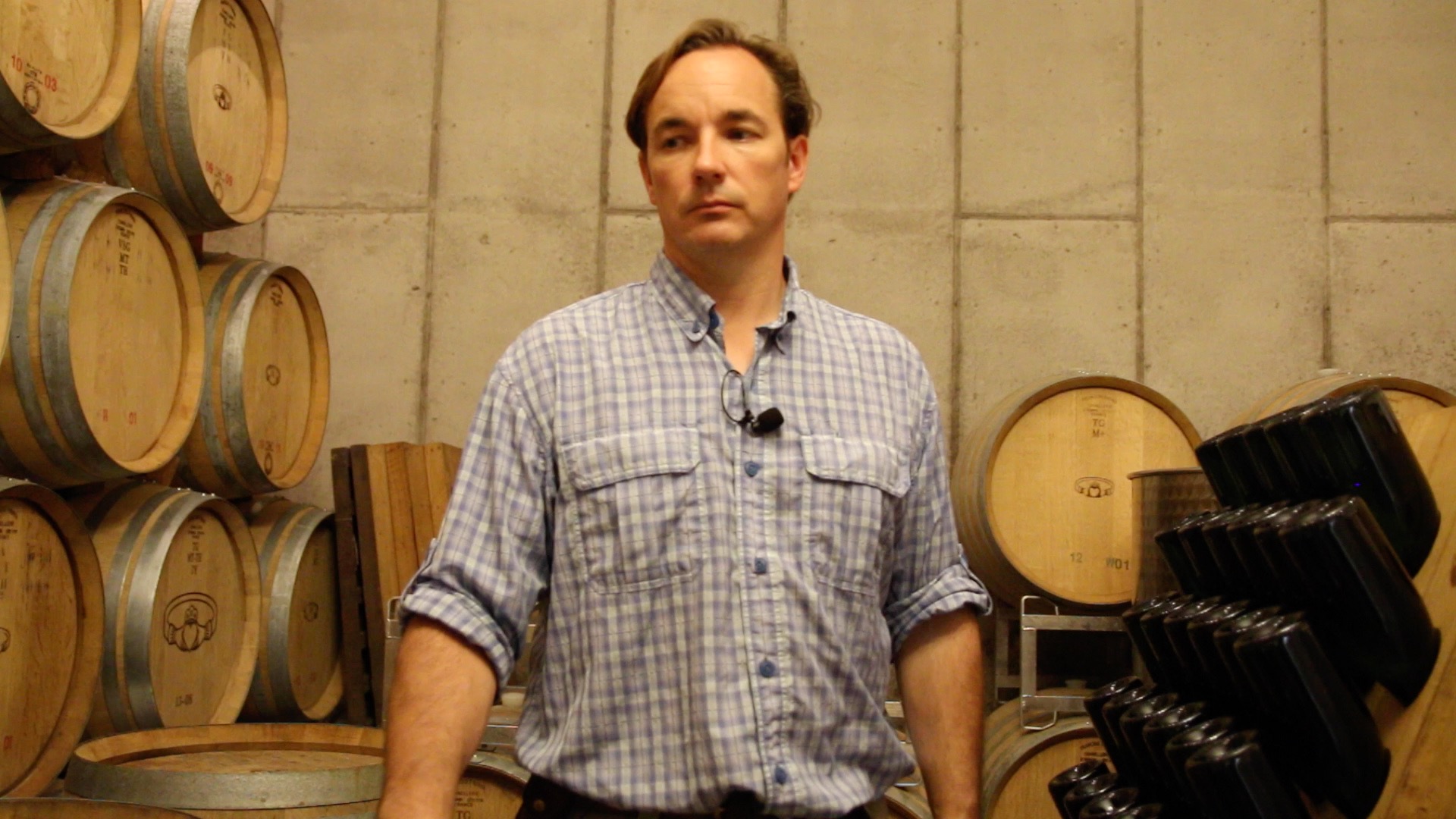 And you worked for Calera, you worked for Josh Jensen. How was that experience?
Working for Josh Jensen at Calera was an incredible experience. He's a wealth of knowledge. And it really set me on the path of wanting to make great Pinot Noir and great Riesling and staying focused on that path despite the challenges that Pinot Noir might provide you. To stay on that straight and narrow path. A harvest is a challenging, grueling, physically and mentally demanding time. Most days we would start at six o'clock in the morning and wrap up at midnight. Calera is all gravity flow, so it takes a great deal of energy to go up and down the stairs, running hoses, and transferring wine. But at the end of the day, it planted a seed that I'll remember forever. Anytime I taste those wines, it's a memory of harvest in the bottle for me. It's really a wonderful component of my experience within the wine world.
Tell us about your philosophy of winemaking.
So the philosophy of my winemaking here at Heart & Hands I would say is what I would refer to as shepherding. We have a tendency to experiment around with a few lots, whether it be barrel ferments, taking the heads off the barrels and fermenting Pinot in barrel, doing a little bit larger lots or a little bit smaller lots. But we still have the fundamental core of our wine, and we still maintain the same thread as we do year in and year out, which is some level of stem inclusion, depending on what vineyard source they're coming from, depending on what percentage we want to include, depending on the stem itself being hardened off, and viticultural decisions that were made in the vineyard passing along to the cellar.
In terms of shepherding the wines, I try not to over-manipulate them. That's how I view shepherding, in that you steer the flock away from the wolves. If you do see wolves then you crack the flock, but for the most part keep the winemaking to a set protocol so you can maintain the consistency in the same thread of winemaking year in and year out.
Tell us about the viticulture. You're not certified organic, but you grow with organic practices.
Right. So the viticultural practices here at Heart & Hands are what I refer to as fairly simple. We use what they call Bordeaux blend on the vines, so that is a sulfur and copper mix. Early in the season we also have to fight off another fungus called black rot. That requires a little bit of a heavier substance that's not organically certified. That's the consequence of being in a region where you have high levels of disease pressure that at the end of the day, it's the same idea, the same concept as shepherding. You want to steer away from the wolves and steer it away from not being a successful vintage.
In terms of the vineyard management practices, we don't use any chemical herbicides, we don't use any chemical insecticides, we let the ecosystem keep in balance that way. The sustainability practices that we do follow are part of the sustainability program that many of the other Finger Lakes vineyards have embraced. Because we are in such close proximity to the lake and our neighbors we have to look at the environmental, social, and economic impacts of our operation. For us, it's been a wonderful challenge, and I think at the end of the day, it makes an honest product.
There have been several studies that have found that some of the residual chemicals are lingering in finished wines. Chemicals like glyphosate, which has been found to be a precursor for Parkinson's. So when I have to speak to my customers and look them in the eye and sell them a product, I want it to be an honest product. We walk through the vineyards, our dog walks through the vineyards with us. It's something that I feel is very important, to be able to sell an honest product at day's end.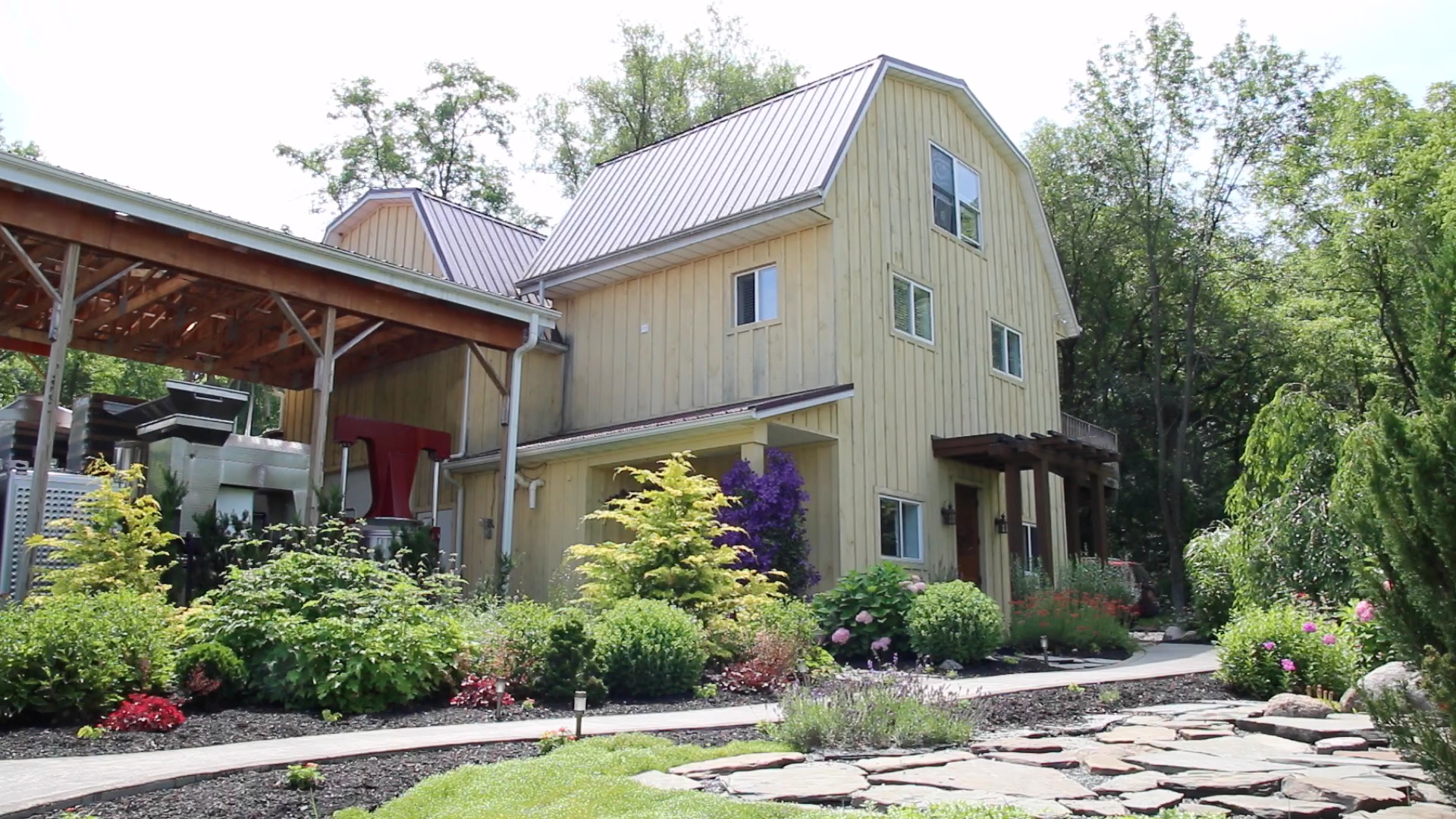 How would you characterize your Pinot Noir? You grow your own here, but you also purchase fruit. What are the characteristics of the fruit that you sourced when you were looking for it?
The characteristics of our Pinot Noir I would say are somewhat mimicking what you would see from Europe. Whether that is from Germany or from Burgundy in terms of being stylistically similar. Now, Pinot Noir is very transparent to where it's grown, so I don't profess to be growing Burgundy-style Pinot Noir here in the Finger Lakes. I think while they are an inspiration for us, it's not like the clones that we have from Dijon are necessarily going to taste like the Dijon clones from Dijon. That's the beauty of Pinot Noir, it's a reflection of where it's grown. The French call that terroir.
And we usually, like they've done in Europe, choose to use the stems as an influence on the wines. The stems add a little more tannin profile to the finished wines, and so there's a certain percentage of stem inclusion based on the bottlings that we have, and all of that is listed on the bottles. To me, each site has it's own place, it creates it's own typicity here in the barrel room. And it's very easy for me now to determine where that barrel is from based on its aromatic or flavor profile in how it's tasting and how it's translating to me.
As a result of that, we've gone down the path of creating single vineyard offerings to showcase what the site typicity is for each of those places that we source our Pinot Noir and our Riesling from. It's a beautiful thing if you can enjoy the differences between the different sites. It's a pleasurable tour of the region if you're able to take in each of those elements that those sites offer.
Interested in the Finger Lakes? Be sure to watch other videos of winemakers from the region:
Kym Engle of Bloomer Creek
Shannon Brock of Silver Thread
John Martini of Anthony Road
Fred Frank and Meaghan Frank of the pioneering Dr. Konstantin Frank
Bob Madill of Sheldrake Point
Read our feature on the Finger Lakes by Amy Zavatto. Read Eric Asimov's New York Times column on the Finger Lakes
Read the interview and watch the video of Morten and Lisa Hallgren of Ravines
Read the feature on Eleven Madison Park and its collaboration with Herman J. Wiemer