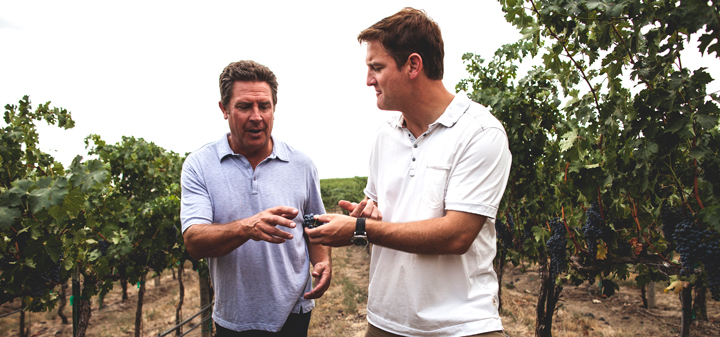 Damon Huard was undoubtedly excited to be picked up by Miami Dolphins in 1996 after going undrafted out of the University of Washington. Following a very quick stint in Cincinnati, he found himself in southern Florida, sharing a locker room and position depth chart (albeit for a short couple of years) with none other than living legend and given Hall of Famer Dan Marino. And while Huard would go onto win two of the Super Bowl rings that famously alluded his record-holding, gun-slinging mentor, quite possibly the greatest development of Huard's career happened not on the field or in the film room but rather on a vacation to St. Bart's — a development that would eventually lead to a joint business venture in Passing Time Winery, a new Washington label with its first wine tasting on Thursday, May 29 of this year.
"We went on a vacation a year or so into our relationship," Huard remembers. "We were getting some cool wines, and all I wanted to drink was rum and coke. And Dan was like, 'What's wrong with you?'"
"Damon was, you know, a rum-and-coke type of guy, or would be drinking a beer," Marino adds. "I always had a thing about bringing the younger guys over the house for dinner, and as time went on and he made the team, I told him, 'Listen Damon, I'm going to turn you onto wines from right around the corner from where you grew up.'"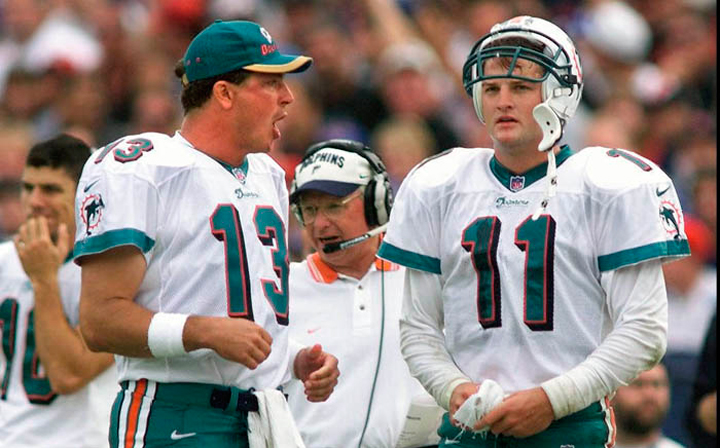 "When we were back in Florida, and he introduced me to an Andrew Will Sorella (right from where I'm from), I suddenly got it and knew what it was all about, " Damon continues.
From then on, Huard and Marino spent an increasing amount of time together outside of team facilities. And when Marino was greeted with the free time needed to pursue his passion after retiring in 1999, their conversations transitioned from a common interest to a shared intrigue: would two top-level athletes be able to take the on-field drive from the gridiron to the vines? Despite early intentions, they wouldn't find out for ten years.
[LEGENDS DAN MARINO & DAMON HUARD TALK NFL'S WINE LOVERS]
"In 1999 or 2000, we started talking about the possibility of doing something out [in Washington] as far as growing some grapes and maybe buying some land," explains Marino. "We ended up not doing it at the time, which was probably a good thing — I was in Florida, he was in New England. After he left Kansas City and was finishing up in San Francisco [in 2009], we started talking again, because he was going to be out there on a daily basis, and with the relationships he has there… well, it was a better and much more opportune time."
Huard's father grew up in the Horse Heaven Hills, right next to where we're sourcing the fruit from; and his grandfather, Nelson Huard, is one of the first Concord grape growers in Grandview, Washington, right next to Prosser. In the offseason, Marino would tell to him to go check out some of these vineyards, and he would. And in doing so, Huard connected with some of the very partners they work with and rely on today.
"Paul Champoux played high school basketball against my dad!" Huard says in an astonishment layered with a hearty laugh. "I feel that the Washington wine industry is in its infancy. Through all these people that I've met through the years, they're all so helpful — high tide rises all chance. Everyone wants to help us and see us make the next great Washington Cabernet."
"The funny part is when we were looking to do this back in 2000 and 2001, we were looking at the same land that Discovery Vineyard is on now, but we didn't buy it," Dan also lights up in genuine astonishment. "Now some 15-odd years later, we're using the same grapes we were going to be growing anyway!"
"Life is all about timing," concludes Huard. "It all came together right now and made sense."
If life is indeed about timing, then winemaking is also about place, and with all the climate change taking hold of the famed Napa Valley and Sonoma regions a little south, Huard and Marino's "place" also came together.
"It's interesting: California has been so hot, so warm in recent vintages; people talk about the one great thing we have going is the climate here in Eastern Washington," Huard says. "We have no disease. It is really very, very consistent. '10 and '11 were the coolest years on record in a long, long time. The tough thing that we deal with is every five or six years there is a rough winter freeze before the vines go dormant and there's some damage to the vineyards, but what people have done to combat that is put in windmills to blow the cold air out."
"Dan makes fun of me, and says that we're the green state and all 'tree huggers.' But it's true. We are aware of the environment Going forward, because of that awareness, really bodes well for Washington wines whereas other regions might struggle."
The climate — warm summer days that cool off in a hurry during the night — adds to the complexity of the grapes. Without having to be excessively concerned with the problems that plague California and Europe, Marino and Huard are excited to put their money where their mouth is. And what is their money going into? Three vineyards: Discovery, Champoux, and Klipsun. As well as consulting winemaker Chris Peterson, of Avennia. The wine itself is a Cabernet Sauvignon. The first vintage is made up of 500 cases, with a bottle going for $75.00, and a case for $900. Expensive for starters, but as expected, Huard and Marino are confident in their product.
But if climate isn't as much of a concern, then their own celebrity should be. With the trend of everyone turning their fame, deserved or otherwise, into a marketing opportunity, wine enthusiasts are right to be skeptical.
"That is definitely one of our concerns," Marino admits. "The real wine people who understand the quality of grapes and fruit we've sourced are going to understand that we're really serious about this. And the team we have together, working to make the best possible Cab we can, understand that. There are always going to be some of that 'they're just putting their name on it.' I could do a lot of projects like that, but I'm choosing this one because I believe in the people who are here. It's about relationships, people you know in the business, and the relationships you make moving forward. But Damon's been here. This is his backyard."
"I think a lot of people think we have our names, we have a little money, and that we handboth over and say, 'make me a 100-point wine,'" Huard states. "That ain't the case."
"We're really focused on our endgame," Huard continues. "And our endgame is what is going to really differentiate us. I really want to celebrate 'place 'in Washington. I think people, when they identify with Washington wine, identify with Walla Walla, Red Mountain, and Horse Heaven Hills. If we want this to be a national or global brand, we need to sell place in Washington. When people order Passing Time wine, it's going to be Cab for three different places: four bottles from Walla Walla, four from Red Mountain, and four from Horse Heaven Hills. It's going to be the same vintage, and same varietal from three different places. They're going to be blown away."
"I want to be considered the taste of Washington Cab, with an emphasis on place."
With his homegrown passion and knowledge, and Marino's long-time drive and familiarity, finding their "place" in the wine world might be closer than they think.