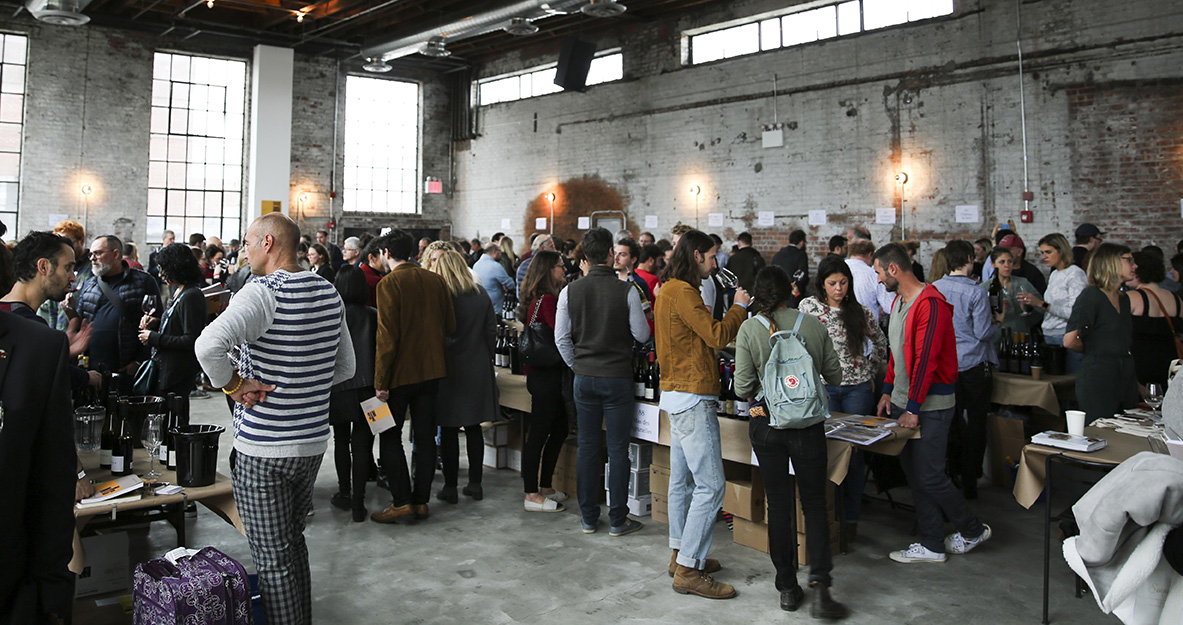 Natural winemakers are most at home working in their vines and cellars, typically in places of tranquil beauty. But this week, about a hundred of them are laying down their tools, packing their bags, and hopping flights to Montreal, NYC, or LA. In these three cities, at the RAW WINE fairs, they'll gather to share their wines, their work, their stories. It's an opportunity for wine lovers to meet the people behind wines that come from a very particular perspective, whether from vineyards in Baja Mexico or Kakheti Georgia. In many ways, these are the wines and winemakers that define our cultural moment in wine.
This year the fairs will give wine lovers the chance to taste and learn in a casual walk-around format, aided by e-catalogs (charge you phones!). A Speaker's Corner will give a platform to growers on the vanguard, who can speak from their unique experiences on topics such as making the conversion from conventional farming and winemaking to the natural approach, orange wines and terroir expression, the challenges of sourcing organic grapes, and an examination of the raison d'être of pet-nats.
Beyond the fairs, RAW WINE WEEK will bring the movement to places across the U.S. and Canada. In what's being billed as a "two week celebration of proper wine across America," restaurants and shops are hosting winemaker dinners, tutored tastings, and even some "hang out with the grower" mini-events. If you can't make it to the fairs, these are great ways to get closer to natural wine.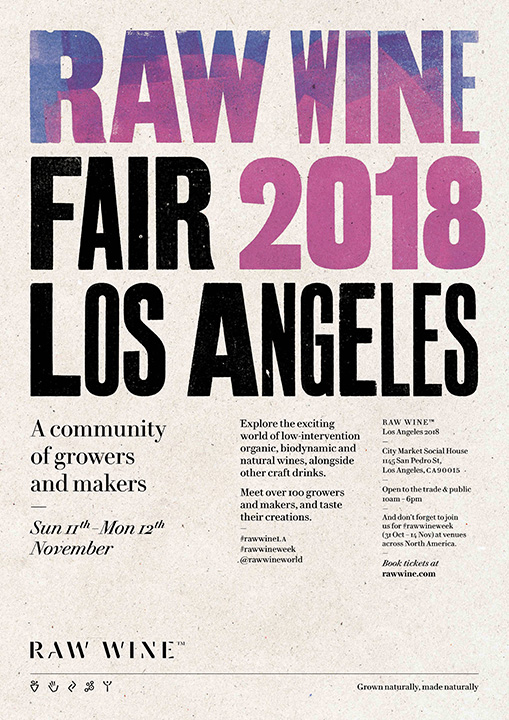 This week Grape Collective's Valerie Kathawala spoke with Isabelle Legeron about who's drinking natural wine, who's not, and who should be, where natural wine is now and where it's headed, as well as the many challenges and opportunities along the way.
Valerie Kathawala: What can we expect from RAW WINE this year?
Isabelle Legeron: We have 40-50 growers who are with us every year, every fair, such as Cornelissen, Meinklang. What's really nice to see this year is that we have a stronger representation of American growers joining us -- more than 30 in LA. For me, what's exciting is we have a lot of people coming from Europe. People are used to Americans going to fairs in Europe because that's where natural wine got its start. Now it's the other way 'round. I think this is an indication of how interested the European trade is in American natural wine right now. But the country is so big, having the wines from so many American producers under one roof is a huge advantage. I think it's very easy to relate to natural wine as a European thing. It's easy to forget there's a lot of very exciting stuff coming out of North America. It's also our mission to emphasize drinking local, thinking about carbon footprint, etc… All that ties in here.
What, in your view, have been the biggest changes in natural wine over the past year?
We are definitely gaining momentum. From the ground up, there's more interest. I can really feel a shift. The pace is increasing, we've already sold out all our tickets for Montreal and New York. But we're still in a small bubble, a small world. We are trailblazers, creating something, changing the way people think about wine. But we have to be very careful, very responsible with that. Now more than ever it's up to the community to define what a natural wine is. We need to be more responsible around the vocabulary we use to discuss it. We need clarity and transparency to preserve the integrity of what is really a beautiful thing, to keep natural wine from becoming a greenwashing term, and really to try to change the world in doing so.
What are some of the most exciting areas for natural wine right now?
Greece, Slovakia, Slovenia, the central-eastern European pool of countries are all places to watch right now because they are experiencing a revival and they bring distinct varieties and expressions. New, younger growers are appearing there all the time. There are also established wine regions where natural wine needs more attention from the world. Producers who are very avant-garde, but all their neighbors spray and think they're mad, and local shops and restaurants don't want their wines. Those producers can really only sell their wines through export. And they have to be able to sell it at the right price. There are still a lot of growers out there like this that need our support.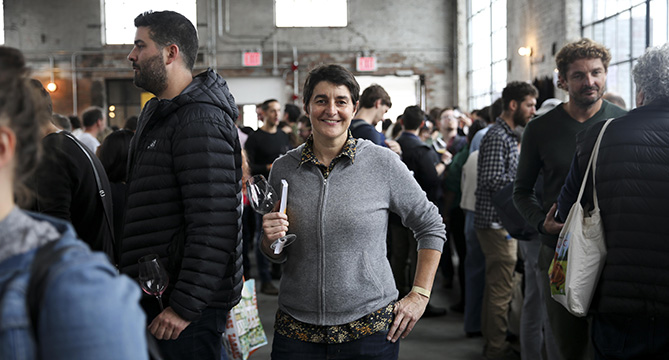 RAW WINE founder Isabelle Legeron photo by Katie June Burton
Natural wine can feel like a youth movement, especially at RAW WINE fairs. What would you say about this characterization of the demographic for natural wine and fairs?
I want the fairs to be able to appeal to younger people and to a classic, establishment audience. Our demographic sweet spot for fairgoers seems to be 35- to 45-year-old urbanites. But we do not want to be pigeonholed as a place for only glou-glou. Our communication about the fairs is quite pure and sober. We are trying to be neutral, so that everyone there can feel quite comfortable. We do see a more diverse, older crowd each year.
Why are you holding a fair in Montreal this year?
What drew me to Montreal was a real demand from the importers and distributors there. The scene in Montreal is way more mature than in NYC or London -- dozens of natural wine bars and restaurants. Tickets to the fair sold out quite quickly. We have about 100 growers coming, quite a few from Quebec, many of whom have never visited a fair before.
What's ahead for natural wine?
As the market for natural wine grows, it will bring more confidence to growers, especially the ones in regions that need more attention and support, as we discussed. It's worth remembering that despite all the excitement at the fairs, it is not super easy for growers. Europe has seen some very difficult vintages, some growers work in regions where natural wine is not well understood. Growers still struggle. This is also why the wines can be more expensive. Also it's a question of understanding. People who do things well take more time. Maybe people will realize they'd rather drink a bit less, but drink better. A lot of these wines, because they're not cheap, need a place in higher-end restaurants, with decanters and really good glassware. There's still a lot of education to be done. For older wine drinkers, it's a lot about palate education. We are touching more and more people in the broader public. It's really about making people and the planet healthier. That's the goal.
For more on what makes a wine "natural" -- and much more about the RAW WINE movement -- here

From the RAW WINE CHARTER: RAW wines come from organic agriculture, as a minimum, but may also be from farms that are biodynamic or use permaculture or perhaps the Fukuoka model. The agricultural practices used are sustainable. What sets the wines apart though from other conventional organic and biodynamic wines is that they are made with minimal intervention in the cellar.

The fairs are open to the public and tickets can be purchased. Discounted trade tickets are available. All tasting at both events is free with your ticket purchase and you are invited to taste as many wines as you like.
RAW WINE FAIR MONTREAL November 1, 2018 at Le Belvédère at the Old Port
RAW WINE FAIR NYC November 4-5, 2018 at 99 Scott Ave in Bushwick, Brooklyn
RAW WINE FAIR LA takes place November 11-12, 2018 at City Market Social House in Downtown LA